Daily Prelims Notes 8 May 2022
May 8, 2022

Posted by:

OptimizeIAS Team

Category:

DPN

Daily Prelims Notes
8 May 2022
Table Of Contents
1. FSSAI is expected to issue a draft regulation for labels on front of food packets
Subject: Governance
Section: National bodies
Context:
The Food Safety and Standards Authority of India (FSSAI) is expected to issue a draft regulation for labels on front of food packets that will inform consumers if a product is high in salt, sugar and fat.
Need for front-of-package labelling
In the past three decades, the country's disease patterns have shifted. While mortality due to communicable, maternal, neonatal, and nutritional diseases has declined and India's population is living longer, non-communicable diseases (NCDs) and injuries are increasingly contributing to the overall disease burden.
In 2016, NCDs accounted for 55% of premature death and disability in the country.
Indians also have a disposition for excessive fat around the stomach and abdomen which leads to increased risk of cardiovascular disease and type 2 diabetes.
According to the National Family Health Survey-5 (2019-2021), 47.7% of men and 56.7% of women have a high risk waist-to-hip ratio.
An increased consumption of packaged and junk food has also led to a double burden of undernutrition and overnutrition among children.
Over half of the children and adolescents, whether under-nourished or with normal weight, are at risk of cardiovascular diseases, according to an analysis by the Comprehensive National Nutrition Survey in India (2016-2018).
Reducing sugar, salt, and fat is among the best ways to prevent and control non-communicable diseases.
While the FSSAI requires mandatory disclosure of nutrition information on food packets, this is located on the back of a packet and is difficult to interpret.
What decision has FSSAI taken?
At a stakeholder's meeting on February 15, 2022, three important decisions were taken on what would be the content of the draft regulations on front-of-package labelling. These included
threshold levels to be used to determine whether a food product was high in sugar, salt and fat;
that the implementation will be voluntary for a period of four years before it is made mandatory;
and that the health-star rating system would be used as labels on the basis of a study commissioned by the FSSAI and conducted by IIM-Ahmedabad.
Response to draft regulation
The food industry agreed with the FSSAI's decision on the issue of mandatory implementation and use of ratings, and sought more time to study the issue of thresholds.
The World Health Organization representative said the threshold levels were lenient, while the consumer organisations opposed all three decisions.
The biggest contention is over the use of a health-star rating system that uses 1/2 a star to five stars to indicate the overall nutrition profile of a product.
Health experts are demanding that the FSSAI instead recommend the "warning label" system which has proven to have altered consumer behaviour.
Why is there opposition to the rating system and what are global practices related to labels on food items:
In a health-star rating system, introduced in 2014 in Australia and New Zealand, a product is assigned a certain number of stars using a calculator designed to assess positive (e.g., fruit, nuts, protein content, etc) and risk nutrients in food (calories, saturated fat, total sugar, sodium).
Scientists have said that such a system misrepresents nutrition science and the presence of fruit in a fruit drink juice does not offset the impact of added sugar.
Experts say that so far there is no evidence of the rating system impacting consumer behaviour.
The stars can also lead to a 'health halo' because of their positive connotation making it harder to identify harmful products.
Over 40 global experts have also called the IIM-Ahmedabad study flawed in design and interpretation.
There are many other labelling systems in the world, such as "warning labels" in Chile (which uses black octagonal or stop symbols) and Israel (a red label) for products high in sugar, salt and fat.
The 'NutriScore', used in France, presents a coloured scale of A to E, and the Multiple Traffic Light (MTL), used in the U.K. and other countries depict red (high), amber (medium) or green (low) lights to indicate the risk factors.
Global studies have shown a warning label is the only format that has led to a positive impact on food and beverage purchases forcing the industry, for example in Chile, to reformulate their products to remove major amounts of sugar and salt.
FSSAI: its role and functions:
It is an autonomous statutory body that maintains the food safety and standards in India.
FSSAI is administered by the Ministry of Health & Family Welfare.
The Body is functional as per the Food Safety and Standards Act, 2006.
The FSSAI has its headquarters at New Delhi. The authority also has 6 regional offices located in Delhi, Guwahati, Mumbai, Kolkata, Cochin, and Chennai.
The FSSAI comprises a Chairperson and twenty two members out of which one – third are to be women.
The Chairperson of FSSAI is appointed by the Central Government.
Food Safety and Standards Rule, 2011 provides for:

The Food Safety Appellate Tribunal and the Registrar of the Appellate Tribunal, for adjudication of food safety cases.
It covers Licensing and Registration, Packaging and Labelling of Food Businesses, Food Product Standards and Food Additives Regulation.
It prohibits and restricts on sales or approval for Non-Specified Food and Food Ingredients, such ingredients may cause harm to human health.
It provides for Food Safety and Standards on Organic Food and regulates Food Advertising.
Important Initiatives by FSSAI
Eat Right India – It is a Pan-India cycle movement called 'Swasth Bharat Yatra' aimed to create consumer awareness about eating safe and nutritious food.
Clean Street Food –This involves training the street food vendors and making them aware of the violations as per the FSS Act 2006.
Diet4Life –This is another initiative taken by FSSAI, to spread awareness about metabolic disorders.
Save Food, Share Food, Share Joy –Encouraging people to avoid food wastage and promote food donation. Through this, FSSAI intends to connect food-collecting agencies with the food-producing companies and share the food with the ones in need.
Heart Attack Rewind – It is the first mass media campaign of FSSAI. It is aimed to support FSSAI's target of eliminating trans fat in India by the year 2022.
FSSAI-CHIFSS – It is collaboration between FSSAI and CII-HUL Initiative on Food Safety Sciences to promote collaborations between Industry, Scientific Community, Academia for food safety.
Subject: Polity
Section: Constitution
Context: Supreme Court of the United States (SCOTUS) has privately voted to strike down the constitutional right to abortion as determined by the landmark Roe vs Wade case in 1973, according to a leaked draft opinion from February 2022.
What is the Roe vs Wade case?
Roe woman named Norma McCorvey who in 1970 sought to have an abortion when she was five months pregnant.
7-2 majority opinion paved way for the recognition of abortion as a constitutional right in the U.S., effectively striking down a wide range of state-level abortion limitations.
Based on the Roe vs Wade case, the framework of regulations that applied towards the right to abortion
Impact of overturning the Roe judgement
If the Supreme Court rules to overturn the Roe judgement, the power to decide on the abortion would rest with the elected leaders of each state.
With the ban on abortion in their states, women might travel out of state for the procedure and also look to use illicit pills as the ban restricts their access to safe abortions further affecting their health and wellness.
The removal of the constitutional right to abortion mostly affects low-income people, people of colour and rural communities across the country.
Legality of abortions in India
India's Medical Termination of Pregnancy Act, 1971 allowed abortion until 20 weeks of pregnancy. Through an amendment act passed in 2021, the ceiling for abortions was raised to 24 weeks for special categories of women.
Medical Termination of Pregnancy Act 2021
https://optimizeias.com/medical-termination-of-pregnancy-amendment-bill-2020/
3. Land Use, Land-Use Change and Forestry (LULUCF)
Subject: Environment
Section: Climate Change
Background
The rate of build-up of CO2 in the atmosphere can be reduced by taking advantage of the fact that atmospheric CO2 can accumulate as carbon in vegetation and soils in terrestrial ecosystems.
Under the United Nations Framework Convention on Climate Change any process, activity or mechanism which removes a greenhouse gas from the atmosphere is referred to as a "sink".
Human activities impact terrestrial sinks, through land use, land-use change and forestry (LULUCF) activities, consequently, the exchange of CO2 (carbon cycle) between the terrestrial biosphere system and the atmosphere is altered.
Definition of LULUCF:
The LULUCF (Land Use, Land Use Change and Forestry) sector is used to report the CO2 flows between different terrestrial reservoirs (biomass, soils, etc.) and the atmosphere that take place on the managed surfaces of a territory.
It can thus constitute a net source or a net sink of CO2.
This sector, defined within the framework of national greenhouse gas emission inventories, reflects in particular emissions and absorptions linked to land use (growth, biomass mortality and wood removal in forests; impacts of changes in agricultural practices on cultivated soils, etc.) and to changes in land use (deforestation, afforestation, soil artificialisation, etc.).
The methods for calculating these emissions and removals are defined by the Intergovernmental Panel on Climate Change (IPCC), under the United Nations Framework Convention on Climate Change (UNFCCC).
Role of LULUCF in mitigation of climate change:
The role of LULUCF activities in the mitigation of climate change has long been recognized. Human activities affect changes in carbon stocks between the carbon pools of the terrestrial ecosystem and between the terrestrial ecosystem and the atmosphere.
Mitigation can be achieved through activities in the LULUCF sector that increase the removals of greenhouse gases (GHGs) from the atmosphere or decrease emissions by halting the loss of carbon stocks.
In its Special Report on Climate Change and Land, the IPCC identifies many land-related climate change mitigation options that have co-benefits for climate change adaptation.
The IPCC report also recognizes that some activities can have adverse side-effects on other ecosystem services such as through increased competition for land and water if not implemented with due consideration to the local conditions including current use of the land.
The IPCC identifies agriculture, forestry and other land use (AFOLU) as a significant net source of GHG emissions, contributing to about 23% of anthropogenic emissions of carbon dioxide (CO2), methane (CH4) and nitrous oxide (N2O) combined as CO2 equivalents in 2007–2016.
Forests present a significant global carbon stock accumulated through growth of trees and an increase in soil carbon.
Conversion of primary to managed forests, illegal logging and unsustainable forest management result in GHG emissions and can have additional physical effects on the regional climate including those arising from albedo shifts.
Conversely, in areas of degraded forests, sustainable forest management can increase carbon stocks and biodiversity.
In the long term, a sustainable forest management strategy aimed at maintaining or increasing forest carbon stocks, while producing an annual sustained yield of timber, fibre or energy from the forest, will generate the largest sustained mitigation benefit.
Carbon storage in long-lived wood products and reductions of emissions from use of wood products to substitute for emissions-intensive materials also contribute to mitigation objectives.
Other terrestrial systems also play an important role. Most of the carbon stocks of croplands and grasslands are found in the below-ground plant organic matter and soil. Consequently, soil carbon sequestration in croplands and grasslands has a mitigation potential of 0.4–8.6 CO2-eq/yr according to the IPCC.
Drawbacks of LULUCF:
The main drawback of LULUCF activities is their potential reversibility and non-permanence of carbon stocks as a result of human activities, natural disturbances or a combination of the two with loss of carbon stocks and release of GHG into the atmosphere as a result.
Climate change is also predicted to have an effect on growth and decay rates including the occurrence of natural disturbances with regional differences around the world.
Rapid reductions in anthropogenic greenhouse gas emissions that restrict warming to "well-below" 2°C would greatly reduce the negative impacts of climate change on land ecosystems according to the IPCC.
Cooperation with other organizations:
The emergence of and continuing significance of issues related to LULUCF has stimulated cooperation with many organizations and institutions with forestry and agriculture experiences.
The Food and Agriculture Organization of the United Nations (FAO). The Forestry Department of FAO has considerable experience in, among others, building capacity in developing countries and in assessing the global status of forests. Its work includes the publication of the Global Forest Resources Assessment as a contribution to knowledge on the state of the world's forests.
The Collaborative Partnership on Forests (CPF). The CPF is s an innovative interagency partnership on forests comprising 14 international organizations, institutions and secretariats that have substantial programmes on forests. The mission of the Collaborative Partnership on Forests is to promote sustainable management of all types of forests and to strengthen long-term political commitment to this end.
The United Nations Forum on Forests (UNFF). The UNFF is an intergovernmental process with the objective of promoting the management, conservation and sustainable development of all types of forests. It allows forest policy dialogue facilitated by the Intergovernmental Panel on Forests (IPF) and the Intergovernmental Forum on Forests (IFF).
Subject: Geography
Section: Climatology
Context:
This year, the La Nina is being blamed for worsening perhaps the longest spell of heatwaves from March to April in north, west and Central India.
About La-Nina:
La Nina is a climate pattern that describes the cooling of surface ocean waters along the tropical west coast of South America.
La Nina means Little Girl in Spanish.
La Nina is also sometimes called El Viejo (in Spanish), anti-El Niño, or simply "a cold event."
La Nina has the opposite effect of El Nino.
La Niña is caused by a build-up of cooler-than-normal waters in the tropical eastern Pacific due to stronger  south-east trade winds than usual
And pushing more warm water towards Asia from the west coast of the South Americas.
La Nina events are indicated by sea-surface temperature decreases of more than 0.5 for at least five successive three-month seasons.
Upwelling increases, bringing cold, nutrient-rich water to the surface in off the coast of peru
Atmospheric stability and cold and dry conditions prevail over West Coast of South America and instability and low pressure conditions in tropical western pacific
La Nina brings greater than normal rainfall over northern Australia, Indonesia, New-guinea and India during monsoon
La Nina events may lastbetween one and three years, unlike El Niño, which usually lasts no more than a year
La- Nina is a cold phase of EnSo( El-Nino Southern Oscillation)
La-Nina affects the position and intensity of jet streams and storms outside of the tropics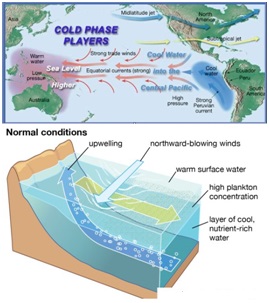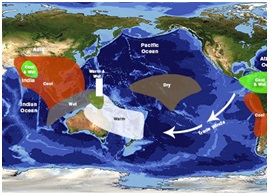 La-Nina and heat waves:
IMD defines a heat wave as a condition when the average maximum temperature exceeds 45°C, or if the temperature is higher than normal by 4.5°-6.4°C on at least two consecutive days
While heat waves are expected to peak in May, the ongoing heat wave first occurred early in March and the spring season felt like summer.
Heat waves in mountain states of Himachal Pradesh, Uttarakhand and UT of J&K are unprecedented this year.
Persistence of La-Nina is believed to be an early and prolonged heat waves in India this year
How La-Nina induces Heat waves?
Every summer, the formation of a low pressure over India pulls in high-pressure winds from the Arabian Sea, causing the monsoon.
However, the formation of a ridge in the subtropical jet stream over India resulted in a high-pressure zone that trapped heat within the subcontinent, creating a persistent heat wave.
The hot air over land is being boxed in from all sides by the jet stream's high pressure, resulting in the formation of a 'heat dome'.
The resultant overall high-pressure region prevents other winds from being pulled into the subcontinent.
Within the heat dome, the jet stream moves air from west to east, but this air sinks back hot, leading to a heat wave.
This anomaly was likely triggered by persistent La Niña conditions
Moreover, the La Niña produced a north-south pressure pattern over India as expected during the winter that normally influences trade winds that bring monsoon rains to India.
However, because of persistence of La-Nina, drove hot westerly winds and blasts of hot air from the Middle East into Pakistan and India.
Western disturbances, or moisture from the Mediterranean region that fall as rain over north-western India brings rainfall in march during rise in temperature.
Temperature difference between Europe and India causes this Western disturbance
Partly due to La Nina, the temperature difference was week and resulted in weak western disturbances with hardly any rain
The similar effect has been seen even during 1998-2000 when La Nina had persisted for three years,
5. Indian Soils are Nutrient deficiency
Subject: Geography
Section: Geomorphology
Context: 
'State of Biofertilizers and Organic fertilizers in India' report by Centre for Science and Environment highlights the soil nutrient deficiency in India
About Soil Nutrients:
Plants require a steady supply of macronutrients and micronutrients.
Macronutrients are required in larger quantities than micronutrients.
The names of the two categories don't imply that one type of nutrient is more important than another; it just means that more macronutrients must be present in the soil than micronutrients.
Plants obtain nearly all of the nutrients they need from the soil, although some are obtained via photosynthesis.
Macronutrients are divided into two groups: 
Primary: Needed in the highest concentration: Nitrogen (N), Phosphorus (P), and Potassium (K)
Secondary: Required for sustained plant health, but in lower quantities than the primary macronutrients. Calcium (Ca), Magnesium (Mg), and Sulfur (S)
Micronutrients: Essential to plant development and growth but are needed only in trace amounts, compared to their macro-counterparts. 
Boron (B)
Zinc (Zn)
Iron (Fe)
Manganese (Mn)
Copper (Cu)
Molybdenum (Mo)
Chlorine (Cl)
Status of Indian Soil nutrients as per the study:
More than 50 million soil samples from across India were tested during 2015-16 to 2018-19 in the government-approved laboratories to understand the state of the country's soils.
Subject: Environment
Section: Climate Change
Context: While this June marks the 30th anniversary of the Rio Summit, the United Nations is not organising an event to mark it.
Concept:
India and China were considered developing countries when the Rio Summit, or the United Nations Conference on Environment and Development, was organised in They were not included in the list of countries that needed to have greenhouse gas emission reduction targets in the Climate Change Convention.
The United Nations Conference on Environment and Development (UNCED), also known as the 'Earth Summit', was held in Rio de Janeiro, Brazil, from 3-14 June 1992. This global conference, held on the occasion of the 20th anniversary of the first Human Environment Conference in Stockholm, Sweden, in 1972, brought together political leaders, diplomats, scientists, representatives of the media and non-governmental organizations (NGOs) from 179 countries for a massive effort to focus on the impact of human socio-economic activities on the environment.
A 'Global Forum' of NGOs was also held in Rio de Janeiro at the same time, bringing together an unprecedented number of NGO representatives, who presented their own vision of the world's future in relation to the environment and socio-economic development.
One of the major results of the UNCED Conference was Agenda 21, a daring program of action calling for new strategies to invest in the future to achieve overall sustainable development in the 21st century. Its recommendations ranged from new methods of education, to new ways of preserving natural resources and new ways of participating in a sustainable economy.
The 'Earth Summit' had many great achievements: the Rio Declaration and its 27 universal principles, the United Nations Framework Convention on Climate Change (UNFCCC), the Convention on Biological Diversity; and the Declaration on the principles of forest management .
The 'Earth Summit' also led to the creation of the Commission on Sustainable Development, the holding of first world conference on the sustainable development of small island developing States in 1994, and negotiations for the establishment of the agreement on straddling stocks and highly migratory fish stocks.
The Earth Summit resulted in the following documents:
Rio Declaration on Environment and Development
Agenda 21
Forest Principles
Moreover, important legally binding agreements (Rio Convention) were opened for signature:
Convention on Biological Diversity
Framework Convention on Climate Change (UNFCCC)
India's Effort:
PM's council on Climate Change was constituted in 2008 which was followed by NAPCC with its 8 constituent missions.
India was one of the earliest countries to develop a legislation to implement the commitments under the Biodiversity Convention. Biological Diversity Act 2002 came into force and The National Biodiversity Authority was established in Chennai under the Act, and till date there are 28 state biodiversity boards, eight biodiversity councils and nearly 2 lakh biodiversity management committees attached to the panchayat level institutions.
Subject: Science
Section: Disease
Context: 'Omicron infection narrowing the gap between unvaccinated and vaccinated individuals Immunity'
Content: The SARS-CoV-2 virus continues to adapt to the human host, it has been transmuting itself which can escape the immune protection
Immunity to a disease is achieved through the presence of antibodies to that disease in a person's system. Antibodies are proteins produced by the body to neutralize or destroy toxins or disease-carrying organisms. Antibodies are disease-specific.
For example, a measles antibody will protect a person who is exposed to measles disease but will have no effect if he or she is exposed to mumps.
There are two types of immunity: Active and Passive.
Active Immunity: When exposure to a disease organism triggers the immune system to produce antibodies to that disease. Active immunity can be acquired through natural immunity or vaccine-induced immunity.
Natural immunity is acquired from exposure to the disease organism through infection with the actual disease. A mild case of an illness may not result in strong natural immunity.
What is vaccine-induced immunity for COVID-19?
Vaccine-induced immunity is being fully vaccinated with an approved or authorized COVID-19 vaccine. The protection from the vaccines may wane over time so additional doses (boosters) are now authorized for certain populations. These boosters can extend the powerful protection offered by the COVID-19 vaccines.
If natural immunity is present, do you still need a COVID vaccine?
Yes, the COVID-19 vaccines are recommended, even if one had COVID-19. The recent research studies support getting vaccinated even if you have already had COVID-19: Vaccines add protection.
The U.S. Centers for Disease Control and Prevention (CDC) released a report on Oct. 29, 2021, that says getting vaccinated for the coronavirus when you've already had COVID-19 significantly enhances your immune protection and further reduces your risk of reinfection.
A study published in August 2021 indicates that if you had COVID-19 before and are not vaccinated, your risk of getting re-infected is more than two times higher than for those who got vaccinated after having COVID-19.
Another study published on Nov. 5, 2021, by the U.S. Centers for Disease Control and Prevention (CDC) looked at adults hospitalized for COVID-like sickness between January and September 2021. This study found that the chances of these adults testing positive for COVID-19 were 5.49 times higher in unvaccinated people who had COVID-19 in the past than they were for those who had been vaccinated for COVID and had not had an infection before.
A study from the CDC in September 2021 showed that roughly one-third of those with COVID-19 cases in the study had no apparent natural immunity.
Vaccine-induced immunity is acquired through the introduction of a killed or weakened form of the disease organism through vaccination.
If an immune person comes into contact with that disease in the future, their immune system will recognize it and immediately produce the antibodies needed to fight it. Active immunity is long-lasting, and sometimes life-long.
Passive Immunity is provided when a person is given antibodies to a disease rather than producing them through his or her own immune system.
Pregnant woman wearing protective face mask in blooming park
A newborn baby acquires passive immunity from its mother through the placenta.
People can also get passive immunity through antibody-containing blood products such as immune globulin, which may be given when immediate protection from a specific disease is needed.
The major advantage to passive immunity is that protection is immediate, whereas active immunity takes time (usually several weeks) to develop. However, passive immunity lasts only for a few weeks or months. Only active immunity is long-lasting.
8. Will BA.4, BA.5 Omicron lineages cause the next wave?
Subject: Science
Section: Disease
Context: A group of variants with similar genetic changes or group of lineages'
Concept:  World Health Organization (WHO) designated the B.1.1.529 lineage of SARS-CoV-2 as Variant of Concern (VOC) Omicron in late Nov 2021. Omicron is more transmissible (e.g., more easily spread from person to person) and has the ability to infect people who had prior immunity to Delta or any previous lineages of the virus.
Lineage: A lineage is a group of closely related viruses with a common ancestor. SARS-CoV-2 has many lineages; all cause COVID-19.
Variant: A variant is a viral genome (genetic code) that may contain one or more mutations. In some cases, a group of variants with similar genetic changes, such as a lineage or group of lineages, may be designated by public health organizations as a Variant Being Monitored (VBM), Variant of Concern (VOC) or a Variant of Interest (VOI) due to shared attributes and characteristics that may require public health action.
 What does it mean a virus mutates or changes?
When a virus replicates or makes copies of itself, it sometimes changes a little bit. These changes are called "mutations." A virus with one or several new mutations is referred to as a "variant" of the original virus. When more viruses circulate, the more they may change. These changes can occasionally result in a virus variant that is better adapted to its environment compared to the original virus. This process of changing and selecting successful variants are called "virus evolution."
Some mutations can lead to changes in a virus's characteristics, such as altered transmission (for example, it may spread more easily) or severity (for example, it may cause a more severe disease).
Some viruses change quickly and others more slowly. SARS-CoV-2, the virus which causes COVID-19, tends to change more slowly than others such as HIV or influenza viruses. This could in part be explained by the virus's internal "proofreading mechanism" which can correct "mistakes" when it makes copies of itself. Scientists continue to study this mechanism to better understand how it works.
Concerning facts of SARS-CoV-2 changing
It is normal for viruses to change, but it is still something scientists follow closely because there can be important implications.
All viruses, including SARS-CoV-2, the virus that causes COVID-19, change over time. So far hundreds of variations of this virus have been identified worldwide.
Most changes have little to no impact on the virus' properties. However, depending on where the changes are located in the virus's genetic material, they may affect the virus's properties, such as transmission (for example, it may spread more easily) or severity (for example, it may cause more severe disease).
Genetic lineages of SARS-CoV-2 have been emerging and circulating around the world since the beginning of the COVID-19 pandemic.
SARS-CoV-2 genetic lineages are routinely monitored through epidemiological investigations, virus genetic sequence-based surveillance, and laboratory studies.
 The classification of SARS-CoV-2 genetic lineages was based on the following:
Detection of cases attributed to Omicron in multiple countries, including among those without travel history.
Transmission and replacement of the Delta variant in South Africa.
The number and locations of substitutions in the spike protein.
Available data for other variants with fewer substitutions in the spike protein that indicate a reduction in neutralization by sera from vaccinated or convalescent individuals.
Available data for other variants with fewer substitutions in the spike protein that indicate reduced susceptibility to certain monoclonal antibody treatments.
On April 14, 2022 SARS-CoV-2 Interagency Group (SIG) downgraded Delta from a Variant of Concern to a Variant Being Monitored. This new classification was based on the following:

Significant and sustained reduction in its national and regional proportions over time.
Evidence suggesting that Delta does not currently pose a significant risk to public health in the United States.

The SIG Variant classification scheme defines four classes of SARS-CoV-2 variants:
o    Variant Being Monitored (VBM)
Alpha (B.1.1.7 and Q lineages)
Beta (B.1.351 and descendent lineages)
Gamma (P.1 and descendent lineages)
  Delta (B.1.617.2 and AY lineages)
Epsilon (B.1.427 and B.1.429)
Eta (B.1.525)
Iota (B.1.526)
Kappa (B.1.617.1)
617.3
Mu (B.1.621, B.1.621.1)
Zeta (P.2)
o    Variant of Interest (VOI)
o    Variant of Concern (VOC)
Omicron (B.1.1.529, BA.1, BA.1.1, BA.2, BA.3, BA.4 and BA.5 lineages)
o    Variant of High Consequence (VOHC)
How Variants Are Classified
With the continuous evolution of SARS-CoV-2 and understanding of the impact of variants on public health, variants may be reclassified based on their attributes and prevalence.
Variants being monitored (VBM)–
Variant of interest (VOI)
Variant of Concern (VOC)
Variant of high consequence (VOHC)
Variants Being Monitored (VBM): Variants designated as VBM include those where data indicates there is a potential or clear impact on approved or authorized medical countermeasures or that has been associated with more severe disease or increased transmission but are no longer detected, or are circulating at very low levels.
 Variant of Interest (VOI)
A variant with specific genetic markers that have been associated with changes to receptor binding, reduced neutralization by antibodies generated against previous infection or vaccination, reduced efficacy of treatments, potential diagnostic impact, or predicted increase in transmissibility or disease severity.
Possible attributes of a Variant of Interest:
Specific genetic markers that are predicted to affect the transmission, diagnostics, therapeutics, or immune escape.
Evidence that it is the cause of an increased proportion of cases or unique outbreak clusters.
Limited prevalence or expansion in the US or in other countries.
Variant of Concern (VOC)
A variant for which there is evidence of an increase in transmissibility, more severe disease (for example, increased hospitalizations or deaths), a significant reduction in neutralization by antibodies generated during previous infection or vaccination, reduced effectiveness of treatments or vaccines, or diagnostic detection failures.
Possible attributes of a variant of concern:
Evidence of impact on diagnostics, treatments, or vaccines

Widespread interference with diagnostic test targets
Evidence of substantially decreased susceptibility to one or more class of therapies
Evidence of significantly decreased neutralization by antibodies generated during previous infection or vaccination
Evidence of reduced vaccine-induced protection from severe disease

Evidence of increased transmissibility
Evidence of increased disease severity
Variant of High Consequence (VOHC): A VOHC has clear evidence that prevention measures or medical countermeasures (MCMs) have significantly reduced effectiveness relative to previously circulating variants.
Possible attributes of a variant of high consequence:
Impact on MCMs

Demonstrated failure of diagnostic test targets
Evidence to suggest a significant reduction in vaccine effectiveness, a disproportionately high number of infections in vaccinated persons, or very low vaccine-induced protection against severe disease
Significantly reduced susceptibility to multiple EUA or approved therapeutics
More severe clinical disease and increased hospitalizations