Daily Prelims Notes 1 November 2021
November 1, 2021

Posted by:

OptimizeIAS Team

Category:

DPN

Daily Prelims Notes
1 November 2021
Table Of Contents
1. Infrastructure for Resilient Island States
Subject – Economy
Context – IRIS and CDRI work to strengthen critical infrastructure against climate change
Concept –
Prime Minister Narendra Modi along with his UK counterpart Boris Johnson and a few other world leaders will launch a new programme to secure and strengthen critical infrastructure in small island states against disasters induced by climate change.
Named IRIS or Infrastructure for Resilient Island States, this programme is the first major work of the Coalition for Disaster Resilient Infrastructure which India had initiated in 2019.
CDRI – Climate-proofing infrastructure
The Coalition for Disaster Resilient Infrastructure (CDRI) is a multi-stakeholder global partnership of national governments, UN agencies and programmes, multilateral development banks and financing mechanisms, the private sector, and knowledge institutions.
The Prime Minister of India launched CDRI during his speech at the UN Climate Action Summit on 23rd September 2019.
The CDRI Secretariat is based in New Delhi, India.
The Coalition for Disaster Resilient Infrastructure (CDRI) is all about climate-proofing critical infrastructure in member countries.
As of now, 26 countries including the United States, Germany, UK, Australia, Brazil, Bangladesh, Afghanistan, Nepal, Bhutan, Sri Lanka and Japan are members of the coalition.
The coalition is supposed to serve as a 'knowledge centre' where member countries can share and learn best practices with respect to disaster-proofing infrastructure projects.
The coalition will not create any new infrastructure but, instead, will work towards making existing and upcoming infrastructure in member countries more robust and resilient so that they can withstand climate disasters like floods, heat waves, cyclones, forest fires, rains and other such events.
According to CDRI estimates, every dollar invested in making infrastructure more resilient in low and middle-income countries can potentially save over four dollars in losses suffered when a disaster strikes.
The aim of CDRI is to minimise damages and disruptions caused by disasters.
The CDRI is the second international climate initiative that India has launched.

The first was the International Solar Alliance (ISA) launched at the 2015 Paris climate change conference.
While the solar alliance would result in mitigation of greenhouse gases through large-scale switch from fossil fuels to solar energy, simultaneously addressing issues of energy access and energy security, CDRI is aimed towards the adaptation goal.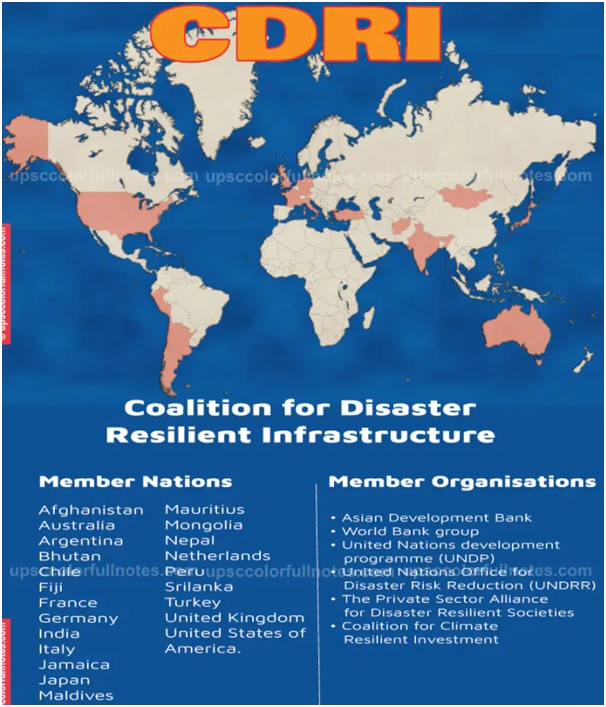 IRIS or Infrastructure for Resilient Island States
Infrastructure for Resilient Island States (IRIS) is an operationalisation of the CDRI initiative.
According to the CDRI, several small island states have lost as much as 9 per cent of their GDP in single disasters in the last few years.
The main work would involve mobilising and directing financial resources towards building resilient infrastructure in these countries, retrofitting existing infrastructure, development of early warning systems, and development and sharing of best practices.
Subject – History
Context – Punjab Police want Guru Nanak's birth anniversary to be declared 'World Pedestrian Day'
Concept –
Guru Nanak Dev is considered the world's most notable and revered pedestrian.
To spread the message of oneness and to break barriers across faiths by engaging in spiritual dialogues, the founder of Sikhism, Guru Nanak Dev, travelled far and wide during the 15th and 16th centuries.

From Mecca to Haridwar, from Sylhet to Mount Kailash, Guru Nanak visited hundreds of interfaith sites related to Hinduism, Islam, Buddhism, and Jainism throughout his journeys (also called udaasis).
At some sites, gurdwaras were constructed to commemorate his visit.

Later his travels were documented in texts called 'janamsakhis'.
These sites are now spread across nine nations as per current geographical divisions — India, Pakistan, Iran, Iraq, China (Tibet), Bangladesh, Saudi Arabia, Sri Lanka, and Afghanistan.
It is believed that during those times, when early modes of transport were limited and were mostly restricted to boats, animals (horses, mules, camels, bullock carts), Guru Nanak Dev, along with his companion Bhai Mardana, undertook most part of his journeys on foot.
The founder of Sikhism, made walking an integral part of the "Sikh culture". Each gurdwara now has "parikrama".
The proposal to designate Gurpurab as 'World Pedestrian Day' was conceptualized in 2019 ahead of Guru Nanak's 550th birth anniversary celebrations.
More about Guru Nanak –
He was born in 1459 at Talwandi Rai Bhoe village near Lahore, which was later renamed as Nankana Sahib.
He was the founder of Sikhism and is the first of the ten Sikh Gurus.
His birth is celebrated worldwide as Guru Nanak Gurpurab on Katak Pooranmashi ('full-moon of Kattak'), i.e. October–November.
Nanak is said to have travelled far and wide across Asia teaching people the message of ik onkar ('one God'), who dwells in every one of his creations and constitutes the eternal Truth.
Nanak's words are registered in the form of 974 poetic hymns, or shabda, in the holy text of Sikhism, the Guru Granth Sahib, with some of the major prayers being the Japji Sahib (jap, 'to recite'; ji and sahib are suffixes signifying respect); the Asa di Var ('ballad of hope'); and the Sidh Gosht ('discussion with the Siddhas').

Wrote compositions which were included in the Adi Granth, compiled by Guru Arjan (1563-1606), the fifth Sikh guru.
This came to be known as Guru Granth Sahib after the additions made by the 10th sikh guru Gobind Singh (1666-1708).

Advocated the 'Nirguna' (devotion to and worship of formless divine) form of bhakti.
Rejected sacrifices, ritual baths, image worship, austerities.
Set up rules for congregational worship (Sangat) involving collective recitation.
He placed the motto of "kirat karo, naam japo and vand chhako" (work, worship and share) before his disciples.
He advocated the concept of "dasvandh" or donating one-tenth of one's earning among needy persons.
Death: In 1539 at Kartarpur, Punjab.
3. Art Industry Reducing Its Carbon Footprint
Subject – Environment
Context – While several exhibitions in the past have been dedicated to nature and the need to arrest environmental degradation, art establishments now are also looking inward, analysing if the crisis begins at home.
Concept –
"Waste Age: What Can Design Do" exhibition – looks at the global waste crisis and presents possible solutions through the use of reclaimed and natural material.
What is the exhibition?
Timed around the UN's COP26 conference that will take place from October 31 to November 12, the ongoing exhibition comprises more than 300 objects and features works of designers who are rethinking our relationship with everyday things, from the way we dress to what we eat and how we live.
What is an environmental audit?
According to the University of London website, environmental auditing began in the US in the early 1970s.
The United States Environmental Protection Agency defines environmental audit as "a systematic, documented, periodic, and objective review of facility operations and practices related to meeting environmental requirements".
Gallery Climate Coalition (GCC) – the group's aim is to persuade the art industry to reduce its carbon footprint.
The Carbon Calculator, available to its members free of charge, is designed for the art world and allows users to identify the primary reasons for the carbon footprint and take required action. The indicators include factors such as travel and transport arrangements, packaging and printing details.
Subject – Economy
Context – Petroleum products: Excise collection 79% more than pre-Covid levels
Concept –
This is a duty on manufactured goods, which is levied at the time of manufacture.
A part of indirect tax, excise duty is a levy on particular goods and is collected at the point of manufacture, but ultimately, the burden is passed on to the consumer.

The manufacturer, who pays the levy to the government, adds the tax component to the price of the goods to recover it from the eventual buyer of goods, who ends up paying the higher price.

Excise duty is the opposite of Customs duty in that it applies to goods manufactured domestically in the country, while Customs is levied on those coming from outside of the country.
What is the difference between excise duty and GST?
Excise duty is imposed in addition to an indirect tax such as goods & services tax (GST), sales tax or value-added tax (VAT).
The difference between excise duty and other indirect taxes is that excise duty is levied on the manufacture of goods and at the time of removal of goods from the factory, while GST or sales tax or VAT are levied on the supply of goods and services.
How to claim the input tax credit?
Unlike GST, there is no such concept of invoice matching and a taxpayer may claim an input tax credit on the tax charged on the basis of a self-assessed return filed by him/her.
How much is the rate of excise duty?
The excise duty rates are specified according to central excise tariff rules, and currently, the rate of excise duty is 12.36 per cent, which varies according to the type of goods.
Who has the authority to impose excise duty in India?
Although excise duty in India is predominantly a central levy, the duty on production of some items like alcohol, alcoholic preparations, and narcotic substances is imposed and collected by state governments.
For most of these states, this is the second largest tax revenue after sales taxes/state VAT.
At the central level, excise duty earlier used to be levied as Central Excise Duty, Additional Excise Duty, etc.

However, the Goods and Services Tax (GST), introduction in July 2017, subsumed many types of excise duty. Today, excise duty applies only on petroleum and liquor.
After GST was introduced, excise duty was replaced by central GST because excise was levied by the central government. The revenue generated from CGST goes to the central government.
Controller General of Accounts (CGA)
The CGA is the Principal Accounting Adviser to the Government of India. The office is in the Department of Expenditure, Ministry of Finance, GOI.
The office of the CGA has the mandate to establish and maintain a technically sound Management Accounting system.
It also prepares and submits the accounts of the Central Government.
It is also in charge of the exchequer control and internal audits.
CGA vs CAG –
The CGA is not a constitutional body. But the CAG is a constitutional body.
Another difference between the CGA and the CAG is that the CAG is an independent body while the CGA is not. It is under the Department of Expenditure.
The President lays down general principles of government accounting on the CAG's advice, the CGA performs the function of maintaining them.
Subject – Environment
Context – COP-26 at Glasgow
Concept –
The world released 36.4 gigatonnes (Gt) of CO2 in 2019 — the last year for which global data for the GHG is available — in fossil fuel emissions and from the cement sector.

Of this, China alone emitted 28 per cent of the GHG.
Add the United States and the European Union-27 (minus the United Kingdom), and the countries account for 50 per cent of the world's CO2 emissions.
If we add Russia, Japan, UK, Canada and Australia, the share goes up to 62 per cent.

India, which is the fourth largest (third, if we do not account for EU-27 as a group), contributed some 2.62 Gt of CO2 in 2019 — compared to China's 10.17 GtCO2 and US's 5.28 GtCO2.

It added 7 per cent to the world's CO2 emissions in 2019.

The entire continent of Africa, with 17 per cent of the world's population, contributed a mere 4 per cent to the emissions in 2019.
CO2 emissions are still directly linked to a country's gross domestic product.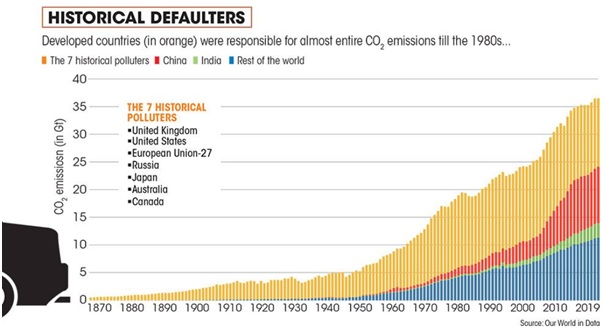 6. Climate Finance Delivery Plan
Subject – Environment
Context – Expectations from CoP26: Climate finance needs to be scaled up with focus on adaptation, says LDC Group.
Concept –
Least developed countries (LDC)are the least responsible for climate change but bear most of its brunt. They represent over one billion people in Africa, the Asia-Pacific and the Caribbean.
LDCs are now leading the way for decisive climate action, according to the United Nations Development Programme. About 83 per cent of the LDCs have submitted their enhanced NDCs as of October 12, 2021.
At least $93 billion per year will be required by all 46 LDCs for implementing their post-2020 climate action plans. But, it has been a decade and the developed nations failed to deliver on climate finance.
In 2009, at the Conference of the Parties (COP) of the United Nations Framework Convention on Climate Change (UNFCCC) in Copenhagen (COP15), developed country Parties committed, in the context of meaningful mitigation actions and transparency on implementation, to a goal of mobilising jointly US$100 billion a year by 2020 to address the needs of developing countries.

The climate finance goal was then formally recognized by the UNFCCC Conference of the Parties at COP16 in Cancun.
At COP21 in Paris, Parties extended the US$100 billion goal through 2025.

Developed countries may be able to deliver on the agreed goal of mobilising $100 billion per year in climate finance to support developing countries, said Organisation for Economic Co-operation and Development (OECD) in its report Climate Finance Provided and Mobilised by Developed Countries: Aggregate Trends released September 15, 2021.

Developed countries will make significant progress towards the $100 billion goal in 2022 and provide confidence that it will be met in 2023, according to OECD. The developed countries can mobilise more than $100 billion per year thereafter through to 2025.
At COP 26, discussions will begin on a new quantified climate finance goal. This time, new goal for climate finance must be based on the actual needs of our countries and the scale of action that is needed to leapfrog to low-carbon technologies.

The LDC group has appreciated assurances under the new Climate Finance Delivery Plan but raised doubts since the developed group failed to deliver on its promises in the last decade.
Loss and Damage from Climate Change
The Loss and Damage (L&D) discourse, initiated almost three decades ago by Small Island States worried about sea level rise, has given voice to concerns for climate change-related impacts that may be irreversible and beyond physical and social adaptation limits.
The discourse has become institutionalised in international climate policy through the Warsaw Mechanism on Loss and Damages adopted in 2013 and was given firm consideration in the Paris Agreement in 2015.
The term loss and damage is used within the UN Framework Convention on Climate Change (UNFCCC) process to refer to the harms caused by anthropogenic climate change.
The UNFCCC has defined loss and damage to include harms resulting from sudden-onset events (climate disasters, such as cyclones) as well as slow-onset processes (such as sea level rise).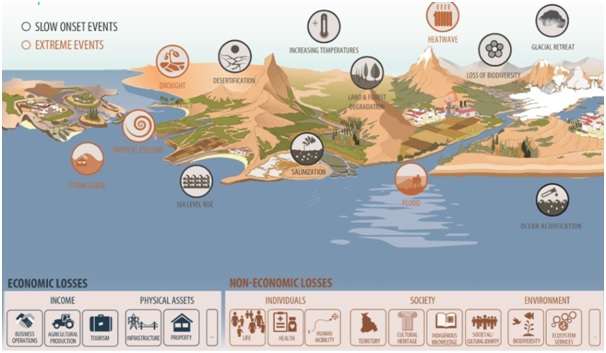 'Damage' is the negative impacts that can be repaired or restored (such as windstorm damage to the roof of a building, or damage to a coastal mangrove forest from coastal surges which affect villages).
While, 'Loss' is the negative  impacts  that  cannot  be  repaired  or  restored  (such  as  loss  of geologic  freshwater  sources  related  to  glacial  melt  or  desertification,  or  loss  of  culture  or  heritage associated with potential population redistribution away from areas that become less habitable due to climate change).
Thimphu Call for Ambition and Action
Ministers and Heads of Delegation of the Least Developed Country (LDC) Parties to the United Nations Framework Convention on Climate Change (UNFCCC), met in Thimphu, Bhutan, and virtually on 11 October 2021 in preparation for the UN Climate Change Conference (COP26, CMA3, CMP16) taking place in Glasgow, October-November 2021.
They emphasised that climate change requires urgent and immediate action that is both ambitious and equitable to support the interests of the poorest and most vulnerable countries and peoples.
Subject – Environment
Context – COP 26 in Glasgow
Concept –
Climate finance refers to local, national or transnational financing—drawn from public, private and alternative sources of financing—that seeks to support mitigation and adaptation actions that will address climate change.
The Convention, the Kyoto Protocol and the Paris Agreement call for financial assistance from Parties with more financial resources to those that are less endowed and more vulnerable.
In accordance with the principle of "common but differentiated responsibility and respective capabilities" set out in the Convention, developed country Parties are to provide financial resources to assist developing country Parties in implementing the objectives of the UNFCCC.

The Paris Agreement reaffirms the obligations of developed countries, while for the first time also encouraging voluntary contributions by other Parties.
What is the financial mechanism? What are the other funds?
To facilitate the provision of climate finance, the Convention established a financial mechanism to provide financial resources to developing country Parties.
The financial mechanism also serves the Kyoto Protocol and the Paris Agreement.
The Convention states that the operation of the financial mechanism can be entrusted to one or more existing international entities.
The Global Environment Facility(GEF) has served as an operating entity of the financial mechanism since the Convention's entry into force in 1994.
At COP 16, in 2010, Parties established the Green Climate Fund (GCF) and in 2011 also designated it as an operating entity of the financial mechanism. The financial mechanism is accountable to the COP, which decides on its policies, programme priorities and eligibility criteria for funding.
In addition to providing guidance to the GEF and the GCF, Parties have established two special funds—the Special Climate Change Fund (SCCF) and the Least Developed Countries Fund (LDCF), both managed by the GEF—and the Adaptation Fund (AF) established under the Kyoto Protocol in 2001.
At the Paris Climate Change Conference in 2015, the Parties agreed that the operating entities of the financial mechanism – GCD and GEF – as well as the SCCF and the LDCF shall serve the Paris Agreement.
At COP 16 in 2010, Parties decided to establish the Standing Committee on Finance (SCF) to assist the COP in exercising its functions in relation to the financial mechanism of the Convention.
The UNFCCC website includes a climate finance data portal with helpful explanations, graphics and figures for better understanding the climate finance process and as a gateway to information on activities funded in developing countries to implement climate action.
8. WMO State of the Global Climate 2021 report
Subject – Environment
Context – The last seven years are on track to be the warmest on record, according to the provisional WMO State of the Global Climate 2021 report
Concept –
The novel coronavirus disease (COVID-19) pandemic could not deter the world from emitting greenhouse gases. And now, record atmospheric greenhouse gas concentrations in 2021 have propelled the planet into uncharted territory, according to the World Meteorological Organization (WMO).
The last seven years are on track to be the warmest on record, according to the provisional WMO State of the Global Climate 2021 report.
Other facts of report –
Greenhouse gas concentrations reached new highs in 2020
The global mean temperature for 2021 (based on data from January-September) was about 1.09°C above the 1850-1900 average
2015-2021 will be the warmest years on record
The upper 2,000-metre of the ocean continued to warm in 2019, reaching a new record high. A preliminary analysis based on seven global data sets suggested that 2020 surpassed the record
The ocean absorbed around 23 per cent of the annual emissions of anthropogenic CO2 to the atmosphere and so, has become more acidic. Open ocean surface pH declined globally over the last 40 years; it is now the lowest it has been in at least 26,000 years

As the pH of the ocean decreases, its capacity to absorb CO2 from the atmosphere also declines.

The mean global mean sea level rise was 2.1 millimeters a year between 1993 and 2002 and 4.4 mm a year between 2013 and 2021, an increase by a factor of two between the periods

This was mostly due to an accelerated loss of ice mass from glaciers and ice sheets

On August 14, the rain was observed for several hours at Summit Station, the highest point on the Greenland Ice Sheet (3,216 m). Air temperatures remained above freezing for about nine hours. There is no previous report of rainfall at Summit.
California reached 54.4°C on July 9, equalling a similar 2020 value as the highest recorded in the world since at least the 1930s
Conflict, extreme weather events and economic shocks have increased in frequency and intensity in the last 10 years. The compounded effects of these perils, further exacerbated by the COVID-19 pandemic, have led to a rise in hunger.
Subject – Agriculture
Context – Over the last five years, the plant-based food movement in India has gained a central place amongst the most decisive trends in the food industry
Concept –
Using techniques like fermentation, extrusion and prolamin fraction the companies have created plant-based products that present just like their animal-based counterparts, mimicking both feel and texture.
Some companies extract proteins directly from the plant source — one such example is a pea protein used by Beyond Meat.

Other companies extract plant DNA and multiply it using fermentation to create molecules like "heme" which has now become an essential component in attempts to achieve that "meaty" flavour profile.

Plant-based alternatives to meat, dairy and eggs are significantly better for the environment, public health and animal welfare, and this makes them increasingly attractive to both traditional corporations and to start-ups.
Benefits of Plant-based alternatives –
Plant-based alternatives have been found to require 47-99 per cent less land, 72-99 per cent less water, and emit 30-90 per cent fewer greenhouse gasses when compared with animal-derived products.
Whole foods and plant-based diets have been found to reduce the incidence of major chronic diseases like heart disease, cancer and diabetes.
Plant-based alternatives circumvent the need for animal farming entirely, and thus score high on animal welfare.
Considering the growing population, our present food system is extremely inefficient as we feed grains to cows, goats, and chickens and then eat the animals. So, in essence, for every 9 calories of food fed to a chicken, we get 1 calorie back.
Heavy antibiotics use in livestock and poultry feed is leading to an increase in antibiotic resistance, which is one of the biggest threats to global health, food security, and development today.
Difference between Plant-based and cultured meat
Plant-based meats are made of plant-derived ingredients but are designed to look and taste like real meat.
Cultured meat, on the other hand, is a fairly new concept that refers to meat grown in a lab from a small sample of cells taken from an anima.
The procedure requires the extraction of stem cells from a donor animal, which then proliferate to produce animal tissue structures.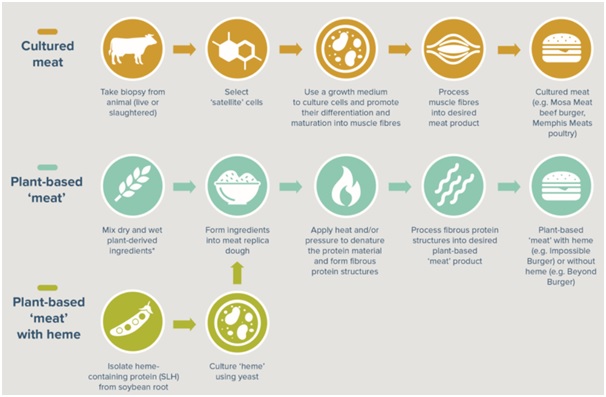 Important developments in the area
Impossible Foods and Beyond Meat are the biggest companies in this sector.
The Indian company Good Dot in Mumbai makes everything from burgers to kheema pav from plant-based meat.
The world's first cell-based meat company, Memphis Meats has found investment support from visionaries such as Bill Gates and Richard Branson.
Globally, the Netherlands, the U.S., Israel, Japan, and Singapore are developing both plant-based and clean meat.
10. Mauritius – a preferred channel for Foreign Investment
Subject – Economy
Context – Mauritius removed from FATF's grey list
Concept –
Mauritius had become the preferred channel for routing foreign investments into India due to two reasons.

One, the India-Mauritius double tax avoidance treaty allowed foreign investors using this channel to avoid capital gains tax on investments.
Two, the Mauritius off-shore financial centre wooed foreign investors with rather loose regulations that made it easy for companies to round-trip money into India through name-plate entities.

But with higher scrutiny of the shell companies with the adoption of the General Anti Avoidance Rules in 2017, coupled with tweaking of the DTAA which removed the tax benefits in this route, the Mauritius route has become less attractive.
Towards the beginning of 2012, FPIs from Mauritius were the largest holders of Indian equity and debt instruments amounting to ₹2.9-lakh crore.

The US was the second largest source of FPI money then, followed by Singapore and Luxembourg.

But Mauritius has slipped to second position in the last five years; FPIs from the US currently hold ₹19.17-lakh crore in Indian markets compared to just ₹5.72-lakh crore held by investors from Mauritius.
Foreign direct investors also increasingly prefer the Singapore route where the regulations are tighter.

The changes in the DTAA have put Mauritius and Singapore on an even footing.

Though Mauritius is out of the grey list and flows from the island nation are reducing, use of off-shore financial centres by businesses and high net worth individuals to avoid taxes is still rampant, as revealed by the recent Pandora Papers.
India should continue to play an active part in OECD's BEPS discussions to find a viable solution to fight tax evasion.
General Anti-Avoidance Rule (GAAR)
It is an anti-tax avoidance law in India to curb tax evasion and avoid tax leaks.
It came into effect on 1st April 2017.
The GAAR provisions come under the Income Tax Act, 1961.
GAAR is a tool for checking aggressive tax planning especially that transaction or business arrangement which is/are entered into with the objective of avoiding tax.
It is specifically aimed at cutting revenue losses that happen to the government due to aggressive tax avoidance measures practiced by companies.
With GAAR there is no difference between tax avoidance and tax evasion. All transactions which have the implication of avoiding tax can come under the scanner of GAAR.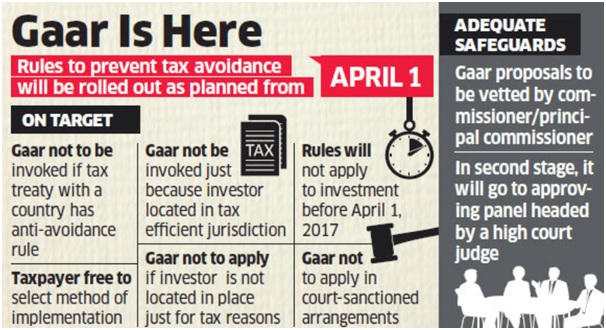 Subject – Economy
Context – In three years, informal economy down to 15-20% from 52%, says SBI report
Concept –
India's informal economy has shrunk to around 15-20 per cent of the formal GDP as against 52 per cent three years ago following the adoption of GST, enhanced digitalisation, and demonetisation, a report by the State Bank of India's (SBI) economic research department has said.
At least Rs 13 lakh crore has come into the formal economy through various channels over the last few years, including the recent scheme on the e-Shram portal, according to SBI Eco wrap.
The SBI projections suggest that the informal agriculture sector has shrunk from 97.1% of the sector's GVA in 2017-18 to just 70%-75% in 2020-21, driven by the increased penetration of credit through Kisan credit cards.
The informal sector consists of "own-account" or unorganised enterprises employing hired workers, with the highest share of such unorganised activity being in agriculture where holdings are small and fragmented.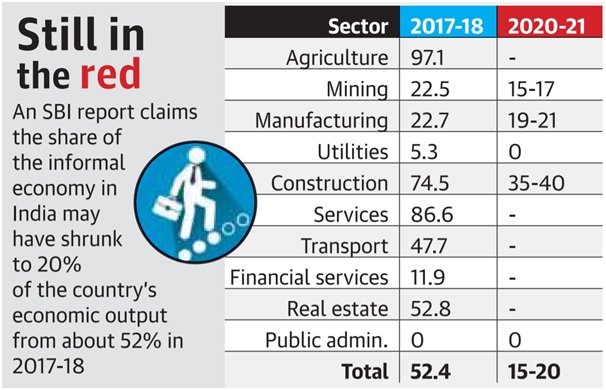 12. Scheduled Caste Sub Plan (SCSP) Fund
Subject – Governance
Context – In 2018-19, Bihar used SC/ST scholarship funds to build roads and embankments
Concept –
In 2018-19, Bihar used SC/ST scholarship funds to build roads and embankments.
This diversion of the Scheduled Caste Sub Plan (SCSP) fund was flagged by the Comptroller and Auditor General (CAG) in its 2018-19 report on Bihar's finances.
About the Fund –
The SCSP fund is meant for extending the centrally-sponsored Post-Matric Scholarship (PMS) to SC/ST students with an annual family income of less than Rs 2.5 lakh.
The scholarship — 60 per cent of which is funded by the Union Social Justice and Empowerment Ministry — is meant for educational and professional courses above Class 10 till Masters level.
Under the scheme, a state is entitled to avail any amount from the Centre above its annual committed liability of about Rs 115 crore.
The flagship post-matric scholarship benefits around 60 lakh SC/ ST students annually in the country.
Subject – Economy
Context – Railways red flags Kisan Rail subsidy: exceeded year's quota in August
Concept –
The Railways has raised a red flag over the burgeoning operational costs of its Kisan Rail service with the subsidy it gives farmers for transportation of their produce at half-rate already exceeding the maximum of Rs 50 crore it is scheduled to get this fiscal under the initiative from the Ministry of Food Processing Industries (MoFPI).
Under the "Operation Greens – TOP to Total" scheme, which was notified by the MoFPI, the 50 per cent subsidy to farmers covers the cost of transportation of popular produce, such as tomato, onion and potato. The arrangement was that while farmers would get to transport their produce at half-rate, the Railways would get the subsidy amount from the MoFPI.
About Kisan Rails –
Kisan Rails are the first ever multi commodity trains.
The MoPFI introduced the subsidy scheme in October 2020.
Earlier, Indian Railways had run single commodity special trains like Banana Specials etc.
These trains with refrigerated coaches will help in bringing perishable agricultural products like vegetables, fruits to the market in a short period of time.
These will ensure that agro products reach from one corner to another corner of the country.
These trains are a step towards realising the goal of doubling farmers' incomes by 2022.
These are expected to be a great help to the farmers, as freight of these trains will be charged as per parcel tariff of normal trains.
Any farmer or any other interested party can directly book their consignments in trains, without any lower limit on the size of consignment.
The consignment can be as small as 50-100 kgs, and can be booked from any stopping station to any other stopping station – giving full flexibility.
Regarding loss/damage of products for any reason, Railways already have a well-established claim/compensation system – through which the party can get compensation for its losses.
The first Kisan Rail ran from Deolali in Maharashtra to Danapur in Bihar in August 2020.
Subject – IR
Context – G-20 Summit adopts Rome Declaration
Concept –
The G20 or Group of Twenty is an intergovernmental forum comprising 19 countries and the European Union (EU).
It works to address major issues related to the global economy, such as international financial stability, climate change mitigation, and sustainable development.
The G20 is composed of most of the world's largest economies, including both industrialized and developing nations. The group collectively accounts for around 90% of gross world product (GWP), 75–80% of international trade, two-thirds of the world's population, and roughly half the world's land area.
The G20 was founded in 1999 in response to several world economic crises.
Since 2008, the group convenes at least once a year, with summits involving each member's head of government or state, finance minister, foreign minister, and other high-ranking officials; the EU is represented by the European Commission and the European Central Bank.

Other countries, international organizations, and nongovernmental organizations are invited to attend the summits, some on a permanent basis.

In addition to the Summit, ministerial meetings, Sherpa meetings (in charge of carrying out negotiations and building consensus among Leaders), working groups and special events are organized throughout the year.
At its 2009 summit, the G20 declared itself the primary venue for international economic and financial cooperation.
The G20 does not have a permanent secretariat: its agenda and activities are established by the rotating Presidencies, in cooperation with the membership.
A "Troika", represented by the country that holds the Presidency, its predecessor and its successor, works to ensure continuity within the G20.
The theme of the 16th G20 Summit 2021 is 'People, Planet, and Prosperity'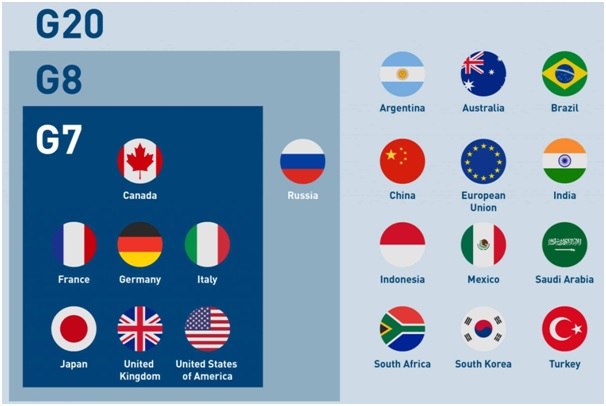 Rome Declaration
The Rome Declaration consists of 16 mutually agreed principles, which aims to guide joint action for preventing future health crises and to build a safer, equitable and sustainable world.
Subject – Environment
Context – Ahead of COP26, Indian site highlights emissions gap
Concept –
A day ahead of the commencement of the 26th United Nations Conference of Parties (COP) in Glasgow, Scotland, India has officially endorsed a website, made by Indian climate experts, that lists the historical carbon dioxide emissions of developed countries.
The database aims to highlight the disparity between the emissions of developed and developing countries with countries such as the United States, Canada and Australia and those in Western Europe shown as having a net carbon debt while developing countries such as India and China having net credit.
India is the third largest emitter of carbon emissions annually but the sixth largest when historical emissions are considered, and when accounting for the size of its population it is among the lowest per capita emitters.
The Climate Equity Monitor, as the site is called, is aimed at monitoring the performance of Annex-I Parties under the UNFCCC (developed countries) based on the "foundational principles" of the Climate Convention.
The performance and policies of the Non-Annex-I Parties (developing countries) will be provided for comparison.
The website was conceptualised and developed by the Climate Change Group at the M.S. Swaminathan Research Foundation, Chennai, and the Natural Sciences and Engineering Department at the National Institute of Advanced Studies, Bengaluru, with other independent researchers.
Subject – Defence and Security
Context – Navy takes delivery of warship
Concept –
The first ship of the four Project-15B state-of-the-art stealth guided missile destroyers, Visakhapatnam, being built at the Mazgaon Docks Limited (MDL), was delivered to the Navy.
Delayed by three years, the ships will be commissioned very soon.
The 163-metre-long warship has a full load displacement of 7,400 tonnes and a maximum speed of 30 knots.
The overall indigenous content of the project is approximately 75%.
The design of the ships has been developed in-house by the Directorate of Naval Design and are a follow-on of the Kolkata class (Project 15A) destroyers.
The four ships are named after major cities from all four corners of the country — Visakhapatnam, Mormugao, Imphal and Surat.
The keel of Visakhapatnam was laid in October 2013 and the ship was launched in April 2015.
These ships are equipped with BrahMos supersonic cruise missiles and long-range Surface-to-air missiles (SAM). The ship has several indigenous weapons systems like medium range SAMs, indigenous torpedo tube launchers, antisubmarine indigenous rocket launchers and 76-mm super rapid gun mount,
These ships are propelled by four gas turbines in Combined Gas and Gas (COGAG) configuration and have maximum endurance of 4000 nm at economical speed of 14 knots.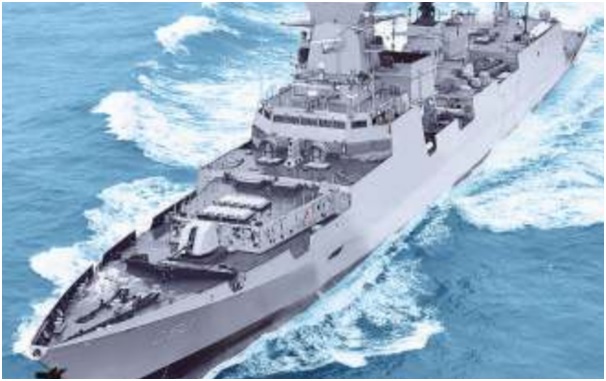 17. Cigarettes and Other Tobacco Products Act 2003
Subject – Government Schemes
Context – Stop tobacco sale to youth, says NCPCR
Concept –
It is an Act of Parliament of India enacted in 2003 to prohibit advertisement of, and to provide for the regulation of trade and commerce in, and production, supply and distribution of cigarettes and other tobacco products in India.
It replaced the Cigarettes Act of 1975 (largely limited to statutory warnings- 'Cigarette Smoking is Injurious to Health' to be displayed on cigarette packs and advertisements. It did not include non-cigarettes).
The 2003 Act also included cigars, bidis, cheroots, pipe tobacco, hookah, chewing tobacco, pan masala, and gutka.
Tobacco products cannot be sold to person below the age of 18 years, and in places within 100 yards radius from the outer boundary of an institution of education, which includes school colleges and institutions of higher learning established or recognized by an appropriate authority.
Tobacco products must be sold, supplied or distributed in a package which shall contain an appropriate pictorial warning, its nicotine and tar contents.
The owner/manager/in-charge of a public place must display a board containing the warning "No Smoking Area – Smoking here is an offence" in appropriate manner at the entrance and inside the premises.
The Act also gives power to any police officer, not below the rank of a sub-inspector or any officer of State Food or Drug Administration or any other officer, holding the equivalent rank being not below the rank of Sub-Inspector of Police for search and seizure of premises where tobacco products are produced, stored or sold, if he suspects that the provision of the Act has been violated.
Cigarettes and other Tobacco Products (Packaging and Labelling) Amendment Rules, 2020
It was mandated that the specified health warning shall cover at least 85% of the principal display area of the package.
Of this, 60% shall cover pictorial health warning and 25% shall cover textual health warning.
This shall be positioned on the top edge of the package and in the same direction as the information on the principal display area.
Subject – Environment
Context – Punjab does a deep dive for Indus dolphins
Concept –
Scientific Name: Platanista minor.
Indus river dolphins are believed to have originated in the ancient Tethys Sea. When the sea dried up approximately 50 million years ago, the dolphins were forced to adapt to its only remaining habitat—rivers.
Today, they can only be found in the lower parts of the Indus River in Pakistan and in River Beas, a tributary of the Indus River in Punjab, India.
They have adapted to life in the muddy river and are functionally blind. They rely on echolocation to navigate, communicate and hunt prey including prawns, catfish, and carp.
It has been named as the national mammal of Pakistan, and the state aquatic animal of Punjab, India.
IUCN status: Endangered.
They live for at least for 30 years and grow over 2 metres in length.
Currently, Indus and Ganges River dolphins are classified as two subspecies under South Asian River dolphins(Platanista gangetica).
Gangetic River Dolphin
Gangetic River Dolphin is primarily found in the Ganges and Brahmaputra Rivers and their tributaries in India, Bangladesh, and Nepal.
Habitat: They prefer deep waters in and around the confluence of rivers. They also act as an indicator of the health of the freshwater ecosystem as they can only live in freshwater.
The Gangetic River dolphin is India's national aquatic animal.
IUCN Status: Endangered
CITES: Appendix I (It means we cannot transfer any tissue or sample to foreign countries without getting CITES permission from the Competent Authority of Government of India)
Wildlife (Protection), Act 1972: Schedule 1.
Vikramshila Gangetic Dolphin Sanctuary (VGDS) in Bihar is India's only sanctuary for the Gangetic dolphin.
19. Exchange Traded Funds (ETFs)
Subject – Economy
Context – Within passive investing, Exchange Traded Funds or ETFs are gaining so smartly so that it's perfectly possible to build a good, diversified portfolio with just ETFs.
Concept –
An Exchange-Traded Fund (ETF) is a basket of securities that trade on an exchange, just like a stock.
ETF reflects the composition of an Index, like BSE Sensex. Its trading value is based on the Net Asset Value (NAV) of the underlying stocks (such as shares) that it represents.
ETF share prices fluctuate all day as it is bought and sold. This is different from mutual funds that only trade once a day after the market closes.
An ETF can own hundreds or thousands of stocks across various industries, or it could be isolated to one particular industry or sector.
Bond ETFs are a type of ETFs which may include government bonds, corporate bonds, and state and local bonds—called municipal bonds.
A bond is an instrument that represents a loan made by an investor to a borrower (typically corporate or governmental).
Besides being cost efficient, ETFs offer a diversified investment portfolio to investors.