Daily Prelims Notes 10 July 2022
July 10, 2022

Posted by:

OptimizeIAS Team

Category:

DPN

Daily Prelims Notes
10 July 2022
Table Of Contents
1. Cell therapy cancer centre takes shape in Bengaluru, trials are on
Subject: Science and technology
Section: Biotechnology
Context: In 2019, when Immuneel Therapeutics Ltd, founded by Pulitzer winning author and US oncologist Dr Siddhartha Mukherjee and leading biotech entrepreneur Kiran Mazumdar Shaw, planned to set up a breakthrough cell therapy facility for  cancer.
Stem Cells:
Stem cells are the body's raw materials — cells from which all other cells with specialized functions are generated.
Under certain conditions in the body or a laboratory, stem cells divide to form more cells called daughter cells.

These daughter cells either become new stem cells (self-renewal)or become specialized cells (differentiation) with a more specific function, such as blood cells, brain cells, heart muscle cells or bone cells.
No other cell in the body has the natural ability to generate new cell types.
Types of Stem Cells:
Somatic Stem Cells (SSCs) are the resident, self-renewable population of cells that are present virtually in all organs/tissues of the body. They are essentially undifferentiated, resident in differentiated tissues and are committed to the lineage of that organ. SSCs could be obtained from different sources, for example the fetus, umbilical cord, placenta, infant, child or adult; and from different organs/tissues. They are generally present in relatively low numbers in most tissues.
Pluripotent Stem Cells have the ability to differentiate into derivatives of all three germ layers, viz., ectoderm, mesoderm and endoderm, but not placenta.
Embryonic Stem Cells (ESCs) are derived from pre-implantation embryos (blastocysts). Those derived from embryos before differentiation of trophectoderm and inner cell mass (i.e. morula stage) are truly totipotent, capable of giving rise to the entire organism including extra-embryonic tissues. ESCs derived from the inner cell mass (ICM) are pluripotent (not totipotent).
Induced Pluripotent Stem Cells (iPSCs), as the name suggests are pluripotent in nature, quite similar to the ESCs. They are capable of indefinite expansion and differentiation into ectodermal, mesodermal and endodermal cells. The iPSCs can be generated from somatic cells by a variety of genetic and epigenetic methods.
What is Stem cell therapy?

Stem cell therapy, also known as regenerative medicine, promotes the repair response of diseased, dysfunctional or injured tissue using stem cells or their derivatives.
Stem cells can then be implanted into a person. For example, Mumbai baby boy was injected with 40 million stem cells and gradually the lungs began to repair. In this case, doctors used mesenchymal stem-cell therapy (these are adult stem cells and are different from Embryonic stem cells) on an experimental basis.
Ex: A US patient has become the third person in the world, and the first woman, to be cured of HIV, the deadly virus that causes AIDS using umbilical cord blood.
National Guidelines for Stem Cell Research (NGSCR) in 2017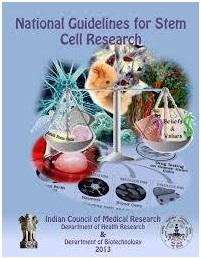 Indian Council of Medical Research (ICMR) released the NGSCR in 2017.
It aims to ensure that all research with human cell is conducted in an ethical and scientifical manner.
The guidelines focus on:
Monitoring mechanism and regulatory pathway for basic, clinical research and product development based on categories of research and level of manipulation.
Procurement of gametes, embryos and somatic cells for derivation and propagation of any stem cell lines, their banking and distribution.
Other important areas like international collaboration, exchange of cell/lines and education for stakeholders and advertisement.
Prohibitions under Guidelines
Research related to human germ line gene therapy and reproductive cloning
In vitro culture of intact human embryos beyond 14 days of fertilization or formation of primitive streak whichever is earlier.
Clinical trials involving transfer of xenogeneic cells.
Subject: Science and technology
Section: Biotechnology
Context:
In 2019, when Immuneel Therapeutics Ltd, founded by Pulitzer winning author and US oncologist Dr Siddhartha Mukherjee and leading biotech entrepreneur Kiran Mazumdar Shaw, planned to set up a breakthrough cell therapy facility for
Chimeric antigen receptor T cells are T cells that have been genetically engineered to produce an artificial T-cell receptor for use in immunotherapy. Chimeric antigen receptors are receptor proteins that have been engineered to give T cells the new ability to target a specific protein.
An 11-year-old has become the first patient to receive CAR-T therapy (immunotherapy) that uses the body's own cells to fight cancer.
CAR-T is a personalized form of cancer treatment.
CAR-T involves removing immune cells and modifying them in a laboratory so they can recognize cancer cells.
Immunotherapy is treatment that uses your body's own immune system to help fight cancer.
First, the patient has blood removed and the white blood cells are separated out, with the rest of the blood being returned to the patient.
A harmless virus is used to insert genes into T-cells, a special type of immune cell.
These genes cause the T-cells to add a hook on to their surface, known as a chimeric antigen receptor (CAR).
These engineered CAR-T cells – programmed to recognize and destroy the patient's cancer cells – are multiplied in huge numbers and then infused back into the patient.
3. NASA Chief Warned China May Try to Claim the Moon. That's Unlikely.
Subject :Science and Tech
Section  : Space
Context:
Some Chinese officials and government documents have expressed intentions to build a permanent, crewed International Lunar Research Station by 2027
In 2019, China became the first country to land a spacecraft on the far side of the Moon, even as China and Russia announced joint plans to reach the lunar south pole by 2026
What the International space law says
The Outer Space Treaty, adopted in 1967 and signed by 134 countries, including China, explicitly states that "Outer space, including the moon and other celestial bodies, is not subject to national appropriation by claim of sovereignty, by means of use or occupation, or by any other means" (Article II).
While no country can claim ownership of the Moon, Article I of the Outer Space Treaty allows any state to explore and use outer space and celestial bodies.
Other mission to moon
The US-led Artemis Accords is a group of 20 countries that has plans to return humans to the Moon by 2025, which will include the establishment of a research station on the lunar surface and a supporting space station in orbit called the 'Gateway' with a planned launch in November 2024
The Indian Space Research Organisation (ISRO) is working on the Chandrayaan-3
The Chandrayaan-3 mission is a follow-up of Chandrayaan-2 of July 2019, which aimed to land a rover on the lunar South Pole.
The subsequent failure of the Vikram lander led to the pursuit of another mission to demonstrate the landing capabilities needed for the Lunar Polar Exploration Mission proposed in partnership with Japan for 2024.
It will have an orbiter and a landing module. However, this orbiter won't be loaded with scientific instruments like the Chandrayaan-2.
Its job will only be confined to carry the lander to the moon, oversee the landing from its orbit and communicate between the lander and the earth station.
Concerns
Even if no country can legally claim sovereignty over the Moon, it is possible that China, or any other country, would attempt to gradually establish de facto control over strategically important areas through a strategy known as "salami slicing."
What is salami slicing?
This practice involves taking small, incremental steps to achieve a big change: Individually, those steps do not warrant a strong response, but their cumulative effect adds up to significant developments and increased control.
China has recently been using this strategy in the South and East China seas. Still, such a strategy takes time and can be addressed.
4. Re-wilding red pandas: Darjeeling zoo attempts country's first augmentation of endangered mammal in the wild
Subject: Geography
The Singalila National Park, the highest protected area in West Bengal, will soon get new denizensI
In the first re-wilding programme of red pandas (Ailurus fulgens) in India, the Padmaja Naidu Himalayan Zoological Park has started an ambitious programme to release 20 of these furry mammals in about five years to the forests.
The number of red pandas has been declining in the wild, even in the Singalila and Neora Valley National Parksboth situated in West Bengal
About Red Panda
Categorised as an endangered species as per IUCN Red List of Threatened Species, red pandas are shy, solitary and arboreal animals and considered an indicator species for ecological change.
India is home to both the (sub) species — Himalayan red panda (Ailurus fulgens) and the Chinese red panda (Ailurus styani) and the Siang river in Arunachal Pradesh splits the two phylogenetic species.
5. Variants, Sublineages, and Recombinants: The Constantly Changing Genome of SARS-CoV-2
Subject: Science and technology
Section: Biotechnology
Mutation
When a virus replicates, it makes copies of all of its genes. In the process, it makes mistakes, like typos in the string of 30,000 letters that make up the SARS-CoV-2 genome. Those mistakes may result in changes in the amino acids that make up a protein, altering its structure. Usually, those mistakes are called mutation
 Variants
When a population of viruses with the same set of mutations is found in enough hosts, that group is labeled a variant
Variants of Cocern
Variants that have the potential or demonstrated ability to be much more transmissible, immune evasive, or virulent are closely monitored and may be designated as variants of interest (VOIs), or variants of concern (VOCs)
The World Health Organization has designated five variants as VOCs and given them the Greek letter names Alpha, Beta, Gamma, Delta, and Omicron
Classification of SARS-CoV-2 viruses
A clade or lineage is a group of genetically similar viruses with a common ancestor.
A sublineage is a group of similar viruses within a lineage.
A subvariant is a sublineage of a variant, usually referring to a variant of concern.
The WHO includes all of the sublineages of a lineage within its labels for variants of concern.
What is the cause of recent increase in Covid cases
Every time SARS-CoV-2 infects a person and replicates, mutations will occur.As long as SARS-CoV-2 continues to spread, it will evolve and new variants will emerge
In the summer of 2021, a Delta subvariant, now called AY.1, was detected with an additional mutation that was associated with the ability to evade the immune system
More recently, another sublineage of Delta, called AY.4.2, was detected in at least 42 countries. It had three potentially worrisome mutations and began to increase in prevalence in some areas, although it did not reach very high levels worldwide.
Many of the monoclonal antibody treatments that are effective against the Delta variant, for example, are ineffective against the BA.1 sublineage of Omicron
Natural infection too has been found to be less protective against re-infection by the Omicron sub-lineages
Hybrid immunity caused by vaccination and infection was generally seen to offer slightly better protection against infection. But with the Omicron sub-lineages, even hybrid immunity offers no advantage in terms of protecting against re-infections
What is S-Gene Dropout or S-Gene Target Failure (SGTF) test
SGTF was a quick, inexpensive way to track the Omicron variant as it spread throughout the world. Unlike sequencing, which requires more specialized equipment and trained personnel, the SGTF feature allows diagnostic laboratories to detect possible Omicron cases.
6. States discuss issues of river water sharing, women's safety, fast-track courts with Home Minister during a meeting of the Northern Zonal Council
Subject :Polity
Section: Federalism
Amit Shah on Thursday unveiled the 'Statue of Peace' of philosopher and social reformer Ramanujacharya in Sonawar
What are Zonal Councils?
About:
Zonal Councils are the statutory (and not the constitutional) bodies.
They are established by an Act of the Parliament, that is, States Reorganisation Act of 1956.
The act divided the country into five zones- Northern, Central, Eastern, Western and Southern and provided a zonal council for each zone.
In addition to the above mentioned Zonal Councils, a North-Eastern Council was created by a separate Act of Parliament, the North-Eastern Council Act of 1971.
Its members include Assam, Manipur, Mizoram, Arunachal Pradesh, Nagaland, Meghalaya, Tripura and Sikkim.
These are advisory bodies that make recommendations with regard to any matter of common interest
Organizational Structure:
Chairman: The Union Home Minister is the Chairman of each of these Councils.
Vice Chairman: The Chief Ministers of the States included in each zone act as Vice-Chairman of the Zonal Council for that zone by rotation, each holding office for a period of one year at a time.
Members: Chief Minister and two other Ministers as nominated by the Governor from each of the States and two members from Union Territories included in the zone.
Advisers: One person nominated by the Planning Commission (now NITI Aayog) for each of the Zonal Councils, Chief Secretaries and another officer/Development Commissioner nominated by each of the States included in the Zone.
Objectives:
Bringing out national integration.
Arresting the growth of acute State consciousness, regionalism, linguism and particularistic tendencies.
Enabling the Centre and the States to co-operate and exchange ideas and experiences.
Establishing a climate of co-operation amongst the States for successful and speedy execution of development projects.
Functions of the Councils:
Any matter of common interest in the field of economic and social planning,
Any matter concerning border disputes, linguistic minorities or inter-State transport,
Any matter connected with or arising out of, the reorganization of the States under the States Reorganisation Act.
7. Regulation of medical devices: Draft Bill suggests separate expert group, check on online pharmacies
Subject : Governance
Section : Act
Context: The Union Health ministry has released the new draft 'Drug, Medical Devices, and Cosmetics Bill-2022' that separately defines medical devices, makes provision for constitution of a separate expert group on medical devices, and calls for setting up of central and state medical device-testing laboratories on the lines of the network of drug-testing laboratories.
The draft Bill also suggests that the Central government formulate rules for regulating online pharmacies
It makes provision for creation of a 'medical devices technical advisory board' on the lines of the existing drugs technical advisory board.
This board will not only include medical professionals, but also people with technical knowledge of the devices. Other than officials from the Health ministry, the board will also include people from the department of atomic energy, department of science and technology, ministry of Electronics, DRDO, and experts in the field of biomedical technology, biomaterials, and polymer technology.
The draft Bill also proposes medical device testing centreson the lines of drug laboratories in states and at the central level
the new Bill also proposes compulsory permission of the central licensing authority for clinical trials or clinical investigation of drugs and medical devices.
The draft Bill states medical management and compensation has to be provided to persons who are injured while participating in such trials. And, in case of death, the legal heir of the participant should be awarded the compensation.
The Bill also touches upon the contentious issue of e-pharmacies, which drug store owners say are hard to regulate.
Issues with epharmacy
Many do not have a licence and just sell drugs that are available with other licensed stockists.
They offer online consultations and just prescribe medicines, which are not always a transparent mechanism.
they offer big discounts and the product is not always of quality