Daily Prelims Notes 10 May 2022
May 10, 2022

Posted by:

OptimizeIAS Team

Category:

DPN

Daily prelims Notes
10 May 2022
Table Of Contents
1. IndiGo denying boarding to a child with Special needs
Subject: Governance
Section: Act
Context: National Commission for Protection of Child Rights (NCPCR) on Monday asked the Jharkhand police to lodge a First Information Report (FIR) against IndiGo for allegedly barring a differently abled child from boarding a flight at the Ranchi airport.
Rights of Persons with Disabilities Act, 2016
The Act replaces the Persons with Disabilities (Equal Opportunities, Protection of Rights and Full Participation) Act, 1995. It fulfills the obligations to the United National Convention on the Rights of Persons with Disabilities (UNCRPD), to which India is a signatory.  The Act came into force during December 2016.
The types of disabilities have been increased from existing 7 to 21 and the Central Government will have the power to add more types of disabilities.
Persons with "benchmark disabilities" are defined as those certified to have at least 40 per cent of the disabilities specified above.
Rights and entitlements under act
Responsibility has been cast upon the appropriate governments to take effective measures to ensure that the persons with disabilities enjoy their rights equally with others.
Additional benefits such as reservation in higher education (not less than 5%), government jobs (not less than 4 %), reservation in allocation of land, poverty alleviation schemes (5% allotment) etc. have been provided for persons with benchmark disabilities and those with high support needs.
Every child with benchmark disability between the age group of 6 and 18 years shall have the right to free education.
Government funded educational institutions as well as the government recognized institutions will have to provide inclusive education to the children with disabilities.
For strengthening the Prime Minister's Accessible India Campaign, stress has been given to ensure accessibility in public buildings (both Government and private) in a prescribed time-frame.
UN Convention on Rights of Persons with Disabilities (UNCRPD)
The Convention on the Rights of Persons with Disabilities and its Optional Protocol was adopted on 13 December 2006 at the United Nations Headquarters in New York.
There were 82 signatories to the Convention. The Convention entered into force on 3 May 2008.
It is the first comprehensive human rights treaty of the 21st century.
The Convention follows decades of work by the United Nations to change attitudes and approaches to persons with disabilities.
It takes to a new height the movement from viewing persons with disabilities as "objects" of charity, medical treatment and social protection towards viewing persons with disabilities as "subjects" with rights, who are capable of claiming those rights and making decisions for their lives based on their free and informed consent as well as being active members of society.
The Convention is intended as a human rights instrument with an explicit, social development dimension.
It adopts a broad categorization of persons with disabilities and reaffirms that all persons with all types of disabilities must enjoy all human rights and fundamental freedoms.
Subject: Economy
Section: External Sector
Context:
Every year, about 2.5 million workers from India move to different parts of the world on employment visas.
Details:
According to the Ministry of External Affairs, there are over 13.4 million Non-Resident Indians worldwide.
Of the total, 64% live in the Gulf Cooperation Council (GCC) countries, the highest being in the United Arab Emirates, followed by Saudi Arabia and Kuwait.
Almost 90% of the Indian migrants to the GCC countries are low and semi-skilled workers,
Other significant countries of destination for overseas Indians are the U.S., the U.K., Australia, and Canada.
As per a World Bank Group report (2021),annual remittances transferred to India are estimated to be $87 billion- highest in the world, followed by China ($53 billion), Mexico ($53 billion), the Philippines ($36 billion) and Egypt ($33 billion).
India's Remittances contribute 3% in GDP  and is lower than that of countries such as Nepal (24.8%), Pakistan (12.6%), Sri Lanka (8.3%) and Bangladesh (6.5%),
Remittances in India have been substantially higher than even Foreign Direct Investment (FDI) and the flow of remittances is much less fluctuating than that of FDI.
Emigration Bill 2021
The Bill intends to replace the Emigration Act of 1983.
The Bill envisages comprehensive emigration management, institutes regulatory mechanisms governing overseas employment of Indian nationals and establishes a framework for protection and promotion of welfare of emigrants.
The bill proposes a three-tier institutional framework:

It launches a new emigration policy division in (MEA) which will be referred to as the Central Emigration Management Authority.
It proposes a Bureau of Emigration Policy and Planning, and a Bureau of Emigration Administration shall handle day-to-day operational matters and oversee the welfare of emigrants.
It proposes nodal agencies under a Chief Emigration Officer to ensure the welfare and protection of the emigrants.

It permits government authorities to punish workers by canceling or suspending their passports and imposing fines up to Rs 50,000 for violating any of the Bill's provisions.
When enforced, it can be used as a tool to crackdown on workers who migrate through unregistered brokers or via irregular arrangements such as on tourist visas.
The proposed legislation will also maintain registration of human resources agencies, validity and renewal and cancellation of a certificate.
Besides, authorities will be empowered to have certain powers of the civil court.
The "e-Migrate" system 
To regulate overseas employment especially for protection of less educated blue collar workers, the Emigration Check Required process is regulated through a unique computerized system called "e-Migrate". This is a system which is integrated with the Passport Sewa Project of the Ministry of External Affairs and Bureau of Immigration of the Ministry of Home Affairs on one-hand and the Indian Missions in the 18 ECR countries, Foreign Employers and the Registered Recruiting Agents on the other.
Whenever an emigrant arrives at an airport or check-post to proceed abroad, his Passport details are validated online by the Immigration Officers and only those who have obtained Emigration Clearance are allowed to travel. This is a measure to ensure protection against possible exploitation of the Indian workers.
It functions under the control of Protector General of Emigrants who exercises directly or through Protector of Emigrants the powers and responsibilities under the Emigration Act, 1983 through the system, to ensure protection of Indian emigrants proceeding abroad, for overseas employment.
3. Government bonds and bond yield
Subject: Economy
Section: Fiscal Policy
Context:
The 10-year benchmark bond ended at 7.46%, after earlier reaching a high of
7.49%. The official said the government expects the RBI to conduct a switch operation, offering investors a chance to exchange their short-dated bonds for debt with a longer maturity, or to buy back government bonds within the next two weeks.
Concept:
Bonds are loans the one makes to a corporation or government. The interest payments remain largely unchanged over the life of the loan. Moreover, one receives the principal at the end of the loan tenure if the borrower doesn't default.
Bond yield, on the other hand, is the return that an investor gets on that bond or on a particular government security.
Bond yield and bond prices:
A fall/rise in interest rates in an economy pushes up/pulls down bond prices. However, bond yields fall/rise in this situation.
This happens because if RBI, for example, decides to increase interest rates, the bond's price (which is offering similar return as the current interest rates) would fall because its coupon payment is less attractive now on a relative basis. Therefore, investors would chase new bonds with better risk-free returns.
Causes of high bond yield:
Higher government borrowing-Higher government borrowing through Issuance of securities, especially when inflation is high, will push up yields on bonds and result in a falling bond price.
Inflation-
Rise in repo rate- if RBI, for example, decides to increase interest rates, the bond's price (which is offering similar return as the current interest rates) would fall because its coupon payment is less attractive now on a relative basis.
Rise in Fed rate-capital outflows
Impact:
Rising yields mean investors expect a rise interest rates and therefore, sell the bond papers they are holding thus, leading capital outflows and stock market crash due to outflow of funds from the equity market.
Measures:
Measures that would boost demand (leads to decline in bond supply or rise in price of bonds) for government bonds and keep yields in check:
Increase the held to maturity (HTM) limit of banks substantially -The entire investment portfolio of the banks (including SLR securities and non-SLR securities) are  classified under three categories viz. 'Held to Maturity', 'Available for Sale' and 'Held for Trading'. Held-to-maturity securities are debt security investments which the holder has the intention and ability to hold until a specific date of maturity. The investments classified under HTM need not be marked to market and will be carried at acquisition cost, as subsequent changes in market value are ignored because the return is predetermined.
Earlier RBI allowed the HTM investment to rise provided it remains within an overall limit of 19.5 percent of the deposit base. This 19.5 per cent limit has now been increased to 22 per cent. This extra limit of 2.5 per cent meant an extra demand of nearly Rs 3.56 trillion bonds.
Open Market Operation-The central bank conducts special open market operations (OMO), under which it simultaneously buys and sells bonds worth Rs. In market parlance, this kind of OMO is called Operation Twist.
Reverse the funds taken under long-term repo operations (LTROs), to ease their cost of funds. Thus, the banks may reduce their interest liability by returning funds taken at the repo rate prevailing at that time (5.15 per cent) and availing funds at the current repo rate of 4 per cent. Reversal of LTRO will reduce intertemporal consequences for Banks, and will improve appetite for banks to borrow and park in bonds.
Increase Statutory Liquidity ratio- also increase demand for bonds as SLR includes investment in government bonds.
An Appreciating rupee theoretically makes import cheaper, and therefore controls inflation. It is considered an indirect method of raising interest rates without touching policy rates potential of leading capital inflows.
Issue:
RBI policy to curtail bond yield is generally associated with excess liquidity in the system especially OMO (purchasing bonds in return of money)  thus, is in conflict with the ongoing monetary tightening session.
Subject: Economy
Section: External Sector
Context:
There is a danger that we may witness a drop in WGI scores due to the latest negative commentary on India by think tanks, survey agencies and international media. This could possibly downgrade our Sovereign Ratings to junk
Sovereign Credit Rating:
A sovereign credit rating is an independent assessment of the creditworthiness of a country or sovereign entity.
It can give investors insights into the level of risk associated with investing in the debt of a particular country, including any political risk.
In addition to issuing bonds in external debt markets, another common motivation for countries to obtain a sovereign credit rating is to attract foreign direct investment (FDI).
At the request of the country, a credit rating agency will evaluate its economic and political environment to assign it a rating.
S&P gives a BBB- or higher rating to countries it considers investment grade, and grades of BB+ or lower are deemed to be speculative or "junk" grade.
Moody's considers a Baa3 or higher rating to be of investment grade, and a rating of Ba1 and below is speculative.
A rating agency is a company that assesses the financial strength of companies and government entities, especially their ability to meet principal and interest payments on their debts.
Fitch Ratings, Moody's Investors Service and Standard & Poor's (S&P) are the big three international credit rating agencies controlling approximately 95% of global ratings business.
In India, there are six credit rating agencies registered under Securities and Exchange Board of India (SEBI) namely, CRISIL, ICRA, CARE, SMERA, Fitch India and Brickwork Ratings.
Factors determining:
A country's sovereign rating is based on subjective factors such as assessments on governance, political stability, rule of law, corruption, press freedom, and so on. Credit agencies use the World Bank's World Governance Indicators (WGI) as a proxy for these subjective factors.
A downgrade implies:
Being downgraded can have a big impact on a country's ability to borrow money on the markets. Investors see it as a riskier bet and demand higher returns to lend to governments. Even if it manages to raise any funds, it will come at exorbitant cost.
The Worldwide Governance Indicators (WGI) project reports aggregate and individual governance indicators for over 200 countries and territories over the period 1996–2020, for six dimensions of governance:
Voice and Accountability
Political Stability and Absence of Violence/Terrorism
Government Effectiveness
Regulatory Quality
Rule of Law
Control of Corruption
These aggregate indicators combine the views of a large number of enterprise, citizen and expert survey respondents in industrial and developing countries.  They are based on over 30 individual data sources produced by a variety of survey institutes, think tanks, non-governmental organizations, international organizations, and private sector firms.
Subject: History
Section: Persoanlity
Context: Rabindranath Tagore celebrates 161st birth anniversary
Rabindranath Tagore:
Rabindranath Tagore was a Bengali poet, novelist, and painter, who was born in Calcutta on May 7, 1861 and was highly influential in introducing Indian culture to the west.
He was also referred to as 'Gurudev', 'Kabiguru', and 'Biswakabi'.
He was the first non-European to receive the Nobel Prize for his work on Gitanjali in 1913.
In 1915, Tagore was awarded knighthood by the British King George V. However, in 1919, following the Jallianwalla Bagh massacre he renounced his Knighthood.
Rabindranath Tagore was a good friend of Mahatma Gandhi and is said to have givenhim the title of Mahatma.
He not only gave the national anthems for two countries, India and Bangladesh, but also inspired a Ceylonese student of his, to pen and composes the national anthem of Sri Lanka.
Tagore believed in open-air education and had reservations about any teaching done within four walls. This was due to his belief that walls represent the conditioning of the mind.
Tagore did not have a good opinion about the Western method of education introduced by the British in India; on this subject, Tagore and Gandhiji's opinion matched.
So, in 1921, he founded the Vishwabharati University at Santiniketan. He believed it stifled creativity. He conceived of an educational system where the students' curiosity was kindled and learning became more natural.
He had spoken at the World Parliament for Religions in the years 1929 and 1937.
Subject: Governance
Section: Acts
Context: Delhi High Court Monday expressed its concern over the scene showing the sex determination of a foetus in the trailer of Ranveer Singh-starrer Jayeshbhai Jordaar.
About PCPNDT Act:
The Pre-conception & Pre-natal Diagnostics Techniques (PC & PNDT) Act, 1994 was enacted in response to the decline in Sex ratio in India, which deteriorated from 972 in 1901 to 927 in 1991. The main purpose of enacting the act is to ban the use of sex selection techniques before or after conception and prevent the misuse of prenatal diagnostic technique for sex selective abortion.
Offences under this act include conducting or helping in the conduct of prenatal diagnostic technique in the unregistered units, sex selection on a man or woman, conducting PND test for any purpose other than the one mentioned in the act, sale, distribution, supply, renting etc. of any ultra sound machine or any other equipment capable of detecting sex of the foetus.
The act was amended in 2003 to improve the regulation of the technology used in sex selection. The Act was amended to bring the technique of pre conception sex selection and ultrasound technique within the ambit of the act.
The amendment also empowered the central supervisory board and state level supervisory board was constituted. In 1988, the State of Maharashtra became the first in the country to ban pre-natal sex determination through enacting the Maharashtra Regulation of Pre-natal Diagnostic Techniques Act.
Provision of the act:
The Act provides for the prohibition of sex selection, before or after conception.
It regulates the use of pre-natal diagnostic techniques, like ultrasound and amniocentesis by allowing them their use only to detect few cases.
No laboratory or centre or clinic will conduct any test including ultrasonography for the purpose of determining the sex of the foetus.
No person, including the one who is conducting the procedure as per the law, will communicate the sex of the foetus to the pregnant woman or her relatives by words, signs or any other method.
Any person who puts an advertisement for pre-natal and pre-conception sex determination facilities in the form of a notice, circular, label, wrapper or any document, or advertises through interior or other media in electronic or print form or engages in any visible representation made by means of hoarding, wall painting, signal, light, sound, smoke or gas, can be imprisoned for up to three years and fined Rs. 10,000.
The Act mandates compulsory registration of all diagnostic laboratories, all genetic counselling centres, genetic laboratories, genetic clinics and ultrasound clinics.
7. National Board for Wildlife (NBWL)
Subject: Environment
Section: Acts and Policies
Context: The Supreme Court on Monday set aside the clearance granted by the standing committee of the National Board for Wildlife (NBWL) for doubling the railway line from Castle rock in Karnataka to Kulem in Goa.
Concept:
The Standing Committee of the NBWL had cleared three projects — the doubling of the railway track, the four-laning of the NH 4A from Anmod near the Goa-Karnataka border to Mollem and laying of a 400 kv transmission line from Sangod in Goa to the Karnataka border to help meet Goa's peak electricity demand of 1192 MW by 2022.
The SC-appointed Central Empowered Committee (CEC) in its report said "it does not find any justification for the track as it "will only be marginally enhancing the capacity of the most inefficient section of the railway network and will destroy the fragile ecosystem of the Western Ghats, an internationally recognised Biodiversity hotspot and also one of the most important wildlife corridors of the country".
National Board for Wildlife (NBWL):
The National Board for Wildlife (NBWL) is constituted by the Central Government under Section 5 A of the Wildlife (Protection) Act, 1972 (WLPA).
It replaced the Indian Board for Wildlife, which was formed in 1952.
It is a 47-member committee, headed by the Prime Minister.
The National Board may, at its discretion, constitute a Standing Committee which consist of the Vice-Chairperson (Union Minister in charge of Forests and Wildlife) the Member Secretary (Additional Director General of Forests (WL) & Director, Wildlife Preservation) and not more than ten members to be nominated by the Vice-Chairperson from amongst the members of the National Board.
It also includes 3 parliament members (two from Lok Sabha and one from Rajya Sabha), 5 NGOs, 10 eminent conservationists, ecologists and environmentalists, government secretaries of various departments, Chief of army staff, Director General of forests, tourism etc.
The board is advisory in nature and advises the GOI in conservation and development of wildlife and forests.
As per the WLPA, every time a new government is formed, a new NBWL has to be constituted with the Prime Minister as the chairperson.
The WLPA mandates that without the approval/recommendation of the NBWL, construction of tourist lodges, alteration of the boundaries of Protected Areas, destruction or diversion of wildlife habitat and de-notification of Tiger Reserves, cannot be done.
To know about and WPA Amendment 2021, refer https://optimizeias.com/wildlife-protection-amendment-act-2021-2/
Subject: Environment
Section: Pollution
Context: The level of ethanol blending in petrol in India has reached 9.99 per cent, Petroleum Minister Hardeep Singh Puri said on Monday.
Concept:
India had targeted 10 per cent ethanol blending in petrol by the end of 2022 and 20 per cent blending by 2030. The Centre has also targeted 5 per cent blending of biodiesel with diesel by 2030.
The ethanol blending programme is aimed at reducing the country's dependence on crude oil imports, cutting carbon emissions and boosting farmers' incomes.
The Centre has also announced an additional duty of Rs 2 per litre on unblended fuels starting October to incentivise blending.
99% ethanol blending in petrol achieved by our OMCs (Oil Marketing Companies) shows that India was on course to achieve 20 per cent blending by 2025-2026.
National Policy on Biofuels: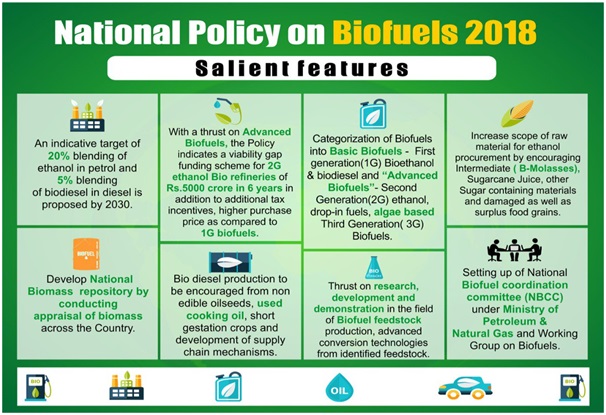 To know more, refer: https://optimizeias.com/ethanol-blending/ and https://optimizeias.com/national-policy-on-biofuels/
9. Ministry revises MPLADS rules
Subject: Polity
Section: Parliament
Context: The Union Finance Ministry has ordered revised rules, under which the interest that the fund accrues will be deposited in the Consolidated Fund of India. So far, the interest accrued on the fund used to be added to the MPLADS account and could be usedfor the development project
 Concept
The MPLADS is a Plan Scheme fully funded by Government of India. The annual MPLADS fund entitlement per MP constituency is Rs. 5 crore.
MPs are to recommend every year, works costing at least 15 per cent of the MPLADS entitlement for the year for areas inhabited by Scheduled Caste population and 7.5 per cent for areas inhabited by S.T. population.
Works under the scheme:
Works, developmental in nature, based on locally felt needs and always available for the use of the public at large, are eligible under the scheme. Preference under the scheme is given to works relating to national priorities, such as provision of drinking water, public health, education, sanitation, roads, etc.
   Release of Funds:
Funds are released in the form of grants in-aid directly to the district authorities.
The MPLADS fund is released to the district authority and the MPs only have power to recommend development work. The payment is also released by the designated district authority on completion of the work
The funds released under the scheme are non-lapsable.
The liability of funds not released in a particular year is carried forward to the subsequent years, subject to eligibility.
Execution of works:
The MPs have a recommendatory role under the scheme. They recommend their choice of works to the concerned district authorities who implement these works by following the established procedures of the concerned state government.
The district authority is empowered to examine the eligibility of works sanction funds and select the implementing agencies, prioritise works, supervise overall execution, and monitor the scheme at the ground level.
Recommendation of works:
The Lok Sabha Members can recommend works in their respective constituencies.
The elected members of the Rajya Sabha can recommend works anywhere in the state from which they are elected.
Nominated members of the Lok Sabha and Rajya Sabha may select works for implementation anywhere in the country
Consolidated Fund of India
Consolidated Fund of India is the most important of all government accounts. Revenues received by the government and expenses made by it, excluding the exceptional items, are part of the Consolidated Fund.
This fund was constituted under Article 266 (1) of the Constitution of India. All revenues received by the government by way of direct taxes and indirect taxes, money borrowed and receipts from loans given by the government flow into the Consolidated Fund of India.
All government expenditure is made from this fund, except exceptional items which are met from the Contingency Fund or the Public Account. Importantly, no money can be withdrawn from this fund without the Parliament's approval.
10. Puja at Kashmir temple stokes controversy
Subject: History
Section: Art and Culture
Context: ASI has raised concern regarding Pooja performed at 8th Century protected site of Martand Temple in south Kashmir's Anantnag by J&K Lt.Gov
Concept:
The ASI does not allow religious events at protected monuments except the customary prayers that were being held prior to the ASI takeover. It was for the first time that a puja of this scale was held within 200 metres of the core protected site
Archaeological Survey of India (ASI)
ASI, under the Ministry of Culture, is the premier organization for the archaeological research and protection of the cultural heritage of the nation.
It was founded in 1861 by Alexander Cunningham– the first Director-General of ASI. Alexander Cunningham is also known as the "Father of Indian Archaeology".
Its activities include carrying out surveys of antiquarian remains, exploration and excavation of archaeological sites, conservation and maintenance of protected monuments etc.
How a monument is declared protected?
Where the Central Government is of opinion that any ancient monument is of national importance it issues a notification (preliminary) in the Official Gazette, of its intention to declare such ancient monument to be of national importance. A copy of every such notification shall be affixed in a conspicuous place near the monument. The notification gives two months' notice. After the issue of the notification, any person, who may be, interested in any such ancient monument may, object to the declaration within two months. After considering the objections, received during this period, the Central Government may declare the ancient monument to be of national importance by publishing the notification (final) in the Official Gazette. A notification published under section 4 (3) makes the ancient monument to be of national importance for the purposes of this Act.
What does a protected monument means?
An ancient monument which is declared to be of national importance by or under this act is called protected monument. All ancient and historical monuments which have been declared by the Ancient and Historical Monuments and Archaeological Sites and Remains (Declaration of National Importance) Act, 1951, or by section 126 of the States Reorganisation Act, 1956 to be of national importance shall also be deemed to be protected monuments for the purposes of this Act.
Can anybody contribute for the maintenance of protected monuments?
The Director-General may receive voluntary contributions towards the costs of maintaining a protected monument and may give orders as to the management and application of any funds so received by him. The contribution received under this section should be applied for the purpose for which it was contributed.
Is there any provision for the places of worship?
The protected monument maintained by the Central Government under this Act which is a place of worship or shrine shall not be used for any purpose inconsistent with its character. Where the Central Government has acquired a protected monument under section 13, or where the Director-General has purchased, or taken a lease or accepted a gift or bequest or assumed guardianship of a protected monument under section 5, and such monument or any part thereof is used for religious worship or observances by any community, the Collector shall make due provision for the protection of such monument or part thereof, from pollution or desecration. Any other action as may be necessary.
What if someone destroys, removes, injures, alters, defaces or imperils a protected monument?
Whoever destroys, removes, injures, alters, defaces or imperils a protected monument shall be punishable with imprisonment which may extend to three months, or with fine which may extend to five thousand rupees, or with both.
What if someone misuses a protected monument?
Ans. Whoever misuses a protected monument shall be punishable with imprisonment which may extend to three months, or with fine which may extend to 5000 Rupees, or with both.
Is destroying a protected monument, a cognizable offence?
Destroying, removing, injuring, altering, defacing, imperilling or misusing a protected monument or removing from a protected monument any sculpture, carving, image, bas relief, inscription, or other like object shall be deemed to be a cognizable offence within the meaning of the Code of Criminal Procedure, 1898.
11. NTPC invites bids to import4.53 million tonnes of coal
Subject: Geography
Section: Mapping
Concept:
State-owned power giant NTPC has invited bids to procure 4.53 million tonnes (MT) of imported coal, mainly for blending with the domestic dry fuel in thermal plants Bids were also invited for the procurement of 1.6 MT of imported coal on a power station basis for NTPC plant sat Talcher Kaniha, Farakka, Kahalgaon, Barh, Barauni, Bongaigaon, Simhadri and Ramagundam. Bids were invited for the procurement of 1.5 MT of imported coal to supply the dry fuel at thermal plants located at the Kudgi, Solapur, Sipat, Mouda, Gadarwara, Laraand Korba power plants.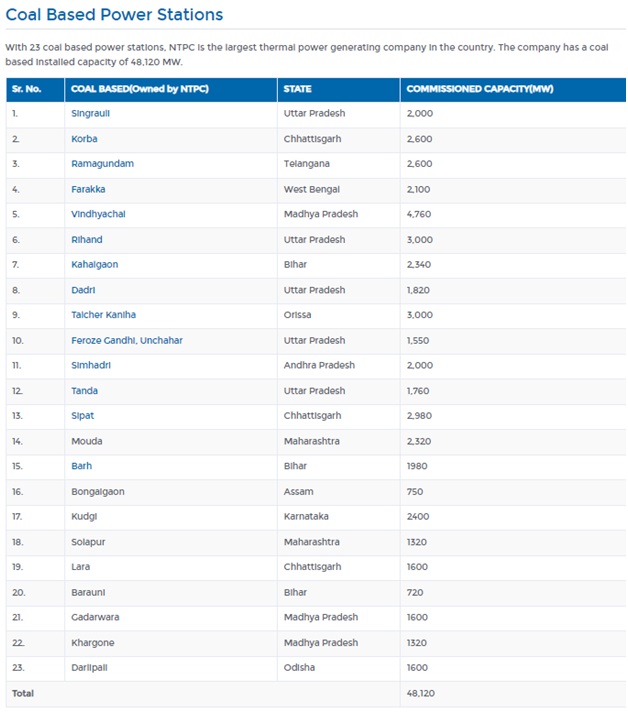 12. The standard model of particle physics gets a jolt
Subject: Science and Technology
Section: Basic Science
Context: The Collider Detector at Fermilab (CDF) Collaboration now reports a precise measurement of the W boson mass
Concept:
In physics, the W and Z bosons are the elementary particles that mediate the weak force. Their discovery has been heralded as a major success for the Standard Model of particle physics.
The W particle is named after the weak nuclear force. The Z particle was semi-humorously given its name because it was said to be the last particle to need discovery. Another explanation is that the Z particle derives its name from the fact that it has zero electric charge.
Two kinds of W bosons exist with +1 and −1 elementary units of electric charge; the W+ is the antiparticle of the W−. The Z boson (or Z0) is electrically neutral and is its own antiparticle. All three particles are very short-lived with a mean life of about 3 × 10−25 seconds.
The mass of the W boson, a mediator of the weak force between elementary particles, is tightly constrained by the symmetries of the standard model of particle physics.
The Higgs boson was the last missing component of the model. After observation of the Higgs boson, a measurement of the W boson mass provides a stringent test of the model.
The observation of the Higgs boson at the Large Hadron Collider has validated the last missing piece of the standard model (SM) of elementary particle physics
Z bosons are the particles that mediate the weak nuclear force, and they can decay into any of the known quarks and leptons except for the top quark.
What is Z boson and W boson?
W and Z bosons are a group of elementary particles. The Z boson is a neutral elementary particle which – along with its electrically charged cousin, the W – carries the weak force.  They are bosons, which mean that they have a spin of 0 or 1.
Both had been found in experiments by the year 1983. Together, they are responsible for a force known as "weak force." Weak force is called weak because it is not as strong as the strong force. Discovered in 1983 by physicists at the Super Proton Synchrotron at CERN, the Z boson is a neutral elementary particle. Like its electrically charged cousin, the W, the Z boson carries the weak force.
Z boson: the weak force
Like its electrically charged cousin, the W, the Z boson carries the weak force. The weak force is essentially as strong as the electromagnetic force, but it appears weak because its influence is limited by the large mass of the Z and W bosons.
Inspired by the success of quantum electrodynamics, in the sixties, Sheldon Glashow, Abdus Salam and Steven Weinberg developed the similar but more general, 'electroweak', theory in which they predicted these three particles and how they mediated the weak interactions.
They were given the Nobel prize for their efforts in 1979. The W boson was first seen in 1983 at CERN, located in the Franco-Swiss border. Unlike the photon, which is massless, the W bosons are quite massive, which results in the force they mediate — the weak force — being very short ranged.
Z particle (subatomic particle), massive electrically neutral carrier particle of the weak force that acts upon all known subatomic particles. It is the neutral partner of the electrically charged W particle.
Experimental measurements and theoretical predictions for the W boson mass.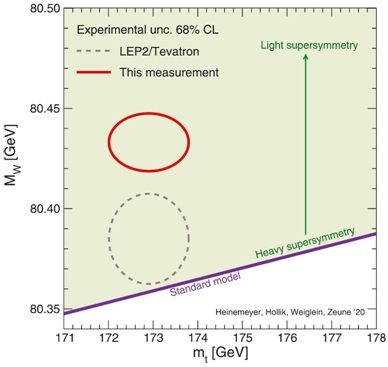 Why is the standard model believed to be incomplete?
The standard model is thought to be incomplete because it gives a unified picture of only three of the four fundamental forces of nature — electromagnetic, weak nuclear, strong nuclear and gravitational interactions — it totally omits gravity.
So, in the grand plan of unifying all forces so that a single equation would describe all the interactions of matter, the standard model was found to be lacking. The other gap in the standard model is that it does not include a description of dark matter particles. So far these have been detected only through their gravitational pull on surrounding matter.
The recent experiment which measured the mass of the W boson as 80,433.5 +/- 9.4 Mev/c2 is more than what is expected from the standard model. The expected value using the standard model is 80,357 +/- 8 MeV/c2. This implies the incompleteness of the standard model description
Dark matter is composed of particles that do not absorb, reflect, or emit light, so they cannot be detected by observing electromagnetic radiation. Dark matter is material that cannot be seen directly.
A gauge boson is a bosonic elementary particle that acts as the force carrier for elementary fermions. Elementary particles, whose interactions are described by a gauge theory, interact with each other by the exchange of gauge bosons, usually as virtual particles.
This mass discrepancy of the W boson needs to be checked and confirmed to the same accuracy by other research facilities.
13. The search algorithm in action
Subject: Science and Technology
Section: Computers
Context: Search algorithms becoming a privacy threat by dominant search engines.
Concept: A search algorithm is a unique formula that a search engine uses to retrieve specific information stored within a data structure and determine the significance of a web page and its content. Search algorithms are unique to their search engine and determine search engine result rankings of web pages
What are the major search engines?
Top search engines includes
Google.
Bing.
Baidu.
Yahoo!
Ask.com.
DuckDuckGo.
What are the 3 common types of search engines?
There are three main types of search engines, web crawlers, directories, and sponsored links. Search engines typically use a number of methods to collect and retrieve their results. These include: Crawler databases.
Major Google algorithm updates
Date: February 24, 2011. …
Date: April 24, 2012. …
Date: August 22, 2013. …
Date: April 21, 2015. …
Rank Brain. Date: October 26, 2015. …
Date: May 4, 2018. …
Date: October 22, 2019. …
Core Updates. Date: 2017-present.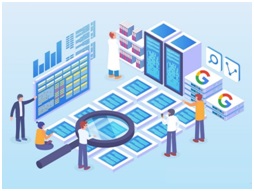 PageRank is a search algorithm used by google works by counting the number and quality of links to a page to determine a rough estimate of how important the website is. The underlying assumption is that more important websites are likely to receive more links from other websites.
The image below is a graphical representation of page rank. Note circle B is large because many other pages link to it. But C few links, Circle C is larger because it is linked to from an authoritative source
HITS
This is also known as "hubs and authorities".
A good hub represented a page that pointed to many other pages, and a good authority represented a page that was linked by many different hubs.
Hyperlink-Induced Topic Search assigns two scores for each page: its authority, which estimates the value of the content of the page, and its hub value, which estimates the value of its links to other pages.
HITS identifies good authorities and hubs for a topic by assigning two numbers to a page: an authority and a hub weight. These weights are defined recursively.
What are the concerns?
The search giant's trackers have allegedly been found on majority of the top million websites, this means they are not only tracking what you search for, [but] they're also tracking which websites you visit, and using all your data for ads that follow you around the internet.
The use of data from profiles, including those established based on data collected by search algorithms and search engines, directly affects the right to a person's informational self-determination. Most of Google's revenues stem from advertisements, such as those it shows consumers in response to a search query.
The current state of algorithms
These search algorithms can be used to personalise services in ways that are difficult to detect, leading to search results that can be manipulated to reduce choice or artificially change consumers' perceptions.
Firms can also use these algorithms to change the way they rank products on websites, prioritising their own products and excluding competitors. Some of these concerns have caught the eye of regulators and as a result these search algorithms have come under their scrutiny.
Under the Commission's proposal on the Digital Services Act, transparency measures for online platforms on a variety of issues, including the algorithms used for recommending content or products to users are expected to come into force.
Majority of algorithms used by private firms online are currently subject to little or no regulatory oversight.
14. Heatwaves and the role humidity plays in making them deadly
Subject: Geography
Section: Climatology
Context: 
THE CONSECUTIVE heat waves over South Asia since March 2022 have continued the disturbing tradition of breaking historical temperature records.
These record temperatures were not accompanied by the high mortality burden observed in previous heatwaves such as the one during 2015.
The recent IPCC report AR6 has emphasised that humidity is also very important while estimating the physiological stress that extreme heat puts on the human body.
While the current heatwave is not India's worst, yet, we endured the hottest March in 122 years.
This heatwave has also brought the wet bulb temperature concept into mainstream conversation.
Wet bulb temperature is significant in understanding heat waves in coastal regions of India
What is dry bulb and wet bulb temperature?
Instead of the "dry bulb" temperature that is usually measured using a regular thermometer, an alternative metric known as the "wet bulb temperature" has been used to measure exposure to extreme heat.
Sustained exposures to wet bulb temperatures above 35°C are fatal,
While sustained exposures to wet bulb temperatures above 32°C are dangerous for intense physical activity.
However, there has been a growing concern about the 35°C threshold and whether parts of South Asia will become" unsurvivable" in the coming years.
The wet bulb temperature is usually lower than the dry bulb temperature, and the difference between the two increases dramatically as the air becomes dry.
Humidity and with high temperature makes uncomfort for human body because humid air hardly absorb body sweat
In simpler terms, wet bulb temperature tells us at what level our bodies will be unable to cool themselves down by sweating.
Wet bulb temperature combines heat and humidity to indicate how much evaporation can be absorbed into the air.
It measures the lowest temperatures that our bodies can reach when we are in hotter environments, by sweating.
How wet bulb temperature is measured:
Wet bulb temperatures (WBT), measured by putting a wet cloth over a thermometer and passing air through it, or using a wet thermometer in shade and letting water evaporate off it.
Wet bulb temperatures are always lower than regular or dry bulb temperatures in the same location owing to humidity.
Sustained exposure to wet bulb temperature and Survivability thresholds:
The research that backs the IPCC AR6 also suggests we are unlikely to experience sustained exposure to wet bulb temperatures beyond the threshold of survivability.
The hype around survivability thresholds and wet bulb temperatures obscures deeper issues, both physiological and political.
Firstly, the inability of the body to stabilize its core temperature can have multiple reasons. 
pre-existing cardiac conditions, pre-existing respiratory problems and diabetes too are potential causes of death.
Such conditions impair the body's ability to efficiently transfer heat to the environment.
The Second obvious issue is that of dehydration.
Many labourers, especially women, intentionally keep themselves dehydrated due to the lack of toilets in workplaces.
Dehydration can lead to decreased sweat production and therefore increased vulnerability to heat stroke during heat waves.
Such public health factors can dramatically reduce the survivability thresholds and underestimate the actual vulnerability of the population.
Another important issue is political issue here that often goes unnoticed.
A singular focus on increasing wetbulb temperatures subtly shifts the responsibility of action from the local to the transnational arena.
Increasing wet bulb temperatures are the by-product of global climate change, and therefore keeping our populations becomes the responsibility of international negotiators at conferences such as COP26.
Very little can be done at the local level to keep wet bulb temperatures from rising if the factors controlling the mare global
On the other hand, understanding the factors that increase vulnerability to heatwaves puts the onus on local actors, who have to provide better sanitation facilities, protect the elderly and those with cardiac conditions, and reduce the incidence of diabetes in the population.
Such a focus will increase the pressure to improve our national health infrastructure, whose fragility has become increasingly clear to everyone over the past two years.
Refocusing our priorities to highlight critical gaps in our urban and health infrastructure that repeatedly fail to protect the most vulnerable among us will allow us to build a more climate-resilient nation.