Daily Prelims Notes 13 June 2020
June 13, 2020

Posted by:

admin1

Category:

DPN

Table Of Contents
1. I-FLOWS
Subject: Disaster management
Context:
Integrated Flood Warning System called 'IFLOWS-Mumbai' has been launched
Concept:
It is a joint initiative between the Ministry of Earth Sciences (MoES) and Brihanmumbai Municipal Corporation (BMC)
The warning system will relay alerts of possible flood-prone areas anywhere between six to 72 hours in advance.
The system can provide all information regarding possible flood-prone areas, likely height of the floodwater, location-wise problem areas and calculate the vulnerability and risk of elements exposed to flood.
Mumbai is only the second city in the country after Chennai to get this system. Similar systems are being developed for Bengaluru and Kolkata.
Working method:
Amount of rainfall, tidal waves and storm tides are the primary source for the system.
The system includes weather models from the National Centre for Medium Range Weather Forecasting (NCMRWF), India Meteorological Department (IMD), field data from the rain gauge network of 165 stations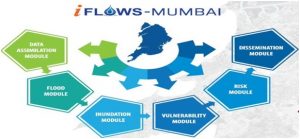 In the last two years, researchers have been conducting studies to provide real-time weather information by measuring the city's rainfall, how much water drained out, topography, land use, infrastructure development, population, lakes, creeks and data on river bathymetry of all rivers namely Mithi, Dahisar, Oshiwara, Poisar and Ulhas.
Subject: Science and tech
Context:
Maharashtra government has given nod to the use of homeopathy medicine Arsenic Album 30 for the general population as a prophylactic against Covid-19 and as an immunity booster.
Concept:
Arsenicum album is made by heating arsenic with distilled water, a process repeated several times over three days.
The health hazards of arsenic contamination in water are well known: long-term exposure to the metal can cause skin cancer, pulmonary and cardiovascular diseases. 
There is no evidence to suggest Arsenicum Album 30 prevents Covid-19 infection. The medicine is generally used for respiratory problems. Several homeopathic experts have expressed worry over unscientific use of the medicine against Covid-19.
Prophylaxis
Prophylaxis is also called preventive healthcare. It is the series of measures taken to prevent the affliction of a disease
Chemoprophylaxis is the use of drugs and other medications to prevent the onset of a disease or an infection. It is also called chemoprevention.
It is used on people who have compromised immune systems, people who are prone to recurrent infections and even on healthy individuals who are at risk due to an epidemic.
Subject: Polity/Economy/Schemes
Context:
The United Nations and International Labour Organization (ILO) observe 12 June every year as the world day against child labour.
Concept:
The occassion was originally launched by the ILO in 2002 to create awareness about the global extent of child labour and the actions and efforts that are needed to eliminate it.
The theme of World Day Against Child Labour 2020 is 'COVID-19 – Protect children from child labour now, more than ever.'
According to UN data, Africa and the Asia and the Pacific regions together account for almost nine out of every ten children in child labour worldwide.
As per the last census, there are over 10 million child labourers in India.
Government measures:
India is committed for eradication of child labour from the country. The Government has amended the Child Labour (Prohibition & Regulation) Act, 1986 and enacted the Child Labour (Prohibition & Regulation) Amendment Act, 2016.
It provides for complete prohibition of work or employment of children below 14 years of age in any occupation and process and prohibition of adolescents in the age group of 14 to 18 years in hazardous occupations and processes.
The Ministry of Labour and Employment is also implementing the National Child Labour Project (NCLP) Scheme since 1988 for rehabilitation of child labourers.
Under the NCLP, the children in the age group of 9-14 years are rescued/withdrawn from work and enrolled in the NCLP Special Training Centres, where they are provided with bridge education, vocational training, mid-day meal, stipend, health care, etc. before being mainstreamed into formal education system.  The children in the age group of 5-8 years are directly linked to the formal education system through a close coordination with the SarvaShikshaAbhiyan.
To ensure the effective enforcement of the provisions of the Child Labour Act and smooth implementation of NCLP Scheme, a dedicated online portal named PENCIL (Platform for Effective Enforcement for No Child Labour) is developed in order to make the NCLP successful through better monitoring and implementation.  The Portal connects Central Government to State Government(s), District(s), all Project Societies and the general public.
4. Infrastructure Investment trust (InvIT)
Subject: Economy
Context:
National Highways Authority of India (NHAI) is setting up an infrastructure investment trust (InvIT) to attract big-ticket funds; this is first by a government agency.
Concept:
An Infrastructure Investment Trust (InvITs) is like a mutual fund, which enables direct investment of small amounts of money from possible individual/institutional investors in infrastructure to earn a small portion of the income as return.
InvITs work like mutual funds or real estate investment trusts (REITs) in features.
InvITs can be treated as the modified version of REITs designed to suit the specific circumstances of the infrastructure sector.
SEBI notified the SEBI (Infrastructure Investment Trusts) Regulations, 2014 providing for registration and regulation of InvITs in India.
The purpose of InvITs is to enable Infrastructure Companies to repay their debt obligation quickly and effectively. Since infrastructure-oriented projects tend to take time to generate substantial cash flow, InvITs come in handy for paying off loan interests and other expenses conveniently.
5. Significance of rising Forex Reserve
Subject: Economy
Context:
For the first time India's forex reserves crossed $500 billion in the week ended June 5, 2020.
Concept:
Forex reserves are define as external assets in the form of gold, SDRs (special drawing rights of the IMF) and foreign currency assets held by India and controlled by the Reserve Bank of India.
Significance
Rising forex reserves will give a lot of comfort to the government and the Reserve Bank of India in managing India's external and internal financial issues at a time when the economic growth is set to contract by 1.5 per cent in 2020-21.
It is a big cushion in the event of any crisis on the economic front and enough to cover the import bill of the country for a year.
The rising reserves have also helped the rupee to strengthen against the dollar.
The foreign exchange reserves to GDP ratio is around 15 per cent.
Reserves will provide a level of confidence to markets that a country can meet its external obligations, demonstrate the backing of domestic currency by external assets, assist the government in meeting its foreign exchange needs and external debt obligations and maintain a reserve for national disasters or emergencies.
Subject: Economy
Context:
FSSAI food safety index for 2019-20 has been released.
Concept:
The index ranks states on five parameters of food safety: human resources and institutional data, compliance, food testing facility, training and capacity building besides consumer empowerment.
Gujarat, Tamil Nadu and Maharashtra have topped in the list of larger states on the index and among the smaller states, Goa, Manipur and Meghalaya.
On the occasion of World Food Safety Day, FSSAI released the report.
World food safety day
WHO, in collaboration with the Food and Agriculture Organization of the United Nations (FAO) is pleased to facilitate Member States efforts to celebrate the World Food Safety Day.
The second World Food Safety Day (WFSD) was celebrated on 7 June 2020 to draw attention and inspire action to help prevent, detect and manage foodborne risks, contributing to food security, human health, economic prosperity, agriculture, market access, tourism and sustainable development.
Under the theme "Food safety, everyone's business", the action oriented campaign will promote global food safety awareness and call upon countries and decision makers, the private sector, civil society, UN organizations and the general public to take action.
FSSAI
Food Safety and Standards Authority of India (FSSAI) has been established under Food Safety and Standards act , 2006 which consolidates various acts & orders that have hitherto handled food related issues in various Ministries and Departments.
FSSAI has been created for laying down science based standards for articles of food and to regulate their manufacture, storage, distribution, sale and import to ensure availability of safe and wholesome food for human consumption.
Food Safety and Standard Act, 2006
Various central Acts like Prevention of Food Adulteration Act,1954, Fruit Products Order , 1955, Meat Food Products Order,1973, Vegetable Oil Products (Control)     Order, 1947,Edible Oils Packaging (Regulation)Order 1988, Solvent Extracted Oil, De- Oiled Meal and Edible Flour (Control) Order, 1967, Milk and Milk Products      Order, 1992 etc was repealed after commencement of FSS Act, 2006.
The Act also aims to establish a single reference point for all matters relating to food safety and standards, by moving from multi- level, multi- departmental control to a single line of command.
Ministry of Health & Family Welfare, Government of India is the Administrative Ministry for the implementation of FSSAI.
The Chairperson and Chief Executive Officer of Food Safety and Standards Authority of India (FSSAI) have already been appointed by Government of India. The Chairperson is in the rank of Secretary to Government of India.
7. Aarogyapath
Subject: Science and tech
Context:
A web-based solution for the healthcare supply chain that provides real-time availability of critical supplies was launched by CSIR
Concept:
Aarogyapath, an integrated public platform that provides single-point availability of key healthcaregoods can be helpful to customers in tackling a number of routinely experienced issues like dependence on limited suppliers, time-consuming processes to identify good quality products, limited access to suppliers who can supply standardized products at reasonable prices within desired timelines, lack of awareness about the latest product launches, etc.
It also helps manufacturers and suppliers to reach a wide network of customers efficiently, overcoming gaps in connectivity between them and potential demand centers like nearby pathological laboratories, medical stores, hospitals, etc. It will also create opportunities for business expansion due to an expanded slate of buyers and visibility of new requirements for products.
Over time, analytics from this platform is expected to generate early signals to manufacturers on over capacity as well as on looming shortages.
This would help to reduce wastage of resources due to inefficient forecasting and excess manufacturing, generate awareness about the demand for new technologies.