Daily Prelims Notes 16 June 2020
June 16, 2020

Posted by:

admin1

Category:

DPN

Table Of Contents
Subject: Economy
Context:
To seize the moment and to become an electronics manufacturing giant in the post-Covid-19 era, Indian government announced policies involve spending Rs-50,000 crore and aim to attract everyone from semiconductor manufacturers to mobile phone and component giants
Concept:
Schemes announced:
Production Linked Incentive Scheme (PLI)for Large Scale Electronics Manufacturing shall extend an incentive of 4% to 6% on incremental sales (over base year) of goods manufactured in India and covered under the target segments, to eligible companies, for a period of five years subsequent to the base year
Scheme for Promotion of Manufacturing of Electronic Components and Semiconductors (SPECS) shall provide financial incentive of 25% on capital expenditure for the identified list of electronic goods,e., electronic components, semiconductor/ display fabrication units, Assembly, Test, Marking and Packaging (ATMP) units, specialized sub-assemblies and capital goods for manufacture of aforesaid goods
Modified Electronics Manufacturing Clusters (EMC 2.0)Scheme shall provide support for creation of world class infrastructure along with common facilities and amenities, including Ready Built Factory (RBF) sheds / Plug and Play facilities for attracting major global electronics manufacturers, along with their supply chains.
Salient Features of NPE 2019
The Policy envisions positioning India as a global hub for Electronics System Design and Manufacturing – (ESDM) by encouraging and driving capabilities in the country for developing core components and creating an enabling environment for the industry to compete globally.
Create eco-system for globally competitive ESDM sector: Promoting domestic manufacturing and export in the entire value-chain of ESDM.
Provide incentives and support for manufacturing of core electronic components.
Provide special package of incentives for mega projects which are extremely high-tech and entail huge investments, such as semiconductor facilities display fabrication, etc.
Promote Industry-led R&D and innovation in all sub-sectors of electronics, including grass root level innovations and early stage Start-ups in emerging technology areas such as 5G, loT/ Sensors, Artificial Intelligence (Al), Machine Learning, Virtual Reality (VR), Drones,   Robotics,   Additive   Manufacturing,   Photonics,   Nano-based devices, etc.
Provide   incentives   and   support   for   significantly   enhancing availability of skilled manpower, including re-skilling.
Special thrust  on  Fabless  Chip  Design  Industry,  Medical Electronic Devices Industry, Automotive Electronics Industry and Power Electronics for Mobility and Strategic Electronics Industry.
Create Sovereign Patent Fund (SPF) to promote the development and acquisition of IPs in ESDM sector.
Promote trusted electronics value chain initiatives to improve national cyber security profile.
2. Role of RBI
Subject: Economy
Context:
Reserve Bank of India has come up with a discussion paper to inform about the governance structure at commercial banks and institute new checks and balances on their business, compliance and risk management functions.
Concept:
Being Central bank of India, following functions are performed by RBI
Issue of Bank Notes:
The Reserve Bank of India has the sole right to issue currency notes except one rupee notes which are issued by the Ministry of Finance. Currency notes issued by the Reserve Bank are declared unlimited legal tender throughout the country 
Banker to Government:
As banker to the government the Reserve Bank manages the banking needs of the government. It has to-maintain and operate the government's deposit accounts. It collects receipts of funds and makes payments on behalf of the government. It represents the Government of India as the member of the IMF and the World Bank.
Custodian of Cash Reserves of Commercial Banks:
The commercial banks hold deposits in the Reserve Bank and the latter has the custody of the cash reserves of the commercial banks.
Custodian of Country's Foreign Currency Reserves:
The Reserve Bank has the custody of the country's reserves of international currency, and this enables the Reserve Bank to deal with crisis connected with adverse balance of payments position.
Lender of Last Resort:
The commercial banks approach the Reserve Bank in times of emergency to tide over financial difficulties, and the Reserve bank comes to their rescue though it might charge a higher rate of interest.
Controller of Credit:
Since credit money forms the most important part of supply of money, and since the supply of money has important implications for economic stability, the importance of control of credit becomes obvious. Credit is controlled by the Reserve Bank in accordance with the economic priorities of the government through Repo rate, reverse repo rate.
3. Global Partnership on Artificial Intelligence (GPAI or Gee-Pay)
Subject: IR
Context:
India becomes founding member of global alliance on AI
Concept:
GPAI is an international and multi-stakeholder initiative to guide the responsible development and use of AI, grounded in human rights, inclusion, diversity, innovation, and economic growth.
This is also a first initiative of its type for evolving better understanding of the challenges and opportunities around AI using the experience and diversity of participating countries.
In order to achieve this goal, the initiative will look to bridge the gap between theory and practice on AI by supporting cutting-edge research and applied activities on AI-related priorities.
In collaboration with partners and international organizations, GPAI will bring together leading experts from industry, civil society, governments, and academia to collaborate to promote responsible evolution of AI and will also evolve methodologies to show how AI can be leveraged to better respond to the present global crisis around COVID-19.
GPAI will be supported by a Secretariat, to be hosted by Organization for Economic Cooperation and Development (OECD) in Paris, as well as by two Centers of Expertise- one each in Montreal and Paris.
By joining GPAI as a founding member, India will actively participate in the global development of Artificial Intelligence, leveraging upon its experience around use of digital technologies for inclusive growth.
4. Article 275(I) and Van Dhan Scheme
Subject: Polity/Scheme
Context:
Tribal people due to lack of market access have been severely affected by COVID pandemic. As relief Cental government announced expanded coverage of PM Van Dhan Yojana current 18,000 SHGS to 50,000 Van Dhan SHGS.
Coverage to 10 lakh tribal gatherers through the Covid19 relief plan of the Ministry of Tribal Affairs under article 275(I).
Concept: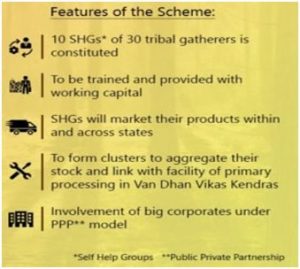 Van Dhan VikasKaryakram
The programme launched in 2018 aims to tap into the traditional knowledge and skill sets of tribal people by adding technology and Information Technology for upgradation of output at each stage and to convert the tribal wisdom into a remunerative economic activity.
Van Dhan VikasKaryakram seeks to promote and leverage the collective strength of tribal people to achieve a viable scale
The proposition is to set-up tribal community owned MFP-centric multi-purpose Van Dhan VikasKendras (the Kendra) in predominantly tribal districts.
About 3000 Van DhanKendrasare proposed to be set up in span of 2 years i.e. 1500 Kendras to be set-up in each year. Each Kendra would act as common facility centres for procurement cum value addition to locally available MFPs and skill based handicraft.
A typical Van Dhan Vikas Kendra shall constitute of 10 tribal Van Dhan Vikas Self Help Groups (SHG), each comprising of upto 30 MFP gatherers or tribal handicraft artisans
Article 275(1)
Under Article 275, the parliament is authorized to provide grants-in-aid to any state as parliament may determine to be in need of assistance, and different sums may be fixed for different States.
5. WPI
Subject: Economy
Context:
Wholesale prices in the country have deflated to 3.21 per cent in May due to sharp decline in prices of fuel and power, even as food articles turned expensive.
The annual rate of inflation, based on monthly Wholesale Price Index (WPI), stood at (-) 3.21 per cent (provisional) for May 2020 as compared to 2.79 per cent during the corresponding month of the previous year
Concept:
Wholesale Price Index, or WPI, measures the changes in the prices of goods sold and traded in bulk by wholesale businesses to other businesses
The numbers are released by the Economic Advisor in the Ministry of Commerce and Industry.
WPI Vs CPI
While WPI keeps track of the wholesale price of goods, the CPI measures the average price that households pay for a basket of different goods and services.
Even as the WPI is used as a key measure of inflation in some economies, the RBI no longer uses it for policy purposes, including setting repo rates. The central bank currently uses CPI or retail inflation as a key measure of inflation to set the monetary and credit policy.
Subject: IR/Science and tech
Context:
China and Pakistan possess more nuclear weapons than India, according to a new yearbook released by the Stockholm International Peace Research Institute (SIPRI)
Concept:
Findings:
The nine nuclear-armed states—the United States, Russia, the United Kingdom, France, China, India, Pakistan, Israel and the Democratic People's Republic of Korea (North Korea) together possessed an estimated 13 400 nuclear weapons at the start of 2020, which is reduction from 13,865 nuclear weapons last year.
The decrease in the overall number of nuclear weapons in the world in 2019 was largely due to the dismantlement of retired nuclear weapons by Russia and the USA—which together still possess over 90 per cent of global nuclear weapons.
The reductions in US and Russian strategic nuclear forces required by the 2010 Treaty on Measures for the Further Reduction and Limitation of Strategic Offensive Arms (New START) were completed in 2018, and in 2019 the forces of both countries remained below the limits specified by the treaty.
New START will lapse in February 2021 unless both parties agree to prolong it.
The deadlock over New START and the collapse of the 1987 Soviet–US Treaty on the Elimination of Intermediate-Range and Shorter-­Range Missiles (INF Treaty) in 2019 suggest that the era of bilateral nuclear arms control agreements between Russia and the USA might be coming to an end.
The governments of India and Pakistan make statements about some of their missile tests but provide little information about the status or size of their arsenals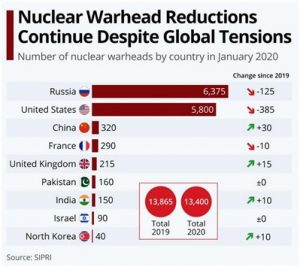 New START
The New Strategic Arms Reduction Treaty (New START) was signed April 8, 2010, in Prague by the United States and Russia and entered into force on Feb. 5, 2011.
New START replaced the 1991 START I treaty, which expired December 2009, and superseded the 2002 Strategic Offensive Reductions Treaty (SORT), which terminated when New START entered into force.
New START continues the bipartisan process of verifiably reducing U.S. and Russian strategic nuclear arsenals begun by former Presidents Ronald Reagan and George H.W. Bush.
New START is the first verifiable U.S.-Russian nuclear arms control treaty to take effect since START I in 1994.
INF treaty
The 1987 Intermediate-Range Nuclear Forces (INF) Treaty required the United States and the Soviet Union to eliminate and permanently forswear all of their nuclear and conventional ground-launched ballistic and cruise missiles with ranges of 500 to 5,500 kilometers.
The treaty marked the first time the superpowers had agreed to reduce their nuclear arsenals, eliminate an entire category of nuclear weapons, and employ extensive on-site inspections for verification.
As a result of the INF Treaty, the United States and the Soviet Union destroyed a total of 2,692 short-, medium-, and intermediate-range missiles by the treaty's implementation deadline of June 1, 1991.
On Aug. 2, 2019, the United States formally withdrew from the INF Treaty.
7. Whip
Subject: Polity
Context:
Chief Minister of Tamil Nadu has informed the Assembly Speaker that the Chief Government Whip had not issued any whip to MLAs of his party to support him during the Motion of Confidence moved by him in the House on February 18, 2017.
Concept:
A whip is a directive from the party that binds party members of a House to obey the line of the party.
Though the office of whip is not officially recognised in the standing orders, there has been a long tradition to give them a place in the Parliamentary form of government.
The whip plays a crucial role in ensuring the smooth and efficient conduct of business on the floor of the House.
The whip is an MP drawn from the party that is in power and also from the party that sits on the opposition bench. They are vital in maintaining the links between the internal organisation of party inside the Parliament.
It is also the duty of the chief whip to maintain discipline of the party on the floor of the House. Besides, he is responsible for keeping MPs, especially Ministers, informed of opinion in the party on the moods of individual members.
If an MP violates his party's whip, he faces expulsion from the House under the Anti-Defection Act.