Daily Prelims Notes 18 February 2022
February 18, 2022

Posted by:

admin1

Category:

DPN

Daily Prelims Notes
18 February 2022
Table Of Contents
1. INDIAN NEUTRINO OBSERVATORY
TOPIC: Science & Tech
Context- The Tamil Nadu government filed an affidavit in the apex court stating the INO project at Bodi West Hills in Theni would cause irreparable damage to the Western Ghats
Concept-
The project, if implemented, will affect the flora and fauna of the Periyar Tiger Reserve and Mathikettan Shola National Park in the Western Ghats — which have earned global reputation for effective conservation — the affidavit claimed.
What is a neutrino?
Neutrinos are the smallest particles that form the universe.
Neutrinos which are elementary particles have no charge and almost no mass and therefore do not affect anything they pass through.
They are naturally produced in the atmosphere of the Earth and are present around us at all times, causing no damage.
About Indian Neutrino Observatory:
INO Project is a multi-institutional effort aimed at building a world-class underground laboratory with a rock cover of approx. 1200 m for non-accelerator based high energy and nuclear physics research in India.
The proposed site is spread across Kerala and Tamil Nadu.
It is funded by Dept. of Atomic Energy (DAE) and the Dept. of Science and Technology (DST).
Objectives: INO will observe neutrinos and antineutrinos produced in the atmosphere of the Earth.

This observation will tell us more about the properties of neutrino particles, whose main source is the Sun and the Earth's atmosphere.

The project includes:

Underground laboratory and associated surface facilities at Bodi West Hills.
Construction of a magnetized Iron Calorimeter (ICAL) detector for studying neutrinos. When completed, ICAL will have the world's largest magnet.
Setting up Inter Institutional Centre for High Energy Physics (IICHEP) at Madurai
What's special about locating the INO in the South?
A project report says most of the neutrino detectors are at latitudes over 35 deg.
It is possible to push such a detector down to almost 8 deg latitude in South India, within proximity to the Equator.
This permits neutrino astronomy searches covering the whole celestial sky and study of solar neutrinos passing through the Earth's core.
Periyar Tiger Reserve:
It falls in the districts of Idukki and Pathanamthitta in Kerala (southern region of Western Ghats).
Declared a Sanctuary during 1950 and Tiger Reserve in 1978.
It gets its name from the River Periyar which has its origin deep inside the reserve.
Mathikettan Shola National Park:
Mathikettan Shola National Park is a national park in Poopara village in Idukki district of Kerala.
Considering the unique nature of the shola forest in Mathikettan and its importance as an elephant strip, the state government has declared it as a National park in 2008.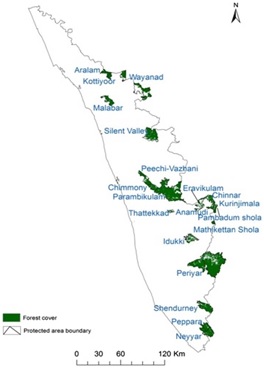 2. MINSK II CEASEFIRE AGREEMENT
TOPIC: IR
Context- At a meeting at the United Nations Security Council (UNSC) called by Russia to discuss the Ukraine crisis, on the seventh anniversary of the Minsk II ceasefire agreement, India called for a diplomatic solution to the tensions.
Concept-
Minsk II Ceasefire Agreement:
Ukraine and the Russian-backed separatists agreed a 12-point ceasefire deal in the capital of Belarus in September 2014. The agreement quickly broke down, with violations by both sides.
MINSK II: Representatives of Russia, Ukraine, the Organisation for Security and Cooperation in Europe (OSCE) and the leaders of two pro-Russian separatist regions signed a 13-point agreement in February 2015 in Minsk.
The 13 points were, in brief:
An immediate and comprehensive ceasefire
Withdrawal of all heavy weapons by both sides
Monitoring and verification by the OSCE
To start a dialogue on interim self-government for the Donetsk and Luhansk regions, in accordance with Ukrainian law, and acknowledge their special status by a resolution of parliament.
A pardon and amnesty for people involved in the fighting
An exchange of hostages and prisoners.
Provision of humanitarian assistance.
Resumption of socio-economic ties, including pensions.
Restore full control of the state border by the government of Ukraine.
Withdrawal of all foreign armed formations, military equipment and mercenaries.
Constitutional reform in Ukraine including decentralisation, with specific mention of Donetsk and Luhansk.
Elections in Donetsk and Luhansk on terms to be agreed with their representatives.
Intensify the work of a Trilateral Contact Group including representatives of Russia, Ukraine and the OSCE.
TOPIC: Science & Tech
Context- Obstructive Sleep Apnea, the medical condition which has been in the spotlight since BappiLahiri's death.
Concept-
What is Obstructive Sleep Apnea or OSA?
OSA is a disorder in which a person's breathing stops and starts repeatedly in their sleep.
Obstructive sleep apnea occurs when muscles in the throat and upper airway relax intermittently during sleep and block the airway.
It usually happens in obese men, less commonly in women but it does happen.
When a person is obese, they develop extra fat on their larynx and pharynx (muscles in the throat) that can close off their airway in sleep.
When no air enters the lungs, the oxygen saturation starts falling. When it is critical, the brain wakes the person up. They wake up subconsciously, the breathing restarts. And this cycle keeps repeating through the night.
Although the condition doesn't kill by itself, it can lead to heart attacks and strokes due to the low oxygen level. In the long run, it can also result in increasing blood pressure, abnormal heart rhythms, and other metabolic disorders. It further leads to an increase in obesity, compounding the problem.
OSA also leads to a lot of road traffic accidents as people with OSA tend to doze off while driving.
It may also lead to depression.
TOPIC: Science & Tech
Context- On February 14, the Indian Space Research Organisation (ISRO) launched its first space mission of the year. An earth observation satellite named EOS-04 along with two other smaller satellites were launched into space using a PSLV (Polar Satellite Launch Vehicle) rocket. This was the 54th flight of the PSLV rocket.
Concept-
Launch vehicles and satellites:
Both rockets and satellites are spacecraft, which is a generic term used for any object that is sent into space.
Satellites
Rockets/Launch Vehicles
Satellites don't go into the space on their own. They have to be carried there by launch vehicles, or rockets, like the PSLV.

Most satellites have small propulsion systems and carry small amounts of fuel, because they encounter very little drag, or force, in outer space.

The rockets have powerful propulsion systems that generate the huge amount of energy required to lift heavy objects like satellites into space, overcoming the gravitational pull of the earth.
Satellites, or payloads as they are often called, sit inside the rocket, and are ejected once they reach near their intended orbit in space.
Rockets, or launch vehicles, become useless after the launch. Their only job is to take the satellites to their intended orbits.

Once the satellite is finally ejected, this last part of the rocket either becomes part of space debris, or burns off after falling into the atmosphere. 
Types of launch vehicles used by ISRO:
ISRO currently uses two launch vehicles – PSLV and GSLV (Geosynchronous Satellite Launch Vehicle)
PSLV is the most reliable rocket used by ISRO till date, with 52 of its 54 flights being successful.
GSLV is much more powerful rocket, meant to carry heavier satellites much deeper into space.
The first rocket developed by ISRO was simply called SLV, or satellite launch vehicle. It was followed by the Augmented Satellite Launch Vehicle or ASLV. ASLV operated till the early 1990s before PSLV came on the scene.
ISRO has also developed a launch vehicle specifically for small and micro-satellites. It is called Small Satellite Launch Vehicle, or SSLV, and is targeted at rising global demand for the launch of such satellites. SSLV is meant to offer cost-effective launch services for satellites up to 500 kg.
Reusable rockets
Fully-reusable rockets are still to be developed, but partially-reusable launch vehicles are already in use.
ISRO has also developed a reusable rocket, called RLV-TD (Reusable Launch Vehicle Technology Demonstrator) which has had a successful test flight in 2016.
TOPIC: Geography
Context- UK has objected to China backing Argentina's claim to the Falkland Islands.
Concept-
What is this dispute about?
Since the 18th century, the Falkland Islands, located off the coast of Argentina in the south Atlantic Ocean, have always been subjected to colonisation and conquests by Britain, France, Spain and Argentina.
Prior to the 1700s, the islands were uninhabited, with France first establishing a colony there in 1764.
The next year, when the British arrived to claim the islands for themselves, it marked the start of a dispute that has been ongoing ever since.
What happened to the islands post WWII?
The dispute continued in the post WWII global scenario. Argentina's assertion of sovereignty over the Falkland Islands during the presidency of Juan Perón briefly soured relations with the United Kingdom.
In December, 1965, the United Nations General Assembly adopted Resolution 2065, a non-binding resolution that recognized the existence of a sovereignty dispute between the United Kingdom and Argentina over these islands, that urged both countries to find a peaceful solution to the dispute.
How did the Falklands War break out?
Argentina has maintained that the Falklands were illegally taken from it in 1833 and invaded the British colony in 1982. That incident resulted in what later came to be known as the Falklands War that lasted a little over three months, ending in victory for the United Kingdom.
About Falkland Islands:
The Falkland Islands are an archipelago in the South Atlantic Ocean on the Patagonian Shelf.
The principal islands are to the east of South America's southern Patagonian coast and to the north of the Antarctic Peninsula.
The Falkland Islands are bio geographically part of the Antarctic zone.
TOPIC: Science & Tech.
Context- According to a World Bank report on green energy revolution, aluminium is the only metal that is both high-impact and cross-cutting, in all potential clean power technologies.
Concept-
Aluminium is used in most clean energy technologies, especially in solar where it accounts for 85 per cent of most PV components in the form of the frames and mounting structures that hold the PV panels together and support them.
WHY ALUMINIUM IS CALLED THE GREEN METAL?
Aluminium is called the green metal because it is a very environmentally friendly metal.
Recycling this material saves 95% of the energy required to produce aluminium from raw materials.
LOW WEIGHT: It is one third of the density of steel, which is why aluminium is also called a light metal. It has a low density because of a lower atomic weight compared to wither metals.
DURABLE STRENGTH: Aluminum can become one of the toughest metals on earth. Aluminum alloys are used in many applications where strength and durability are needed.
HIGHLY MALLEABLE: Due to aluminum's highly malleable (second in the world after gold) properties it can be rolled or hammered into extremely thin sheets without breaking.
RESISTANCE FROM CORROSION: This is primarily because aluminium spontaneously forms a thin but effective oxide layer that prevents further oxidation.
CONDUCTIVE: Pure aluminum has high thermal conductivity. Aluminum alloys can have much a lower conductivity, but rarely as low as iron or steel.
NON FLAMMABLE: Therefore when aluminium is exposed to a prolonged fire environment it will begin to melt (not burn), provided that the metal's temperature passes the melting point.
RECYCLABLE: Aluminium can be recycled forever: It can be melted down and reformed without losing any quality, and the process can be repeated over and over again.
LONG LIFE: Aluminium is durable due to its long lifespan.
AFFORDABILITY: aluminium is quick to cool down compared to traditional materials, which is of significant advantage in solar PV, as increase in temperature of PV cells reduces the efficiency of electricity generation. Cost-effective and requires significantly less energy.
TOPIC: Economy
Context- Nepal to become first country to deploy India's UPI platform.
Concept-
Unified Payments Interface (UPI):
NPCI launched UPI with 21 member banks in 2016.
It is an advanced version of Immediate Payment Service (IMPS)- round–the-clock funds transfer service to make cashless payments faster, easier and smoother.
UPI is a system that powers multiple bank accounts into a single mobile application (of any participating bank), merging several banking features, seamless fund routing & merchant payments into one head.
UPI is currently the biggest among the National Payments Corporation of India (NPCI) operated systems including National Automated Clearing House (NACH), Immediate Payment Service (IMPS), Aadhaar enabled Payment System (AePS), Bharat Bill Payment System (BBPS), RuPay etc.
The top UPI apps today include PhonePe, Paytm, Google Pay, Amazon Pay and BHIM.
TOPIC: Environment
Context- To reduce carbon emissions and boost domestic production of green hydrogen to 5 million tonnes by 2030, the Centre announced the green hydrogen/ ammonia policy.
Concept-
Green Hydrogen Policy:
Policy offers free transmission for 25 years.
Focus on inter-State transmission connectivity.
Plans to set up zones to manufacture green hydrogen and ammonia.
Land for storage will be provided by the respective port authorities at applicable rates.
The government is planning to mandate that oil refining, fertiliser and steel sectors, which are key users of hydrogen and ammonia, use green hydrogen for a certain proportion of their requirements.
Green Hydrogen:
Hydrogen is one of the most abundant elements on earth for a cleaner alternative fuel option.
Green hydrogen is produced by electrolysis of water using renewable energy (like Solar, Wind).

Electricity splits water into hydrogen and oxygen.

By Products : Water, Water Vapor.
Green hydrogen can drive India's transition to clean energy, combat climate change.
India has a favourable geographic location and abundance of sunlight and wind for the production of green hydrogen.
TOPIC: IR
Context- THE Comprehensive Economic Partnership Agreement (CEPA) with the United Arab Emirates (UAE), likely to be signed on Friday.
Concept-
India-UAE trade relations:
The United Arab Emirates is India's third largest trading partner after China and USA, and second largest export destination after USA as per Economic Survey 2021.
Bilateral trade between India and the UAE stood at $43.3 billion in 2020-21.
India's major exports to the UAE include petroleum products, precious metals, stones, gems and jewellery, minerals, food items such as cereals, sugar, fruits and vegetables, tea, meat, and seafood, textiles, engineering and machinery products, and chemicals.
India's top imports from the UAE include petroleum and petroleum products, precious metals, stones, gems and jewellery, minerals, chemicals and wood and wood products.

India imported $10.9 billion of crude oil from the UAE in 2019-2020.
TOPIC: Polity
Context- Model laws on asylum and refugees that were drafted by the National Human Rights Commission (NHRC) decades ago but not implemented by the government need to be revised.- says NHRC member.
Concept-
India & UN convention:
India has welcomed refugees in the past, and on date, nearly 300,000 people here are categorised as refugees.
But India is not a signatory to the 1951 UN Convention on the Status of Refugees and the subsequent 1967 Protocol.
Nor does India have a refugee policy or a refugee law of its own.
The closest India has come to a refugee policy in recent years is the Citizenship Amendment Act, 2019, which discriminates between refugees on the basis of religion in offering them Indian citizenship.
Under the Citizenship Act an "illegal migrant" is defined as a foreigner who has entered into India—

(i) Without a valid passport or other travel documents and such other document or authority as may be prescribed by or under any law in that behalf; or
(ii) with a valid passport or other travel documents and such other document or authority as may be prescribed by or under any law in that behalf but remains therein beyond the permitted period of time.

An illegal migrant is excluded from the acquisition of citizenship through birth, registration, or naturalization. There is no program to grant citizenship to illegal migrants or their children.
UN Convention on the Status of Refugees:
Under the 1951 UN Convention on the Status of Refugees and the subsequent 1967 Protocol, the word refugee pertains to any person who is outside their country of origin and unable or unwilling to return owing to well-founded fear of persecution for reasons of race, religion, nationality, membership of a particular social group or political opinion.
Stateless persons may also be refugees in this sense, where country of origin (citizenship) is understood as 'country of former habitual residence'.
TOPIC: Science & Tech
Context- Maharashtra farmers, under the aegis of ShetkariSanghatana, launched a drive on Thursday to cultivate Bt brinjal from Ahmednagar district despite the genetically modified variety not being approved for commercial cultivation.
Concept-
To date, the Centre has approved only GM cotton for commercial cultivation in India.
Under Section 22 of the Food Safety and Standards Act, 2006, GM foods are not allowed to be manufactured, imported or sold in India unless approved under the Act.
Legally, sale, storage, transportation and usage of unapproved GM seeds is a punishable offence under the Rules of Environmental Protection Act 1989.

Genetic Engineering Appraisal Committee (GEAC) is the appraisal body that allows for commercial release of GM crops.
GEAC functions in the Ministry of Environment, Forest and Climate Change (MoEF&CC).

Also, sale of unapproved seeds can attract action under the Seed Act of 1966 and the Cotton Act of 1957.
Bt Brinjal:
Bt Brinjal was developed by Mahyco (Maharashtra Hybrid Seeds Company) in collaboration with the Dharwad University of Agricultural Sciences and the Tamil Nadu Agricultural University.
Bt Brinjal is a transgenic brinjal created by inserting a gene cry1Ac from the soil bacterium Bacillus thuringiensis into Brinjal.
This genetically modified brinjal gives resistance against insects such as the Brinjal Fruit and Shoot Borer.
12. India's first water taxi service
TOPIC: Economy
Context- India's first water taxi service was inaugurated in Maharashtra connecting the Navi Mumbai area to mainland Mumbai.
Concept-
What's a water taxi?
A water taxi is used to provide public or private transport, usually, but not always, in an urban environment.
The earliest water taxi service was recorded as operating around the area that became Manchester, England.
Water taxis are most popular in Venice where most people use the taxi to navigate the waterways.
Route of the water taxi for Mumbai: The water taxis will operate on three routes
Domestic Cruise Terminal at Ferry Wharf, Mazgaon and the terminals at Belapur
Belapur and Elephanta Caves
Belapur and Jawaharlal Nehru Port Trust
13. INDIA STATE OF FOREST REPORT 2021
TOPIC: Environment
Context- The National Remote Sensing Agency, Hyderabad, prepared a report on India's forest cover using satellite imagery which led to India State of forest Report Since 1987
Concept-
Some four decades ago, in the mid-1980s, the National Remote Sensing Agency, Hyderabad, prepared a report on India's forest cover using satellite imagery.
The report compared the forest cover between 1972-75 and 1980-82, and found that the country had lost 1.3 million hectares (ha) of forests every year in this seven-year period.
Soon, the Forest Survey of India (FSI), Dehradun, was tasked with producing an assessment of the country's forest wealth every two years.
Since 1988, when FSI produced the first State of Forest Report 1987, the capability of satellites and of interpretation of forests has improved substantially, but the same is not the case with the state of the country's forest cover.
India State of Forest Report 2021 (ISFR 2021):
India State of Forest Report 2021 (ISFR 2021), released January 13, 2022, shows a minimal increase of 0.16 million ha (0.2 per cent) in the forest cover between 2019 and 2021.
ISFR 2021 shows that close to 28 per cent of the forest cover is outside the recorded forest area.
About 12 per cent of the very dense category of forests is also outside the recorded areas.
The report also shows that the increase in forest cover between 2019 and 2021 has happened primarily because of the growth outside the recorded area.
In 2021, India's total forest cover added up to 71.38 million ha, which is 22 per cent of the country's geographical area.
What is important to note is that this forest wealth — about 60 per cent of total forest cover and 73 per cent of the very dense forests — is concentrated in districts classified as "tribal" by ISFR 2021. These districts are listed under Schedule V of the Constitution as habitats of Scheduled Tribes.