Daily Prelims Notes 19 October 2021
October 19, 2021

Posted by:

OptimizeIAS Team

Category:

DPN

Daily Prelims Notes
19 October 2021
Table Of Contents
Subject – Polity
Context – A shadow foreign policy for the first time
Concept –
The concept of a shadow cabinet is popular in some of the western democracies such as the United Kingdom. Opposition parties form an alternative cabinet that scrutinises decisions taken by the government.
The positions in such a shadow cabinet mirror those in the real government. For example, the opposition's shadow cabinet would comprise positions of home affairs, finance, external affairs, agriculture, railways, etc. just as the real Union Cabinet.
Opposition members who are given charge of these "portfolios" are responsible for monitoring all developments in those respective fields. These "ministers" could also counter the Union Ministers if need arises.
These cabinets are often informal and its decisions are not binding.
Similar concepts exist in Australia, Canada, France, New Zealand and South Africa, among others, in some form.
A shadow cabinet formation allows the opposition to mark ministers and track issues better.
Experiments in India
There have been multiple experiments with running shadow cabinets in India. However, these have happened only at the state level.
Kitchen Cabinet –

Caretaker Government –
Subject – Agriculture
Context – Improving livestock breeding
Concept –
Rashtriya Gokul Mission comprises of two components namely:
The national program for bovine breeding and
National mission for bovine productivity
Objectives:
Development and conservation of indigenous breeds in a focused and scientific manner.
Undertake breed improvement program for indigenous cattle breeds so as to improve the genetic makeup and increase the stock.
Enhance milk production and productivity.
Distribute disease free high genetic merit bulls for natural service.
Significant initiatives under RashtriyaGokul Mission:
Awards for encouraging farmers/breeder societies to rear Indigenous breeds of bovines:
Gopal Ratna awards: for farmers maintaining the best herd of Indigenous Breed and practicing best management practices.
Kamdhenu awards: for best managed Indigenous herd by Institutions/Trusts/ NGOs/ Gaushalas or best-managed Breeders' societies.
Gokul Gram: The RashtriyaGokul Mission envisages the establishment of integrated cattle development centers, 'Gokul Grams' to develop indigenous breeds including up to 40% nondescript breeds (belonging or appearing to belong to no particular class or kind) with objectives to:
Promote indigenous cattle rearing and conservation in a scientific manner.
Propagate high genetic merit bulls of indigenous breeds.
Optimize modern Farm Management practices and promote Common Resource Management.
Utilize animal waste in an economical way i.e. Cow Dung, Cow Urine
National Kamdhenu Breeding Centre: (NKBC) is being established as a Centre of Excellence to develop and conserve Indigenous Breeds in a holistic and scientific manner.
"E-PashuHaat"- NakulPrajnan Bazaar: An e-market portal connecting breeders and farmers, for quality- disease-free bovine germplasm.
PashuSanjivni: An animal wellness program encompassing the provision of animal health cards ('NakulSwasthyaPatra') along with UID identification and uploading data on National DataBase.
Advanced Reproductive Technology: Including Assisted Reproductive Technique- In-vitro Fertilization (IVF)/ Multiple Ovulation Embryo Transfer (MOET) and sex-sorted semen technique to improve the availability of disease-free female bovines.
National Bovine Genomic Center for Indigenous Breeds (NBGC-IB) will be established for selection of breeding bulls of high genetic merit at a young age using highly precise gene-based technology.
Implementing Agency
RashtriyaGokul Mission will be implemented through the "State Implementing Agency (SIA viz Livestock Development Boards).
State GausevaAyogs will be given the mandate to sponsor proposals to the SIA's (LDB's) and monitor implementation of the sponsored proposal.
All Agencies having a role in indigenous cattle development will be the "Participating Agencies" like ICAR, Universities, Colleges, NGO's, Cooperative Societies and Gaushalas.
Why conservation of Indigenous breeds is the need of the hour?
Indigenous bovines are robust and resilient and are particularly suited to the climate and environment of their respective breeding tracts and productivity of indigenous breeds is less likely to be impacted by the adversities of climate change.
The milk of indigenous animals is high in fat and SNF content (The substances in milk other than butterfat and water in the form of casein, lactose, vitamins, and minerals which contribute significantly to the nutritive value of milk)
Revised version of Rashtriya Gokul Mission –
The revised version of the Rashtriya Gokul Mission and National Livestock Mission (NLM) proposes to bring focus on entrepreneurship development and breed improvement in cattle, buffalo, poultry, sheep, goat, and piggery by providing incentives to individual entrepreneurs, farmer producer organisations, farmer cooperatives, joint liability groups, self-help groups, Section 8 companies for entrepreneurship development and State governments for breed improvement infrastructure.
The breed multiplication farm component of the Rashtriya Gokul Mission is going to provide for capital subsidy up to ₹200 lakh for setting up breeding farm with at least 200 milch cows/ buffalo using latest breeding technology.
The entrepreneur will be responsible for the arrangement of and would be able to sell at least 116 elite female calves every year out of this farm from the third year.
The entrepreneur will also start generating income out of the sale of 15 kg of milk per animal per day for around 180 animals from the first year.
This breeding farm will break even from the first year of the project after induction of milk in animals.
Moreover, the strategy of incentivising breed multiplication farm will result in the employment of 1 lakh farmers.
The grassroots initiatives in this sphere will be further amplified by web applications like e-Gopala that provide real-time information to livestock farmers on the availability of disease-free germplasm in relevant centres, veterinary care, etc.
Subject – Agriculture
Context – Improving livestock breeding
Concept –
National Livestock Mission (NLM) launched in financial year 2014-15 seeks to ensure quantitative and qualitative improvement in livestock production systems and capacity building of all stakeholders. The scheme is being implemented as a sub scheme of White Revolution – Rashtriya Pashudhan Vikas Yojana since April 2019.
Objectives: Sustainable growth, Fulfilling Fodder need, synergy of ongoing plan, Promoting Skill Training, genetic upgradation and conservation, risk management and community participation.
The National livestock Mission is organised into the following four sub-Missions:

Sub -Mission on Livestock Development– The sub-mission on Livestock Development includes activities to address the concerns for overall development of livestock species including poultry, other than cattle and buffalo, with a holistic approach. Risk Management component of the sub –mission will, however, also cover cattle and buffalo along with other major and minor livestock.
Sub – Mission on Pig Development in North-Eastern Region– The sub -mission will strive to forge synergies of research and development organizations through appropriate interventions, as may be required for holistic development of pigs in the North Eastern Region including genetic improvement, health cover and post-harvest operations.
Sub – Mission on Feed and Fodder Development– The Sub –Mission is designed to address the problems of scarcity of animal feed and fodder resources, to give a push to the livestock sector making it a competitive enterprise for India, and also to harness its export potential. The sub- mission will especially focus on increasing both production and productivity of fodder and feed through adoption of improved and appropriate technologies best suited to specific agro –climatic region in both arable and non –arable areas.
Sub -Mission on Skill Development, Technology Transfer and Extension–  The sub – mission will provide a platform to develop, adopt or adapt the technologies including frontline field demonstrations in collaboration with farmers, researchers and extension workers, etc. wherever it is not possible to achieve this through existing arrangements.

National Animal Disease Control Programme for Foot and Mouth Disease and Brucellosis is a 100% centrally funded programme, with a total outlay of Rs. 12,652 crore from 2019 to 2024. It aims to control Foot and Mouth Disease and Brucellosis by 2025 with vaccination and eventual eradication by 2030.
Objectives of National Live stock Policy 2013
Aims and Objective
To support the existing low input production systems for improving productivity and income so as to improve socio-economic status of a vast majority of our livestock producers, most of which are women and small farmers.
To support research and development initiatives on issues pertaining to livestock sector for improving production and productivity, bio-security and profitability.
To encourage establishment and growth of self-supporting financially viable, medium and large commercial livestock production units capable of adopting latest technology including facility for processing and value addition.
To improve the productivity of livestock and poultry by promoting and disseminating the technologies developed by the research system.
To promote conservation of animal bio-diversity; conservation and genetic improvement of important indigenous breeds of livestock and poultry in the country.
To increase availability of feed and fodder resources to meet the requirement of livestock to attain optimal productivity.
To strengthen overall animal health cover through prevention, control and eradication of various disease conditions and encourage/enable the dairy cooperatives to extend veterinary services to farmers.
To focus on production of quality livestock products as per the international standards for food safety.
To encourage value addition of livestock products like milk and milk products, eggs, wool and meat & meat products etc.
Revised Version of National Livestock Mission
The poultry entrepreneurship programme of the NLM will provide for capital subsidy up to ₹25 lakh for setting up of a parent farm with a capacity to rear 1,000 chicks.
Under this model, the hatchery is expected to produce at least 500 eggs daily, followed by the birth of chicks that are in turn reared for four weeks. Thereafter, the chicks can be supplied to local farmers for rearing.
Under this model, the rural entrepreneur running the hatchery will be supplying chicks to the farmers.
An entrepreneur will be able to break even within 18 months after launching the business. This is expected to provide employment to at least 14 lakh people.
In the context of sheep and goat entrepreneurship, there is a provision of capital subsidy of 50% up to 50 lakh.
An entrepreneur under this model shall set up a breeder farm, develop the whole chain will eventually sell the animals to the farmers or in the open market. Each entrepreneur can avail assistance for a breeder farm with 500 does/ewe and 25 buck/ram animals with high genetic merit from the Central/State government university farms.
This model is projected to generate a net profit of more than ₹33 lakh for the entrepreneur per year.
For piggery, the NLM will provide 50% capital subsidy of up to ₹30 lakh.

Each entrepreneur will be aided with establishment of breeder farms with 100 sows and 10 boars, expected to produce 2,400 piglets in a year.
A new batch of piglets will be ready for sale every six months. This model is expected to generate a profit of ₹1.37 crore after 16 months and 1.5 lakh jobs.

The revised scheme of NLM coupled with the Rashtriya Gokul Mission and the Animal Husbandry Infrastructure Development Fund has the potential to dramatically enhance the productivity and traceability standards of our livestock.
Subject – Art and Culture
Context – Kushinagar connect to Sri Lanka
Concept –
When Prime Minister Narendra Modi declares open the Kushinagar International Airport in Uttar Pradesh on October 20, a sizeable Sri Lankan contingent, led by a member of the first family, will be present.

The PMO said the delegation also consists of anunayakas (deputy heads) of all four nikatas (orders) of Buddhism in the neighbour country; Amarapura, Asgiriya, Malwatta and Ramanya as well as five ministers of the Sri Lankan government led by Cabinet Minister NamalRajapakshe.

The airport is expected to provide seamless connectivity to tourists from Sri Lanka, Japan, Taiwan, South Korea, China, Thailand, Vietnam, Singapore and so on.
Kushinagar is the centre of the Buddhist circuit, which consists of pilgrimage sites at Lumbini, Sarnath and Gaya.
Buddhist pilgrims consider Kushinagar a sacred site where, they believe, Gautama Buddha delivered his last sermon and attained 'Mahaparinirvana' or salvation.
To mark the occasion, Sri Lanka will present to India photographs of two murals painted by renowned Sri Lankan artist SoliasMendis at the KelaniyaRajamahaVihara, a popular Buddhist temple near Colombo.

One of the murals depicts 'ArahatBhikkhu' Mahinda, son of Emperor Ashoka delivering the message of the Buddha to King Devanampiyatissa of Sri Lanka.
The other shows the arrival of 'TheriBhikkhuni' Sanghamitta, the daughter of the Emperor, in Sri Lanka, bearing a sapling of the 'sacred Bodhi tree' under which Siddhārtha Gautama is believed to have obtained enlightenment.

The PM will also visit the Mahaparinirvana Temple and he will pay his respects to Lord Buddha's reclining statue.

He will also plant a Bodhi tree sapling.
Modi will also participate in an event, organised for the Buddhist monks to mark 'abhidhamma' day which symbolises the end of a three-month rainy retreat- 'varshavaas' or 'vassa'.
Moreover, PM Modi will lay the foundation stone of Rajkiya Medical College in Kushinagar which will be developed at a cost of over Rs 280 crore.
Its history –
The present Kushinagar is identified with Kusavati (in the pre-Buddha period) and Kushinara (in the post-Buddha period).
Kushinara was the capital of Mallas which was one of the sixteen mahajanpads of the 6th century BCE.
Since then, it remained an integral part of the erstwhile empires of Maurya, Shunga, Kushana, Gupta, Harsha, and Pala dynasties.
In the medieval period, Kushinagar had passed under the suzerainty of Kultury Kings. Kushinara continued to be a living city till the 12th century CE and was thereafter lost into oblivion.
However, modern Kushinagar came into prominence in the 19th century with archaeological excavations carried out by Alexander Cunningham, the first Archeological Surveyor of India and later followed by C.L. Carlleyle who exposed the main stupa and also discovered a 6.10 meters long statue of reclining Buddha in 1876.
However, according to the MahāyānaMahāparinirvāṇaSūtra, the Buddha made his journey to Kushinagar, died there, and this is where he was cremated.
Ashoka built a stupa and pilgrimage site to mark Buddha's parinirvana in Kushinagara.
The Hindu rulers of the Gupta Empire (fourth to seventh century) helped greatly enlarge the Nirvana stupa and Kushinagar site, building a temple with reclining Buddha.
This site was abandoned by Buddhist monks around 1200 CE, who fled to escape the invading Muslim army, after which the site decayed during the Islamic rule in India that followed.
The British archaeologist Alexander Cunningham rediscovered Kushinagara in the late 19th century, and his colleague A. C. L. Carlleyle unearthed the 1,500-year-old Buddha image.The site has since then become an important pilgrimage site for Buddhists.
Sri Lanka Connect –
The gesture comes at a time when Sri Lanka and India have agreed to strengthen ties through their shared Buddhist heritage.
In a virtual bilateral summit with PM Mahinda Rajapaksa in September 2020, Mr. Modi announced a $ 15 million grant to Sri Lanka for promoting bilateral Buddhist ties.
The airport inauguration and the enhanced connectivity to a site revered by Buddhist pilgrims is one of many initiatives in India's apparent outreach to the Sinhala-Buddhist majority of the island nation.
In the decade after the civil war, which coincides with China's growing influence in the island nation, New Delhi seems keen on recasting its image as a friend and collaborator, using religious and cultural diplomacy.
During his recent visit, Foreign Secretary Shringla, who travelled across the island, made the first stop in the central Kandy district, to offer prayers at the famed Buddhist temple DaladaMaligawa or the Temple of the Sacred Tooth Relic.
India regularly invokes the Buddha and Buddhist history in its messaging in Sri Lanka, especially on social media.
Sri Lanka, too, considers promoting shared Buddhist ties a matter of "paramount importance", as was outlined in the Integrated Country Strategy prepared by Sri Lanka's High Commissioner to India MilindaMoragoda.
Subject – Science and Tech
Context – Nebra Sky Disc: The oldest map of stars that will be displayed at British Museum
Concept –
The British Museum in London will display an ancient object called the Nebra Sky Disc, which is thought to be the world's oldest concrete depiction of stars.
The object is being loaned to the museum by Germany's State Museum of Prehistory in Halle that owns it and will be showcased as part of an exhibition on Stonehenge, which will open in February 2022.
What is the Nebra Sky Disc?
About 3,600 years ago, the disc was ritually buried along with two swords, axes, two spiral arm-rings and one bronze chisel near Nebra in Germany. The burial of these objects is thought to be made as a dedication to gods.
In the past few years, however, the date of origin of the disc has been called into question by some archaeologists.

For instance, in a paper published last year in the German journal ArchäologischeInformationen, archaeologists claimed that the disc is at least 1,000 years younger than thought, which means it is from the Iron Age and not the Bronze Age.
The State Museum for Prehistory in Germany subsequently disputed these findings saying that it was out of question for the disc to be from the Iron Age.

Even so, while the exact purpose of the disc cannot be determined, hypotheses about its existence have imagined it as an astronomical clock, a work of art and a religious symbol.
The disc has a value of about $11 million and is thought by some to be one part of a pair, with the other part still out there, waiting to be discovered.
The Archaeology magazine, which is published by the Archaeological Institute of America notes that when the disc was buried it had already been in use for over 200 years.
Further, while the raw materials to make the disc were imported from as far as Cornwall in England, the knowledge required to create the object was "entirely local" and was drawn from observing the heavens from atop the Mittelbergmountain, which is near the modern village of Nebra.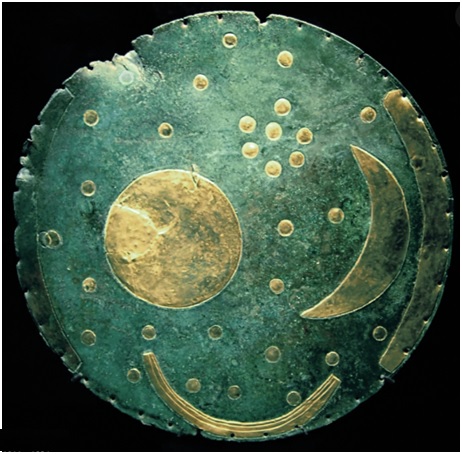 How and when was the Nebra Sky Disc discovered?
The bronze disc was discovered a little more than two decades ago.
In 1999, the discovery was made by treasure hunters using a metal detector in Nebra, a town in Germany. This excavation was illegal and it was about four years later that the disc was recovered from a black market raid in Switzerland.
The object, which has a diameter of about 30 cm was found along with some other bronze-age weapons.
It is thought to be one of the most important archaeological discoveries of the 20th century and has been associated with the Unetice culture that inhabited parts of Europe around 1600 BC.

The Unetice culture comprised early Bronze Age communities in central Europe including in Bohemia, Bavaria, southeastern Germany and western Poland.
The Concise Oxford Dictionary of Archaeology notes that one of the distinguishing features of this culture was its use of tin-bronze metallurgy.
Some of the metal artefacts made during this time by communities in the Unetice culture include ogival and triangular daggers with metal hilts, flanged axes, halberds, spiral arm-rings, solid bronze bracelets and varieties of pins.
Subject – Geography
Context – With predictions by the India Meteorological Department (IMD) of a fresh bout of heavy rainfall in Kerala, as a precautionary measure, water was released from the Idukki reservoir.
Concept –
The Idukki Dam is a double curvature Arch dam constructed across the Periyar River in a narrow gorge between two granite hills locally known as Kuravan and Kurathi in Mariyapuram village in Idukki District in Kerala, India.
This dam was constructed along with two other dams at Cheruthoni and Kulamavu.
Together, the three dams and Two saddle dams, Kulamavu Saddle Dam (Near Junction) and Kulamavu Saddle Dam (Right Bank) have created an artificial lake that is 60 km2 (23 sq mi) in area.

The stored water is used to produce electricity at the Moolamattom Power house, which is located inside nearby rocky caves.

Idukki Dam is 168.91 m (554.2 ft) tall, constructed between the two mountains – Kuravanmala and Kuravathimala.
This is the second time in three years that water has been released from the reservoir, the largest in the state and one of the highest arch dams in Asia.
Since the reservoir itself does not have shutters, two sluice gates of the Cheruthoni dam, part of the reservoir, were opened by 50 cm to release 100 cumecs of water.
When the shutters are opened, water will first reach the Cheruthoniriver through the spillway and join the Periyar river at Vellakayam.
Subsequently, the water will travel through areas like Thadiyambad and Karimban, followed by Chelachuvadu, Keerithodu and Pambla forest areas to reach the Lower Periyar dam.
The water will travel through Neriamangalam, Bhoothathankettu and Idamalayar dams to reach Ernakulam district. In anticipation of the opening of the Idukki reservoir, shutters of the Bhoothathankettu and Idamalayar dams had already been opened for smooth flow of water.
By Tuesday evening, around 4 pm, the water is expected to flow through Periyar and its tributaries by panchayats adjoining Aluva town like Keezhmad and Chengamanad and finally join the Arabian Sea.
The decision to open the shutters of the Cheruthoni dam, as well as the Idamalayar and Pamba dams, was taken by a high-level committee appointed by the state government to look into the technical aspects of the water level in the dams and the impact it would have on settlements alongside the rivers.
The Cheruthoni dam shutters were last opened in 2018 during the "once-in-a-century" floods that year. There was major criticism that the dam shutters were opened quite late and in haste without giving adequate warnings to the people.
Dams in Kerala –
Subject – Geography
Context – The monsoon is over but several parts of the country are still receiving rainfall.
Concept –
The monsoon is over but several parts of the country are still receiving rainfall.
Delhi, Kerala, Madhya Pradesh and Uttarakhand, for example, have received very high rainfall in the last few days, resulting in loss of life and property in some places.

Delhi has just had one of its wettest 24-hour periods in several decades.

Scientists say a combination of factors — delayed monsoon and development of low-pressure areas at multiple places — have resulted in these rainfall events at several places.
Rain in October is not unusual. October is considered a month for transition, during which the southwest monsoon withdraws and gives way to the northeast monsoon that largely affects southern peninsular India, mainly on the eastern side.
Western disturbances, which begin to have significant interference in local weather over the extreme northern parts of India, commonly cause either rain or snowfall. Since late last week, Ladakh, the higher reaches of Kashmir and Uttarakhand have reported the season's first snowfall.
Last week, two low-pressure systems were active simultaneously, one each over the Arabian Sea and the Bay of Bengal regions. Collectively, these triggered severe weather events over Kerala, Tamil Nadu, Andhra Pradesh, Telangana, Delhi, Madhya Pradesh, Uttarakhand, Odisha and West Bengal.
Delayed monsoon withdrawal
The four-month southwest monsoon season normally withdraws completely by early October. During the withdrawal phase, it causes thunderstorms and localised heavy rainfall.
This year, however, the withdrawal began only on October 6 against a normal of September 17. So far, the monsoon has withdrawn completely from the Western, Northern, Central and Eastern India regions. But it remains active over the southern peninsula.
Thus, Kerala, Tamil Nadu, Telangana, Karnataka and Andhra Pradesh have had significant rainfall during the last 10 days.
Normally, by mid-October, the monsoon winds reverse their direction of flow from the southwest to the northeast.
Even though the easterlies are beginning to replace the westerlies, the former is yet strengthen and fully establish. The easterly winds indicate the arrival of the northeast monsoon.
When a low-pressure system interacts with western disturbance, further intense rainfall occurs.
The Western Ghats, northeast and central India are known as high-rainfall receiving regions. However, in recent years, it has been noted that intense spells during a short time span are increasingly becoming frequent.
Extreme rainfall in Kerala
A low-pressure system that formed in the east-central Arabian Sea moved and sustained over Kerala between October 15 and17.
Simultaneously, another low-pressure system prevailed over the north Andhra Pradesh coast and southern Odisha.
The interaction between them strengthened the southwest winds which brought extreme rainfall over central and southern Kerala during the last weekend.
Subject – Environment
Context – A plant discovered in Uttarakhand in 2019 has been newly confirmed as a new species of Allium
Concept –
A plant discovered in Uttarakhand in 2019 has been newly confirmed as a new species of Allium — the genus that includes many staple foods such as onion and garlic, among 1,100 species worldwide
It grows at 3,000 to 4,800 m above sea level and can be found along open grassy meadows, sandy soils along rivers, and streams forming in snow pasture lands along alpine meadows, where the melting snow helps carry its seeds to more favourable areas.
With a narrow distribution, this newly described species is restricted to the region of western Himalayas and hasn't yet been reported from anywhere else in the world.
The scientific name Allium negianum honours the late Dr Kuldeep Singh Negi, an explorer and Allium collector.
Although new to science, this species has long been known under domestic cultivation to local communities. It said that according to locals, the onion from Niti valley was particularly good, even deemed the best on the market.
So far only known from the western Himalaya region, Allium negianum might be under pressure from people looking to taste it. The researchers fear that indiscriminate harvest of its leaves and bulbs for seasoning may pose a threat to its wild populations.
Subject – Economy
Context – Premature tightening may lead to stagflation: RBI report
Concept –
The Reserve Bank of India (RBI) has cautioned that premature tightening of the monetary policy could bring about the stagflation — slow growth and high level of unemployment and inflation — that "all fear, quashing growth just as the economy is recovering".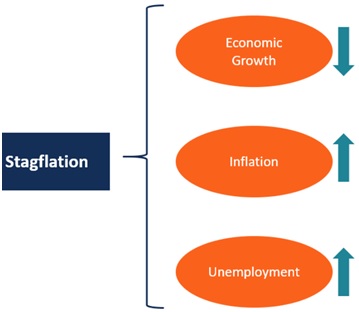 "Consequently, policy support for a sustained and inclusive recovery may be needed for longer," RBI said in its 'State of the economy' report.
On unwinding of the accommodative monetary policy, RBI Governor Shaktikanta Das had said on October 8, "This process has to be gradual, calibrated and nondisruptive, while remaining supportive of the economic recovery."
To know more about Stagflation, please click here.
10. 2016 panel to study Indian culture
Subject – Art and Culture
Context – 2016 panel to study Indian culture did not submit report: ASI
Concept –
A committee formed in 2016 to "study evolution of Indian culture from 12,000 years ago" did not submit any report to the Archaeological Survey of India (ASI), the government body said in a Right to Information (RTI) reply recently.

An expert panel had been set up for the "holistic study of origin and evolution of Indian culture since 12,000 years ago".

Few leadershad raised the lack of diversity on the panel, calling for scholars from southern States to be included.
On July 17, Culture Minister G. Kishan Reddy told the Lok Sabha that, "It has been decided to reconstitute the committee. While reconstituting the committee, all the suggestions on diversity in membership would be given due consideration."
11. GMO rice from India withdrawn in EU
Subject – Environment
Context – GMO rice from India withdrawn in EU: Indian coalition asks for action
Concept –
The discovery of 500 tonnes of genetically modified (GM) rice in a consignment that India exported to the European Union countries in June 2021 has led to the "loss of reputation of India and its agricultural market", Coalition for GM Free India said October 19, 2021.
Several batches of rice flour were marketed in several European countries, as well as in the United States, Iraq, Mauritius, Qatar, Dubai (United Arab Emirates), Lebanon, Senegal and Turkey. They were recalled for use in the EU after European Commission Rapid Alert System for Food and Feed (RASFF) identified illegalities in food products upon a check.
The 500 tonnes of broken Indian white rice imported into Europe was transformed into rice flour, resold and put on the market in many European countries as an ingredient in chocolate sweets from the Mars Inc company (M&M's Crispy) and baked goods.
GM crops are those that have been modified genetically to enhance their nutrition quotient. But in India, several civil society groups have raised health- and environment-related concerns.
India is yet to approve commercial cultivation of a genetically modified food crop. It has, however, cultivated multiple GM rice varieties at various stages of confined field trials. The Coalition for GM Free India, in its letter, warned that such trials have led to "contamination and leaks" that have made their way to the food chain.

It also suggested that field trials should be banned to avoid any contamination of food and seed supply chains.

The letter added – The illegal cultivation of HTBt cotton, Btbrinjal and GM soybean gave us a clear indication that there is a trend of GM crops from field trials ending up in our farms and food. It is an unfortunate truth that our regulatory system has been found ineffective in curbing this. It is also shocking that GEAC has failed to take effective action to even identify those behind seed supply…
According to news reports, farmers in Maharashtra allegedly started growing illegal HT cotton not cleared for commercial cultivation amid a downturn in agriculture due frequent bouts of drought in 2019.
12. White Light Emitters For LED Applications
Subject – Science and Tech
Context – IIT-Madras researchers design white light emitters for LED applications
Concept –
Conventional LED materials cannot emit white light and specialised techniques such as coating blue LED with yellow phosphor and combining blue, green and red LEDs, have been used to produce white light.
There has been a worldwide search for materials that can directly emit white light rather than through these indirect techniques that can cause loss of efficiency.
Researchers at the Indian Institute of Technology (IIT) Madras have successfully developed a white light emitter for use in LEDs. The development of energy-efficient Light Emitting Diodes or LEDs replaced the energy-inefficient incandescent lamps in lighting and display applications.
While LEDs have been available in almost all colours, white LEDs are a more recent development.
The innovation has been patented by the researchers and was recently granted the Government of India's 'SERB-Technology Translation Award.'
The Science and Engineering Research Board (SERB) provides financial assistance to researchers, academic institutions, research and development laboratories, industrial concerns, and other agencies.
The team proposes to use the grant money of Rs 30 lakh to produce LEDs using their distorted perovskite materials.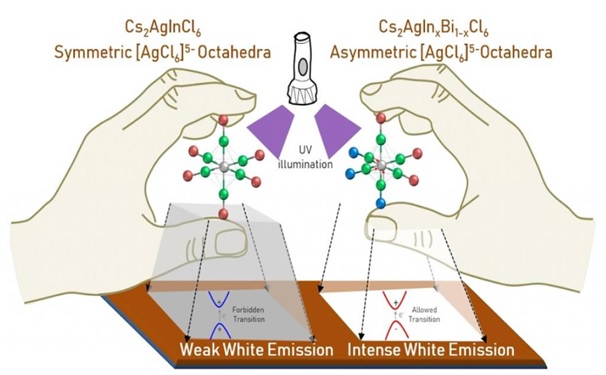 The researchers developed expertise in tuning the material at an atomic level to obtain different properties.
Through a recent project that included simulation and experimental work, the team distorted the crystal structure of this material to obtain a natural white light emitter.
The strategic introduction of distortion in halide perovskite generated intense light covering the complete visible spectrum. These materials show at least eight times intense white light emission compared to the conventional Ce:YAG emitters.
This distorted perovskite can be used independently as a white light emitter or as a phosphor in combination with blue LEDs to produce white light.
Unlike other recently developed white LED materials, this distorted perovskite showed phenomenal stability under ambient conditions.
The emission of intense light and stability make them useful in long-lasting, energy-saving lighting applications.
Apart from general lighting, white LEDs can potentially be used in liquid crystal display backlights, display mobile lighting and medical and communication equipment.