Daily Prelims Notes 2 November 2021
November 2, 2021

Posted by:

OptimizeIAS Team

Category:

DPN

Daily Prelims Notes
2 November 2021
Table Of Contents
1. India's 5-point road map made during COP-26
Subject – Environment
Context – India's 5-point road map made during COP-26
Concept –
Prime Minister Narendra Modi proposed a five-fold strategy for India to play its part in helping the world get closer to 1.5 degrees Celsius on the first day of the global climate meet in Glasgow.
The prime minister euphemistically termed his scheme as 'Panchamrita' meaning the 'five ambrosia'.
'Panchamrita' is a traditional method of mixing five natural foods — milk, ghee, curd, honey and jaggery. These are used in Hindu and Jain worship rituals. It is also used as a technique in Ayurveda.
1-billion-tonne emissions cut
The most substantive new commitment, relates to the 1-billion-tonne reduction in its total projected emissions from now until 2030. This is the first time that India has taken any climate target in terms of its absolute emissions.
Though it's not a direct emission reduction target, something that only developed countries are expected to take, the reduction marks a major step towards bending India's emissions trajectory.
According to the World Resources Institute, India's total greenhouse gas emissions were about 3.3 billion tonnes in 2018. It's projected to rise above 4 billion tonnes per year by 2030.
That would mean between now and 2030, India could be emitting anywhere between 35 to 40 billion tonnes at the current rates of growth.

Cutting 1 billion tonnes would, therefore, represent a reduction of 2.5 to 3 per cent in its absolute emissions in the business-as-usual scenario in the next nine years.
Net-Zero Target –
Net Zero is a state in which a country's total emissions are offset by absorptions of carbon dioxide from the atmosphere, like that done by trees and forests, and physical removal of carbon dioxide through futuristic technologies.
More than 70 countries have promised to become Net Zero by the middle of the century, and this is being considered vital for meeting the Paris Agreement goal of keeping global temperatures within 2 degrees Celsius from pre-industrial times.
Earlier targets by India –
In its climate action plan submitted under the Paris Agreement, India had promised to reduce its emissions intensity, or emissions per unit of GDP, by 33 to 35 per cent by the year 2030 compared to 2005 levels.

New target – India has committed to reduce carbon intensity to less than 45% by 2030.

Two years ago, Modi, speaking at a climate meeting on the sidelines of the UN General Assembly in New York, said India would take up its installed capacity of renewable energy to 450 GW by 2030.

New target – installed capacity of renewable energy to 500 GW by 2030.
The increase in proportion of renewable energy sources in India's electricity generation to 50 per cent is a natural corollary of this.

As of now, India was already targeting 40 per cent electricity production through non-fossil fuel sources by 2030.
Subject – IR
Context – COP26: India, Brazil, China, S Africademand $100-b climate finance support
Concept –
The BASIC countries — a grouping of Brazil, South Africa, India and China.
The BASIC group was formed as the result of an agreement signed by the four countries on November 28, 2009.
The signatory nations, all recently industrialised, committed to act jointly at the Copenhagen climate summit in 2009, including a possible united walk-out if their common minimum position was not met by the developed nations.

The BASIC countries constituted one of the parties in the Copenhagen Accord reached with the US-led grouping; the Accord, was, however, not legally binding.

These nations have a broadly common position on reducing greenhouse gas emissions and raising the massive funds that are needed to fight climate change.
The BASIC group wields considerable heft purely because of the size of the economies and populations of the member countries.

China, India, and Brazil are the world's second, fifth, and ninth-largest economies.
Brazil, South Africa, India and China put together has one-third of the world's geographical area and nearly 40% of the world's population.

BASIC is one of several groups of nations working together to fight climate change and carry out negotiations within the UNFCCC.
These major developing economies are significant polluters but bear diminished responsibility for the carbon dioxide that has been pumped into the atmosphere since 1850 and also have low per capita emissions because of their significant populations.
These countries have therefore for many years sought to rebuff pressure from developed countries to take on firmer emission reductions.
Paris Rulebook
While the Paris Agreement laid out the framework for international action, the Rulebook will set this Agreement in motion by laying out the tools and processes to enable it is implemented fairly and properly.
Countries had agreed to develop and finalise the Paris Rulebook at COP24 in Poland in 2018.
Subject – Geography
Context – Missing Naval officer's wife wants search operations to continue on Mount Trishul
Concept –
Trisul is a group of three Himalayan Mountain peaks of western Kumaun, with the highest (Trisul I) reaching 7120m.

The three peaks are named Trisul I, Trisul II, and Trisul III.

The three peaks resemble a trident – in Hindi/Sanskrit, Trishula, trident, is the weapon of Shiva.
The Trishul group forms the southwest corner of the ring of peaks enclosing the Nanda Devi Sanctuary.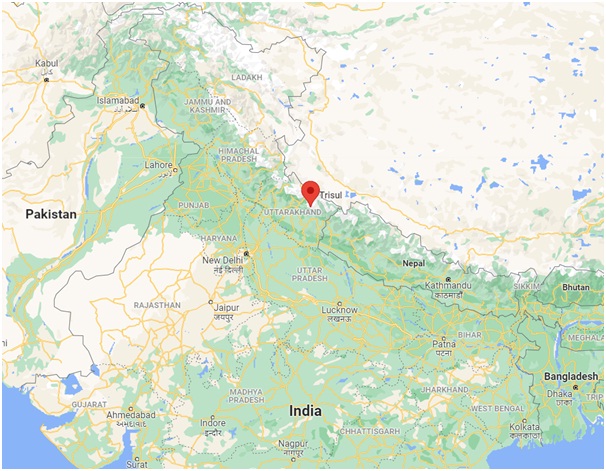 4. International Fund for Agricultural Development (IFAD)
Subject – Environment
Context – Local knowledge refined with tech & funds can help climate adaptation in Asia-Pacific: IFAD
Concept –
The International Fund for Agricultural Development (IFAD) aims to channelise $500 million in climate finance that will help 10 million vulnerable people in the Asia-Pacific region become resilient to climate change, the organisation announced.

The Asia-Pacific region is home to two-thirds of the world's poorest people. The region has the largest number of poor in the world, with about 560 million (55 per cent of the global total) living below the $1.25 (Rs 93.5)-a-day poverty line. Of these, 76 per cent live in rural areas.

IFAD is an international financial institution and a specialised United Nations agency based in Rome, the UN's food and agriculture hub.
It works to address poverty and hunger in rural areas of developing countries.
It is the only multilateral development organization that focuses solely on rural economies and food security.
IFAD works where poverty and hunger are deepest: in the most remote regions of developing countries and fragile situations, where few development agencies venture.
IFAD has 177 member states and works in partnership with the Organization of the Petroleum Exporting Countries (OPEC) and members of the Organisation for Economic Co-operation and Development (OECD).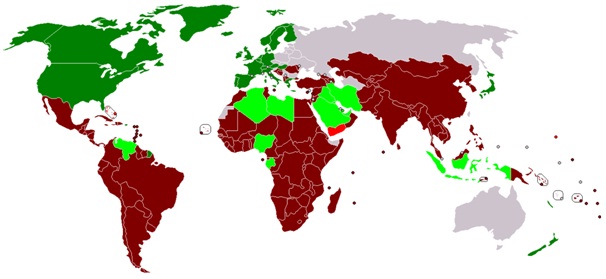 Enhanced Adaptation for Smallholder Agricultural Programme (ASAP+)
The Adaptation for Smallholder Agriculture Programme is the International Fund for Agricultural Development's (IFAD) main programme for channelling climate and environmental finance to smallholder farmers.
The Enhanced Adaptation for Smallholder Agriculture Programme (ASAP+) is a 100 per cent climate financing mechanism and is envisioned to be the largest fund dedicated to channeling climate finance to small-scale producers.
IFAD is the permanent trustee.
The governments of Qatar, Austria, Ireland and Germany are initial contributors to ASAP+.
5. Algorithms of Social Media Intermediaries infringes Fundamental Rights
Subject – Polity
Context – 'Algos, if infringing on rights of citizens, must be dealt with'
Concept –
There is a need to look into the algorithms of social media intermediaries if these go against the law or are in breach of Articles 14, 19, and 21 of the Constitution.
Algorithms that infringe on Articles 14, 19, and 21 of any citizen are still an infringement. Government's main job is to protect the right to free speech, privacy, and the right to non-discrimination online just as the government does offline.
Articles 14, 19, and 21 guarantee equality before law, freedom of speech and expression, and protection of life and personal liberty.
As per the Supreme Court judgment in the Shreya Singhal case, wherein Section 66A of the IT Act was struck down, the direction to remove any social media content could come only through a court order, or from a competent authority of the central government under Section 69A of the IT Act.

Neither Section 69A nor the blocking rules under the IT Act authorised NCPCR to direct intermediaries to remove content.
Subject – Environment
Context – CoP26: The science everyone needs to know about climate change.
Concept –
How much the CO2 concentration increased each year

The primary focus of the negotiations is on carbon dioxide, a greenhouse gas that is released when fossil fuels — coal, oil and natural gas — are burned, as well as by forest fires, land use changes and natural sources.
The Industrial Revolution of the late 1800s started an enormous increase in the burning of fossil fuels. It powered homes, industries and opened up the planet to travel.
That same century, scientists identified carbon dioxide's potential to increase global temperatures, which at the time was considered a possible benefit to the planet.
How long does CO2 stay in the atmosphere?
Once in the atmosphere, carbon dioxide tends to stay there for a very long time.
If civilization stopped its carbon dioxide-emitting activities today, it would still take many hundreds of years for the concentration of carbon dioxide in the atmosphere to fall enough naturally to bring the planet's carbon cycle back into balance because of carbon dioxide's long life in the atmosphere.
Long-term records from ice cores, tree rings and corals show that when carbon dioxide levels have been high, temperatures have also been high.

Our neighboring planets also offer evidence. Venus' atmosphere is thick with carbon dioxide, and it is the hottest planet in our solar system as a result, even though Mercury is closer to the sun.
Subject – Defence and Security
Context – Parachute unit practises combat manoeuvres
Concept –
The 50th Parachute Brigade is a brigade-sized formation of the Indian Army.
Its main force is formed of battalions of the Parachute Regiment.
The brigade was initially raised as part of the Indian Army during World War II. It was formed in October 1941, during the Second World War, as an independent parachute brigade.
The brigade took part in the Battle of Sangshak, which has been credited with delaying the Japanese forces moving up for the Battle of Imphal which allowed British and Indian reinforcement to reach Kohima.
Its other engagements –

Indo-Pakistani War of 1947-48
Annexation of Goa 1961
Indo-Pakistani War of 1971
Operation Cactus–in 1988, the Indian Armed Forces have helped the government of Maldives in the neutralization of the coup attempt.
Kargil War
Subject – IR
Context – COP-26 in Glasgow
Concept –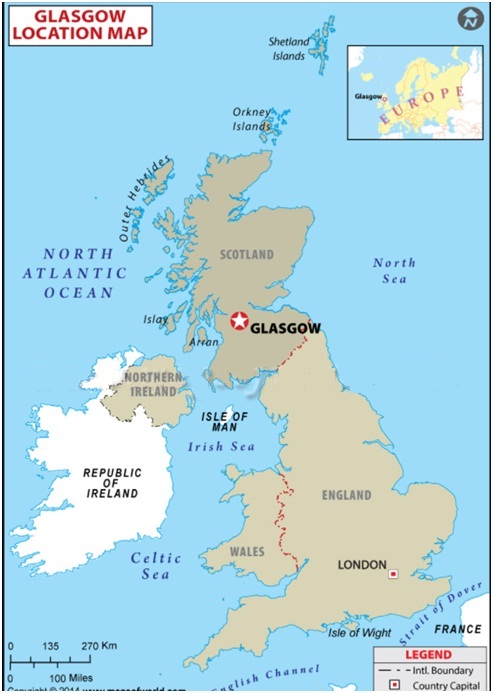 City
Geographical Location
Feature
Location
Glasgow
Scotland, UK

Most populous city in Scotland.

Fourth-most populous city in the United Kingdom

Glasgow is situated on the River Clyde in the country's West Central Lowlands.