Daily Prelims Notes 26 June 2023
June 26, 2023

Posted by:

OptimizeIAS Team

Category:

DPN

Daily Prelims Notes
26 June 2023
Table Of Contents
1. Bringing the Aravallis back to life
Subject :Geography
Section: Indian geography 
Context:
Tree species like Sheesham, babool and others planted over 75 hectares of land that was previously mined illegally are helping restore greenery and bring back wildlife.
Mining activities in Aravallis:
The Aravallis spanning Delhi, Haryana and Rajasthan have been infamous for stone mining to fuel the construction boom in the National Capital Region.
Impact of indiscriminate mining include:

Widespread reduction in hill ranges
Formation of deep crater-like lakes filled with rainwater
Brown and rugged pyramid-like structures formation
Increased pollution: Air, water and soil pollution
Steps taken to protect the Aravallis from mining:
Rajasthan forest department joined forces with the police to stop the mining activities in these areas.
Plantation activity started in 2019-2020 and the local residents were involved in the plantation process.
The area was covered with locally available moonj grass to provide livelihood options to the local residents.
The grass is useful for:

Binding the soil
Thatching roofs
Making brooms, handicrafts and furniture items

Outcome of the efforts:

A few months after the plantation, a baya weaver bird was spotted.
Antelope and Nilgai were also spotted.
Women started to growing and harvesting the Jau (Barley) crop.
About Aravallis:
The Aravalli Range (also spelled Aravali) is a mountain range in Northwestern India.
It runs approximately 670 km (430 mi) in a southwest direction, starting near Delhi, passing through southern Haryana and Rajasthan, and ending in Gujarat.
The highest peak is Guru Shikhar at 1,722 metres (5,650 ft). Guru Shikhar is a peak in the Arbuda Mountains of Rajasthan. It is 15 km from Mount Abu.
Three major rivers and their tributaries flow from the Aravalli, namely Banas and Sahibi Rivers which are tributaries of Yamuna, as well as the Luni River which flows into the Rann of Kutch.
The Aravalli Range is arguably the oldest geological feature on Earth, having its origin in the Proterozoic era.
The Aravalli Range is rich in natural resources and serves as a check to the growth of the western desert.
2. Bihar chalks out plan to tackle both flood and drought
Subject :Geography
Section: Rivers in news
Context:
Water Resources Minister Sanjay Jha said the government has chalked out a plan to deal with both exigencies, but the Centre has failed to consider its long-pending demand to build a dam in Nepal to prevent floods in the State.
Details:
Rivers like Gandak, Bagmati-Adhwara, Kamla, Kosi and Mahananda originate in Nepal, and heavy rainfall in the neighbouring country leads to floods in Bihar's northern districts such as Madhubani, Araria, Kishanganj, Sitamarhi, Supaul and Madhepura.
A high-rise dam to control these water can solve the flooding problem of Bihar.
The water in the Dam can be diverted to the Drough-hit regions of Bihar.
Rivers originate in Nepal:
Rivers
Description
1. Gandak

Also known as the Narayani river
NhubineHimal Glacier is the source of Gandak river.
It is a left-bank tributary of the Ganga River in India.
 In the Nepal Himalayas, it is notable for its deep canyon.
The basin also contains three mountains over 8,000 m (26,000 ft), namely Dhaulagiri, Manasluand Annapurna I.
Dhaulagiri is the highest point of the Gandaki basin.

2. Bagmati-Adhwara

The Bagmati River flows through the Kathmandu valley of Nepal, separating the cities of Kathmandu from Patan, before flowing through the Madesh Province of southern Nepal and joining the Kamla River in the Indian state of Bihar.
It is considered holy by both Hindus and Buddhists.
The Bagmati River is considered the source of Nepalese civilization and urbanization.
The Bagmati originates where three headwater streams converge at Bāghdwār Falls.
The Pashupati Nath temple of Nepal is situated on this river.

3. Kamla

Originates from the Churia Range near Maithanwhich is near SindhuliGadhiin the Sindhuli District of Nepal at an elevation of 1,200 metres (3,900 ft)and flows through the Indian state of Bihar.
The main tributaries of the Kamala River are the Tao, Baijnath Khola, Mainawati, Dhauri, Soni, Balan, Trisula, and Chadaha.

4. Kosi

It is a transboundary river which flows through China, Nepal and India.
From a major confluence of tributaries north of theChatra Gorge onwards, the Kosi River is also known as Saptakoshi for its seven upper tributaries.
These include the Tamur River originating from the Kanchenjunga area in the east and the Arun River and Sun Kosi from Tibet. The Sun Koshi's tributaries from east to west are DudhKoshi, LikhuKhola, Tamakoshi River, BhoteKoshi, and Indravati.
TheSaptakoshicrosses into northern Bihar, India where it branches into distributaries before joining the Ganges near Kursela in Katihar district.
The river is known for its shifting course.
It causes widespread floods in Bihar and is known as the Sorrow of Bihar.

5. Mahananda

It is a trans-boundary river that flows through the Indian states of Bihar and West Bengal, and Bangladesh.
It is an important tributary of the Ganges.
The Mahananda river system consists of two streams– one is locally known as Fulahar river and the other Mahananda.

Fulaharoriginates from the mountainous region of the Himalayas in Nepal and traverses through the Indian state of Bihar and merges with Ganges in left opposite to Rajmahal.
The Mahananda originates in the Himalayas: Paglajhora Falls on Mahaldiram Hill nearChimli, east of Kurseong in Darjeeling district at an elevation of 2,100 metres (6,900 ft).

It flows through Mahananda Wildlife Sanctuary and descends to the plains near Siliguri. It touches the Jalpaiguri district.
It joins the Ganges at Godagiri in Nawabganj district in Bangladesh.
The main tributaries are: Balason, Mechi, Kankai and River Kalindri.
3. Lander Vikram and rover Pragyan to return for another tryst with the moon
Subject: Science and technology
Section: Space technology
Context:
Chandrayaan-3 is slated for a mid-July launch.
Details:
The Indian Space Research Organisation (ISRO) plans to retain the names of the Chandrayaan-2 lander and rover for their Chandrayaan-3 equivalents as well i.e. the Chandrayaan-3 lander will bear the name 'Vikram' and the rover, 'Pragyan'.
It will be launched by LVM3 (formerly GSLV Mk-III) rocket from Sriharikota.
A propulsion module will carry the lander-rover configuration to a 100-km lunar orbit.
Once the 'Vikram' lander module makes it safely to the moon, it will deploy 'Pragyan' 'which will carry out in-situ chemical analysis of the lunar surface during the course of its mobility.
The Chandrayaan-3 Mission:
Chandrayaan-3 ("mooncraft") is a planned 3rd lunar exploration mission by the ISRO to demonstrate end-to-end capability in –
Safe landing (through the lander Vikram – after Vikram Sarabhai, the father of the Indian space programme) and
Roving (through the rover Pragyan) on the lunar surface.
Unlike Chandrayaan-2, it will not have an orbiter and its propulsion module will behave like a communications relay satellite.
Chandrayaan-3 interplanetary mission has three major modules: the Propulsion module, Lander module, and Rover.
ISRO plans to launch the third moon mission in mid-July aboard the LVM3 (formerly GSLV Mk-III) rocket from Sriharikota.
Scientific experiments:
The lander, rover and propulsion module will have payloads for performing experiments designed to give scientists new insights into the characteristics of Earth's lone natural satellite.
The lander will have four payloads:
Radio Anatomy of Moon Bound Hypersensitive Ionosphere and Atmosphere (RAMBHA),
Chandra's Surface Thermophysical Experiment (ChaSTE),
Instrument for Lunar Seismic Activity (ILSA) and
The LASER Retroreflector Array (LRA).
The six-wheeled rover will have two payloads:
The Alpha Particle X-ray Spectrometer (APXS) and
The LASER-Induced Breakdown Spectroscope (LIBS).
In addition to these, there will be one payload on the propulsion module, the Spectro-polarimetry of HAbitable Planet Earth (SHAPE).
How will the Mission be Implemented?
A propulsion module will carry the lander-rover configuration to a 100-km lunar orbit.
Once the 'Vikram' lander module makes it safely to the moon, it will deploy 'Pragyan'.
Pragyan will carry out in-situ chemical analysis of the lunar surface during the course of its mobility.
4. Walmart helps link 8 lakh producers to markets; farm groups sceptical
Subject: Geography
Section: Economic geography
Context:
Walmart has created a network across nine States and over 500 Farmer Producer Organisations, giving them access to the market; but farmer lobbies swear by the mandi system and cooperatives are sceptical.
Details:
TechnoServe, Digital Green and PRADAN (Professional Assistance for Development Action) are the NGOs working with farmers to resolve their problems and increase their production. All these NGOs are funded by the Walmart Foundation, its philanthropy arm.
The company has created a network that links farmers directly to the retail market.
This enhances its own capacity to enter India's retail market if and when it is allowed to, tapping into retail industry.
At least 500 organisations with 8 lakh farmers, across nine States — Andhra Pradesh, Uttar Pradesh, Telangana, Karnataka, Odisha, Jharkhand, West Bengal, Maharashtra, and Madhya Pradesh — are involved.
Non-profits that implement the progamme are working among small and marginal farmers cultivating coffee, cashew, mint, mangoes, vegetables, wheat, and millet.
Initiative to increase the Farmers Producer Organisation (FPOs):
In February 2020, the Centre launched the 'Formation and Promotion of 10,000 Farmer Producer Organisations' scheme to push forward 10,000 new FPOs until 2027-28.
The idea was to build the collective strength of small and marginal farmers — those with land holdings of less than 1.1 hectares.
Walmart is not new at promoting FPOs.
Concern of FPOs with the involvement of private sector:

Private firms can be profit oriented which may lead to exploitation of farmers and farmer products.
What are FPOs?
FPOs are voluntary organizations controlled by their farmer members who actively participate in setting their policies and making decisions.
They are open to all persons able to use their services and willing to accept the responsibilities of membership, without gender, social, racial, political or religious discrimination.
FPOs operatives provide education and training for their farmer members, elected representatives, managers, and employees so that they can contribute effectively to the development of their FPOs.
FPOs in Gujarat, Maharashtra and Madhya Pradesh, Rajasthan and some other states have shown encouraging results and have been able to realise higher returns for their produce.

For example, tribal women in the Pali district of Rajasthan formed a producer company and they are getting higher prices for custard apples.
Benefits Emanating From FPO:
Delining Average Land Holding Size: The average farm size declined from 2.3 hectares (ha) in 1970-71 to 1.08 ha in 2015-16. The share of small and marginal farmers increased from 70 per cent in 1980-81 to 86 per cent in 2015-16.

FPOs can engage farmers in collective farming and address productivity issues emanating from small farm sizes.
Further, this may also result in additional employment generation due to the increased intensity of farming.

Negotiating With Corporates: FPO can help farmers compete with large corporate enterprises in bargaining, as it allows members to negotiate as a group and can help small farmers in both input and output markets.
Economics of Aggregation: The FPO can provide low-cost and quality inputs to member farmers. For example, loans for crops, purchase of machinery, input agri-inputs (fertilizers, pesticides, etc.) and direct marketing after procurement of agricultural produce.

This will enable members to save in terms of time, transaction costs, distress sales, price fluctuations, transportation, quality maintenance, etc.

Social Impact: Social capital will develop in the form of FPOs, as it may lead to improved gender relations and decision-making of women farmers in FPOs.

This may reduce social conflicts and improve food and nutritional values in the community.
Subject :Geography
Section: Economic geography
Context: Andhra Pradesh's Araku Valley Coffee gets organic certificate.
Geographical Conditions
Coffee plant requires hot and humid climate with temperatures ranging between 15°C and 28 °C and rainfall from 150 to 250 cm.
Frost, snowfall, high temperature above 30°C and strong sun shine is not good for coffee crop and is generally grown under shady trees.
Dry weather is necessary at the time of ripening of the berries.
Stagnant water is harmful and the crop is grown on hill slopes at elevations from 600 to 1,600 metres above sea level.
Well drained, loams containing good deal of humus and minerals like iron and calcium are ideal for coffee cultivation.
Geographical Distribution
In India, coffee is cultivated in about 4.54 lakh hectares by 3.66 lakh coffee farmers of which 98% are small farmers.
The cultivation is mainly done in the Southern States of India:

Karnataka – 54%
Kerala – 19%
Tamil Nadu – 8%

It is also grown in non-traditional areas like Andhra Pradesh and Odisha (17.2%) and North East States (1.8%).
India is the only country in the world where the entire coffee cultivation is grown under shade, hand-picked and sun dried.
India produces some of the best coffee in the world, grown by tribal farmers in the Western and Eastern Ghats,which are the two major biodiversity hotspots in the world.
Indian coffee is highly valued in the world market and is sold as premium coffee in Europe.
India ranks 6th among the world's 80 coffee producing countries, with some of the finest robusta and some top-notch arabica cultivated.
Nearly 70% of India's coffee is exported, largely to European and Asian markets.
Coffee in India is traditionally grown in the rainforests of the Western Ghats in South India, covering Chikmagalur, Kodagu (Coorg), Wayanad, the Shevaroy Hills and the Nilgiris.
Subject :Geography
Section: Places in news
Araku Valley is a hill station in Eastern Ghats
Araku Valley, home to the Araku tribes, is approximately 114 km from the popular coastal city of Visakhapatnam. Ihome to the Araku tribes, is approximately 114 km from the popular coastal city of Visakhapatnam.
Araku Valley is home to the biodiversity hotspots – Anantagiri and Sunkarimetta Reserved Forest.
Araku Valley is also home to two of the highest peaks in the Eastern Ghats – Jindhagada Peak and Gallikonda Peak. 
The Ananthagiri Hills is also home to Borra Caves, one of the largest caves systems in India. The limestone formations (stalactites and stalagmites) are millions of years old. A lot of these structures have been given religious interpretations by the locals, due to which the site has become a popular place for religious gatherings.
7. French shipping major resumes service for cashew export from Guinea-Bissau to India and Vietnam
Subject: Geography
Section: Economic geography
Context:
Every June, French shipping major CMA CGM resumes its fortnightly Bijagos Shuttle container service (for three to four months), connecting by sea the small West African tropical country of Guinea-Bissau with Spain's Algeciras (about 3,500 km).
Details:
This dedicated sea container service exports huge quantities of cashew from Guinea-Bissau to India and Vietnam.
In 2022, Guinea-Bissau exported 2,31,000 tonnes of raw cashew nuts.
The line said it has dedicated hubs in Mundra, Port Klang and Singapore.
Other major shipping lines like Maersk and MSC also provide various transportation modes, including multimodal, to export cashew from Guinea-Bissau to India.
Cashew production and export:
Cashew is by far the most important cash crop in Guinea-Bissau, representing 60 per cent of the country's exports.
It is the main source of income in rural areas.
The estimated area under cashew cultivation is 223,000 hectares with an annual production of 230,000 tonnes, making Guinea-Bissau the fifth largest producer in the world.
Almost all (98%) of the cashew nuts produced in Guinea-Bissau are exported to India for processing.
Beta Group, the Kerala-based food company, which owns the Nut King brand, will set up an industrial unit in the West African country of Guinea-Bissau for the cashew business.
Cashew production in India:
India is the second-largest cashew producer in the world after Vietnam.
Cashew cultivation is undertaken in India in around 10.11 lakh hectares, the highest among all the cashew-growing countries.
Maharastra is India's largest Cashew nut-producing state.
Cashew requires an average temperature of 16-25OC and rainfall of 50-400 cm.
It flourishes well on poor and rocky soils.
Besides the vast scale of cashew production, India is also known for pioneering cashew processing and exporting cashew kernels across the globe.

The cashew processing industry was earlier concentrated in Kollam (Kerala), Mangalore (Karnataka), Goa, and Vettapalam (Andhra Pradesh), but now it is spread across many states of India.
Over the years, India has emerged as the global processing hub for the cashew industry.

India is the largest cashew exporter, with more than 15% of the world's export share.

India exports cashews to over 60 countries spread across different parts of the world. The key export destinations for India are UAE (the largest imported from India), Japan, Netherlands, Saudi Arabia, the USA, the UK, Canada, France, Israel, and Italy.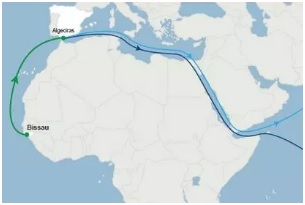 The Cashew Export Promotion Council of India (CEPCI):
The Government of India established the CEPCI in 1955 with the objective of promoting cashew kernels and cashew nut shell liquid in India.
The council provides trade information and statistics to its members and is operating the government's five-year plan scheme for providing financial assistance to the member exporters.
8. An emperor's dream, a saint's curse: The legend of Delhi's third city
Subject: History
Section: Medieval India
Tughlaqabad Fort:
Tughlaqabad Fort is built in 1321 by Ghiyasuddin Tughlaq– the first ruler of the Tughlaq dynasty that ruled in Delhi for nearly a century.
The fortress of Tughlaqabad stands on a rocky hill, about 8 kilometres from the Qutub Minar, and is the third of the seven cities of Delhi.
Roughly octagonal on plan with a perimeter of 6.5km, its 10 -15 m high rubble-built walls are provided with bastions and gates at intervals.
On its south was a vast reservoir created by erecting bunds between hills to its east, a causeway connected it with Ghiyathuddin's tomb, standing amidst waters, while a wide embankment near its south-eastern corner gave access to the fortress of Adilabad, built later opposite it on another hill.
Adilabad fort was the personal residence of Mohammad Bin Tughlaq — Ghiyasuddin's successor.
The fort was part of a larger city divided into three portions:
A rectangular area with high walls and bastions served as a citadel,
A wider area immediately to its west housed the palaces and houses, and
Beyond this to the north lay the city, remnants of which can be traced even now.
Ghiyasuddin Tughlaq:
His original name was Ghazi Malik.
He was a governor under the rule of Alauddin Khalji.
The idea to built a fortified city was given by him to Mubarak Khilji, the son and successor of Alauddin Khilji.
In 1320 A.D. when Tughlaq sat on the throne, he began work on his ambitious plan of fortified city.
He died in 1325 A.D.
Muhammad bin Tughlaq(1325-51):
He was a learned, cultured and talented prince but gained a reputation of being merciless, cruel and unjust.
He was very tolerant in religious matters.
His innovative reforms brought him a bad name, as they were not executed properly.
During the time of Muhammad bin TughlaqVijaynagar (1336) and Bahamani(1347) emerged.
Ibn Batuta, a Moroccan traveller visited Tughlaq. He recorded his observation in his book Qitab-ul-Rihla. Later he was sent to China as an ambassador of Tughlaq.
He addedjahanpanah city to Delhi.
His innovative (and failed) experiments include:

Introduction of Token currency (Copper coins instead of Silver coins)
Transfer of capital from Delhi to Devagiri (or Daulatabad)
Increase in taxes in the Ganga-Yamuna doab area.
Introduction of Takkavi loans (a form of Agriculture loan) and establishment of Diwan-e-Kohii.e. Department of Agriculture.

To curb the rebellion of Taghi, Tughlaq entered into the Sindh desert and died due to sunstroke at Thatta in 1351 AD.
Nizamuddin Auliya:
Syed Muhammad Nizamuddin Auliya was one of the most famous Sufi saints from the Indian subcontinent region.
Also known as Hazrat Nizamuddin, and Mahbub-e-Ilahi (Beloved of God), he was a Sunni Muslim scholar and Sufi saint of the Chishti Order.
He believed the love of God implied a love of humanity. He had a major influence on the Muslims of Delhi and the world over.
Nizamuddin Auliyawas born in 1238 AD in Badaun , Uttar Pradesh to Syed Abdullah bin Ahmad Al Hussaini Badayuni and Bibi Zulekha.
His father died when Nizamuddin was just five years old. At the age of 21, Nizamuddin went to Ajodhan(present Pakpattan Sharif in Pakistan) to become a disciple of the Sufi saint FariduddinGanjshakar, also known as Baba Farid.
He built his Khanqah (place of worship and holding Sufi rituals) which was thronged with all kinds of people, rich and poor alike.
Some of the famous disciples of Nizamuddin include – Shaikh Nasiruddin Chirag Delhavi, Amir Khusro, and the royal poet of the Delhi Sultanate.
He died on April 3, 1325. His dargah (shrine) 'Hazrat Nizamuddin Aauliya Mehboob E Elahi Dargah' was built in 1562 and is situated in the Nizamuddin West area of Delhi.
9. What is interest rate risk and why does it matter?
Subject: Economy
Section: Monetary Policy
Interest rate risk is the possibility of loss to an investor who owns any debt based instrument, such as bond or debenture resulting from an increase in the current interest rate offered for a similar new debt instrument.
The reason for the possibility of loss can be understood by understanding the concept of present value of an investment. When a bond is bought, the price is representative of the present value of the future cash returns it will give. The below illustration explains, the interest rate risk in action:
Suppose a bond offering 7% interest and having 1 year maturity will give Rs 107 return on maturity, then its current price will be Rs. 100.
Now suppose the market interest rate rises to 9%, then the owner is naturally in loss as, had he waited he could have invested at the higher rate. This loss is seen in the price decline of the old bonds, here the price of the Rs. 100 bond will drop to Rs. 98.16.
The above amount Rs. 98.16 is the investment that with the new rate provides the same return as the old Rs. 100 investment at the rate of 7%.
NOTE: Difference between a loan and a bond
Loan involves one party (lender) transferring a set amount of money (principal) to the borrower (debtor) at an agreed rate. The agreement stays between the two parties till the term of the loan.
Bond or debenture on the other hand is just a loan that is tradable in the secondary market, just like a share is traded. Its price varies with the movement of prevailing interest rate and with a change in evaluation of the risk associated with it. The lesser the risk associated, the lower is the interest rate of the bond.
Because bonds are traded, they can earn a negative return for the investor, unlike a loan.
Interest Rate risk in Banking:
Bank's face significant interest rate risk, as the 'banking book', mainly comprises debt assets. ('Banking Book' is the term used for assets on a bank's balance sheet)
Interest rate risk may impact the capital base and future earnings of the banks.
RBI has issued guidelines on Interest Rate Risk in Banking Book (IRRBB), that requires banks to measure, monitor, and disclose their exposure to IRRBB. The guidelines are in sync with the framework issued by the Basel Committee on banking Supervision (BCBS)
10. India to focus only on 40nm chips at present
Subject: Economy
Section: Monetary Policy
Key points:
India to currently focus on mature nodes like 40nm chips only, and will focus on fab later.
Earlier, the government was seeking 28nm plants in the country, but position has changed owing to assessment of challenges and industry response.
Chip "nm" (nanometer) significance:

Chips based on 40nm nodes have applications in the automotive sector, networking equipment, medical devices, printers, and in digital cameras.
Although it does not go into laptop or smartphones, it is used in automotive, for Internet of Things (IoT) and white goods, that have volumes.
PC and smartphones require minimum 14 nm or less size chips, which at present India will have to continue to import.
28-nanometre chips require investments upwards of $3-4 billon
range of 3-7 nm, require investments of over $20 billion

TSMC's not coming to India at present is explained by this decision. TSMC is known for cutting edge nodes.
Several companies (Micron, Tata Electronics, Vedanta-Foxconn etc) are coming into assembling, packaging and wafer fabrication of 40nm chips.
The Modified PLI Scheme takes into account this change of approach. Under the scheme the government will provide fiscal support of 50% of project cost support setting up semiconductor fabs across technology nodes and for display manufacturing.
There is an international trend for promoting domestic manufacturing of Chips, with the Chips Act ($280 billion) passed by the US and EU Chip Act ($47 billion).
India's Semiconductor Mission (ISM) with financial outlay of Rs76,000 crore and Modified-PLI are efforts to extend government support to the sector.
What are challenges for setting up a fab?
Huge initial investment involved. Also reliable supplies of raw material have to be set up.
Another big challenge is to get sufficient chip orders. Because it is only with volume that cost per unit comes to competitive levels.
Specialized chip design engineers needed.
11. India- South African Union FTA: Revival of talks
Subject: Economy
Section: Monetary Policy
Key Points:
India to revive talks for a free trade agreement with the South African Customs Union (SACU).

The initial round of technical discussions for the India-SACU PTA took place in 2007 which lasted till 2010, but talks were on back burner till 2020

SACU consists of 5 countries: Botswana, Lesotho, Namibia, South Africa, and Eswatini (formerly Swaziland).
India's Exports:

Automobiles, refined petroleum products, unmounted diamonds, and pharmaceuticals
India exported goods worth about $9 billion to SACU countries, accounting for around 2 per cent of its total exports.

India's Imports:

India mainly imports raw primary or semi-processed commodities from the SACU.
India also imports coal, diamonds, gold, and iron ore from the region that were essential inputs for various sectors.
Half of the Indian imports from SACU consist of natural or cultured pearls, precious or semi-precious stones and metals, with unwrought gold, unworked non-industrial diamonds and platinum.
Imports from the region were valued at a higher $11 billion (approx) which accounted for 1.53 per cent of the country's total imports.

The FTA negotiations are likely to be less complicated than the ones with India's Western partners because as SACU comprises developing countries, contentious non-trade topics like labour, gender, and environment would not be on the table.
India's automobile industry could be one of the primary sectors that could gain from an FTA with SACU countries, as it accounts for about 38 per cent of the country's exports to the region.
Significance:
So far, of all African countries, India has an FTA only with Mauritius, this could help mitigate exposure to global volatility.
Substantial gains to be made in pharma, iron and steel sectors.
Could provide a foothold in the African market and would help diversify trade.
Tariffs at present are as high as 20-25%, FTA would help boost trade substantially.
India and Africa have set a target of doubling bilateral trade to $200 billion by 2030
Subject : International Relations
Section:Msc
Concept :
The Wagner Group has taken control of the Russian city of Rostov-on-Don as part of an attempt to oust the military leadership.
Russian city of Rostov-on-Don
Rostov-on-Don is the largest city in southwestern Russia, home to a million people, and the administrative centre of Rostov Oblast and the Southern Federal District of Russia.
This region borders eastern Ukraine where the ongoing Russia-Ukraine conflict has been raging.
The city itself is approximately just 100 km away from the border and is located along the main route between the border with Ukraine's Donbas region and Moscow, around 1,100 km further to the north.
Consequently, it is a crucial command and logistical hub for the Russian army, housing the headquarters of the Russian Southern Military District, whose 58th Combined Arms Army is engaged in operations against Kyiv's counteroffensive in southern Ukraine, as per DW.
Furthermore, Rostov is also the home base for the command centre of the Russian Joint Group of Forces in Ukraine as a whole.
About the Wagner Group
The mercenary organisation was first identified in 2014, during Russia's annexation of Crimea.
It's essentially a network of contractors that supply soldiers for hire and the group got registered as a company in 2022.
Headquarters: St Petersburg.
Initially, the Wagner Group remained mostly secretive and consisted of just 5,000 fighters, active particularly in Africa and West Asia.
It expanded to comprise 50,000 fighters just in Ukraine.
Countries where the Wagner Group has been active

Ukraine
Syria
Sudan
Central African Republic
Mozambique
Mali
Burkina Faso
Libya
13. What caused the implosion of the Titan sub?
Subject : Science and technology
Section: Msc
Concept :
A remote-controlled underwater search vehicle (ROV) found pieces of debris on the ocean floor that belonged to the Titan submersible, approximately 488 meters (1,600 feet) away from the bow of the sunken Titanic on the ocean floor.
How did the submersible implode?
Experts have questioned the use of titanium and carbon fiber for deep diving, as they have different properties.
The Titan was made of carbon fiber and titanium, materials thought to withstand the pressure at depths of up to 4,000 meters. The craft's hull was designed to protect the crew from the water pressure.
The water pressure 3,800 meters down at the site of the Titanic wreck is roughly 400 atmospheres (6,000 PSI) — about the same as having 35 elephants on your shoulders.
Titanium is elastic and can adapt to ranges of stresses and pressures without permanent strain on the material. Carbon fiber on the other hand is stiffer and non-elastic, often prone to cracking.
How are Submersibles different from Submarines?
Submersibles and submarines differ in several key aspects. Here are the main differences between the two:
Launch and Retrieval:
Submersibles are launched from a mother vessel or home vessel, typically on a raft or platform. They descend into the water using electric thrusters and are retrieved back onto the surface platform after completing their mission.
Submarines, on the other hand, are self-propelled and can submerge and surface independently without the need for a separate launch and retrieval system.
Propulsion and Power:
Submersibles generally have limited propulsion systems and power reserves. They rely on electric thrusters for movement, and their power supply is typically constrained due to their smaller size and mission-specific design.
Submarines, on the other hand, are equipped with powerful propulsion systems, often driven by nuclear or diesel-electric engines, allowing them to travel long distances and at higher speeds underwater.
Features and Equipment:
Submersibles are designed for specific missions and often have a viewport or external cameras to observe the surrounding environment. This allows occupants to directly view the outside space.
Submarines, on the other hand, have periscopes and advanced sonar systems for observing and navigating the underwater environment. They are typically equipped with sophisticated communication systems and various defense mechanisms.
Ballast Systems:
Submersibles usually do not have ballast systems, which are used to control buoyancy and depth in submarines. They rely on their design and thrusters for depth control.
Submarines employ ballast systems to adjust their buoyancy and submerge or surface as needed.
Overall, submersibles are smaller, limited-range vessels that are launched from a mother vessel, have limited power reserves, and often serve specific missions. Submarines, on the other hand, are larger, self-propelled submarines capable of independent navigation and extended underwater operations, with more advanced features and capabilities.
Subject : History
Section: Modern History
Concept :
The recent controversy surrounding West Bengal's 'Foundation Day' has brought attention to the partition of Bengal in 1947.
This event marked a significant chapter in the history of the state, leading to the creation of West Bengal and East Pakistan (later Bangladesh).
Partition of Bengal in 1947: An overview
Demand for a separate Muslim nation-state: The partition of Bengal was a consequence of the Muslim League's demand for a separate nation-state for Indian Muslims.
Communal violence in Calcutta: The society became deeply divided along religious lines, leading to severe communal violence, particularly in Calcutta in August 1946.
Contours of East Pakistan's Formation
Partition of India and Pakistan: In June 1947, it was decided to partition India into India and Pakistan. Punjab and Bengal, both with significant non-Muslim minorities, were also partitioned along religious lines.
Boundary Commission and the Radcliffe Line: A boundary commission, chaired by Sir Cyril Radcliffe, was established to demarcate separate districts with Hindu and Muslim majorities. The resulting boundary line is known as the Radcliffe Line.
Concentration of Muslims in East Pakistan
Demographic composition: Bengal had a Hindu majority in the western districts and a Muslim majority in the eastern districts.
Grouping under East Pakistan: The eastern districts were grouped together to form East Pakistan, similar to how Muslims were concentrated in the western districts of Punjab.
Precursor: Curzon's Partition of Bengal in 1905
Historical context: Lord Curzon partitioned Bengal in 1905, aiming to break the unity of the Bengali-speaking population and create a separate province with a Muslim majority.
Reversal of partition: The partition of 1905 was withdrawn in 1911, restoring the linguistic unity of Bengal while separating Bihar and Orissa from Bengal.
Aftermath of the 1947 Partition
Communal violence and Gandhi's influence: Bengal witnessed significant communal violence in 1946, particularly in Calcutta and Noakhali. However, the presence of Mahatma Gandhi helped prevent large-scale violence during the partition.
Migration and displacement: Unlike Punjab, migration in Bengal occurred gradually over time, resulting in a continuous trickle of people moving from East to West and vice versa. This led to a large refugee population and the need for rehabilitation and settlements.
15. Radio telescopes: probing space
Subject : Science and technology
Section: Space technology
Concept :
A telescope is an instrument that aids in the observation of remote objects by collecting electromagnetic radiation (such as visible light).
The word telescope now refers to a wide range of instruments detecting different regions of the electromagnetic spectrum and in some cases other types of detectors.
Radio Telescope
A radio telescope is a specialized antenna and radio receiver used to detect radio waves from astronomical radio sources in the sky.
Radio telescopes are the main observing instrument used in radio astronomy, which studies the radio frequency portion of the electromagnetic spectrum emitted by astronomical objects, just as optical telescopes are the main observing instrument used in traditional optical astronomy which studies the light wave portion of the spectrum coming from astronomical objects.
Unlike optical telescopes, radio telescopes can be used in the daytime as well as at night.
Since astronomical radio sources such as planets, stars, nebulas and galaxies are very far away, the radio waves coming from them are extremely weak, so radio telescopes require very large antennas to collect enough radio energy to study them, and extremely sensitive receiving equipment.
As the atmosphere is transparent for radio waves, radio telescopes in space are of most use for Very Long Baseline Interferometry; doing simultaneous observations of a source with both a satellite and a ground-based telescope and by correlating their signals to simulate a radio telescope the size of the separation between the two telescopes.
Observations can be of supernova remnants, masers, gravitational lenses, starburst galaxies, and many other things.
Square Kilometre Array- world's largest radio telescope
The Square Kilometre Array (SKA) project is an international effort to build the world's largest radio telescope, with eventually over a square kilometres (one million square metres) of collecting area.
The scale of the SKA represents a huge leap forward in both engineering and research & development towards building and delivering a unique instrument, with the detailed design and preparation now well underway.
SKAO
It is a new intergovernmental organisation dedicated to radio astronomy and is headquartered in the UK.
At the moment, organisations from ten countries are a part of the SKAO.
These include Australia, Canada, China, India, Italy, New Zealand, South Africa, Sweden, the Netherlands and the UK.
Significance of SKA telescope
The telescope, proposed to be the largest radio telescope in the world, will be located in Africa and Australia whose operation, maintenance and construction will be overseen by SKAO.
Some of the questions that scientists hope to address using this telescope include the beginning of the universe, how and when the first stars were born and the life-cycle of a galaxy.
It would explore the possibility of detecting technologically-active civilizations elsewhere in our galaxy and understanding where gravitational waves come from.
As per NASA, the telescope will accomplish its scientific goals by measuring neutral hydrogen over cosmic time, accurately timing the signals from pulsars in the Milky Way.
SARAS-3 Radio Telescope
SARAS is a niche high-risk high-gain experimental effort of Raman Research Institute.
SARAS aims to design, build and deploy in India a precision radio telescope to detect extremely faint radio wave signals from the depths of time, from our "Cosmic Dawn" when the first stars and galaxies formed in the early Universe.
16. Climate Change Made UP Heatwave at Least Two Times More Likely
Subject: Geography
Section: Physical geography (Climatology)
Concept:
Climate change made the recent heatwave in Uttar Pradesh at least two times more likely, as per the Climate Shift Index, which quantifies the impact of climate change on local weather in real time.
Climate Shift Index
Researchers at Climate Central, a US-based climate research and communications group, found that the three-day extreme heat event over parts of UP from June 14 to June 16 was made at least two times more likely by climate change.
They analysed the Climate Shift Index (CSI), developed by Climate Central, that uses a categorical five-point scale to show how climate change makes daily average temperatures more or less likely around the world.
Currently, the index includes more than 1,000 cities and the online real-time map can also reveal changes across regions around cities.
CSI levels over 1 indicate a clear climate change signal, while levels between 2 and 5 mean that climate change made those temperatures between two and five times more likely.
As Per the team, the methodology used to calculate the CSI is based on peer-reviewed science.
A CSI of 4 means that the day's temperature was made at least four times more likely than it would have been without the influence of climate change.
What are heat waves?
A Heat Wave is a period of abnormally high temperatures, more than the normal maximum temperature that occurs during the summer season in the North-Western parts of India. Heat Waves typically occur between March and June, and in some rare cases even extend till July. The extreme temperatures and resultant atmospheric conditions adversely affect people living in these regions as they cause physiological stress, sometimes resulting in death.
The Indian Meteorological Department (IMD) has given the following criteria for Heat Waves

Heat Wave need not be considered till maximum temperature of a station reaches atleast 40°C for Plains and atleast 30°C for Hilly regions
When normal maximum temperature of a station is less than or equal to 40°C Heat Wave Departure from normal is 5°C to 6°C Severe Heat Wave Departure from normal is 7°C or more
When normal maximum temperature of a station is more than 40°C Heat Wave Departure from normal is 4°C to 5°C Severe Heat Wave Departure from normal is 6°C or more
When actual maximum temperature remains 45°C or more irrespective of normal maximum temperature, heat waves should be declared. Higher daily peak temperatures and longer, more intense heat waves are becomingly increasingly frequent globally due to climate change. India too is feeling the impact of climate change in terms of increased instances of heat waves which are more intense in nature with each passing year, and have a devastating impact on human health thereby increasing the number of heat wave casualties.
17. Wagner chief calls off insurrection after Belarus intervention
Subject :International Relations
Section: Places in news
Belarus is a landlocked country in Eastern Europe.
It is bordered by

Russia to the east and northeast,
Ukraine to the south,
Poland to the west, and
Lithuania and Latvia to the northwest.

Belarus is the 13th-largest and the 20th-most populous country in Europe.
Minsk is the capital and largest city.
Major rivers are the west-flowing Western Dvina and Nyoman rivers, and the south-flowing Dnieper with its tributaries, the Berezina, Sozh, and Prypyat rivers.

The Prypyat River has served as a bridge between the Dnieper, flowing to Ukraine, and the Vistula in Poland since the period of Kievan Russia.

Nearly one-third of the country is covered with pustaz, large unpopulated tracts of forests