Daily Prelims Notes 26 March 2022
March 26, 2022

Posted by:

admin1

Category:

DPN

Daily Prelims Notes
26 March 2022
Table Of Contents
Subject: Environment
Section: Environmental Pollution
Context: According to the UNEP's Frontiers 2022 Report, the city of Moradabad in Uttar Pradesh is the second-most noise polluted city globally.
Concept:
Moradabad has recorded noise pollution of a maximum of 114 decibels (db). The highest noise pollution of 119 db has been recorded in Dhaka, the capital of Bangladesh. At third place is Pakistan's capital Islamabad, where the noise pollution level has been recorded at 105 db.
The report identifies 13 noise polluted cities in south Asia. Five of these are in India – Moradabad, Kolkata, Asansol, Jaipur and Delhi.
The report said, Regular exposure for eight hours a day to 85 decibels of sound can permanently eliminate the ability to hear. Not only that, exposure to relatively low noise pollution for long periods in cities can harm physical and mental health.
For e.g., long-term exposure to noise pollution in Europe causes 12,000 premature deaths annually, 48,000 new cases of heart disease and 22 million people suffer from irritability.
A study in Korea showed that a 1 decibel increase in daytime sound increased the risk of cardio (heart) and cerebrovascular (related to blood flow to the brain) diseases by 0.17 to 0.66 per cent.
Noise Pollution:
Presence of excessive or unwanted sounds in the environment is called noise pollution. Sound levels are measured in decibels (dB).
Causes:
Outdoor: sounds of vehicles, explosions including bursting of crackers, machines, loudspeakers etc.
Indoor: Television and transistor radio at high volumes, some kitchen appliances, desert coolers, air conditioners etc.
Harms: Lack of sleep, hypertension (high blood pressure), anxiety and many more health disorders. A person who is exposed to a loud sound continuously may get temporary or even permanent impairment of hearing. Besides, it has bad effect on the communication of many animal species living in the area and their ability to hear.
WHO Standards:

As per 1999 guidelines, 55 db is the standard for residential areas, while for traffic and business sectors, the limit was 70 db.
Later the limit was set as 53 db in 2018, taking into account health safety.

Measures to limit Noise pollution:
Installing silencing devices in air craft engines, transport vehicles, industrial machines and home appliances.
Conduct noisy operations away from any residential area.
Use of automobile horns should be minimised.
TV and music systems should be run at low volumes.
Trees must be planted along the roads and around buildings to cut down on the sounds reaching the residents.
Subject: Environment
Section: Environmental Pollution
Context: UNEA-5 in Nairobi endorsed a historic resolution to end Plastic pollution and forge an international legally binding agreement by 2024.
Concept:
The resolution, based on three initial draft resolutions from various nations, establishes an Intergovernmental Negotiating Committee (INC), which will begin its work in 2022.
It is expected to present a legally binding instrument, which would reflect diverse alternatives to address the full lifecycle of plastics, the design of reusable and recyclable products and materials, and the need for enhanced international collaboration to facilitate access to technology, capacity building and scientific and technical cooperation.
Plastic Pollution:
Approximately 7 billion of the 9.2 billion tonnes of plastic produced from 1950-2017 became plastic waste, ending up in landfills or dumped.
Littering, mismanagement of waste streams and extreme events like floods, which are increasing due to climate change, increase the amount of plastic litter that ends up in the ocean.
Major Chemical compounds used in plastic products include: Poly Erythrol Tetraphthalet (PET), High Density Poly Ethylene (HDPE), Poly Vinyl Chloride (PVC), Low Density Poly Ethylene (LDPE), Poly Propylene, BisphenolA (BPA) and bisphenolS (BPS).
Impacts of Plastic Pollution:
alter habitats and natural processes, reducing ecosystems' ability to adapt to climate change, directly affecting millions of people's livelihoods, food production capabilities and social well-being.
Harm human health potentially affecting fertility, hormonal, metabolic and neurological activity.
Open burning of plastics lead to air pollution.
By 2050 GHGs associated with plastic pollution would account for 15% of allowed emissions under the goal of limiting global warming to 1.5o
Marine and coastal species get affected through ingestion, entanglement and other dangers.
Economic ramifications: since the ocean generates US$2.5 trillion in goods and services a year and contributed to 31 million direct full-time jobs prior to the COVID-19 pandemic.
UNEP's Clean Seas 2.0: From Source- to- Sea:
Launched in 2017, the Clean Seas campaign engages governments, the general public, civil society and the private sector to strengthen effective action plans on marine litter and plastic pollution. Currently, 63 countries are Clean Seas signatories.
Clean Seas 2.0 initial focus on single-use plastics and their elimination, communicating the root causes associated with the production, use and disposal of unnecessary, avoidable and problematic plastics thereby following an evidence-based approach.
Its topic areas will cover a range of products, including packaging, ghost fishing gear, tyres and textiles.
0 leverages two key river-focussed UNEP projects: CounterMEASURE and Mississippi River Plastic Pollution Initiative.
The "CounterMEASURE" uses cutting-edge technology to identify the source of plastic pollution in river systems in Asia – primarily the Ganges and Mekong. Through a combination of citizen science, drone imaging, machine learning and geographic analyses, the project collects data and identifies plastic waste hotspots and shares it with partner organizations and governments across the region.
Citizen science is a critical aspect of the "Mississippi River Plastic Pollution Initiative" also led by UNEP in partnership with the Mississippi River Cities and Towns Initiative and the University of Georgia.
UNEP and the Ellen Mc Arthur Foundation also co-lead the Global Commitment, which has established a common vision of a circular economy for plastics by 2025.
Through the Global Partnership on Marine Litter, UNEP is developing a Digital Platform to bring together and connect actors and information to catalyse action before plastic pollution ends up in the ocean.
To know more about Plastic Pollution, refer:
https://optimizeias.com/plastic-pollution/ and  https://optimizeias.com/plastics/
Subject: Environment
Section: International Organizations and Conventions
Context: UNEP celebrates 50 years of solving world's environmental challenges.
Concept:
UNEP- Background:
In 1972, the UNGA passed what is formally known as UN-Resolution 2997.It would be the last step in the establishment of the United Nations Environment Programme (UNEP) – an organisation conceived to spearhead a global effort to minimize humanity's footprint on the planet.
Headquarters: Nairobi, Kenya.
Governing Body: UNEA(formed in 2012) – meets once in two years.
Major Functions: It hosts various Conventions like Minamata Convention, UNCBD, CITES, Basel Convention, Stockholm Convention, Rotterdam Convention, Montreal Protocol, Vienna Convention, CMS, Carpathian, Bamako, Tehran Convention.
Main activities: are related to Climate Change, Disasters and Conflicts, Ecosystem management, Environmental Governance, Chemicals and waste, Resource Efficiency.
Important Treaties signed under UNEP: IPCC, Conservation of Migratory Species (CMS), Global Environment Facility (GEF) and the Multilateral Fund for the implementation of Montreal Protocol.
In 2021, member states approved UNEP's new Medium-Term Strategy (MTS)for 2022- 25that outlines UNEP's contribution to the '2030 Agenda for Sustainable Development' and the Programme for Work 2022-23.
Multilateral Organization Performance Assessment Network (MOPAN) was initiated in 2021 by Belgium, Netherlands and Switzerland and comprises of 21 countries that assess the performance (2016-20)of the major multilateral organizations they fund.
Important Initiatives undertaken by UNEP so far:
Regional Seas Programme, 1974
Clean up the world Campaign, 1993
TUNZA, 2003
Billion Tree Campaign, 2006
Faith for Earth Initiative, 2008
World Environment Day (June 5th)
Earth Hour
Not all animals migrate by choice campaign, 2019
Reports of UNEP:
Emission Gap Report
Adaptation Gap Report
Frontiers
Global Environment Outlook
Invest in a Healthy Planet
4. Export Preparedness Index (EPI) 2021
Subject: Economy
Section: External sector
Concept:
NITI Aayog in partnership with the Institute of Competitiveness releases the Export Preparedness Index (EPI). It is the first report to examine export preparedness and performance of Indian states, EPI intends to identify challenges and opportunities; enhance the effectiveness of government policies; and encourage a facilitative regulatory framework.
The structure of the EPI includes 4 pillars –Policy; Business Ecosystem; Export Ecosystem; Export Performance – and 11 sub-pillars –Export Promotion Policy; Institutional Framework; Business Environment; Infrastructure; Transport Connectivity; Access to Finance; Export Infrastructure; Trade Support; R&D Infrastructure; Export Diversification; and Growth Orientation.
The 4 pillars and the rationale behind selection of each of them are given below:
Policy: A comprehensive trade policy provides a strategic direction for exports and imports.
Business Ecosystem:  An efficient business ecosystem can help states attract investments and create an enabling infrastructure for individuals to initiate start-ups.
Export Ecosystem: This pillar aims to assess the business environment, which is specific to exports.
Export Performance:  This is the only output-based pillar and examines the reach of export footprints of States and Union Territories.
Export Preparedness Index (EPI) 2021
Gujarat, Maharashtra, Karnataka, Tamil Nadu are ranked in the top five states, as coastal States with higher industrial activity and access to sea ports account for a majority of India's exports.
Haryana, Uttar Pradesh and Madhya Pradesh have been ranked fifth, sixth and seventh in the overall index, but are the top three performers in export preparedness among land-locked States
Uttarakhand, Himachal Pradesh and Tripura have been ranked as the top three Himalayan States in export preparedness,
Delhi, Goa and Jammu & Kashmir have been rated the best performers in the 'Union Territories and City States' category, as per the index.
The index identifies three major challenges to India's export promotion efforts:
intra- and inter-regional differences in export infrastructure;
weak trade support and growth orientation across States; and
lack of R&D infrastructure to promote complex and unique exports.
Subject: Economy
Section: Msc
Context:
The Competition Commission of India (CCI) has ordered a probe into a complaint of abuse of dominant position by Google in their news referral and related advertisement service which is a violation of Section 4 of the Competition Act, 2002
The newspaper society also alleged that the publishers of news were not being paid a fair value for the content they produced and put out on their digital platforms and by advertising.
Concept:
Section 4 of Competition Act 2002
(1) No enterprise shall abuse its dominant position.
(2) There shall be an abuse of dominant position under sub-section (1), if an enterprise,—
(a) directly or indirectly, imposes unfair or discriminatory—
(i) condition in purchase or sale of goods or services; or
(ii) price in purchase or sale (including predatory price) of goods or service; or Explanation.—For the purposes of this clause, the unfair or discriminatory condition in purchase or sale of goods or services referred to in sub-clause (i) and unfair or discriminatory price in purchase or sale of goods (including predatory price) or service referred to in sub-clause (ii) shall not include such discriminatory conditions or prices which may be adopted to meet the competition; or
(b) limits or restricts—
(i) production of goods or provision of services or market therefor; or
(ii) technical or scientific development relating to goods or services to the prejudice of consumers; or
(c) indulges in practice or practices resulting in denial of market access; or
(d) makes conclusion of contracts subject to acceptance by other parties of supplementary obligations which, by their nature or according to commercial usage, have no connection with the subject of such contracts; or
(e) uses its dominant position in one relevant market to enter into, or protect, another relevant market. Explanation .—For the purposes of this section, the expression—
(a) "dominant position" means a position of strength, enjoyed by an enterprise, in the relevant market, in India, which enables it to—
(i) operate independently of competitive forces prevailing in the relevant market; or
(ii) affect its competitors or consumers or the relevant market in its favour;
(b) "predatory price" means the sale of goods or provision of services, at a price which is below the cost, as may be determined by regulations, of production of the goods or provision of services, with a view to reduce competition or eliminate the competitors.
Issue?
Misuse of monopolistic powers by the big companies and gain large profit share by eliminating competition due to
Network effect: Due to strong network effects, it is not possible to ban or curtail these services.
Brand Loyalty: The major players have harnessed technologies that permit synchronicity between devices and people in a manner that is often superficially described as "brand loyalty."
Tying or Bundling Certain Products: Big tech firms have pre-loaded certain software with the OS. Due to this, many times, there was no option available to users to use other alternatives.
Concerns?
Unfair Competition: Innovations and technological advancements have meant that unlikely giants have emerged in an extremely short span of time. To retain their pole position, these firms may resort to anti-competitive behavior. For example:

Entry barriers
Favouring few sellers on their platforms
High advertising revenue and not paying newspapers for their contents
Exclusive arrangements and cartelization.

Privacy Concerns: Big tech firms' market power is built at individuals' expense through the unscrupulous collection and processing of user data and forcing certain products on consumers.
Slow Regulation: Due to rapid innovation and advancement by the Big Tech firms, the regulators are only able to react, not be in readiness.
Monopoly
A monopoly is a market structure that consists of a single seller who has exclusive control over a commodity or service.
The word mono means single or one and the prefix pole in finds its roots in Greek, meaning "to sell". Hence, the word monopoly literally translates to single seller.
Characteristics 
Single seller – A single seller has total control over the production, and selling of a specific offering. This also means that the seller has no competition and holds the entire market share of the offering that it deals in.
No close substitutes – The monopolist produces a product or service that has no similar or close substitute.
Barriers to entry – In a monopoly market structure, new firms cannot enter the industry due to barriers like government regulations, contracts, insurmountable costs of production, etc.
Price maker – A monopolist has the power to charge any price for its product of service.
Types
Private Monopoly – A private monopoly is one that is owned by an individual or a group of individuals. These monopolies mainly aim for profits.
Public Monopoly – A public monopoly is one that is owned by the government. These monopolies are set up for the welfare of the masses. An example of a public monopoly would be the U. S. Postal Service.
Pure/ Absolute Monopoly – The monopolist controls the entire market supply for its product without facing any form of competition. This is possible because there is absolutely no close or remote substitute available in the market.
Imperfect Monopoly – The monopolist controls the entire market supply for its product as there is no close substitute, but there is a remote substitute for the product available in the market.
Simple Monopoly – A simple monopoly is one in which a single seller sells its product or service for a single price. There is no price discrimination in a simple monopoly.
Discriminating Monopoly – A discriminating monopoly is one where a single seller does not sell his product or service for a single price. Price discrimination is witnessed wherein prices may vary from region to region, or people coming from different economic backgrounds may be charged a different price, etc.
Legal Monopoly – A legal monopolist enjoys government approved rights like trademark, patent, copyright, etc.
Natural Monopoly – A natural monopolist enjoys or benefits from natural factors like locational advantages, locational reputation, natural talents and skill sets of the producers, etc.
Technological Monopoly – When a firm holds a technologically superior position that other firms cannot compete with, the firm is said to be a technological monopoly.
Joint Monopoly – When two or more firms join hands in order to form a monopoly, it is referred to as a joint or a shared monopoly.
Subject: Economy
Section: Msc
Context:
Insolvency proceedings were initiated against Delhi-based Supertech by the National Company Law Tribunal
Concept:
Insolvency is a condition in which a debtor is unable to pay his/her debts.
Bankruptcy is a legal process that involves an insolvent person or company that is unable to pay its debts.
Law?
The Insolvency and Bankruptcy Code, 2016 (IBC) is India's bankruptcy law, which aims to unify the existing framework by establishing a single insolvency and bankruptcy law. It covers all individuals, companies, Limited Liability Partnerships (LLPs) and partnership firms.
It enables creditors to analyse a debtor's viability as a business decision. Furthermore, creditors might either agree to the plan for its resurrection or propose a quick liquidation.
The goal of the code is to address insolvencies in a timely way; the evaluation and viability determination must be done within 180 days.
The Company is subject to a 180-day moratorium (which can be extended up to 270 days). The resolution time frame for startups and small businesses is 90 days, which can be extended by 45 days.
Objectives of IBC
To consolidate and amend all existing insolvency laws in India.
To simplify and expedite the Insolvency and Bankruptcy Proceedings in India.
To protect the interest of creditors including stakeholders in a company.
To revive the company in a time-bound manner.
To promote entrepreneurship.
To get the necessary relief to the creditors and consequently increase the credit supply in the economy.
To work out a new and timely recovery procedure to be adopted by the banks, financial institutions or individuals.
To set up an Insolvency and Bankruptcy Board of India.
Maximization of the value of assets of corporate persons.
The framework consists of the following bodies/institutions:
Insolvency Professionals: They will be in charge of the resolution procedure. They also handle the debtor's assets and provide information to creditors to help them make decisions.
Insolvency Professional Agencies: Insolvency practitioners will be registered with professional agencies for insolvency. Exams would be conducted to certify insolvency specialists, and a code of behaviour for their performance would be enforced by the agencies.
Information utilities: They will maintain track of debts owed to creditors, as well as repayments and debt defaults.
Adjudicating authorities: They will sanction the start of the resolution procedure, appoint the insolvency professional, and sign off on the creditors' ultimate judgement.
The National Company Law Tribunal (NCLT) is the deciding authority for corporations and limited liability firms.
Individuals and partnership firms have their debts adjudicated by the Debt Recovery Tribunal (DRT).
The Insolvency and Bankruptcy Board will oversee insolvency experts, professional agencies, and information utilities established under the Code.
Insolvency Resolution Process
Insolvency resolution process can be initiated by any of the stakeholders of the firm:  firm / debtors / creditors / employees.
If the adjudicating authority accepts, an Insolvency resolution professional (IP) is appointed.
The power of the management and the board of the firm is transferred to the committee of creditors (CoC). They act through the IP.
The IP has to decide whether to revive the company (insolvency resolution) or liquidate it (liquidation).
If they decide to revive, they have to find someone willing to buy the firm.
The creditors also have to accept a significant reduction in debt. The reduction is known as a haircut.
They invite open bids from the interested parties to buy the firm.
They choose the party with the best resolution plan, that is acceptable to the majority of the creditors (75 % in CoC), to take over the management of the firm.
National Company Law Tribunal (NCLT) is constituted under section 18 of the Companies Act, 2013 in 2016 based on the recommendation of the Justice Eradi committee on law relating to insolvency and winding up of companies.

The National Company Law Tribunal (NCLT) is a quasi-judicial body that adjudicates issues relating to Indian companies.

National Company Law Appellate Tribunal

The NCLAT was constituted under Section 410 of the Companies Act, 2013 to hear appeals against the orders of the National Company Law Tribunal (NCLT).

NCLT is a quasi-judicial body that adjudicates issues relating to companies.

It is also the appellate tribunal for orders passed by the NCLT(s) under Section 61 of the Insolvency and Bankruptcy Code (IBC), 2016, and for orders passed by the Insolvency and Bankruptcy Board of India (IBBI) under Sections 202 and 211 of the IBC.

Any person aggrieved by any order of the NCLAT may file an appeal to the Supreme Court.
7. Calcutta HC orders CBI probe into Bogtui killings
Subject: Polity
Section: National organisation
Context: Calcutta HC orders CBI probe into Bogtui killings
Concept:
Historical background:
Early stage of World War-II, the Government of India realised that vast increase in expenditure for war efforts had provided opportunities to unscrupulous and anti-social persons, both officials and non-officials, for indulging in bribery and corruption at the cost of public and the Government. It was felt that Police and other Law Enforcement Agencies under the State Governments were not in a position to cope with the situation. An executive order was, therefore, passed by the Government of India in 1941, setting up the Special Police Establishment (SPE) under a DIG in the then Department of War with mandate to investigate cases of bribery and corruption in transactions with which War and Supply Department of the Government of India was concerned. At the end of 1942, the activities of the SPE were extended to include cases of corruption on Railways also, presumably because the Railways were vitally concerned with movement and supply of war materials.
CBI derives power to investigate from the Delhi Special Police Establishment Act, 1946. Section 2 of the Act vests DSPE with jurisdiction to investigate offences in the Union Territories only. However, the jurisdiction can be extended by the Central Government to other areas including Railway areas and States under Section 5(1) of the Act, provided the State Government accords consent under Section 6 of the Act. The executive officers of CBI of the rank of Sub Inspector and above, exercise all powers of a station office in-charge of the police station for the concerned area for the purpose of investigation. As per Section 3 of the Act, Special Police Establishment is authorised to investigate only those cases, which are notified by the Central Government from time to time.
After promulgation of the Act, superintendence of SPE was transferred to the Home Department and its functions were enlarged to cover all departments of the Government of India. The jurisdiction of SPE was extended to all the Union territories and the Act provided for its extension to States with the consent of the State Government. The Headquarters of SPE was shifted to Delhi and the organisation was put under the charge of Director, Intelligence Bureau. However, in 1948, a post of Inspector General of Police, SPE was created and the organisation was placed under his charge.
In 1953, an Enforcement Wing was added to the SPE to deal with offences under the Import and Export Control Act. With the passage of time, more and more cases under laws other than Prevention of Corruption Act and violations of Import and Export Control Act also came to be entrusted to the SPE. In fact, by 1963 SPE was authorised to investigate offences under 91 different sections of Indian Penal Code and 16 other Central Acts besides offences under the Prevention of Corruption Act 1947.
A growing need was felt for a Central Police Agency at disposal of the Central Government which could investigate not only cases of bribery and corruption, but also violation of Central fiscal laws, major frauds relating to Government of India departments, public joint stock companies, passport frauds, crimes on the high seas, crimes on the Airlines and serious crimes committed by organised gangs and professional criminals. Therefore, the Government of India set up Central Bureau of Investigation by a resolution dated 1st April, 1963 with the following divisions:

Investigation &Anti Corruption Division (Delhi Special Police Establishment)
Technical Division
Crime Records and Statistics Division
Research Division
Legal and General Division
Administration Division
Director CBI
Director, CBI as Inspector General of Police, Delhi Special Police Establishment, is responsible for the administration of the organisation. With enactment of CVC Act, 2003 the Superintendence of Delhi Special Police Establishment vests with the Central Government save investigations of offences under the Prevention of Corruption Act, 1988, in which, the superintendence vests with the Central Vigilance Commission. Director, CBI has been provided security of two year tenure in CBI by the CVC Act, 2003. The CVC Act also provides mechanism for selection of Director, CBI and other officers of the rank of SP and above in CBI.
How does the CBI take up cases?
CBI cannot take suomotu cognizance of a case in a state — whether in a matter of corruption involving government officials of the Centre and PSU staff, or an incident of violent crime. In order to take up corruption cases involving central government staff, it either needs general consent (see last question) of the state government, or specific consent on a case-to-case basis. For all other cases, whether involving corruption in the state government or an incident of crime, the state has to request an investigation by the CBI, and the Centre has to agree to the same. In case the state does not make such a request, the CBI can take over a case based on the orders of the High Court concerned or the Supreme Court.
Can the CBI decline to take up a case for investigation?
After a state makes a request for an inquiry by the CBI, the Centre seeks the opinion of the agency. If the CBI feels that it is not worthwhile for it to expend time and energy on the case, it may decline to take it up. In the past, the CBI has refused to take over cases citing lack of enough personnel to investigate, and saying it is over burdened.
8. TRAI may come out with 5G spectrum pricing by month end
Subject: Polity
Section: Organisation
Context: Telecom Regulatory Authority of India (TRAI) is set to give its recommendation on 5G spectrum pricing by the end of this month, after the Prime Minister's Office asked the Department of Telecommunications (DoT) to ensure 5G rollout by August 15.
What is spectrum?
Devices such as cellphones, radio, wifi, etc. require signals to connect with one another. These signals are carried on airwaves. These airwaves must be sent at designated frequencies to avoid any kind of interference.
Such airwaves are called the spectrum. The various frequencies are subdivided into bands.

Frequency is the number of repetitions of the wave that one can see in a period.
If a wave repeats slowly, it is low frequency. If the wave repeats more, then it is called high frequency. Hertz (Hz) is the unit of Frequency.

Range of various devices:

Radio – 100-200 Megahertz (Mhz)
Telecom – 800 Mhz – 2300 Mhz
Wifi – Earlier it was 2.4 Ghz and now enhanced to 5 Ghz.
What is a spectrum auction?
The Union government owns all the publicly available assets within the geographical boundaries of the country. This includes the airwaves also. So the government has the right to sell the airwaves.
The selling of airwaves as a band for a certain period is known as Spectrum Auctions. The central government through the DoT (Department of Telecom) auctions these airwaves from time to time.
The government performs spectrum auctions after dividing the entire country into telecom circles. Presently India is divided into 22 telecom circles.
All these spectrums are sold for a certain period of time, after which their validity lapses, which is generally set at 20 years.
Telecom Regulatory Authority of India (TRAI)
Telecom Regulatory Authority of India(TRAI) is a regulatory body set up by the Government of India under section 3 of the Telecom Regulatory Authority of India Act, 1997.
It is the regulator of the telecommunications sector in India.
Composition: It consists of a Chairperson and not more than two full-time members and not more than two part-time members. Tenure of Members: The Chairperson and other members shall hold their office for a term of three years or till the age of 65 years, whichever is earlier.
The TRAI Act was amended by an ordinance, effective from 24 January 2000, establishing a Telecom Disputes Settlement and Appellate Tribunal (TDSAT) to take over the adjudicatory and disputes functions from TRAI.
Objectives of TRAI: To provide a fair and transparent policy environment that promotes a level playing field and facilitates fair competition.
Functions of TRAI
The function of the TRAI is to make recommendations on the following matters:

Need for introduction of new service provider.
Revocation of license for non-compliance of terms and conditions of licence.
Measures to facilitate competition and promote efficiency in the operation of telecommunication services to facilitate their growth.
Technological improvements in the services provided by the service providers.

Discharge of Responsibilities: The TRAI is responsible for discharging the following functions:

Ensuring the compliance of terms and conditions of licence
Ensuring the technical compatibility and effective interconnection between different service providers.
Laying down the standards of quality of service to be provided by the service providers.
Ensuring the quality of service and conducting the periodical surveys of such services.
Timely and officially notifying the rates at which the telecommunication services within India and outside India shall be provided under the TRAI Act, 1997.

The recommendations of the TRAI are not binding upon the Central Government.
9. Urban Local Bodies Finances
Subject: Polity
Section: PRI & ULBs
Context: CAG reports that TN Urban Local Bodies face shortage of funds
Present Status of Urban Local Bodies Finances:
Study conducted by the 15th Finance commission, highlight the following concerning trends in Municipal finances:

Low municipal revenue to GDP Ratio, which has remained stagnant at around 1% of GDP during the period from 2007 to 2017-18
The same ratio is 6% for South Africa, 13.9% for United Kingdom

Declining own revenue: The share of municipal own revenue in total municipal revenues has declined significantly from 55% in 2007-08, to 43% in 2017-18
Low diversification of tax resources

At present, property tax remains the only major tax in the municipal portfolio in India, and it has contributed to about 60% to municipal tax revenue in India
By contrast, municipalities in other parts of the world have access to a much wider basket of taxes

Inadequate intergovernmental transfers: While share of intergovernmental transfers in municipal revenue has been increasing since 2010-11, it still remains insufficient
Low per capital expenditure

Even though per capita municipal expenditure has increased in India, it still lags far behind in per capita spending when compared to other countries
India's per capita spending is $17, as against $116 of China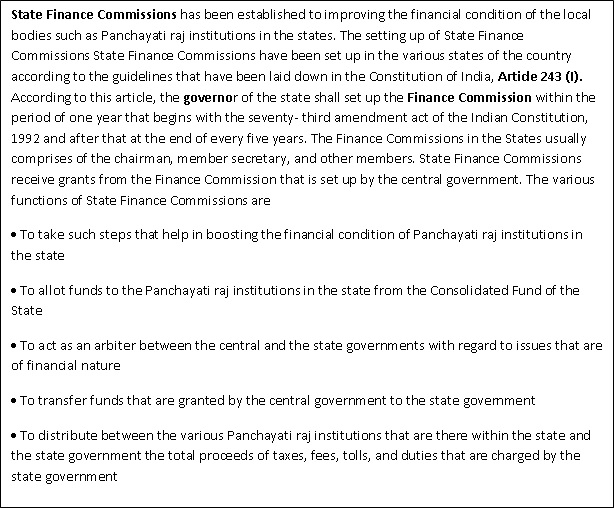 Financial Power of Municipalities
The State Legislature by law:
Authorize a municipality to collect, collect and appropriate taxes, duties, tolls and fees.
Allocate the taxes, duties, tolls and taxes collected and collected by the state government to a municipality.
Granting of aid to municipalities from the Consolidated Fund of the State.
Establishment of funds for the credit of all municipal funds.
Ways for raising finances
Mobilise their own resources by increasing their tax base in terms of property tax, service tax so on
Issue Municipal Bonds to mobilise funds
Land monetisation and betterment levy may be tried to ensure land values used for socially relevant purposes.
Regular Constitution of State finance commission by governor to devolve funds to Local bodies on time.