Daily Prelims Notes 27 June 2020
June 27, 2020

Posted by:

admin1

Category:

DPN

Table Of Contents
Subject: IR/Geography
Context:
Ishigaki city assembly, a local council in Japan has approved change of name of an area containing Senkaku Islands from Tonoshiro to Tonoshiro Senkaku.
Concept:
The Senkakusare administered by Japan, but claimed by China and Taiwan, which refer to them as Diaoyu Dao and Diaoyutai, respectively.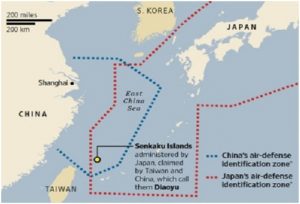 Japan annexed the archipelago following China's defeat in the first Sino-Japanese war from 1894 to 1895.
Yet the islands were left out of the Treaty of San Francisco at the end of the second world war that returned to China most of the territories previously occupied by Japan.
Under the terms of Japan's surrender, the island chain was controlled by the US until 1971, when it was returned to Japan along with Okinawa and other surrounding islands
A report highlighting the potential for oil reserves in the area prompted China to reassert its territorial claims over the islands. Japan does not recognise China's claims nor the existence of a dispute over the islands' sovereignty.
Subject: Environment
Context:
National Centre for Polar and Ocean Research (NCPOR) has conducted research on Coccolithophores and has found that there is a decrease in the concentration of oceanic calcium carbonate (CaCO3) in the southern Indian ocean.
Concept:
Coccolithophores (ancient marine algae) have been playing a key role in marine ecosystems and the global carbon cycle for millions of years.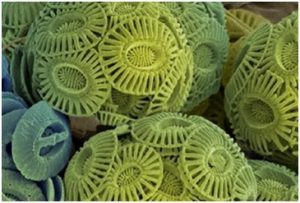 Coccolithophores calcify marine phytoplankton. Coccolithophores build exoskeletons from individual CaCO3plates consisting of chalk and seashells building the tiny plates on their exterior.
Though carbon dioxide is produced during the formation of these plates, coccolithophores help in removing it from the atmosphere and ocean by consuming it during photosynthesis.
At equilibrium, coccolithophores absorb more carbon dioxide than they produce, which is beneficial for the ocean ecosystem.
Its abundance and diversity enrichment of coccolithophores highly depend on factors such as silicate concentrations, calcium carbonate concentration, diatom abundance, light intensity and availability of macro and possibly micronutrient concentrations.
Recent decrease in CaCO3 is attributed to the increase in the concentration of another single-celled algae known as diatoms. This, in turn, will affect the growth and skeleton structure of coccolithophores, with potential significance for the world ocean ecosystem.
The research team's analysis revealed that the reduction of coccolithophore diversity in the early summer and late summer periods is due to an increase in the presence of diatom algae, which occurs after sea ice breakdown with climate change and ocean acidification, and increases the silicate concentration in the waters of the Southern Ocean.
The results of the study point to climate change as a major reason for the altered coccolithophore calcification rate.
These investigations are important for future intervention to bring positive changes in the marine ecosystem and global carbon cycle.
Subject: Environment
Context:
The Odisha forest department has started a two-year conservation project for fishing cats in Bhitarkanika National Park
Concept:
The fishing cat is nocturnal and apart from fish also preys on frogs, crustaceans, snakes, birds, and scavenges on carcasses of larger animals.
In India, fishing cats are mainly found in the mangrove forests of the Sundarbans, on the foothills of the Himalayas along the Ganga and Brahmaputra river valleys and in the Western Ghats.
One of the major threats facing the fishing cat is the destruction of wetlands.
The fishing cat is listed as Endangered on the IUCN Red List. The Convention on International Trade in Endangered Species (CITES) lists the fishing cat on Appendix II of CITES, which governs international trade in this species. In India, the fishing cat is included in Schedule I of the Wildlife (Protection) Act, 1972 and thereby protected from hunting.
The wetland is represented by as many as 3 protected Areas, namely "The Bhitarkanika National Park", "The Bhitarkanika Wildlife Sanctuary" and "The Gahirmatha Marine Sanctuary".
Bhitarkanka National Park
Bhitarkanika is a unique habitat of Mangrove Forestscriss-crossed with numerous creeks and mud flats located in Kendrapara district of Orissa.
Bhitarkanika located in the estuary of Brahmani, Baitarani, Dhamra& Mahanadi river systems, has unique attraction and a boast of nature's most picturesque sites.
Bhitarkanika National Park is a prime habitat of leopard cat, fishing cat, jungle cat, hyena, wild boar, spotted deer, sambar, porcupine, dolphin, salt water crocodile including partially white crocodile, python, king cobra, water monitor lizards, terrapin, marine turtle, kingfisher, wood pecker, hornbill, bar headed geese, brahminy duck, pintail, white bellied sea eagle, tern, sea gull, waders and a large variety of resident and migratory birds.
4. IRENA
Subject: IR
Context:
According to a report published by the International Renewable Energy Agency (IRENA), energy transition-related technologies can add 5.5 million jobs globally by 2023, on June 24, 2020. It highlighted that energy transformation could be a key to novel COVID-19 economic recovery.
Concept:
The International Renewable Energy Agency (IRENA) is an intergovernmental organisation that supports countries in their transition to a sustainable energy future, and serves as the principal platform for international cooperation, a centre of excellence, and a repository of policy, technology, resource and financial knowledge on renewable energy.
IRENA promotes the widespread adoption and sustainable use of all forms of renewable energy, including bioenergy, geothermal, hydropower, ocean, solar and wind energy in the pursuit of sustainable development, energy access, energy security and low-carbon economic growth and prosperity.
It is the first international organisation to focus exclusively on renewable energy, addressing needs in both industrialized and developing countries.
It was founded in 2009& its statute entered into force on  July 2010 and is headquartered in Masdar City, Abu Dhabi.
IRENA is an official United Nations observer.
5. Raw material for rechargeable batteries
Subject: Geography/science and tech
Context:
A recent report by the United Nations Conference on Trade and Development (UNCTAD) said that the supply of raw materials to produce rechargeable batteries, crucial to move to cleaner energy is uncertain.
Concept:
As electric vehicles (EVs) have gradually been integrated into global transportation, there has been a rapid growth in demand for rechargeable batteries. This will consequently lead to an increase in the demand for raw material used in manufacturing these batteries.
The report underlined lithium, natural graphite and manganese as critical raw materials for the manufacture of rechargeable batteries.
The security of supplies should be a concern for all stakeholders because the production of the raw materials is concentrated in a few countries.
According to the report, over 60 per cent of the world's cobalt is mined in the Democratic Republic of the Congo while over 75 per cent of global lithium is mined in Australia and Chile.
Any disruption to supply might lead to tighter markets, higher prices and increased costs of rechargeable batteries.
6. Debt and fiscal consolidation
Subject: Economy
Context:
15th Finance commission chairperson N.K.Singh has suggested government should concentrate on interventions and fastest possible revival of the economy rather on debt and fiscal consolidation at present
Concept:
Debt
Public debt is the total liabilities of the central government contracted against the Consolidated Fund of India.
The debt-to-GDP ratio indicates how likely the country can pay off its debt. Investors often look at the debt-to-GDP metric to assess the government's ability of finance its debt.
Union government has followed a considered strategy to reduce its dependence on foreign loans in its overall loan mix.
Internal debt constitutes more than 93% of the overall public debt. Also, note that external loans are not market loans. They have been raised from institutional creditors at concessional rates. Most of these external loans are fixed-rate loans, free from interest rate or currency volatility.
Internal loans that make up for the bulk of public debt are further divided into two broad categories – marketable and non-marketable debt.
The NK Singh Committee on FRBM had envisaged a debt-to-GDP ratio of 40 per cent for the central government and 20 per cent for states aiming for a total of 60 per cent general government debt-to-GDP.
Status Paper on Government Debt
The central government's debt as a percentage of GDPdropped marginally by 0.1% from 45.8% in fiscal 2017-18 to 45.7% or Rs 86.73 lakh crore in FY19
Following a similar trend, the general government debt to GDP ratio, which includes the combined debt of the Centre and states, declined by the same percentage from 68.7% in March 2018 to 68.6% or Rs 1.3 crore crore (Rs 130 trillion) in March last year.
The government's finances were largely protected from currency risks as external debt stood at 2.7% of GDP or Rs 5.12 lakh crore in FY19. Further, as this was entirely from official sources, India was protected from volatility in international markets.
1 per cent of total Central Government debt at end-March 2019 was domestic debt
Fiscal consolidation
Fiscal Consolidation refers to the policies undertaken by Governmentsto reduce their deficits and accumulation of debt stock.
Fiscal consolidation is a process where government's fiscal health is getting improved and is indicated by reduced fiscal deficit.
Measures taken by the government to achieve fiscal consolidation.
Improved tax revenue realization: For this, increasing efficiency of tax administration by reducing tax avoidance, eliminating tax evasion, enhancing tax compliance etc. are to be made.
Enhancing tax GDP ratio by widening the tax base and minimizing tax concessions and exemptions also improves tax revenues.
Better targeting of government subsidies and extending Direct Benefit Transfer scheme for more subsidies.
7. Rate transmission and loan restructuring
Subject: Economy
Context:
Central Board of the Reserve Bank of India (RBI) met through video conferencing and discussed the economic scenario, impact of the RBI measures and interest rate transmission but did not take up the proposal to restructure the loans of borrowers hit by COVID-19 pandemic.
Concept:
Rate transmission
It is the process through which RBI's policy actions reach its effective end goal of tackling inflation and addressing growth concerns.
The RBI earlier ordered banks to link the interest rateswith an external benchmark. Under the order, benchmarking was to be done to one of the following:
Reserve Bank of India policy repo rate
Government of India 3-Months Treasury Bill yield published by the Financial Benchmarks India Private Ltd (FBIL)
Government of India 6-Months Treasury Bill yield published by the FBIL
Any other benchmark market interest rate published by the FBIL.
The rationale behind external benchmarking is that the prevailing mechanism inefficient in delivering monetary transmission.
Debt restructuring
Restructuring is a practice that allows banks to modify the terms of the loan when the borrower is facing financial stress.
Banks do that to avoid the borrower being declared a defaulter and the loan having to be classified as a non-performing asset.
It could be through a change in the repayment period / repayable amount / number of installments / rate of interest/ additional loans.
Subject: scheme
Context:
Nasha Mukt Bharat: Annual anti-drug Action Plan (2020-21) for 272 Most Affected Districts was launched on the occasion of "International Day Against Drug Abuse and Illicit Trafficking"
Concept:
Ministry of Social Justice and Empowerment observes 26th June every year as "International Day Against Drug Abuse and Illicit Trafficking".
It is the nodal Ministry for drug demand reduction which coordinates and monitors all aspects of drug abuse prevention which include assessment of the extent of the problem, preventive action, treatment and rehabilitation of addicts, dissemination of information and public awareness.
Nasha Mukt Bharat Annual Action Plan for 2020-21 would focus on 272 most affected districts and launch a three-pronged attack combining efforts of Narcotics Bureau, Outreach / Awareness by Social Justice and Treatment through the Health Department .
The Action Plan has the following components: Awareness generation programmes; Focus on Higher Educational institutions, University Campuses and Schools; Community outreach and identification of dependent population; Focus on Treatment facilities in Hospital settings; and Capacity Building Programmes for Service Provider.
Subject: Report
Context:
The United Nations Office on Drugs and Crime (UNODC) has released World Drug Report 2020.
Concept: 
Findings:
The report has highlighted possible consequences of the COVID-19 pandemic on illegal drug production, supply and consumption.
The report expressed concern over the adverse impact of the economic hardship caused by the pandemic. This could lead to an increase in the number of people resorting to illicit activities linked to drugs to make a living.
As experienced during the 2008 economic crisis, it could result in reductions in drug-related budgets of the governments; overall increase in drug use, with a shift towards cheaper and more harmful drugs.
United Nations Office on Drugs and Crime (UNODC)
The United Nations Office on Drugs and Crime (UNODC) is a global leader in the fight against illicit drugs and international crime established in 1997.
It is headquarters are in Vienna