Daily Prelims Notes 4 June 2022
June 4, 2022

Posted by:

admin1

Category:

DPN

Daily Prelims Notes
4 June 2022
Table Of Contents
The Department of Telecommunications (DoT) and India's public service broadcaster Prasar Bharati are exploring the feasibility of a technology that allows to broadcast video and other forms of multimedia content directly to mobile phones, without needing an active internet connection.
The technology, called 'direct-to-mobile' (D2M) broadcasting, promises to improve consumption of broadband and utilization of spectrum.
The technology is based on the convergence of broadband and broadcast, using which mobile phones can receive terrestrial digital TV.
Using D2M, multimedia content can also be beamed to phones directly.
The content should stream without any buffering whatsoever while not consuming any internet data.
Impact on consumers and businesses:
For consumers, a technology like this would mean that they would be able to access multimedia content from Video on Demand (VoD) or Over The Top (OTT) content platforms without having to exhaust their mobile data, and more importantly, at a nominal rate.
The technology will also allow people from rural areas, with limited or no internet access, to watch video content.
For businesses, one of the key benefits of the technology is that it can enable telecom service providers to offload video traffic from their mobile network onto the broadcast network, thus helping them to decongest valuable mobile spectrum.
This will also improve usage of mobile spectrum and free up bandwidth which will help reduce call drops, increase data speeds etc.
Possible challenges to the technology's rollout
Bringing key stakeholders like mobile operators onboard.
A mass roll out of the technology will also entail changes in infrastructure and some regulatory changes.
The Supreme Court recently directed that national parks and wildlife sanctuaries must have an Eco-Sensitive Zone (ESZ) of minimum one km from the demarcated boundary of a protected forest.
Eco-Sensitive Zones (ESZs)
Eco-Sensitive Zones or Ecologically Fragile Areas are areas within 10 kms around Protected Areas, National Parks and Wildlife Sanctuaries.
ESZs are notified by MoEFCC, Government of India under Environment Protection Act 1986.
In case of places with sensitive corridors, connectivity and ecologically important patches, crucial for landscape linkage, even areas beyond 10 km width can also be included in the eco-sensitive zone.
The basic aim is to regulate certain activities around National Parks and Wildlife Sanctuaries so as to minimize the negative impacts of such activities on the fragile ecosystem encompassing the protected areas.
Activities Allowed in ESZs
Prohibited activities: Commercial mining, saw mills, industries causing pollution (air, water, soil, noise etc), establishment of major hydroelectric projects (HEP), commercial use of wood, Tourism activities like hot-air balloons over the National Park, discharge of effluents or any solid waste or production of hazardous substances.
Regulated activities: Felling of trees, establishment of hotels and resorts, commercial use of natural water, erection of electrical cables, drastic change of agriculture system, e.g. adoption of heavy technology, pesticides etc, widening of roads.
Permitted activities: Ongoing agricultural or horticultural practices, rainwater harvesting, organic farming, use of renewable energy sources, adoption of green technology for all activities.
Significance of ESZs
To minimize the impact of urbanization and other developmental activities, areas adjacent to protected areas have been declared as Eco-Sensitive Zones.
The purpose of declaring eco-sensitive zones around protected areas is for creating some kind of a 'Shock Absorber' for the protected area.
They also act as a transition zone from areas of high protection to areas involving lesser protection.
ESZs help in in-situ conservation, which deals with conservation of an endangered species in its natural habitat, for example the conservation of the One-horned Rhino of Kaziranga National Park, Assam.
Eco-Sensitive Zones minimize forest depletion and man-animal conflict. The protected areas are based on the core and buffer model of management, through which local area communities are also protected and benefitted.
Challenges
Activities such as construction of dams, roads, urban and rural infrastructures in the ESZ, create interference, negatively impact upon the environment and imbalance the ecological system.
By failing to recognize the rights of forest communities and curbing poaching of animal, legislations like Environmental Protection Act 1986, and Wildlife Protection Act 1972, undermine the ESZs in favour of developmental activities.
As the pressure of tourism is rising, the government is developing new sites and gateways to the ESZ.
Exotic species like Eucalyptus and Acacia auriculiformis etc., and their plantations create a competing demand on naturally occurring forests.
Slash and burn techniques used in agriculture, pressure of increasing population and the rising demand for firewood and forest produce, etc. exerts pressure on the protected areas.
E-Waste is short for Electronic-Waste and the term is used to describe old, end-of-life or discarded electronic appliances. It includes their components, consumables, parts and spares.
It is categorized into 21 types under two broad categories:

Information technology and communication equipment.
Consumer electrical and electronics.

Laws to manage e-waste have been in place in India since 2011, mandating that only authorized dismantlers and recyclers collect e-waste.
E-waste (Management) Rules, 2016 was enacted in 2017.
E-Waste Management Rules, 2016
The Ministry of Environment, Forest and Climate Change notified the E-Waste Management Rules, 2016 in supersession of the E-waste (Management & Handling) Rules, 2011.
Over 21 products (Schedule-I) were included under the purview of the rule. It included Compact Fluorescent Lamp (CFL) and other mercury containing lamps, as well as other such equipment.
For the first time, the rules brought the producers under Extended Producer Responsibility (EPR), along with targets. Producers have been made responsible for the collection of E-waste and for its exchange.
Various producers can have a separate Producer Responsibility Organization (PRO) and ensure collection of E-waste, as well as its disposal in an environmentally sound manner.
Deposit Refund Scheme has been introduced as an additional economic instrument wherein the producer charges an additional amount as a deposit at the time of sale of the electrical and electronic equipment and returns it to the consumer along with interest when the end-of-life electrical and electronic equipment is returned.
The role of State Governments has been also introduced to ensure safety, health and skill development of the workers involved in dismantling and recycling operations.
A provision of penalty for violation of rules has also been introduced.
Urban Local Bodies (Municipal Committee/Council/Corporation) have been assigned the duty to collect and channelize the orphan products to authorized dismantlers or recyclers.
Allocation of proper space to existing and upcoming industrial units for e-waste dismantling and recycling.
4. Unprecedented ozone levels have made Delhi air more toxic: CSE analysis
Ozone was reported as a prominent pollutant in Delhi (contributing to rising air pollution in Delhi).
Ozone 
Ozone (composed of three atoms of oxygen) occurs both in the Earth's upper atmosphere (stratosphere) and at ground level ( troposphere).
It can be good or bad, depending on where it is found:
Good Ozone:

Ozone occurs naturally in the Earth's upper atmosphere (Stratosphere) where it forms a protective layer that shields us from the sun's harmful ultraviolet rays.
Ozone depleting gases like chlorofluorocarbons (CFCs), HCFCs, halons, destroy this protective shield and cause holes in the ozone.
India had adopted the Kigali Amendment (aims to phase-down hydrofluorocarbons).

Bad Ozone:

In the Earth's lower atmosphere (troposphere) near ground level, ozone is formed when pollutants emitted by cars, power plants, industrial boilers, refineries, chemical plants, and other sources react chemically in the presence of sunlight.
Surface level Ozone is a harmful air pollutant.
Impacts of Ozone Pollution 
Surface level Ozone causes damage to crops and forests.
Irritation can occur in the respiratory system giving rise to coughs and an uncomfortable sensation in the chest.
Ozone worsens bronchitis, emphysema, asthma, etc and increases the risk and susceptibility to pulmonary inflammation like Chronic Obstructive Pulmonary Disease (COPD).
It may reduce lung function and make breathing difficult.
5. The Arabian Sea faces an increased frequency and duration of marine heatwave days
Marine Heatwaves
A marine heat wave is often characterized as a coherent region of extremely warm sea surface temperature that lasts for days to months.
Marine heat waves occur when sea temperatures are higher than usual for a lengthy period of time.
Over the last decade, MHWs have been recorded in all major ocean basins.
These occurrences are connected to coral bleaching, seagrass damage, and kelp forest loss, all of which have a negative impact on the fishing industry.
Causes of marine heatwaves
Summer/ Winters – Heat Waves can occur in both the summer and the winter, when they are referred to as "winter warm-spells."

These winter occurrences can have serious repercussions, such as in Australia's southeast, where the spiny sea urchin can only colonize farther south when winter temperatures top 12 °C.

Ocean Currents – The most common source of marine heat waves is ocean currents, which may build up patches of warm water and air-sea heat flux, or warming via the ocean surface from the atmosphere.
Winds – Sunlight normally penetrates the atmosphere and heats the ocean's surface. When there are light winds, the warm water does not mix with the cooler water below.

It floats on the surface of the water and continues to heat up, resulting in marine heat waves.

Climate Change – Large-scale climate influences such as the El Nino Southern Oscillation (ENSO) can too cause marine heatwaves.

An iconic heatwave event was in 2015. It encapsulated most of the Indian Ocean and coincided with the strong El Niño year, causing widespread coral bleaching in the Lakshadweep archipelago.
Impacts of marine heatwaves
Habitat Destruction – Marine heatwaves can alter the habitat ranges of some species, such as the spiny sea urchin off the coast of southeastern Australia, which has been moving southward towards Tasmania at the expense of the kelp forests on which it feeds.
Loss of Biodiversity – Marine heatwaves can have a significant impact on biodiversity. Marine heatwaves in northern Australia caused widespread bleaching of the Great Barrier Reef in 2016.
Deoxygenation and Acidification – Marine heatwaves frequently occur in conjunction with other factors such ocean acidification, deoxygenation, and overfishing. Marine Heatwaves not only wreak more havoc on ecosystems, but they also raise the danger of deoxygenation and acidification.
Economic Loss – Marine heatwaves can result in economic losses due to their effects on fisheries and aquaculture. The abalone harvest in Western Australia's north was damaged by a maritime heatwave in 2011.
Alter the Ecosystem Structure – Marine heat waves influence ecosystem structure by promoting certain species and inhibiting others. It has been linked to mass death of marine invertebrates and may drive animals to shift their behavior, putting them at greater danger of injury.
There are seven majestic national park in Assam.
The state has the third most National Parks in India, after the 12 in Madhya Pradesh and 9 in the Andaman and Nicobar Islands.
The state has a rich biodiversity, with more than 35% of its land covered in forests.
The state is also home to many endangered species, including the tiger, rhinoceros, and elephant.
The Two Latest National Parks in Assam added in June 2021 are Dihing Patkai National Park and Raimona National Park.
Orang National Park, Dibru Saikhowa national park, Kaziranga national park, Manas national park, Nameri national park are the five other National Parks in Assam.
Dihing Patkai National Park Assam
It was declared a wildlife sanctuary in 2004
Dehing Patkai National Park in Assam is also a major Elephant Reserve, which spreads across the coal- and oil-rich districts of Upper Assam (Dibrugarh and Tinsukia districts).
Dehing Patkai National Park is also known as the Jeypore Rainforest.
Dehing river flows through the National Park, and Patkai hills are the foothills of the Park.
234 sq. km park covering Dibrugarh and Tinsukia districts is also the last remaining stretch of the Assam Valley's tropical wet evergreen forests.
Fauna found here: Assamese macaque, Chinese pangolin, flying fox, gaur, serow, Malayan giant squirrels, wild pig, sambar and barking deer.
It is the only National Park in India that houses seven different species of wild cats – tiger, leopard, clouded leopard, leopard cat, golden cat, jungle cat and marbled cat.
The highest concentration of the rare endangered White Winged Wood Duck resides here.
Raimona National Park
Lies in Kokrajhar district, of the Bodoland Territorial Region (BTR) in the lower Assam encompassing 422 sq km.
Phipsoo wildlife sanctuary of Bhutan to its north, Buxa tiger reserve of West Bengal lies to its west and the Manas national park to its east.
The area of the Park includes the northern part of the notified Ripu Reserve Forest, which forms the buffer to the Manas National Park.
It is bounded by tributaries of the Brahmaputra, the Sonkosh river on the west and the Saralbhanga river on the east. The Pekua river makes Raimona national park's southern boundary.
Raimona national park shares contiguous forest patches with Phipsoo Wildlife Sanctuary and Jigme Singye Wangchuck National Park of Bhutan; together, they create a transboundary conservation area of more than 2,400 sq km.
The most famous endemic species in the Park is Golden Langur, other include Asian elephant, Royal Bengal tiger, Clouded leopard, Indian gaur, Wild water buffalo, Spotted deer, Hornbill.
Manas National Park
Manas National Park in Assam is located in the foothills of the Himalayas in the bhabar area of western Assam.
It spans the Manas river and is joined on the north by Bhutan's Royal Manas National Park.
The Manas National Park shelters more than 22 endangered species, designated as Schedule 1 species in the Wildlife Protection Act and enjoy the highest level of protection in the country.
The Manas National Park provides critical and viable habitats for rare and endangered species, Tiger, Greater one-horned rhino, swamp deer, Pygmy hog and Bengal florican.
The wild buffalo population in Manas National Park is probably the only pure strain of this species still found in India.
Endemic species include pygmy hog, hispid hare and golden langur and The Endangered Bengal florican.
Kaziranga National Park
The Kaziranga National Park has one of India's highest density of tigers and has been declared a Tiger Reserve since 2007.
Kaziranga National Park area is the single largest and undisturbed area lying in the Brahmaputra Valley floodplain.
This area comprises wet alluvial tall grassland, scattered with many broad, shallow pools fringed with vegetation patches of deciduous to semi-evergreen woodlands.
Riverbank erosion by the Brahmaputra river results in sedimentation and formation of new lands as well as new water-bodies
Succession between grasslands and woodlands in these newly formed sedimented lands represents outstanding examples of significant, continuous, dynamic ecological and biological processes.
Kaziranga National Park's contribution and efforts in protecting the Indian one-horned rhinoceros from the brink of extinction in the 20th century to now having the single largest population of one-horned rhinoceros species is a remarkable conservation achievement.
The park is located at the juncture of the Australasia and Indo-Asian flyway, which means that the park's wetlands play a major role in conserving globally threatened migratory bird species.
The Kaziranga National Park also harbors significant populations of other threatened species, including Tigers, Elephants, Wild water buffalo, Bears, Gaur, eastern swamp deer, Sambar deer, hog deer, capped langur, hoolock gibbon and Sloth bear.
Dibru Saikhowa National Park
Dibru Saikhowa National Park in Assam is both a National Park and a Biosphere Reserve, lying on the south bank of the river Brahmaputra in the extreme east in the Tinsukia district of state Assam in India.
Dibru Saikhowa National Park is part of a large river island, hemmed by the Brahmaputra, Lohit and Dibru rivers.
The park is bounded by the Brahmaputra and Lohit Rivers in the north and the Dibru river in the south.
The Dibru Saikhowa National Park has a tropical monsoon climate with a hot and wet summer and cool and dry winter.
Dibru Saikhowa National Park is famed for its Feral horses, Other notable species found are Tiger, Elephant, Leopard, Sambar, Slow Loris, Assamese Macaque, Rhesus Macaque, Barking Deer, Water Buffalo.
Orang National Park
The Orang National Park in Assam has been officially renamed the Rajiv Gandhi Orang National Park.
The Orang National Park is situated on the north bank of the Brahmaputra river in the Darrang & Sonitpur districts of Assam
The Pachnoi river and the Dhansiri rivers flow along the eastern and western boundaries of Orang National Park, respectively. Both these rivers are tributaries of the Brahmaputra.
The terrain of Orang National Park is flat, being the floodplain of these rivers.
Orang National Park is an important habitat for the Indian One-horned Rhinoceros and Tigers.
The grasslands of the Park also support healthy populations of the Swamp Francolin, Bengal Florican, Lesser Adjutant and Pallas's Fish-Eagle.
Other notable species in Orang National Park are: A healthy population of Tiger, Hog Deer, Wild Pig, Asiatic Elephants and Gangetic Dolphin also occurs in the rivers.
Nameri National Park
Nameri National Park in Assam is located in the Sonitpur district, in northern Assam,
Nameri National Park also has the designation of Tiger reserve under Project Tiger
Nameri lies on the interstate border between Assam and Arunachal Pradesh.
Nameri used to be part of the Naduar Reserve Forest before becoming a National Park.
The Jia-Bhareli river flow through the Nameri National Park along with its tributaries: The Nameri river, Upper Dikorai river and Bor Dikorai river
Nameri National Park is home to various globally threatened birds and mammals.
The most secure population of the endangered species White-winged Duck is found here on the north bank of the Brahmaputra river.
Nameri National Park is famous for its population of Asian elephants and tigers.
Context :
National Stock Exchange's (NSE) derivatives segment witnessed a 'fat finger' trade on Thursday that may have caused a loss of ₹200-250 crore to a brokerage house.
Details:
In a circular, National Stock Exchange asked its trading members to put in place appropriate internal systems and procedures to ensure that such orders/transactions are not placed on the trading system of the exchange, including trades through algorithmic trading.
Fat Finger Trade:
In market parlance, a 'fat finger' trade is an erroneous action resulting from pressing a wrong key. In simple terms, when traders and dealers in the securities markets press the wrong key that too when they punch in large buy or sell orders into their terminals. Erroneous trades caused by such typing mistakes, which set off a chain reaction of related transactions, are known as 'fat finger' trades.
Why is it important?
Every reported instance of a fat finger trade has caused a record intra-day swing in the affected index, causing fluctuations in investor wealth to the tune of billions of dollars.
The rising clout of algorithmic traders, who use computer programmes to spot split-second opportunities and flood the system with millions of orders within microseconds, exaggerates the impact of fat fingers. Undoing the damage from fat finger trades is far from easy. And too many butter-fingered trades could undermine the ordinary investor's faith in the system.
Fat finger trades add one more element of risk and uncertainty to investing that we could do without.
8. Section 25 of the Companies Act
Context :
The Enforcement Directorate on Wednesday, summoned Sonia Gandhi and Rahul Gandhi to probe the affairs related to the National Herald newspaper — owned by AJL.
Details:
It has been alleged that the Gandhis acquired properties owned by the National Herald by buying the newspaper's publishers, AJL, through an organisation -Young India — a Section 25 company — in which they have 86% stake.
The Congress has said that since Young India has been created under a special provision of the Companies Act — Section 25 — it has to be a not-for-profit company and no dividend can be given to its shareholders or directors.
Section 25 of the Company Act 1956:
A Section 25 company is similar to what is defined under Section 8 under Companies Act, 2013
It is a not-for-profit charitable company formed with the sole object of "promoting commerce, art, science, religion, charity, or any other useful object, and intends to apply its profits, if any, or other income in promoting its objects, and to prohibit the payment of any dividend to its members".
It could be a public or a private company, a Section 25 company is prohibited from payment of any dividend to its members and the profits/other income if any are used in promoting its objects.
Section 8 of the Companies Act, 2013 includes other objects such as sports, education, research, social welfare and protection of environment among others.
9. WTO and India- Food security
Context:
India will push the WTO to allow foodgrain exports from public stocks on a government-to-government (G2G) basis to meet global shortages at the Ministerial Conference (MC12)
Existing mechanism:
WTO restricts exports of food, which is procured by governments at support prices. This rule is limiting wheat exports from India, as the Indian government procures wheat at a minimum support price (MSP) from farmers.
WTO is mainly focused on procurement by the World Food Programme (WFP).
World Food Programme (WFP)?
It is the food-assistance branch of the United Nations (UN). It was founded in 1961 and is the world's largest humanitarian organization focused on hunger and food security. It is headquartered in Rome. The WFP was awarded the Nobel Peace Prize in 2020 for its efforts to provide food assistance in areas of conflict and to prevent the use of food as a weapon of war.
Issue of Food security:
The food market is also extremely fragile, with just six food baskets supplying the major chunk of the world's staple food.
The poor countries are net importers and the high income countries net exporters, irrespective of their food production potential.
The Black Sea region, which includes Russia, Ukraine and Kazakhstan, is one of the world's six food baskets. Russia is the world's largest wheat exporter while Ukraine is sixth on the list.
The Ukraine war has hit the global supplies of food items endangering global food security. The war has led to a "three-dimensional" crisis — rising food prices, rising energy prices and tightening finance.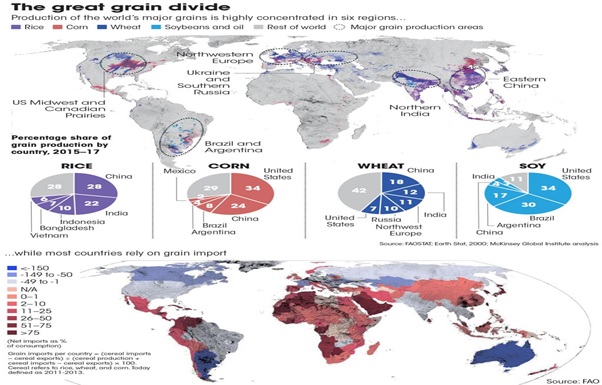 Countries have already resorted to hoarding staple foods that till recently they exported for profits. Hence, in the immediate future, the overall global availability of foodgrains will be further reduced.
This is the third global food crisis (after the crises of 2007-08 and 2010-11) in the past 15 years, but the worst-ever in severity and spread.
https://optimizeias.com/wto-agreement-on-agriculture-and-the-peace-clause/