Daily Prelims Notes 8 November 2021
November 8, 2021

Posted by:

OptimizeIAS Team

Category:

DPN

Daily Prelims Notes
8 November 2021
Table Of Contents
1. Constitution (105th Amendment) Act
Subject – Polity
Context – Madras High Court invalidated the separate reservation of 10.5% for the Vanniyar community
Concept –
The Constitutional 105th Amendment will amend clauses 1 and 2 of Article 342A and also introduce a new clause 3. The bill will also amend the Articles 366 (26c) and 338B (9).
It is designed to clarify that the states can maintain the "state list" of OBCs as was the system before the Supreme Court judgement.
The "state list" will be completely taken out of the ambit of the President and will be notified by the state assembly.
As per the Indian Constitution, Articles 15 (4), 15 (5), and 16 (4) confer power on the State Government to declare and identify the list of socially and educationally backward classes. As a practice, separate OBC lists are drawn up by the Central Government and each State concerned.

Significance of the 105th Amendment
The Bill seeks to restore the power of State governments to identify OBCs that are socially and educationally backward.
The Union government's argument has been that the intent of the 102nd amendment was only to create a Central List that would be applied only in the Central government and its institutions. It had nothing to do with the State Lists of backward classes or the State governments' powers to declare a community backward.
The bill will benefit around 671 OBC communities because if the state list had been abolished, nearly 671 OBC communities would have lost access to reservations in educational institutions and in appointments.
This Bill furthers social empowerment. It also reflects our Government's commitment to ensuring dignity, opportunity and justice to the marginalised sections.
Constitutional Provisions for identification of OBCs:
According to the Constitution of India, Articles 15(4), 15(5), and 16(4) confer power on a state to identify and declare the list of socially and educationally backward classes.
As a matter of practice, separate OBC lists are drawn up by the Centre and each state concerned.
The amendment was thought necessary because the SC, in its order on Maratha reservation, upheld the 102nd Constitutional Amendment Act.

It inserted Articles 338B and 342 A (with two clauses) after Article 342, which said the President of India, in consultation with the Governors, would specify socially and educationally backward classes, taking away the powers of State governments to do so.

The 105th Amendment aims at restoring the power of the States and the Union Territories to make their own OBC list.
2. Gross National Happiness Index
Subject – Economy
Context – Bhutan, a small, landlocked mountainous least developed country (LDC) in South Asia is next in line to graduate from the LDC category in 2023. It is best known for its philosophy of promoting Gross National Happiness over Gross Domestic Product (GDP).
Concept –
Gross National Happiness (GNH), sometimes called Gross Domestic Happiness (GDH), is a philosophy that guides the government of Bhutan.
The phrase 'gross national happiness' was first coined by the 4th King of Bhutan, King Jigme Singye Wangchuck, in 1972 when he declared, "Gross National Happiness is more important than Gross Domestic Product."
The concept implies that sustainable development should take a holistic approach towards notions of progress and give equal importance to non-economic aspects of wellbeing.
It includes an index which is used to measure the collective happiness and well-being of a population.
The GNH Index includes both traditional areas of socio-economic concern such as living standards, health and education and less traditional aspects of culture and psychological wellbeing.
It is a holistic reflection of the general wellbeing of the Bhutanese population rather than a subjective psychological ranking of 'happiness' alone.
The GNH Index includes nine domains

Psychological wellbeing
Health
Education
Time use
Cultural diversity and resilience
Good governance
Community vitality
Ecological diversity and resilience
Living standards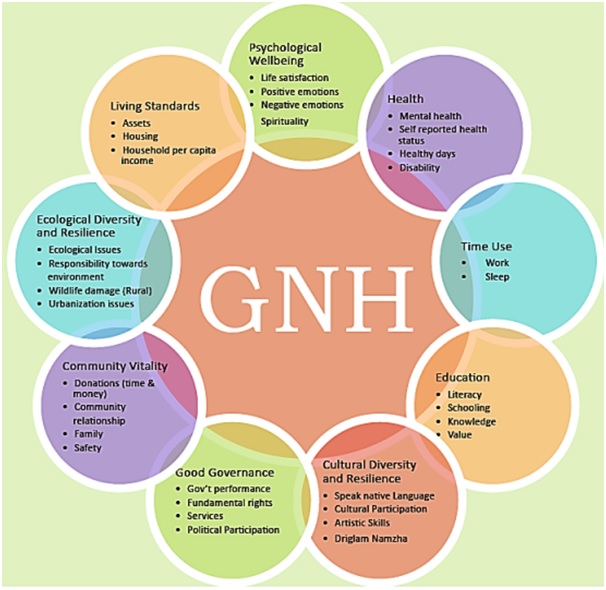 Bhutan and the UN Resolution on Happiness and Development
In 2011, the UN unanimously adopted a General Assembly resolution, introduced by Bhutan with support from 68 member states, calling for a "holistic approach to development" aimed at promoting sustainable happiness and wellbeing.
The Gross National Happiness Index is a single number index developed from the 33 indicators categorised under nine domains. The Centre for Bhutan Studies constructed the GNH Index using robust multidimensional methodology known as Alkire-Foster method.
The concept of GNH has often been explained by its four pillars;

good governance,
sustainable socio-economic development,
cultural preservation, and
environmental conservation.

The four pillars have been further classified into nine domains in order to create widespread understanding of GNH and to reflect the holistic range of GNH values.
World Happiness Report 2021
The World Happiness Report 2021 has been released by the UN Sustainable Development Solutions Network.
Finland was once again crowned as the world's happiest country, for the fourth consecutive year.

The Nordic nation is followed by Iceland, Denmark, Switzerland, The Netherlands, Sweden, Germany and Norway.

India has been ranked 139 out of 149 countries in the list of UN World Happiness Report 2021.

In 2019, India was ranked 140th.

The World Happiness Report is a landmark survey of the state of global happiness that ranks 149 countries by how happy their citizens perceive themselves to be.
The annual report ranks nations based on gross domestic product per person, healthy life expectancy and the opinions of residents.
Pakistan is on 105th, Bangladesh on 101st and China on 84th, according to the report.
People in war-torn Afghanistan are the most unhappy with their lives, followed by Zimbabwe (148), Rwanda (147), Botswana (146) and Lesotho (145).
3. A brief history of India's poverty levels
Subject – Economy
Context – Gandhi, former president of the Indian National Congress, tweeted the screen-grab of a story published on the website of Jansatta, which stated that poverty in India had increased between 2012 and 2020.
Concept –
What is poverty?
In 2009, the report on poverty estimation, chaired by Late Prof Suresh Tendulkar, stated: "Fundamentally, the concept of poverty is associated with socially perceived deprivation with respect to basic human needs".

Tendulkar committee's estimation method is the last officially recognised method for arriving at poverty numbers in India.

Poverty is a "relative" concept.
Of course, there is such a thing as abject poverty and it typically refers to a state where a person is unable to meet its most basic needs such as eating the minimum amount of food to stay alive.
What is a poverty line?
"poverty line" — a level of income or consumption expenditure that divides the population between the poor and non-poor.
It helps policymakers in figuring out what percentage of the population is poor relative to the rest.
Again, in a relatively poor country such as India — our per capita income is roughly one-fifth of China's and one-thirtieth of US' — the income or consumption levels chosen as the cut-off point for poverty (also called the poverty line) are often quite similar to "starvation" levels (or lines).
Poverty line suggested by the Tendulkar Committee was Rs 29 per day per person in urban areas and Rs 22 per day per person in rural areas.

Before the Tendulkar Committee's recommendation, India's poverty line was Rs 12 for rural areas and Rs 17 for urban areas.
How to choose a poverty line?
The purpose behind choosing a poverty line is two-fold.
One, to accurately design policies for the poor.
Two, to assess the success or failure of government policies over time.
What has happened in India's fight against poverty?
Head-count ratio
If one looks at the headcount ratio then India made rapid strides since 1973.

Headcount ratio of poverty is the percentage of India's population that was designated to be below the poverty line.
Incidence of poverty fell quite sharply from 55% in 1973 to under 28% in 2004.
Tendulkar Poverty Line
Tendulkar poverty line was defined differently from the past poverty line.

In the past, poverty lines were essentially about the amount of money required to meet a certain minimum amount of calories.
But during this phase, it was assumed that the government would take care of two other basic requirements — healthcare and education.
As such, the committee included the money required to meet the growing expenses on healthcare and education.
This raised the poverty line and essentially told us that India was poorer than what it previously believed — that is why the table mentions two poverty numbers for 2004.
Absolute number of poor in the country
Even though the percentage of people below the poverty line were coming down over the years, the absolute numbers remained stubbornly at the same level — as the third column of the table above shows — until the start of economic reforms in the early 1990s.
Between 1993 and 2004, close to 20 million people were brought above the poverty line.
But the truly remarkable period was between 2004 and 2011 when close to 140 million people were brought out of poverty in just 7 years.
What has happened to poverty levels since 2011-12?
Unfortunately, even though India is home to possibly the largest number of poor people in the world, there has been no official update on India's poverty levels since 2011-12.
Typically, poverty levels are updated by using the Consumer Expenditure Survey, which is conducted by the National Statistical Office (NSO) once every five years.

The last such survey was conducted in 2017-18.
That survey reportedly showed that for the first time in four decades consumer expenditure in India had fallen.
If that survey's data was plugged into poverty line calculations, several economists believe it would have shown that poverty levels, as well as the absolute number of poor, had risen between 2011-12 and 2017-18.
However, the findings of that survey were scrapped by the Modi government in 2019. The government claimed that the survey suffered from "data quality" issues.

According to tan unofficial calculation — which used the Tendulkar poverty line, which is the last official method — even though the incidence of poverty has come down marginally — from 21.9% in 2012 to 20.8% in 2020 — India has witnessed an increase in the absolute number of poor in the country.
Subject – Economy
Context – Last week, the UN Food and Agriculture Organisation released data showing its world Food Price Index (FPI) averaging 133.2 points in October, the highest since July 2011.
Concept –
One reason why petroleum and agri-commodity prices move in tandem is the bio-fuels link.
When crude prices rise, blending ethanol from sugarcane and corn (maize) with petrol or diverting palm and soyabean oil for biodiesel production becomes that much more attractive.
Cotton, likewise, turns relatively affordable vis-à-vis petrochemicals-based synthetic fibres.
Also, since corn is primarily an animal feed, its diversion to ethanol leads to substitution by other grains, including wheat, for livestock use. That, then, pushes up prices of food grains as well.
The same happens to sugar, as mills step up the proportion of cane crushed for fermenting into alcohol.
Food Price Index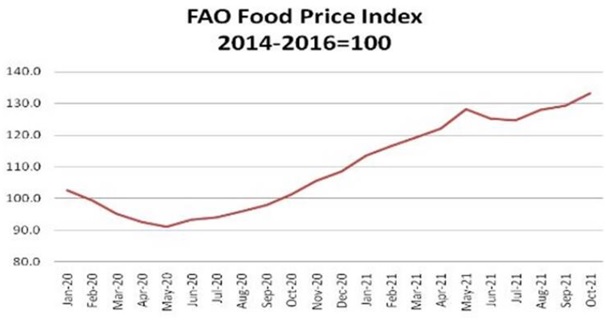 But it isn't the bio-fuels effect alone: Large price increases also tend to rub off on other farm produce through creation of positive "sentiment".

International coffee prices have nearly doubled in the last one year and, like most other agri-commodities, also strengthened along with crude oil in the last three months.
Subject – Environment
Context – At the UN climate conference in Glasgow last Tuesday, Prime Minister Narendra Modi raised India's existing climate targets, and also announced a few new targets.
Concept –
Target
Achievement
Reduce its 'emissions intensity', or emissions per unit of GDP, by 45% from 2005 levels by 2030.
India's emissions intensity was 24% below 2005 levels in 2016
Ensure that at least 50% of its installed electrical capacity in 2030 would come through non-fossil-fuel-based energy sources.

By November 2020, the share of renewables, including large hydropower, in total installed electrical capacity had already crossed 36%.

The share of non-fossil fuel energy sources was over 38%.
Other Targets –
In the NDC, India has promised to create an additional carbon sink of 2.5-3 billion tonnes of carbon dioxide equivalent through forest and tree cover by 2030.

Although forest cover has been growing, according to official data, the pace of growth so far has been far from commensurate with what is required to meet the target.
The third promise made in India's NDC, about increase in forest cover, did not find a mention in Modi's speech.

In Glasgow, Modi said India would have 500 GW of non-fossil fuel-based energy capacity by 2030.

India had initially set out to install 20 GW of solar power capacity by 2020. That was later raised to 100 GW by 2022.
Targets for wind and biogas were later added, making it a renewable energy power capacity target of 175 GW for 2022.
Two years ago, Modi enhanced this to 450 GW for 2030.
None of this was ever part of the NDC, but publicly announced targets India had set for itself.

India would ensure it reduces 1 billion tonnes from its projected emissions between now and 2030. Put another way, India would bend its business-as-usual emissions trajectory to ensure at least 1 billion tonnes of emissions are saved.

This is the first time India has talked about making a reduction in its absolute emissions. All previous formulations used to be in terms of emission intensity, which are emissions per unit of GDP.
The 1-billion-tonne reduction promise and the emissions intensity target, however, seem to be inextricably linked. The latter target too is about bending the emissions trajectory.
It seeks to ensure that while India's GDP as well as emissions would continue to grow, the rate of growth of emissions would be slower than that of GDP, so that more GDP is created for the same amount of emissions.
Achieving the emission intensity targets would mean that India would be emitting far less than in the business-as-usual scenario.
Subject – Governance
Context – A ranking of countries on drug policies and implementation
Concept –
The inaugural Global Drug Policy Index, released by the Harm Reduction Consortium, ranks Norway, New Zealand, Portugal, the UK and Australia as the five leading countries on humane and health-driven drug policies.
The five lowest-ranking countries are Brazil, Uganda, Indonesia, Kenya, and Mexico.
India's rank is 18 out of 30 countries.
It is a data-driven global analysis of drug policies and their implementation.
It is composed of 75 indicators running across five broad dimensions of drug policy:

criminal justice,
extreme responses,
health and harm reduction,
access to internationally controlled medicines, and
development
Subject – Science and Tech
Context – Gain-of-function research to know whether novel coronavirus come from a lab
Concept –
Gain-of-function research (GoF research or GoFR) is medical research that genetically alters an organism in a way that may enhance the biological functions of gene products.
Gain-of-function research refers to the serial passaging of microorganisms to increase their transmissibility, virulence, immunogenicity, and host tropism by applying selective pressure to a culture.
This research is intended to reveal targets to better predict emerging infectious diseases and to develop vaccines and therapeutics.
In virology, gain-of-function research is usually employed with the intention of better understanding current and future pandemics.
The term first gained a wide public audience in 2012, after two groups revealed that they had tweaked an avian influenza virus, using genetic engineering and directed evolution, until it could be transmitted between ferrets.
A complementary approach — loss-of-function — involves disabling a gene to see what happens to organisms that lack it.
Most virologists say that the coronavirus probably emerged from repeated contact between humans and animals, potentially in connection with wet markets in Wuhan, China, where the virus was first reported.
8. G-secs to 'soon' join global bond indices
Subject – Economy
Context – Framework finalised: G-secs to 'soon' join global bond indices
Concept –
The government has finalised most of the background infrastructure and sorted out the supply-side issues to prepare India's entry into global bond indices.
The Finance Ministry and the Reserve Bank of India (RBI) have worked out most requirements for overseas trading and settlement of Indian bonds.
The move is expected to attract foreign inflows in the debt market, help the government is its market borrowing programme and keep a check on yields.
The plan to list a set of government securities in global bond indices has been in the works for many years now.

The then Finance Minister Arun Jaitley, in the Union Budget 2014-15, proposed allowing international settlement of Indian debt securities, as it was expected to result in a reduction in bond yields and an increase in liquidity in domestic bond markets.
The Budget 2020-21 had proposed to remove limit on foreign investment in some government securities, as a first step towards their inclusion in global bond indices.
The RBI had, on March 30, notified a fully accessible route for investment by non-residents in government securities without any ceilings.
In July, the RBI unveiled a scheme allowing domestic retail investors to directly participate in the G-sec market. They can open and maintain a 'Retail Direct Gilt Account' with the RBI through a portal, which will also provide access to primary issuance of G-Secs and the secondary market as well.

The Financial Markets Regulation Department of the RBI, which is entrusted with the development and regulation and surveillance of G-secs market, has created a framework for international settlement of gilts.

This would allow overseas investors to put money in government debt papers without the need to register as FPIs.

Retail investors would not be affected as much, this is more towards institutional investors.
Why the global investors were hesitant before?
Global investors suggested not to include India's government bonds in global bond index due to capital controls, custody and settlement and other operational snags.
Subject – Economy
Context – India has Made Massive gains in nationwide Power Supply in Last 6 Years
Concept –
Deen Dayal Upadhyaya Gram Jyoti Yojana (DDUGJY)
The Deen Dayal Upadhyaya Gram Jyoti Yojana is an Indian government scheme intending to provide an uninterrupted power supply to the rural parts of India.
The erstwhile Rajiv Gandhi Grameen Vidyutikaran Yojana (RGGVY) scheme for village electrification and providing electricity distribution infrastructure in the rural areas has been subsumed in the DDUGJY scheme.
Rural Electrification Corporation is the Nodal Agency for implementation of DDUGJY.
Objectives –
To provide electrification to all villages
Feeder separation to ensure sufficient power to farmers and regular supply to other consumers
Improvement of Sub-transmission and distribution network to improve the quality and reliability of the supply
Metering to reduce the losses
Pradhan Mantri Sahaj Bijli Har Ghar Yojana (Saubhagya)
Pradhan Mantri Sahaj Bijli Har Ghar Yojana –"Saubhagya" is a scheme to ensure electrification of all willing households in the country in rural as well as urban areas.
The objective of the 'Saubhagya' is to provide energy access to all by last mile connectivity and electricity connections to all remaining un-electrified households in rural as well as urban areas to achieve universal household electrification in the country.
The Rural Electrification Corporation Limited (REC) will remain the nodal agency for the operationalisation of the scheme throughout the country.
The Government of India will provide largely funds for the Scheme to all States/UTs.
Beneficiaries –
The beneficiaries for free electricity connections would be identified using Socio Economic and Caste Census (SECC) 2011 data.
However, un-electrified households not covered under the SECC data would also be provided electricity connections under the scheme on payment of Rs. 500 which shall be recovered by DISCOMs in 10 instalments through electricity bill.
The solar power packs of 200 to 300 Wp with battery bank for un-electrified households located in remote and inaccessible areas, comprises of Five LED lights, One DC fan, One DC power plug. It also includes the Repair and Maintenance (R&M) for 5 years.
A mobile application would be used for the survey of households. It provides for on-spot registration of identified beneficiaries by obtaining their application for electricity connection with identity proof and photograph.
The Gram Panchayats or Public Institutions in rural areas are required to take care of the application process and documentation. They shall, in consultation with Panchayat Raj Institutions and Urban Local Bodies be authorized to distribute bills and collect revenue.
Integrated Power Development Scheme ( IPDS )
Launch – December 2014.
Nodal Agency – Power Finance Corporation Ltd. (PFC), a Navratna Central Public Sector Enterprise (CPSE) under the administrative control of the Ministry of Power.
Components –

Strengthening of sub-transmission and distribution networks in the urban areas.
Metering of distribution transformers / feeders / consumers in the urban areas.
Schemes for Enterprise Resource Planning (ERP) and IT enablement of the distribution sector.
ERP helps in integrating the important parts of a business.
Underground cabling to include additional demand of States and smart metering solution for performing UDAY States and Solar panels on Govt. buildings with net-metering are also permissible under the scheme.
Objectives –
24×7 Power supplies for consumers.
Reduction of AT&C (aggregate technical and commercial) losses.
Providing access to power to all households.
Eligibility – All Power Distribution Companies (Discoms) are eligible for financial assistance under the scheme.
Funding Pattern:
GoI (Government of India) Grant: 60% (85% for special category States).
Additional Grant: 15% (5% for special category States) – linked to achievement of milestones.