Daily Prelims Notes 8 September 2021
September 8, 2021

Posted by:

admin1

Category:

DPN

Daily Prelims Notes
8 September 2021
Table Of Contents
1. Central Armed Police Forces
Subject – Security
Context – Needed: A tribunal for CAPF.
Concept –
Central Armed Police Forces (CAPFs) refers to uniform nomenclature of seven Armed Police Forces of the Union of India under the authority of the Ministry of Home Affairs.
Their role is to defend the national interest mainly against the internal threats.
They are

Border Security Force (BSF)–guards the Indo-Pakistan and Indo-Bangladesh borders.
Central Reserve Police Force (CRPF) – deployed for maintaining internal security.
National Security Guard (NSG) – deployed for anti-terrorist activities.
Special Protection Group (SPG) – sole objective is providing proximate security to the Prime Minister of India
Central Industrial Security Force (CISF) – provides security for key installations.
Indo-Tibetan Border Police (ITBP) – guards the Indo-China border.
SashastraSeemaBal (SSB) – border guarding force of India deployed along its border with Nepal and Bhutan.
(Note – Assam Rifles guards the Indo-Myanmar Border. Assam Rifles is not an armed police force but a regiment of the Indian Army).
2. Minimum Support Price (MSP)
Subject – Agriculture
Context – RSS wing seeks guaranteed crop prices.
Concept –
MSP is the minimum price paid to the farmer for procuring food crops.
It offers an assurance to farmers that their realisation for the agricultural produce will not fall below the stated price.
The government uses the MSP as a market intervention tool to incentivise production of a specific food crop which is in short supply.
It also protects farmers from any sharp fall in the market price of a commodity.
MSPs are usually announced at the beginning of the sowing season and this helps farmers make informed decisions on the crops they must plant.
MSP is computed on the basis of the recommendations made by the Commission for Agricultural Costs and Prices (CACP).
It considers factors such as the cost of production, change in input prices, market price trends, demand and supply, and a reasonable margin for farmers.
The Centre has increased the MSP of kharif crops for 2020-21 crop year in line with the principle of fixing MSPs at a level which is at 1.5 times the cost of production that was announced in Union Budget 2018-19.
Concerted efforts were made over the last few years to realign the MSPs in favour of oilseeds, pulses and coarse cereals to encourage farmers shift to larger area under these crops and adopt best technologies and farm practices, to correct demand – supply imbalance.
The added focus on nutri-rich nutri-cereals is to incentivize its production in the areas where rice-wheat cannot be grown without long term adverse implications for groundwater table.
Crops covered under MSP: Paddy, Jowar, Bajra, Ragi, Maize, Tur, Moong, Urad, groundnut, sunflower seed, soyabean, nigerseed, Cotton and sesamum
Besides, the Umbrella Scheme "Pradhan MantriAnnadataAaySanraksHanAbhiyan" (PM-AASHA) announced by the government in 2018 will aid in providing remunerative return to farmers for their produce.

The Umbrella Scheme consists of three sub-schemes i.e.

Price Support Scheme (PSS)
Price Deficiency Payment Scheme (PDPS)
Private Procurement & Stockist Scheme (PPSS) on a pilot basis.
The National Food Security Act, 2013 (NFSA) provides a legal basis for the public distribution system (PDS) that earlier operated only as a regular government scheme. The NFSA made access to the PDS a right, entitling every person belonging to a "priority household" to receive 5 kg of food grains per month at a subsidised price not exceeding Rs 2/kg for wheat and Rs 3/kg for rice. Priority households were further defined so as to cover up to 75% of the country's rural population and 50% in urban areas.
MSP, by contrast, is devoid of any legal backing. Access to it, unlike subsidised grains through the PDS, isn't an entitlement for farmers. They cannot demand it as a matter of right.
It is only a government policy that is part of administrative decision-making. The government declares MSPs for crops, but there's no law mandating their implementation.
The Centre currently fixes MSPs for 23 farm commodities — 7 cereals (paddy, wheat, maize, bajra, jowar, ragi and barley), 5 pulses (chana, arhar/tur, urad, moong and masur), 7 oilseeds (rapeseed-mustard, groundnut, soyabean, sunflower, sesamum, safflower and nigerseed) and 4 commercial crops (cotton, sugarcane, copra and raw jute) — based on the CACP's recommendations.
The only crop where MSP payment has some statutory element is sugarcane. This is due to its pricing being governed by the Sugarcane (Control) Order, 1966 issued under the Essential Commodities Act.
After receiving the feed-back from them, the Cabinet Committee on Economic Affairs (CCEA) of the Union government takes a final decision on the level of MSPs and other recommendations made by the CACP.
Procurement: The Food Corporation of India (FCI), the nodal central agency of the Government of India, along with other State Agencies undertakes procurement of crops.
For complete details on MSP, kindly refer to MSP.
Fair and remunerative price (FRP)
Fair and remunerative price (FRP)is the minimum price at which rate sugarcane is to be purchased by sugar mills from farmers.
The FRP is fixed by Union government on the basis of recommendations of Commission for Agricultural Costs and Prices (CACP). The 'FRP' of sugarcane is determined under Sugarcane (Control) Order, 1966. 
Recommended FRP is arrived at by taking into account various factors such as cost of production, demand-supply situation, domestic & international prices, inter-crop price parity etc.
This will be uniformly applicable all over the country.
Besides FRP, some states such as Punjab, Haryana, Uttarakhand, UP and TN announce a State Advised Price, which is generally higher than the FRP.
The price fixed by the central government is the 'minimum price' and the one fixed by state government is the 'advised price' which is always higher than the 'minimum price' fixed by the centre.
3. Personal Data Protection Bill 2019
Subject – Governance
Context – More delays on Data Protection Bill. Panel finalised draft report last year but it wasn't circulated to members.
Concept –
The Bill has three key aspects prepared by a committee headed by retired Justice B N Srikrishna.
The Bill governs the processing of personal data by: (i) government, (ii) companies incorporated in India, and (iii) foreign companies dealing with personal data of individuals in India.
The bill constitutes 3 personal information types: Critical, Sensitive, General.
Sensitive data constitutes or is related to passwords, financial data, health data, official identifier, sexual orientation, religious or caste data, biometric data and genetic data. It may be processed outside India with the explicit consent of the user.
Critical data will be characterised by the government every once in a while, and must be stored and handled only in India.
General data: Any data that is non-critical and non-sensitive is categorised as general data with no limitation on where it is stored or managed.
Other Key provisions:
Data principal: As per the bill, it is the individual whose data is being stored and processed.
Exemptions: The government is qualified to order any data fiduciary to acquire personal and non-personal/anonymised data for the sake of research and for national security and criminal investigations.
Social media companies, which are deemed significant data fiduciaries based on factors such as volume and sensitivity of data as well as their turnover, should develop their own user verification mechanism.
An independent regulator Data Protection Agency (DPA) will oversee assessments and audits and definition making.
Each company will have a Data Protection Officer (DPO) who will liaison with the DPA for auditing, grievance redressal, recording maintenance and more.
The bill also grants individuals the right to data portability, and the ability to access and transfer one's own data.
The right to be forgotten: this right allows an individual to remove consent for data collection and disclosure.
How is data handled?
Data is collected and handled by entities called data fiduciaries.
While the fiduciary controls how and why data is processed, the processing itself may be by a third party, the data processor.
The physical attributes of data — where data is stored, where it is sent, where it is turned into something useful — are called data flows.
For more information, please refer to – The Personal Data Protection Bill, 2019, PRS.
Subject – Governance
Context – PM urges private sector to help improve quality in govt. schools.
Concept –
Vidyanjali is an initiative taken by the Ministry of Education, Government of India with the aim to strengthen Schools through community and private sector involvement in schools across the country.
This initiative would connect schools with varied volunteers from the Indian Diaspora namely, young professionals, school alumni, in service and retired teachers / Government officials / professionals and many others.
Vidyanjali has two verticals: "Participate in school Service / Activity" and "Assets / Material / Equipment" in which volunteer can support and strengthen the government and government aided schools.
Vidyanjali 2.0 is an amalgamation of the words Vidya meaning "correct knowledge" or "clarity" and Anjali meaning "an offering with both hands" in Sanskrit language.
Vidyanjali 2.0portal will facilitate donations, contributions from Corporate Social Responsibility funds, and volunteering, all aimed at developing and improving schools.
Vidyanjali, which is being implemented under the overall aegis of the Samagra Shiksha will enhance the community involvement in Government schools and effectively engage children in reading, creative writing, public speaking, play acting, preparing story books etc.
The volunteers can register for free by visiting through the mobile app.
The Programme is unique which gives the freedom to the volunteers to design their activities in consultation with the school.
The programme will be open for participation by all Indian citizens including retired Professionals, retired government officials, working professionals, homemakers and also persons from the Indian Diaspora.
Subject – IR
Context – Piyush Goyal is Sherpa for G20 summit.
Concept –
The G20 is an informal group of 19 countries and the European Union, with representatives of the International Monetary Fund and the World Bank.
The G20 membership comprises a mix of the world's largest advanced and emerging economies, representing about two-thirds of the world's population, 85% of global gross domestic product, 80% of global investment and over 75% of global trade.
G20 Members
The members of the G20 are Argentina, Australia, Brazil, Canada, China, France, Germany, India, Indonesia, Italy, Japan, Republic of Korea, Mexico, Russia, Saudi Arabia, South Africa, Turkey, the United Kingdom, the United States, and the European Union.
Spain as a permanent, non-member invitee, also attends leader summits.
Structure and Functioning of G20
The G20 Presidency rotates annually according to a system that ensures a regional balance over time.
For the selection of presidency, the 19 countries are divided into 5 groups, each having no more than 4 countries. The presidency rotates between each group. Every year the G20 selects a country from another group to be president.
India is in Group 2 which also has Russia, South Africa, and Turkey.
The G20 does not have a permanent secretariat or Headquarters. Instead, the G20 president is responsible for bringing together the G20 agenda in consultation with other members and in response to developments in the global economy.
TROIKA: Every year when a new country takes on the presidency (in this case Argentina 2018), it works hand in hand with the previous presidency (Germany, 2017) and the next presidency (Japan, 2019) and this is collectively known as TROIKA. This ensures continuity and consistency of the group's agenda.
Subject – Geography / IR
Context – The fall of Panjshir, the last remaining holdout controlled by the Northern Alliance forces, means curtains for the armed opposition to the new rulers of Afghanistan for now.
Concept –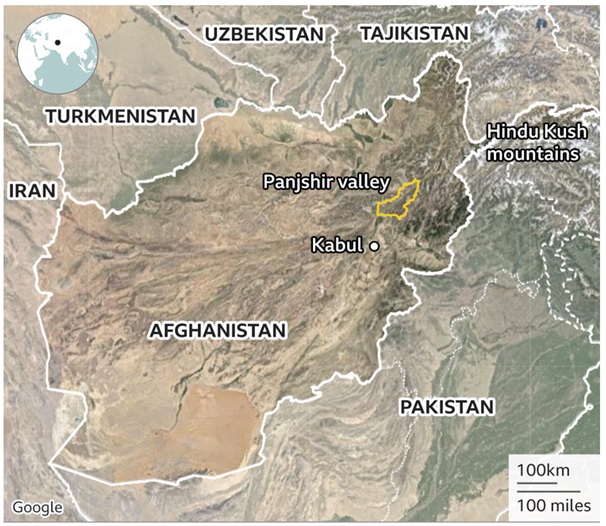 For more information on Panjshir Valley, please refer to this.
7. Special Economic Zone (SEZ)
Subject – Economy
Context – 'Govt. mulls allowing local sales by SEZ units sans import tag'.
Concept –
An SEZ is a territory within a country that is typically duty-free (Fiscal Concession) and has different business and commercial laws chiefly to encourage investment and create employment.
A special economic zone (SEZ) is an area in a country that is subject to different economic regulations than other regions within the same country. The SEZ economic regulations tend to be conducive to—and attract—foreign direct investment (FDI). FDI refers to any investment made by a firm or individual in one country into business interests located in another country.
When a country or individual conducts business in an SEZ, there are typically additional economic advantages for them, including tax incentives and the opportunity to pay lower tariffs.
Special economic zones (SEZs) are typically created in order to facilitate rapid economic growth by leveraging tax incentives to attract foreign investment and spark technological advancement.
While many countries have set up special economic zones (SEZs), China has been the most successful in using SEZs to attract foreign capital.
The incentives and facilities offered to the units in SEZs for attracting investments into the SEZs, including foreign investment include: –
Duty free import/domestic procurement of goods for development, operation and maintenance of SEZ units
100% Income Tax exemption on export income for SEZ units for first 5 years,
Supplies to SEZs are zero rated under IGST Act, 2017.
Other levies as imposed by the respective State Governments.
Single window clearance for Central and State level approvals.
SEZs in India:
Asia's first EPZ (Export Processing Zones) was established in 1965 at Kandla, Gujarat.
While these EPZs had a similar structure to SEZs, the government began to establish SEZs in 2000 under the Foreign Trade Policy to redress the infrastructural and bureaucratic challenges that were seen to have limited the success of EPZs.
The Special Economic Zones Act was passed in 2005. The Act came into force along with the SEZ Rules in 2006.
However, SEZs were operational in India from 2000 to 2006 (under the Foreign Trade Policy).
India's SEZs were structured closely with China's successful model.
Presently, 379 SEZs are notified, out of which 265 are operational. About 64% of the SEZs are located in five states – Tamil Nadu, Telangana, Karnataka, Andhra Pradesh and Maharashtra.
The Board of Approval is the apex body and is headed by the Secretary, Department of Commerce (Ministry of Commerce and Industry).
The Baba Kalyani led committee was constituted by the Ministry of Commerce and Industry to study the existing SEZ policy of India and had submitted its recommendations in November 2018.
It was set up with a broad objective to evaluate the SEZ policy towards making it WTO (World Trade Organization) -compatible and to bring in global best practices to maximize capacity utilization and to maximize potential output of the SEZs.
8. Export Promotion Council for EOUs and SEZs (EPCES)
Subject – Economy
Context – Commerce Secretary B.V.R. Subrahmanyam has also assured the Export Promotion Council for EOUs and SEZs (EPCES) of a resolution of the massive container shortages afflicting exports.
Concept –
Export Promotion Council for EOUs & SEZs (EPCES) has been setup by Ministry of Commerce& Industry, Government of India, to service the export promotional needs of EOUs & SEZs in the country.
Over the years, EPCES has made an endeavour to facilitate consultations between different stakeholders including industry, policy makers, bank, financial institutions and multilateral agencies to facilitate greater competitiveness in the Indian EOUs & SEZ sector.
EPCES is the only scheme specific & Multi-product Council and represents major industrial sectors, like Textiles, Garments &Yarn, Gem &Jewellery, Leather Goods, Food &Agro products, Electronics & software, Information Technology, Pharmaceuticals &Chemicals, Engineering, Minerals, Granites & other stones, Plastic &Rubber goods etc.
India was one of the first Asian country to recognize the effectiveness of the Export Processing Zone (EPZ) model in promoting exports, with Asia's first EPZ set up in Kandla in 1965.
EPCES has also been recognized by the Director General of Foreign Trade (DGFT), Ministry of Commerce & Industry, Government of India vide DGFT Public Notice No. 59/2002-7 dated 15.1.2003 and is registered under Societies Registration Act XXI of 1860.
Its objectives are:
To promote exports from India and to earn more foreign exchange for the country.
To facilitate interaction between the EOUs/SEZs community and Government both at the Central and State level.
To provide benefits of Market Access Initiative (MAI) Scheme rendered by the Central Government to Indian Exporters for assisting their export market development efforts.
To collaborate with other export promotion councils/ export promotion organizations in India and similar bodies in foreign countries as well as with international organizations working in the field.
Subject – Economy
Context – El Salvador adopts bitcoin as legal tender.
Concept –
El Salvador became the first country in the world to adopt bitcoin as legal tender, a real-world experiment proponents say will lower commission costs for billions of dollars sent home from abroad but which critics warned may fuel money laundering.
Bitcoin –
Bitcoin is a cryptocurrency first used in 2009 after being released as an open-source software.
The bitcoin record uses Blockchain technology.
Bitcoin is a type of digital currency that enables instant payments to anyone. Bitcoin is based on an open-source protocol and is not issued by any central authority.
Cryptocurrency is a specific type of virtual currency, which is decentralised and protected by cryptographic encryption techniques.
Bitcoin, Ethereum, Ripple are a few notable examples of cryptocurrencies.
The origin of Bitcoin is unclear, as is who founded it. A person, or a group of people, who went by the identity of Satoshi Nakamoto are said to have conceptualised an accounting system in the aftermath of the 2008 financial crisis.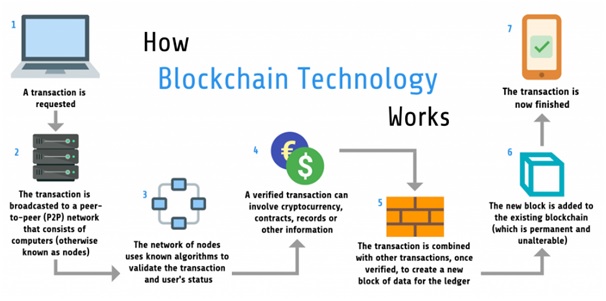 India's Current Stand on Cryptocurrency:
In 2018, The Reserve Bank of India (RBI) issued a circular preventing all banks from dealing in cryptocurrencies. This circular was declared unconstitutional by the Supreme Court in May 2020.
Recently, the government has announced to introduce a bill; Cryptocurrency and Regulation of Official Digital Currency Bill, 2021, to create a sovereign digital currency and simultaneously ban all private cryptocurrencies.
In India, the funds that have gone into the Indian blockchain start-ups account for less than 0.2% of the amount raised by the sector globally.
The current approach towards cryptocurrencies makes it near-impossible for blockchain entrepreneurs and investors to acquire much economic benefit.
Subject – Economy
Context – Major licence fee, AGR relief expected today.
Concept –
It is the usage and licensing fee (spectrum usage charges and licensing fees, pegged between 3-5 percent and 8 percent respectively) that telecom operators are charged by the Department of Telecommunications (DoT).
It is calculated based on all revenues earned by a telco – including non-telecom related sources such as deposit interests and asset sales.
All the telecom companies that operate in India pay a part of their revenues as licence fee and spectrum charges to the Department of Telecommunications (DoT) for using the spectrum owned by the government.
In its definition of AGR, the DoT had said that telcos must cover all the revenue earned by them, including from non-telecom sources such as deposit interests and sale of assets.
The telecom companies were opposed to this and had challenged this definition of AGR in several forums, including the Supreme Court.
On October 24, 2019, the SC had upheld the DoT's definition of AGR and said since the licensee had agreed to the migration packages, they were liable to pay the dues, the penalty on dues, and the interest on penalty due to delay in payments.
AGR is a fee-sharing mechanism between the government and the telcos who shifted to the 'revenue-sharing fee' model in 1999, from the 'fixed license fee'
AGR issue –
The telecom sector was liberalised under the National Telecom Policy, 1994 after which licenses were issued to companies in return for a fixed license fee.
To provide relief from the steep fixed license fee, the government in 1999 gave an option to the licensees to migrate to the revenue sharing fee model.
Under this, mobile telephone operators were required to share a percentage of their AGR with the government as annual license fee (LF) and spectrum usage charges (SUC).
License agreements between the Department of Telecommunications (DoT) and the telecom companies define the gross revenues of the latter.
The definition of AGR has been under litigation for 14 years.
The dispute between DoT and the mobile operators was mainly on the definition of AGR.
The DoT argued that AGR includes all revenues (before discounts) from both telecom and non-telecom services. The companies claimed that AGR should comprise just the revenue accrued from core services and not dividend, interest income or profit on sale of any investment or fixed assets.
11. Card-Tokenisation Services
Subject – Economy
Context – RBI tweaks guidelines for card-tokenisation services.
Concept –
Tokenisation refers to replacement of actual card details with an alternate code called the "token", which shall be unique for a combination of card, token requestor (i.e. the entity which accepts request from the customer for tokenisation of a card and passes it on to the card network to issue a corresponding token) and device (referred hereafter as "identified device").
Conversion of the token back to actual card details is known as de-tokenisation.
A tokenised card transaction is considered safer as the actual card details are not shared with the merchant during transaction processing.
The card holder can get the card tokenised by initiating a request on the app provided by the token requestor. The token requestor will forward the request to the card network which, with the consent of the card issuer, will issue a token corresponding to the combination of the card, the token requestor, and the device.
The customer need not pay any charges for availing this service.
Tokenisation has been allowed through mobile phones and / or tablets for all use cases / channels (e.g., contactless card transactions, payments through QR codes, apps etc.).
Tokenisation and de-tokenisation can be performed only by the authorised card network.
Normally, in a tokenised card transaction, parties / stakeholders involved are merchant, the merchant's acquirer, card payment network, token requestor, issuer and customer. However, an entity, other than those indicated, may also participate in the transaction.
Actual card data, token and other relevant details are stored in a secure mode by the authorised card networks. Token requestor cannot store Primary Account Number (PAN),e., card number, or any other card detail. Card networks are also mandated to get the token requestor certified for safety and security that conform to international best practices / globally accepted standards.
Customers have the option to register / de-register their card for a particular use case, i.e., contactless, QR code based, in-app payments, etc.
A customer can request for tokenisation of any number of cards. For performing a transaction, the customer shall be free to use any of the cards registered with the token requestor app.
Customers have the option to set and modify per transaction and daily transaction limits for tokenised card transactions.
All complaints should be made to the card issuers. Card issuers shall ensure easy access to customers for reporting loss of "identified device" or any other such event which may expose tokens to unauthorised usage.
Subject – Economy
Context – Freak trade at NSE, yet again
Concept –
Options and futures are similar trading products that provide investors with the chance to make money and hedge current investments.
Options
An option gives the buyer the right, but not the obligation, to buy (or sell) an asset at a specific price at any time during the life of the contract.
They tend to be fairly complex, options contracts tend to be risky. Both call and put options generally come with the same degree of risk. When an investor buys a stock option, the only financial liability is the cost of the premium at the time the contract is purchased.
Options are based on the value of an underlying security such as a stock. As noted above, an options contract gives an investor the opportunity, but not the obligation, to buy or sell the asset at a specific price while the contract is still in effect. Investors don't have to buy or sell the asset if they decide not to do so.
Futures
A futures contract gives the buyer the obligation to purchase a specific asset, and the seller to sell and deliver that asset at a specific future date unless the holder's position is closed prior to expiration.
Options may be risky, but futures are riskier for the individual investor. Futures contracts involve maximum liability to both the buyer and the seller
A futures contract requires a buyer to purchase shares—and a seller to sell them—on a specific future date, unless the holder's position is closed before the expiration date.
Futures contracts tend to be for large amounts of money. The obligation to sell or buy at a given price makes futures riskier by their nature.
They are preferred by speculators.
Freak Trade
A trade is considered a freak trade generally when a large company or trader makes an erroneous trade (incorrect), but this trade is so incorrect and massive that it often affects that stock at large(the same applies for indices).
One of the ways a trader can cover from a large loss due to a freak trade while also entering/exiting immediately is to use limit orders, says Zerodha founder Nithin Kamath.
Difference between BSE and NSE –
13. Common Services Centres (CSC)
Subject – Governance
Context – CSC network may help expand passport services
Concept –
The Common Services Centres (CSC), a special purpose vehicle of the Ministry of Electronics and Information Technology (MeitY), have received approvals to manage and operate Passport Seva Kendra (PSK) kiosks in rural areas.
The CSCs have an extensive network of village-level entrepreneurs (VLEs) who run and operate over 2.5 lakh centres across India. Most of these centres are present either in rural or semi-urban areas, where internet connectivity is not always the fastest.
In such a scenario, CSCs have managed to create a niche for themselves by offering services such as registering people for voter ID card, Aadhaar Card, helping them pay their electricity and other bills on time, as well as provide basic banking services.
Over the past three years, CSCs have tied up with partners, both public and private sector, across domains by leveraging their presence across the country.
14. Fridge-free vaccine candidates
Subject – Science and Tech
Context – Nanoengineers have developed Covid-19 vaccine candidates from plants or bacteria. They are also fridge-free — they do not need to be stored at extremely low temperatures.
Concept –
Nanoengineers have developed Covid-19 vaccine candidates from plants or bacteria. They are also fridge-free — they do not need to be stored at extremely low temperatures.
In mice, the vaccine candidates triggered high production of neutralising antibodies against SARS-CoV-2.
The researchers created two vaccine candidates. One is made from a plant virus, called cowpea mosaic virus. The other is made from a bacterial virus, or bacteriophage, called Q beta.
The vaccines are still in the early stage of development.
Subject – Art and Culture
Context – Ashramwasis impacted by Gandhi Ashram revamp
Concept –
Descendants of the people who were brought into the Harijan Ashram that Mahatma Gandhi established on the bank of the Sabarmati river in 1917, to do various tasks and help run the ashram, and those who continued to stay on the premises, now controlled by one or the other trust, call themselves
They comprise all communities as Gandhi believed in 'sarva dharma sambhav', says a resident.
Current residents include OBCs, Dalits, a few Muslims and some Brahmins.
There are some 263 such families on the premises who are tenants of the respective trusts on whose land they reside and will have to be relocated in order to proceed with the Gandhi Ashram redevelopment plan as envisaged by the planners, which include the Government of Gujarat, the Union Culture Ministry under the direct supervision of the Prime Minister's Office.
Many of them do different jobs than what their forefathers did in Gandhi's time.
The original ashram
On his return from South Africa, Gandhi established the first ashram at Kochrab in 1915 which he shifted after the plagueto a piece of open land on the banks of the river Sabarmati in 1917 for experiments in farming, animal husbandry, cow breeding, Khadi and related activities.
Originally called Harijan Ashram, spread over 120 acres, the ashram was split into six trusts later. Of these the Gandhi Ashram area run by SAPMT has the Gandhi and Kasturba's residence — HridayKunj, Vinoba-Mira kutir, a guesthouse- Nandini — where prominent people like Rabindranath Tagore stayed, MaganNivas where Gandhi's nephew Maganlal Gandhi stayed and managed the ashram, besides Gandhi's writing desk, and spinning wheel among his personal artefacts, and a museum displaying books, manuscripts and photocopies of his correspondence, and photographs.
Subject – Science and Tech
Context – Tracking airborne pollen to prevent allergy
Concept –
By studying airborne pollen and its seasonal variations for about two years, researchers from the Post Graduate Institute of Medical Education and Research (PGIMER) and Panjab University have created a pollen calendar for Chandigarh, arguably the first for any city in India.
Pollen calendars represent the time dynamics of airborne pollen present in a particular geographical area. They yield readily accessible visual details about various airborne pollen present throughout the year in a single picture.
Though the concept is not essentially new, this is one of the major environmental concerns that had not been addressed for the Indian cities.
Such calendars are location-specific, as pollen concentrations are closely related to locally distributed flora. Europe, UK and the US are using regional pollen calendars in a big way to prevent and diagnose allergic rhinitis/hay fever and predict the timing and severity of the pollen season.
Pollen grains are male biological structures with the primary role of fertilisation, but when inhaled by humans, they may strain the respiratory system and cause allergies. Pollen found suspended in air can cause widespread upper respiratory tract and nasobronchial allergy with manifestations like asthma, seasonal rhinitis, and bronchial irritation.
About 20-30 per cent of the population suffers from allergic rhinitis/hay fever in India, and approximately 15 per cent develop asthma. Pollen is considered a major outdoor airborne allergen responsible for allergic rhinitis, asthma, and atopic dermatitis in humans.
The study highlights the variability of crucial pollen types in different seasons. Spring and autumn are two seasons when airborne pollen dominate.
A pollen calendar provides a clear understanding for clinicians, as well as people with allergies to identify the potential allergy triggers and help to limit their exposure during high pollen load season.
The early advisories can be prepared and disseminated through media channels to the citizens so that they can use protective gear during the period when the concentration of allergic pollen will be high. People can access the Pollen Calendar through the Care 4 Clean Air website.
Non-allergic or entomophilous plant species should be chosen to provide an allergen-free atmosphere. Examples of such plants include rose, jasmine, salvia, Bougainvillea, Raatki rani and sunflower.
Subject – Science and Tech
Context – Delhi sees rise in dengue cases
Concept –
Dengue is transmitted by several species of mosquitoes within the genus Aedes.
Symptoms include fever, headache, muscle, and joint pain, and a characteristic skin rash that is similar to measles.
There are four types of dengue strains, and type II and IV are considered to be more severe and normally require hospitalisation. According to experts, the aedes mosquito breeds in clean stagnant water.
Cases of malaria, chikungunya and viral fever are also rampant during rainy season.
Dengue and chikungunya are caused by the bite of Aedesagypti mosquito, which breeds in clear water.
The Anopheles mosquito, which causes malaria, can breed in both fresh and muddy water.
For more information on dengue, please refer this.
Subject – Agriculture
Context – Women dominate agri workforce, but take home 22% less as wages.
Concept –
In rural areas, in 1987-88, about 74.5 per cent of the men workforce were doing agri-related work, while 84.7 per cent of women were working on farms.
There was a drastic decline in the male workforce in rural agriculture in 2004-05 with only 66.5 per cent men working in agriculture.
But at the same time, 83.3 per cent of women continued in agriculture.
As per the data presented by the Ministry of Agriculture to the Lok Sabha last month, there were 55.4 per cent men and 75.7 per cent women working in agriculture in rural areas in 2019-20.
In urban areas, the male workforce in agriculture was never above 9.1 per cent (from 1987-88 to 2019-20). Here, the women workforce declined from 29.4 per cent in 1987-88 to 8.2 per cent in 2019-20.
NSSO data
Despite playing a significant role in agriculture, wages for women continue to remain low. The National Sample Survey Office's (NSSO) 2017 data show that the average daily wage rates for general agricultural men and women labourers are ₹264.05 and ₹205.32, respectively. This means women workers get 22.24 per cent lower wages.
For non-agricultural labourers, the average daily wage rate was ₹271.17 for men and ₹205.90 for women (24 per cent lower). A non-agricultural women labourer gets slightly better wages compared to an agricultural women labourer.
As per the Census 2011 conducted by the Registrar General of India, the extent of women participation in agriculture as cultivators (main and marginal) is to the tune of 3.60 crore (30.33 per cent) and as agricultural labour (main and marginal) is to the tune of 6.15 crore (42.67 per cent).
According to the Agriculture Census (2015-16), the total number of operational holdings of women is estimated at 20.44 million in the country. But the specific data on the number of women engaged in sowing, hoeing, weeding, and harvesting in agriculture is not maintained in the Department of Agriculture and Farmers Welfare.
Subject – Polity
Context – Fill tribunal vacancies by Sept. 13, SC tells Centre.
Concept –
Tribunal is a quasi-judicial institution that is set up to deal with problems such as resolving administrative or tax-related disputes.
It performs a number of functions like adjudicating disputes, determining rights between contesting parties, making an administrative decision, reviewing an existing administrative decision and so forth.
A Tribunal, generally, is any person or institution having an authority to judge, adjudicate on, or to determine claims or disputes – whether or not it is called a tribunal in its title.
Tribunals were not part of the original constitution; it was incorporated in the Indian Constitution by 42ndAmendment Act, 1976.
Article 323-Adeals with Administrative Tribunals.
Article 323-Bdeals with tribunals for other matters.
Under Article 323 B, the Parliament and the state legislatures are authorised to provide for the establishment of tribunals for the adjudication of disputes relating to the following matters:

Taxation
Foreign exchange, import and export
Industrial and labour
Land reforms
Ceiling on urban property
Elections to Parliament and state legislatures
Food stuff
Rent and tenancy rights

Articles 323 A and 323 B differ in the following three aspects:
While Article 323 A contemplates the establishment of tribunals for public service matters only, Article 323 B contemplates the establishment of tribunals for certain other matters (mentioned above).
While tribunals under Article 323 A can be established only by Parliament, tribunals under Article 323 B can be established both by Parliament and state legislatures with respect to matters falling within their legislative competence.
Under Article 323 A, only one tribunal for the Centre and one for each state or two or more states may be established. There is no question of the hierarchy of tribunals, whereas under Article 323 B a hierarchy of tribunals may be created.
Central Administrative Tribunal
It has jurisdiction to deal with service matters pertaining to the Central Government employees or of any Union Territory, or local or other government under the control of the Government of India, or of a corporation owned or controlled by the Central Government.
The CAT was set-up on 1 November 1985.
It has 17 regular benches, 15 of which operate at the principal seats of High Courts and the remaining two at Jaipur and Lucknow.
These Benches also hold circuit sittings at other seats of High Courts. The tribunal consists of a Chairman, Vice-Chairman and Members.
The Members are drawn, both from judicial as well as administrative streams so as to give the Tribunal the benefit of expertise both in legal and administrative spheres.
The appeals against the orders of an Administrative Tribunal shall lie before the Division Bench of the concerned High Court.
State Administrative Tribunal
Article 323 B empowers the state legislatures to set up tribunals for various matters like levy, assessment, collection and enforcement of any of the tax matters connected with land reforms covered by Article 31A.
Tribunals Reforms Bill, 2021
The Tribunals Reforms Bill, 2021 replaces a similar Ordinance promulgated in April 2021 that sought to dissolve eight tribunals that functioned as appellate bodies to hear disputes under various statutes, and transferred their functions to existing judicial forums such as a civil court or a High Court.
The Bill states that the Chairpersons and Members of the tribunal being abolished shall cease to hold office, and they will be entitled to claim compensation equivalent to three months' pay and allowances for their premature termination.
It also proposes changes in the process of appointment of certain other tribunals.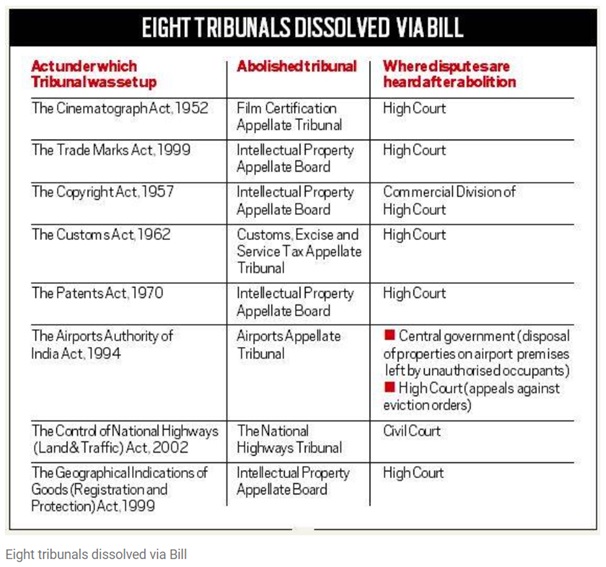 While the Bill provides for uniform pay and rules for the search and selection committees across tribunals, it also provides for removal of tribunal members. It states that the central government shall, on the recommendation of the Search-cum-Selection Committee, remove from office any Chairperson or a Member, who—
(a) has been adjudged as an insolvent; or
(b) has been convicted of an offence which involves moral turpitude; or
(c) has become physically or mentally incapable of acting as such Chairperson or Member; or
(d) has acquired such financial or other interest as is likely to affect prejudicially his functions as such Chairperson or Member; or
(e) has so abused his position as to render his continuance in office prejudicial to the public interest.
Subject – Governance
Context – ASER report finds huge drop in learning levels in Karnataka State
Concept –
It is a nationwide survey of rural education and learning outcomes in terms of reading and arithmetic skills that has been conducted by the NGO Pratham for the last 15 years.
It uses Census 2011 as the sampling frame and continues to be an important national source of information about children's foundational skills across the country.
ASER 2018 surveyed children in the age group of 3 to 16 years and included almost all rural districts in India and generated estimates of foundational reading and arithmetic abilities of children in the age group 5 to 16 years.
ASER 2019 reported on the pre-schooling or schooling status of children in the age group 4 to 8 years in 26 rural districts, focused on the "early years" and laid emphasis on "developing problem-solving faculties and building a memory of children, and not content knowledge".
ASER 2020 is the first ever phone-based ASER survey and it was conducted in September 2020, the sixth month of national school closures.
Its recent report –
The Annual Status of Education Report (ASER), which was drawn up in March 2021 in only Karnataka this year, found a huge drop in learning levels in both reading and numeracy, especially for primary classes.
What is worrying is that the survey, reported nearly a year of 'learning loss' among students across the State.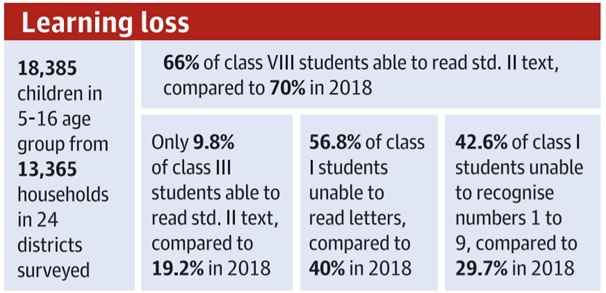 Subject – Environment
Context – Manda buffalo gets 'unique breed' tag.
Concept –
The National Bureau of Animal Genetic Resources (NBAGR) has recognised the Manda buffalo, found in the Eastern Ghats and plateau of Koraput region of Odisha, as the 19th unique breed of buffaloes found in India.
The Manda are resistant to parasitic infections, less prone to diseases and can thrive on modest resources.
This buffalo germ-plasm was first identified through a survey conducted by the Animal Resource Development (ARD) department of Odisha in collaboration with the Orissa University of Agriculture and Technology (OUAT).
The NBAGR, affiliated to Indian Council of Agriculture Research, made an assessment and recognised it as an indigenous and unique breed.
22. 'Food Emergency' in Sri Lanka
Subject – IR
Context – On August 30, 2021, Sri Lankan President Gotabaya Rajapaksa, using powers vested in the country's Public Security Ordinance, declared Emergency regulations pertaining to the distribution of essential food items.
Concept –
On August 30, 2021, Sri Lankan President Gotabaya Rajapaksa, using powers vested in the country's Public Security Ordinance, declared Emergency regulations pertaining to the distribution of  essential food items.
The regulations sought to empower authorities to provide essential food items at a "concessionary rate" to the public by purchasing stocks of essential food items, including paddy, rice and sugar, at government-guaranteed prices, and prevent market irregularities and hoarding.
According to Austin Fernando, a retired civil servant who served as Commissioner General of Essential Services in the 1980s, the post came into prominence after the 1983 'Black July' riots to ensure that affected families — Tamils who were targeted and attacked — had food supplies and other essentials; to facilitate their movement and return to their homes.
The possibility of food shortage has grabbed international headlines, with the government's drastic measures against hoarding, triggering speculation over food security in Sri Lanka that is home to 21 million people.
The pandemic's lethal blow since early 2020, to all major sources of foreign exchange earnings — exports, worker remittances and tourism — has further compounded the economic stress.
Sri Lanka's economy contracted by 3.6 % last year. According to the Central Bank of Sri Lanka, the Sri Lankan rupee depreciated by 10.1% against the dollar this year. It hovered around 200 against a dollar last week.
The fear of a possible food shortage also stems from the Rajapaksa administration's decision in April to ban import of chemical fertilizers and adopting an "organic only" approach.
Meanwhile, many, especially daily ¬wage earners, and low ¬income families, are complaining about being unable to afford, and in many cases access, essentials such as milk, sugar, and rice during the current lockdown, imposed on August 20 following a rapid surge in daily Covid-19 cases and fatalities, and extended twice since.
Prices of essential commodities — including rice, dhal, bread, sugar, vegetables, fish — have risen several times during the pandemic, and more rapidly in recent weeks.