Daily Prelims Notes 16 September 2021
September 16, 2021

Posted by:

admin1

Category:

DPN

Daily Prelims Notes
16 September 2021
Table Of Contents
Subject – IR
Context – African Union urges India to release supplies
Concept –
The African Union (AU) is a continental body consisting of the 55 member states that make up the countries of the African Continent.
It was officially launched in 2002 as a successor to the Organisation of African Unity (OAU, 1963-1999).
The AU is guided by its vision of "An Integrated, Prosperous and Peaceful Africa, driven by its own citizens and representing a dynamic force in the global arena."
The African Union (AU) was officially launched in July 2002 in Durban, South Africa, following a decision in September 1999 by its predecessor, the Organisation of African Unity(OAU) to create a new continental organisation to build on its work.
The most important decisions of the AU are made by the Assembly of the African Union, a semi-annual meeting of the heads of state and government of its member states.
The AU's secretariat, the African Union Commission, is based in Addis Ababa.
34th African Union Summit was held virtually from February 6th to 7th 2021 organized by the African Union Commission (AUC).

The theme of the 2021 AU Summit was "Arts, Culture and Heritage: Levers for Building Africa We Want".
Subject – Art and Culture
Context – A photo on social media of the Pop Star in a printed shirt throws light on the unique Solapur Chhadar.
Concept –
A Solapurichaddar, is a cotton bed sheet made in the Solapur city of the Indian state of Maharashtra.
These bed sheets are popular in India where they are manufactured using hand looms and are known for their design, durability and all-season use.
Solapurichaddars were the first product in Maharashtra to obtain Geographical Indication (GI) status.
Solapur is known for its textile industry. Once it had Asia's largest spinning mills. The development of the handloom weaving industry in Solapur seems to have commenced during the regime of the Peshwas.
Apart from Maharashtra, Solapuri Chaddar has demand in Karnataka, Telangana, Andhra Pradesh, Madhya Pradesh, Gujarat, Rajasthan within India, while it also has demand in United Arab Emirates, Kuwait, South Africa, United States, United Kingdom and Canada.
To know about GI Tag and recent GI products, please click here.
3. National Crime Records Bureau
Subject – Governance
Context – 28% jump in filing of cases in 2020: NCRB
Concept –
There was a 28% increase in the registration of cases in 2020 in the country compared to 2019, primarily owing to the violation of COVID-19 norms.
An almost 21-fold jump was recorded in cases of disobedience to the order duly promulgated by public servant, and over four times in cases involving violations of other State local laws, according to a National Crime Records Bureau (NCRB) report.
Crimes against Scheduled Castes, with a total of 50,291 cases, showed an increase of 9.4%. Simple hurt with 32.9% formed the largest chunk, followed by cases under the SC/ST (Prevention of Atrocities) Act with 8.5% and cases under criminal intimidation with 7.5%.
The cases of sedition declined from 93 in 2019 to 73 last year, with Manipur reporting 15, Assam 12, Karnataka eight, Uttar Pradesh seven, Haryana six, Delhi five and Kashmir two.
Crime rate registered per lakh population has increased from 385.5 in 2019 to 487.8 in 2020.
As the country remained under complete lockdown from March 25 to May 31 last year during the first wave of COVID-19, cases of crime against women, children and senior citizens, theft, burglary, robbery and dacoity declined.
Cases of murder showed a marginal increase of 1% to 29,193. There was a 8.30% decline in cases of crime against women.
Environment-related offences
Cases under the 'environment-related offences' category increased by 78.1 per cent in the country in 2020.
This is one of the highest increases in cases in various crime categories, excluding the offences related to the novel coronavirus disease (COVID-19) regulations and norms in 2020.
Environment-related offences include violations of the Forest Act, the Forest Conservation Act, the Wild Life (Protection) Act, The Environmental (Protection) Act, the Air & the Water (Prevention & Control of Pollution) Act, the Cigarette and Other Tobacco Products Act, Noise Pollution Acts and the National Green Tribunal Act.
Tamil Nadu reported the country's highest number of environment-related crimes. Rajasthan came second among the states.
Four-fifths of the environment-related crimes were registered under the Cigarette and Other Tobacco Products Act, 80.5 per cent of total environment-related cases in 2020.
Violations of noise pollution control laws of both the Union and state governments formed the second-highest number of environment-related cases. These violations accounted for 11.8 per cent of the total cases.
4. All India Debt & Investment Survey
Subject – Economy
Context – Debt of households surged between 2012 and '18: NSO
Concept –
All India Debt & Investment Survey is conducted by the National Statistical Office (NSO).
The number of indebted households have risen sharply in rural India, with the average debt shooting up by 84% between 2012 and 2018, and COVID-19 has likely further doubled all households' borrowings by 2021.
Rural households' average debt grew from ₹32,522 in 2012 to ₹59,748 by June 2018.
Urban households' average debt increased by 42% in the same period to little more than ₹1.20 lakh.
The number of households in debt as measured by the incidence of indebtedness among surveyed households, had risen to 35% in rural India from 31.4% in the previous survey, while it remained static at 22.4% for urban households.
India's top 10 per cent urban households on an average own Rs 1.5 crore in assets as against Rs 2,000 at the bottom decile, reflecting the sharp divide between the rich and the poor in cities.
Poor households are better off in rural areas than in urban centres where the average asset size of households at the bottom of the pyramid is just Rs 2,000.
This indicates that COVID impacted households significantly.
The latest survey on All India Debt & Investment Survey was conducted during the period January – December, 2019 as a part of 77th round of National Sample Survey (NSS). Prior to this the survey was carried out in NSS 26th round (1971-72), 37th round (1981-82), 48th round (1992), 59th round (2003) and 70th round (2013).
The main objective of the survey on Debt & Investment was to collect basic quantitative information on the assets and liabilities of the households as on June 30, 2018.
Besides, the survey gathered information on the amount of capital expenditure incurred by the households during the Agricultural Year 2018-19 (July-June), under different heads, like residential buildings, farm business and non-farm business.
The present survey was spread over the entire Indian Union and data were collected in two visits (Visit 1: January-August, 2019 and Visit 2: September – December, 2019) from the same set of sample households.
5. Production-Linked Incentive (PLI) Scheme for Auto sector
Subject – Economy
Context – Auto sector gets ₹26,058-crore PLI scheme to push new tech, clean fuels
Concept –
The Union Cabinet approved a PLI (Production Linked Incentive) scheme for the auto sector to promote advanced technologies, including clean energy, with incentives of ₹26,058 crore to be provided over five years.
The auto sector is expected to attract fresh investments of over ₹42,500 crore in the five years and incremental production of over ₹2.3-lakh crore with the introduction of the PLI scheme.
Also approved was a PLI scheme for the drone industry, with an allocation of ₹120 crore spread over three financial years. It is expected to bring fresh investments of over ₹5,000 crore and incremental production of over ₹1,500 crore.
The PLI scheme for the automotive sector along with the already launched PLI for Advanced Chemistry Cell (₹18,100 crore) and Faster Adaption of Manufacturing of Electric Vehicles (FAME) Scheme (₹10,000 crore) will give a big boost to manufacture of electric vehicles.
The PLI Scheme is open to existing automotive companies as well as new ones currently not in the automobile or auto components manufacturing business.
The scheme has two components. The first, called the Champion OEM Incentive Scheme, is a 'sales value linked' plan, applicable to Battery Electric and Hydrogen Fuel Cell Vehicles of all segments.
The second, the Component Champion Incentive Scheme, is a 'sales value linked' plan for advanced technology components, Completely and Semi-Knocked Down (CKD/SKD) kits, vehicle aggregates of 2-wheelers, 3-wheelers, passenger vehicles, commercial vehicles and tractors.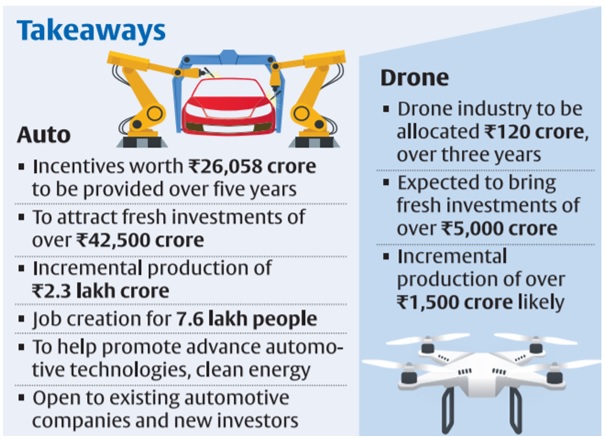 To know more about PLI Scheme, please click here.
To know more about PLI Scheme for textiles, please click here.
6. National Asset Reconstruction Company Ltd
Subject – Economy
Context – Bad bank's Security Receipts to get Govt backing
Concept –
The much awaited 'bad bank' — National Asset Reconstruction Company Ltd — moved a step closer to going live with the Union Cabinet approving a crucial proposal that requires the government to guarantee the security receipts (SR) issued by NARCL, when buying NPAs from banks.
To begin with, the government may earmark ₹31,000 crore for the guarantees. This is a contingent liability as of now and unlikely to impact the fisc in the short-term.
NARCL — sponsored primarily by Canara Bank (likely to take a 12 per cent equity stake) and have equity participation by other nationalised banks — will buy the bad loans from banks and issue SRs for up to 85 per cent and cash for the remaining, in line with standard industry practice.
Already, PSBs have identified 22 stressed assets (consortium loans of over ₹500 crore) totalling ₹82,500 crore that will be transferred to the bad bank in phases.
In the long run, stressed assets worth as much as ₹2-lakh crore are expected to be transferred to NARCL.
Bad Bank –
A bad bank is basically an entity that houses the bad loans (non-performing assets) of banks and resolve or liquidate them to recover as much money as it can.
One of the big advantages of having an NARCL will be that it will avoid delays in decision making on recoveries as most lending had hitherto involved the consortium approach and required approval by multiple lenders before recovery could happen.
Finance Minister Nirmala Sitharaman had in this year's Budget proposed the setting up of an ARC along with an Asset Management Company (to be called India Debt Management Company) to take over the stressed debt of banks. The AMC will be controlled by the private sector and would help turn around the stressed assets for eventual recovery.
To know more about Bad Banks, please click here.
To know more about Asset Reconstruction Companies, please click here.
Subject – Environment
Context – Climate change is real: India received 129% over normal rainfall September 14
Concept –
Some 48 per cent of India's total geographical area received 'large excess' rainfall September 14, 2021 according to the India Meteorological Department's (IMD) rainfall data. The country, as a whole, received 129 per cent 'over normal' rainfall.
The 48 per cent geographical area was spread over 17 subdivisions, which received 'large excess' rainfall. Some 13 of these subdivisions recorded more than 100 per cent 'above normal' rainfall.
Subdivisions are geographical areas demarcated by IMD. They are based on the climatic conditions of a region. Currently, there are 36 meteorological subdivisions in India.
Gujarat — which is divided into two subdivisions, Saurashtra and Kutch and the Gujarat region — as a whole received 951 per cent over normal rainfall September 14.

Odisha has been experiencing heavy rainfall due to the depression since September 11, leading to a rise in water levels in the Brahmani, Baitarani, Subarnarekha, Kushabhadra, Rushikulya and Devi rivers.
Meanwhile, experts have told this reporter that climate change was causing the wettest days to become wetter and hottest days to become hotter in Odisha.
Odisha has witnessed extreme weather conditions this year — from heat waves to drought and flood-like conditions.
Climate change was increasing the frequency of the formation of low pressure areas in the Bay of Bengal, bringing unseasonal rains.
8. Redefinition of Adjusted Gross Revenue
Subject – Economy
Context – Lifeline for telcos as govt. offers four­year moratorium on dues
Concept –
The Cabinet approved several measures to extend a lifeline to the cash-strapped telecom sector, including a redefinition of the much-litigated concept of adjusted gross revenue (AGR) to exclude non-telecom revenue and a four-year moratorium on players' dues to the government.
The government was keen on ensuring that there were more players in the sector and consumers retained choices when asked about the fears of a duopoly emerging with just two major telecom players — Bharti Airtel and Reliance Jio.
Nine structural reforms and five procedural reforms for the sector were announced, including a fixed calendar for spectrum auctions with an extended tenure of 30 years for future spectrum allocations, and a mechanism to surrender and share spectrum. Foreign direct investment (FDI) in the sector has also been allowed up to 100% under the automatic route, from the existing limit of 49%. Together, these measures would pave the way for largescale investments, including for 5G technology deployment, and generate more jobs.
The earlier definition of AGR, backed by the Telecom Department and upheld by the Supreme Court in 2019, had made telcos liable to pay ₹1.6 lakh crore. Last September, the top court granted players 10 years to pay up, starting April 2021. The change in definition that will reduce the burden on telcos, applies only prospectively, so past dues remain payable.
Interest on those dues will now be compounded annually instead of monthly and the Minister said interest would be charged at a 'reasonable' rate of MCLR plus 2%. MCLR refers to the lowest lending rate banks are permitted to offer.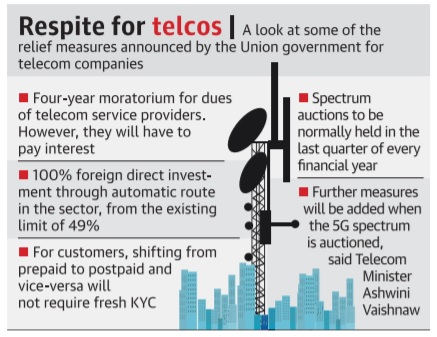 To know more about AGR, please click here.
9. National Security Council (India)
Subject – Security
Concept –
The National Security Council (NSC) of India is an executive government agency tasked with advising the Prime Minister's Office on matters of national security and strategic interest.
It was established by the former Prime Minister of India Atal Bihari Vajpayee on 19 November 1998, with Brajesh Mishra as the first National Security Advisor.
Prior to the formation of the NSC, these activities were overseen by the Principal Secretary to the preceding Prime Minister.
Members –
Besides the National Security Advisor (NSA), the Deputy National Security Advisors, the Ministers of Defence, External Affairs, Home, Finance of the Government of India, and the Vice Chairman of the NITI Aayog are members of the National Security Council.
PM can chair the meeting of NSC (for eg – PM chaired the meeting of NSC Post Pulwama to discuss heightened tension with Pakistan). Other members may be invited to attend its monthly meetings, as and when it is required.
Organisational structure
The NSC is the apex body of the three-tiered structure of the national security management system in India.
The three tiers are the Strategic Policy Group, the National Security Advisory Board and a secretariat from the Joint Intelligence Committee.
Subject – Security
Context – Terror module accused was under watch: Maharashtra ATS
Concept –
The Anti-Terrorism Squad (ATS) is a special police force in several states of India including Maharashtra, Gujarat, Kerala, Uttar Pradesh, Rajasthan, Bihar, Jharkhand and West Bengal. In Maharashtra it is headed by senior of the Indian Police Service. The squad has stopped several terrorist attacks in the country.
ATS in Mumbai –
ATS was founded in Maharashtra in 1990 by then Additional Commissioner of Mumbai Police Aftab Ahmed Khan popularly known as A.A. Khan.
He was inspired by the Los Angeles Police Department's Special Weapons & Tactics (SWAT) teams methods to combat modern-day terrorism.
Since its formation in 1990, ATS's officers have won 23 gallantry awards.
The Mumbai ATS was involved in the 26 November 2008 hostage rescue operations in multiple locations in Mumbai, Maharashtra including the 5 star hotels Taj and Oberoi Trident.
The primary duties of ATS
To gather information on the anti-national elements
Coordinate & exchange details with intelligence services like IB and RAW.
To monitor and eliminate the actions and actions of terrorists, mafias and other organized criminal syndicates.
The detection and bursting of scams of fake currency notes and narcotics.
Subject – Security
Context – 1,400 arrested for gambling during Euro championship. Interpol operation extends to 28 countries, including India.
Concept –
To know about Interpol, please click here.
Subject – Polity
Context – PM launches Sansad TV, calls it voice of the House
Concept –
Sansad TV, a news channel combining the Lok Sabha TV and the Rajya Sabha TV, was launched.
Calling the Sansad TV the new voice of Parliament, the Prime Minister said this added another important chapter to the parliamentary system. He said Parliament was not only about politics but it was about policy too.
Describing India as the mother of democracy, Mr. Modi also said democracy was not only a constitutional structure for the people of India, but spirit as well.
A single channel for Parliament had become a reality after careful consideration of the recommendations of a committee set up in November 2019.
The LSTV, which was the brainchild of former Speaker Somnath Chatterjee, has been functioning for 15 years and the RSTV for 10 years.
The new combined channel is expected to bring in synergy and economies of scale, he said. It is significant that Sansad TV's launch coincided with the International Day of Democracy.
When Parliament is in session, both channels will continue to operate as before bringing in the live telecast. But when it is in recess, only Sansad TV will be telecast.
Subject – IR
Context – U.S., U.K., Australia form new partnership
Concept –
a new trilateral security partnership for the Indo-Pacific between Australia, the U.K. and the U.S. (AUKUS) was formed.
The security grouping AUKUS will focus on advancing strategic interests in the Indo­ Pacific region
A central feature of the partnership would involve a trilateral 18-month effort to help Australia acquire nuclear-powered submarines which are quieter, more capable (than their conventional counterparts) and can be deployed for longer periods, needing to surface less frequently.
The partnership would also involve a new architecture of meetings and engagements between the three countries and also cooperation across emerging technologies (applied AI, quantum technologies and undersea capabilities)