Daily Prelims Notes 22 December 2021
December 22, 2021

Posted by:

admin1

Category:

DPN

Daily Prelims Notes
22 December 2021
Table Of Contents
Subject – Polity
Context – SAD turns 100
Concept –
SAD was conceived in December 1920, a year after the Jallianwala Bagh massacre.
SAD was formed as a volunteer group on December 14, 1920 to free gurdwaras from the control of mahants (priests) appointed by the British government, a month after the formation of Shiromani Gurdwara Parbandhak Committee (SGPC) on November 15.
The Akali Dal launched a peaceful struggle that lasted four years and resulted in the death of 4,000 protesters, who were attacked both by mahants and by the British administration.
The morcha finally led to the enactment of the Sikh Gurdwaras Act 1925, which brought gurdwaras under the control of the SGPC.
It also pitched the party against the colonial government, paving the way for its alliance with Congress party.
Punjabi Suba movement
The Akali Dal started calling for the creation of a Punjabi Suba soon after the government of India appointed the States Reorganisation Commission in December 1953.
The demand, in part, stemmed from the concentration of Sikhs, who formed 35% of the population in the post-Partition Punjab.
The movement for a Punjabi-speaking state also had supporters among other religions.
Akalis suspended the Punjabi Suba movement during the 1962 and 1965 wars, and instead took part in the war efforts with generous supply of both men and material.
Finally, the Gulzari Lal Nanda government at the Centre relented and Lok Sabha passed the Punjab Reorganisation Act 1966, and Punjab in its present form became a reality on November 1, 1966.
Anandpur Sahib resolution &DharamYudhMorcha
Anandpur Sahib resolution wanted an independent political status for the community.
In 1978, the party revised the resolution and shifted the focus from the panthic agenda (KhalsekaBolBala) to autonomy for the state.
The resolution also sought transfer of Chandigarh to Punjab and readjustment of boundaries to include certain Punjabi-speaking territories of neighbouring states.
The DharamYuddhMorcha ("righteous campaign")was a political movement launched on 4 August 1982, by the Akali Dal in partnership with Jarnail Singh Bhindranwale, with its stated aim being the fulfilment of a set of devolutionary objectives based on the Anandpur Sahib Resolution.
Moga Declaration 
It was in 1996 that Akali Dal announced its ideological transformation into a party of all Punjabis, regardless of their religion or geography in its Moga declaration.
The party has admitted a large number of Hindus.
Subject – Science and Tech
Context – NASA has announced the launch of the James Webb Space Telescope (JWST) at 7.20 am EST (5.50 pm India time) on December 24.
Concept –
Webb, the world's premier space science observatory, will succeed the Hubble Space Telescope, NASA's flagship telescope that has been in service for more than three decades now.
WAVELENGTH:

Webb's four instruments to capture images and spectra of astronomical objects will provide wavelength coverage from 0.6 to 28 microns (the infrared part of the electromagnetic spectrum is from about 0.75 microns to a few hundred microns);
the instruments on Hubble can observe mainly in the ultraviolet and visible parts of the spectrum from 0.1 to 0.8 microns.
Infrared observations are important because light at this wavelength can penetrate the dust that shrouds newly formed stars and planets, and make them visible.

SIZE:

Webb's primary mirror is approximately 6.5 metres in diameter, giving it a significantly larger collecting area than the mirrors of the current generation of space telescopes.
Hubble's mirror has a diameter of 2.4 metres, which means Webb's collecting area is around 6.25 times that of Hubble's.
Webb will cover more than ~15 times the field of view covered by Hubble's NICMOS camera.
Webb's sunshield is about 22 m by 12 m, a little less than the size of a tennis court.

ORBIT:

Hubble orbits the Earth at an altitude of ~570 km.
Webb will not orbit the Earth, instead it will sit at the Earth-Sun L2 Lagrange point, 1.5 million km away.
This means that Webb will orbit the Sun along with the Earth, but will stay fixed at the same spot in relation to the Earth and the Sun.
At the L2 point, Webb's solar shield will block the light from the Sun, Earth, and Moon, which will help it stay cool — important for an infrared telescope.

HOW FAR:

Because light takes time to travel, the farther away an object is, the farther back in time we are looking.
Thus, while Hubble can see the equivalent of "toddler galaxies", Webb will be able to see "baby galaxies".
This is also because Webb is an infrared telescope, and can see distant objects which are very dim at visible wavelengths of light.
To know about the Differences between Webb and Hubble telescopes, please refer December 2021 DPN.
3. Scrappage Policy for Thermal Plants
Subject – Environment
Context – NITI Aayog expert group suggests scrappage policy for thermal plants
Concept –
An expert group set up by NITI Aayog has suggested the creation of a thermal power plant (TPP) scrappage policy in a bid to bring down the dependency of the power sector on coal and to maximize the use of clean and more efficient energy sources such as renewables.
India has committed to becoming carbon neutral by 2070 and to have 500 Giga Watt (GW) of renewable energy capacity.
Coal-fired power plants are normally decommissioned in India after their useful life of 30-45 years.
Coal accounts for about 72 per cent of India's power supply as of 2021, while RE has been growing rapidly to generate 10.7 per cent of electricity.
Around 40 per cent of India's greenhouse gas emissions can be attributed to 633 power units – 25 MW and above capacity – operating at 189 thermal plants.
Categories of Thermal Power Plants
In April 2021, the MoEF & CC amended the 2015 notification to put coal thermal power plants under three categories.
The Union Ministry of Environment, Forest and Climate Change (MoEF&CC) has released a draft list of the coal thermal power plants and their categorisation in line with the ministry's April 2021 notification.
Coal thermal power plants contribute to over half sulphur dioxide (SO2) concentration, 30 per cent oxides of nitrogen (NOx), 20 per cent particulate matter (PM) in the ambient air.
It puts coal thermal power plant units into three categories:
| | | |
| --- | --- | --- |
| Category | Criteria | Deadline for compliance |
| A | Within 10 km radius of the National Capital Region (NCR) or cities having million-plus population | 2022 |
| B | Within 10 km radius of critically polluted areas or non-attainment cities | 2023 |
| C | Remaining plants | 2024 |
4. Currency in Circulation (CiC)
Subject – Economy
Context – CiC to GDP ratio remains high at 14.5% for FY21: Currency-in-circulation growth falls
Concept –
Cash-to-GDP Ratio or Currency in Circulation (CIC) to GDP Ratio or simply currency-to-GDP ratio shows the value of cash in circulation as a ratio of GDP.
Currency in circulation (currency with the public) comprises of:

currency notes and coins with the public
cash in hand with banks.
It is a major liability component of a central bank's balance sheet.

As per the RBI's definition, currency with public is arrived at after deducting cash with banks from total CiC. CIC refers to cash or currency within a country that is physically used to conduct transactions between consumers and businesses.
The growth in CiC has fallen to 7.9 per cent (Rs 2.14 lakh crore) in November 2021 as against 22.2 per cent (over Rs 5 lakh crore) growth in the same month a year ago.
However, more than five years after demonetisation, CiC has risen steadily every year, with the CiC to GDP ratio having now surged to 14.5 per cent in 2020-21 from 8.7 per cent in 2016-17.

CiC to GDP ratio is now ever higher than that in the pre-demonetisation period.

Demand for currency depends upon several macro-economic factors including economic growth and level of interest rate.
Subject – Economy
Context – The National Stock Exchange (NSE) has launched a new corporate governance initiative – 'NSE Prime'
Concept –
The National Stock Exchange (NSE) has launched a new corporate governance initiative – 'NSE Prime', a framework that prescribes higher standards of corporate governance for listed companies than those required by regulations.
All the NSE-listed companies can adopt NSE Prime voluntarily.
Listed companies that voluntarily choose to be part of NSE Prime will need to comply with pre-defined norms on an ongoing basis, which will be monitored by NSE.
The initiative will raise the bar for corporate governance standards in India, enable investors to identify companies that have voluntarily signed up for higher standards of corporate governance, broaden the quality of investors in listed companies and further strengthen trust in Indian capital markets.
The world's largest derivatives exchange by trading volume, the NSE is ranked 4th in the world in the cash equities by a number of trades.
6. Renewable Power Purchase Agreements
Subject – Environment
Context – Renewable PPAs in Andhra, Punjab: Power cos write to Centre
Concept –
Electricity and wind energy contracts are known as "Power Purchase Agreements" or PPAs.
PPAs are long-term contracts to buy renewable energy in agreed volumes and at prices that meet the needs of the generator and the consumer.
These renewable energy agreements provide both parties not only with financially beneficial solutions, but also secure clean renewable energy supplies to the corporates and enable investment in additional renewable energy developments.
The PPA states the obligations of the power producer to produce and deliver power to specified points and further sets out the price at which such power will be purchased.
PPA usually runs for around 20-25 years. The PPA is often regarded as the central document in the development of independent electricity generating assets (power plants), and is a key to obtaining project financing for the project.
7. International Maritime Boundary Line (IMBL)
Subject – IR
Context – Sri Lanka detains 13 more Indian fishermen
Concept –
A maritime boundary is a conceptual division of the Earth's water surface areas using physiographic or geopolitical criteria.
As such, it usually bounds areas of exclusive national rights over mineral and biological resources, encompassing maritime features, limits and zones.
Generally, a maritime boundary is delineated at a particular distance from a jurisdiction's coastline.
Although in some countries the term maritime boundary represents borders of a maritime nation that are recognized by the United Nations Convention on the Law of the Sea.
The terminology does not encompass lake or river boundaries, which are considered within the context of land boundaries.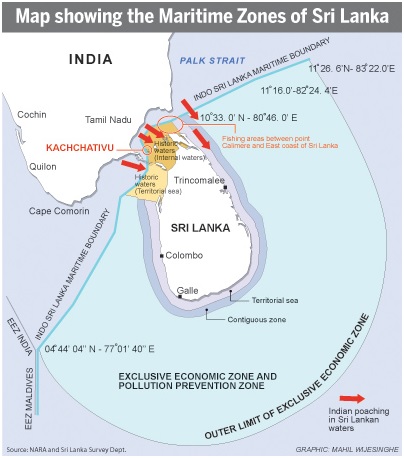 UNCLOS Maritime Zones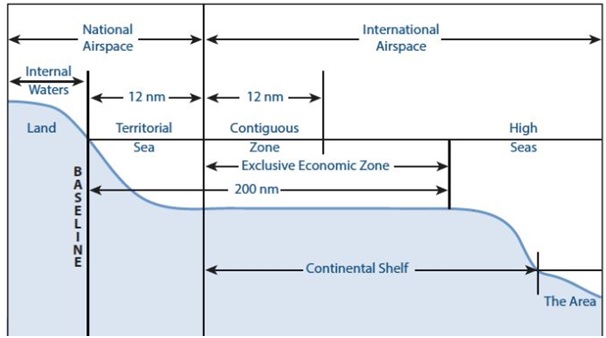 Subject – Governance
Context – Govt. disagrees with India's rank in World Press Freedom Index
Concept –
The index is published each year by the international journalism not-for-profit body, Reporters without Borders (RSF).
India has ranked 142nd out of 180 nations in the World Press Freedom Index.
Based in Paris, RSF is an independent NGO with consultative status with the United Nations, UNESCO, the Council of Europe and the International Organization of the Francophonie (OIF).

OIF is a 54 french speaking nations collective.

The Index ranks countries and regions according to the level of freedom available to journalists. However, it is not an indicator on the quality of journalism.
The parameters include pluralism, media independence, media environment and self-censorship, legislative framework, transparency, and the quality of the infrastructure that supports the production of news and information.
It also includes indicators of the level of media freedom violations in each region.
It is compiled by means of a questionnaire in 20 languages that is completed by experts all over the world. This qualitative analysis is combined with quantitative data on abuses and acts of violence against journalists during the period evaluated.
Norway topped the index for the fifth year in a row.
Subject – Polity
Context – 'Anti­national' not defined in statutes, says Centre
Concept –
The word 'anti-national' has not been defined in statutes.
The Constitution (Forty–Second Amendment) Act, 1976 inserted in the Constitution Article 31D (during Emergency) which defined 'anti-national activity' and this Article 31D was, subsequently, omitted by the Constitution (Forty-third Amendment) Act, 1977.
However, there are criminal legislation and various judicial pronouncements to sternly deal with unlawful and subversive activities which are detrimental to the unity and integrity of the country.
'Public Order' and 'Police' are State subjects.
The responsibility of maintaining law and order, including investigation, registration and prosecution of crimes, protection of life and property, rested primarily with the respective State government.
Subject – Environment
Context – 'Chillaikalan' puts Kashmir in a deep freeze
Concept –
The 40-day intense winter period "chillaikalan" started in Kashmir valley on 21st December with sub-zero night temperatures across the region.
It will continue till January 31.
Chillai Kalan is followed by Chillai-Khurd and Chillai-Bachha.

ChillaiKhurd (small cold) is a 20-day long period which starts from January 31 to February 19.
Chillai-Bachha (baby cold), a 10-day long period which occurs between February 20 and March 2.

Considered to be the core of winter, Chillai Kalan usually brings snowfall, sub-zero temperatures causing freezing of water bodies including the Dal lake, closure of highways, etc.
During Chillai-Kalan, the weather in Kashmir valley continues to remain dry and cold with minimum temperatures hovering below the freezing point.
Subject – Economy
Context – The Kerala Government faces severe resistance at several places as it begins laying survey stones for the 530-km SilverLine semi-high speed rail corridor
Concept –
The project entails building a semi high-speed railway corridor through the state linking its southern end and state capital Thiruvananthapuram with its northern end of Kasaragod.
The line is proposed to be 529.45 kms long, covering 11 districts through 11 stations.
When the project is realised, one can travel from Kasaragod to Thiruvananthapuram in less than four hours on trains travelling at 200 km/hr. The current travel time on the existing Indian Railways network is 12 hours.
The deadline for the project, being executed by the Kerala Rail Development Corporation Limited (KRDCL), is 2025.
KRDCL, or K-Rail, is a joint venture between the Kerala government and the Union Ministry of Railways.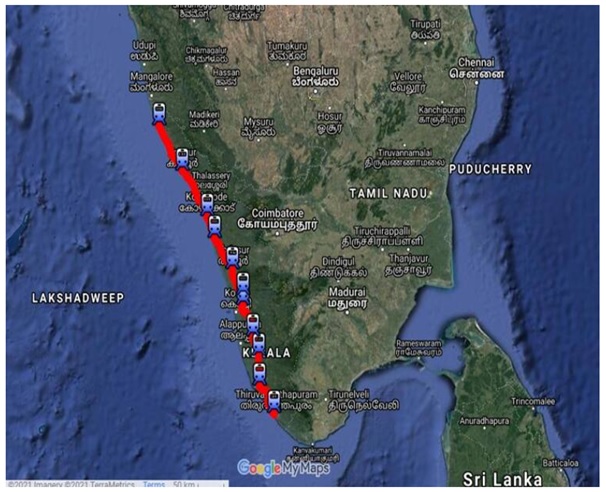 12. Election Laws (Amendment) Bill 2021
Subject – Polity
Context – RS passes electoral reforms Bill amid Opposition protest
Concept –
The Bill amends the Representation of the People Act, 1950 and the Representation of the People Act, 1951 to implement certain electoral reforms.

The 1950 Act provides for allocation of seats and delimitation of constituencies for elections, qualifications of voters, and preparation of electoral rolls.
The 1951 Act provides for the conduct of elections, and offences and disputes related to elections.

Linking electoral roll data with Aadhaar:

The 1950 Act provides that a person may apply to the electoral registration officer for inclusion of their name in the electoral roll of a constituency.
The Bill adds that the electoral registration officer may require a person to furnish their Aadhaar number for establishing their identity.
Persons will not be denied inclusion in the electoral roll or have their names deleted from the roll, if they are unable to furnish Aadhaar number due to sufficient cause as prescribed. Such persons may be permitted to furnish alternate documents prescribed by the central government.

Qualifying date for enrolment in electoral roll:

Under the 1950 Act, the qualifying date for enrolment in the electoral roll is January 1 of the year in which such roll is being prepared or revised.  This implies that a person who turns 18 (i.e., eligible to vote) after January 1 can enrol in the electoral roll only when the roll is prepared/ revised the next year.
The Bill amends this to provide four qualifying dates in a calendar year, which will be January 1, April 1, July 1, and October 1.