Daily Prelims Notes 22 June 2020
June 22, 2020

Posted by:

admin1

Category:

DPN

Table Of Contents
Subject: Science and tech
Context:
The Chinese Government is building the world's largest police-run DNA database.
Concept:
Since 2013, Chinese authorities have collected DNA samples from entire ethnic minority communities and ordinary citizens outside any criminal investigations and without proper informed consent.
This program of mass DNA data collection violates Chinese domestic law and global human rights norms.
And, when combined with other surveillance tools, it will increase the power of the Chinese state and further enable domestic repression in the name of stability maintenance and social control.
The forensic use of DNA has the potential to solve crimes and save lives; yet it can also be misused and reinforce discriminatory law enforcement and authoritarian political control.
DNA analysis is now considered the gold standard for police forensics.
Recent innovations in DNA sequencing and big-data computing make the process of analysing biometric samples more efficient and cost-effective.
Yet forensic DNA collection has also been linked to the abuse of police powerand even can lead to the loss of genetic privacy.
In order to defend against possible abuses, compulsory police collection and storage of biometric data must be strictly limited to those convicted of serious criminal wrongdoing.
Dragnet
It is mass surveillance programme run by USA's national security agency.
2. Coal mining (Total resources, Production and import)
Subject: Economy/Geography
Context:
Government has announced the auction of 41 coal blocks that have a capacity to produce 225 million tonnes of coal per year after removing the end-use restrictions and relaxed prior mining experience as bidding criteria.
Concept:
India imports nearly 250 million tonnes of coal from other countries despite having the world's fourth largest coal reserve.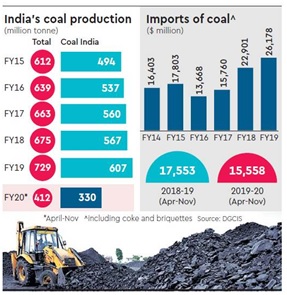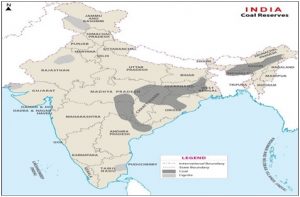 Commercial mining allows the private sector to mine coal commercially without placing any end-use restrictions. The private firms have the option of either gasification of the coal or exporting it.
Further, with 100 per cent foreign direct investment allowed in the coal sector, global companies can also participate in the auctions.
The complete freedom to decide on sale, pricing, and captive utilisation is expected to attract many private sector firms to participate in the auction process.
The government expects these steps will generate employment and reduce India's import bill.
Private sector participation was permitted until the early 1970s. Then government has announced the nationalization of the coal blocks in two phases between 1971 and 1973.
The government is hoping that the involvement of the private sector will increase production and make India self-sufficient in meeting its internal coal requirements.
Subject: Economy
Context:
Ever since China started pilot project on its Central Bank Digital Currency (CBDC), there has been speculations of possibility of China's digital currency replacing the US dollar as the reserve currency of the world.
Concept:
A reserve currency is a currency held in significant quantities by governments and institutions as a means of international payment and to support the value of national currencies.
A large percentage of commodities, such as gold and oil, are priced in the reserve currency, causing other countries to hold this currency to pay for these goods.
4. Sansad Adarsh Gram Yojana (SAGY) Model Village Scheme
Subject: Schemes
Context:
A study commissioned by the Ministry of Rural Development has observed that Sansad Adarsh gram yojana scheme has not made "any significant impact" and that "in the current format is not achieving the desired purpose".
Concept:
Prime Minister has launched the Saansad Adarsh Gram Yojana (SAGY) on 11th October, 2014 on the birth anniversary of LokNayak Jai Prakash Narayan.
The Scheme is unique and transformative as it has a holistic approach towards development. It envisages integrated development of the selected village across multiple areas such as agriculture, health, education, sanitation, environment, livelihoods, etc.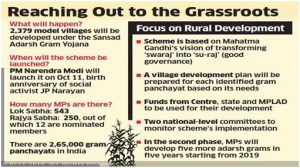 Far beyond mere infrastructure development, SAGY aims at instilling certain values, such as people's participation, Antyodaya, gender equality, dignity of women, social justice, spirit of community service, cleanliness, eco-friendliness, maintaining ecological balance, peace and harmony, mutual cooperation, self-reliance, local self-government, transparency and accountability in public life, etc. in the villages and their people so that they get transformed into models for others.
Ministry of Rural Development will be nodal Ministry coordinating and monitoring the Scheme closely to ensure its efficient implementation. In order to operationalize the strategies the central sector and centrally sponsored schemes along with the state schemes will have to be implemented in a convergent and integrated manner to generate maximum synergy.
Subject: Environment/Agriculture
Context:
Professor Rattan Lal, the winner of this year's World Food Prize spoke about importance of soil. Improving soil health not only boosts crop productivity, and makes farming profitable, but also mitigate the effects of climate change.
Concept:
Soil is living because it has 25 per cent of all biodiversity.
There are more species of organisms in the soil than there are aboveground.
These organisms include everything from badgers and gophers to bacteria and viruses that are invisible to the naked eye.
There are millions of organisms large and small that live in the soil and perform many important roles. It is important to maintain healthy soils by protecting soil from disturbance and organic matter loss.
This ensures plenty of shelter and food for soil organisms, so that belowground diversity remains high and the soil microorganisms can provide us with ecosystem services.
Ecosystem services of soil
Ecosystem services are the direct and indirect contributions of ecosystems to human well-being. They support directly or indirectly our survival and quality of life.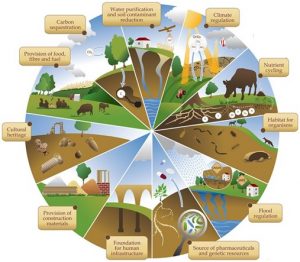 Per the 2006 Millennium Ecosystem Assessment (MA), ecosystem services are "the benefits people obtain from ecosystems .It also delineated the four categories of ecosystem services—supporting, provisioning, regulating and cultural
Provisioning Services are ecosystem services that describe the material or energy outputs from ecosystems. They include food, water and other resources.
Regulating Services are the services that ecosystems provide by acting as regulators eg. Regulating the quality of air and soil or by providing flood and disease control.Local climate and air quality: Carbon sequestration and storageModeration of extreme eventsWaste-water treatmentErosion prevention and maintenance of soil fertilityPollinationBiological control
Supporting Services: Habitats for species: Maintenance of genetic diversity
Cultural Services:Aesthetic appreciation and inspiration for culture, art and design, Spiritual experience and sense of place: Recreation and mental and physical health: 
Subject: Environment
Context:
Golden Langurs are facing threat of electrocution from power supply lines.
Concept:
It is endemic to the semi-evergreen and mixed deciduous forests straddling India and Bhutan.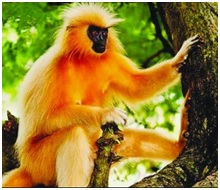 The golden langurs in Assam are hemmed in by three rivers Brahmaputra in the south, Manas in east and Sonkosh in west. Their northern limit is the range of hills in Bhutan up to 2,400 metres above sea level.
IUCN status – Endangered
In Assam, its main population is in the Manas Biosphere Reserve, a forested area along the border of Bhutan.