Daily Prelims Notes 24 October 2021
October 24, 2021

Posted by:

OptimizeIAS Team

Category:

DPN

Daily Prelims Notes
24 October 2021
Table Of Contents
Subject – History
Context – Living in the Anthropocene, we need to guard against any further damage to the natural world.
Concept –
The Anthropocene Epoch is an unofficial unit of geologic time, used to describe the most recent period in Earth's history when human activity started to have a significant impact on the planet's climate and ecosystems.
The word Anthropocene is derived from the Greek words anthropo, for "man," and cene for "new," coined and made popular by biologist Eugene Stormer and chemist Paul Crutzen in 2000.
Scientists still debate whether the Anthropocene is different from the Holocene, and the term has not been formally adopted by the International Union of Geological Sciences (IUGS), the international organization that names and defines epochs.

The primary question that the IUGS needs to answer before declaring the Anthropocene an epoch is if humans have changed the Earth system to the point that it is reflected in the rock strata.

A popular theory is that it began at the start of the Industrial Revolution of the 1800s, when human activity had a great impact on carbon and methane in Earth's atmosphere.
Others think that the beginning of the Anthropocene should be 1945. This is when humans tested the first atomic bomb, and then dropped atomic bombs on Hiroshima and Nagasaki, Japan. The resulting radioactive particles were detected in soil samples globally.
Geologic Time Scale
Earth's history is divided into a hierarchical series of smaller chunks of time, referred to as the geologic time scale. These divisions, in descending length of time, are called eons, eras, periods, epochs, and ages.
These units are classified based on Earth's rock layers, or strata, and the fossils found within them. From examining these fossils, scientists know that certain organisms are characteristic of certain parts of the geologic record. The study of this correlation is called
Officially, the current epoch is called the Holocene, which began 11,700 years ago after the last major ice age.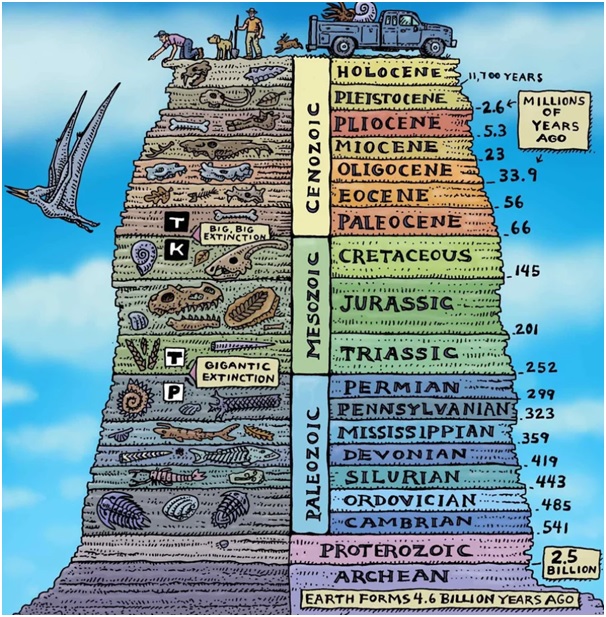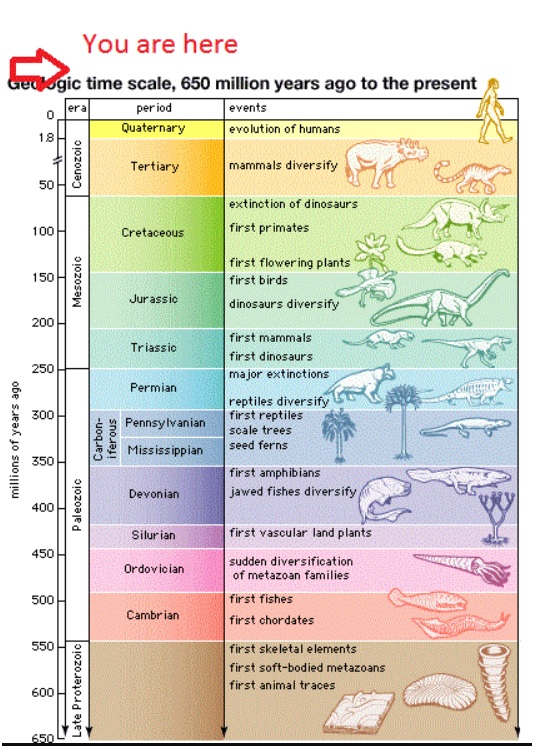 International Union of Geological Sciences (IUGS)
The International Union of Geological Sciences (IUGS) is an international non-governmental organization devoted to international cooperation in the field of geology.
The International Union of Geological Sciences (IUGS), founded in 1961, with 121 national members, representing over a million geoscientists, is one of the World's largest scientific organizations.
It encourages international co-operation and participation in the Earth sciences in relation to human welfare and is a member of the International Science Council (ISC).
Membership is open to countries or defined regions.
International Commission on Stratigraphy
The International Commission on Stratigraphy (ICS), sometimes referred to unofficially as the "International Stratigraphic Commission", is a daughter or major subcommittee grade scientific daughter organization that concerns itself with stratigraphical, geological, and geochronological matters on a global scale.
It is the largest and oldest subordinate body of the International Union of Geological Sciences (IUGS).
The ICS is essentially a permanent working subcommittee, which meets far more regularly than the quadrennial meetings scheduled by the IUGS, when it meets as a congress or membership of the whole.
It is the official keeper of geologic time, i.e. it precisely defines units (periods, epochs, and age) of the Geologic Time Scale.
Subject – Environment
Context – Environmental disaster has struck Kerala once again.
Concept –
The ecological footprint is a method promoted by the Global Footprint Network to measure human demand on natural capital, i.e. the quantity of nature it takes to support people or an economy.
It tracks this demand through an ecological accounting system.
In short, it is a measure of human impact on the environment.
Both the Ecological Footprint and biocapacity are expressed in global hectares—globally comparable, standardized hectares with world average productivity.
Ecological Footprint accounting measures the demand on and supply of nature.

On the demand side, the Ecological Footprint adds up all the productive areas for which a population, a person or a product competes. It measures the ecological assets that a given population or product requires to produce the natural resources it consumes (including plant-based food and fiber products, livestock and fish products, timber and other forest products, space for urban infrastructure) and to absorb its waste, especially carbon emissions.

The Ecological Footprint tracks the use of productive surface areas. Typically these areas are: cropland, grazing land, fishing grounds, built-up land, forest area, and carbon demand on land.

On the supply side, a city, state or nation's biocapacity represents the productivity of its ecological assets (including cropland, grazing land, forest land, fishing grounds, and built-up land). These areas, especially if left unharvested, can also serve to absorb the waste we generate, especially our carbon emissions from burning fossil fuel.

If a population's Ecological Footprint exceeds the region's biocapacity, that region runs a biocapacity deficit.

Its demand for the goods and services that its land and seas can provide—fruits and vegetables, meat, fish, wood, cotton for clothing, and carbon dioxide absorption—exceeds what the region's ecosystems can regenerate.
In more popular communications, we also call this "an ecological deficit."
A region in ecological deficit meets demand by importing, liquidating its own ecological assets (such as overfishing), and/or emitting carbon dioxide into the atmosphere.

If a region's biocapacity exceeds its Ecological Footprint, it has a biocapacity reserve.
What is Earth Overshoot Day?
When the entire planet is running an ecological deficit, we call it "overshoot." At the global level, ecological deficit and overshoot are the same, since there is no net import of resources to the planet.
Overshoot occurs when:
HUMANITY'S ECOLOGICAL FOOTPRINT > EARTH'S BIOCAPACITY
Earth Overshoot Day marks the date when humanity's demand for ecological resources and services (Ecological Footprint) in a given year exceeds what Earth can regenerate in that year (biocapacity).
According to the World Wide Fund for Nature (WWF), humanity has again used up all biological resources that our planet regenerates during the entire year by 29th July, 2021.
Humanity currently uses 74% more than what the planet's ecosystems can regenerate — or 1.7 Earths.
From Earth Overshoot Day until the end of the year, humanity operates on ecological deficit spending.
Global Footprint Network
Global Footprint Network, founded in 2003, is an independent think tank originally based in the United States, Belgium and Switzerland. It was established as a charitable not-for-profit organization in each of those three countries.
Global Footprint Network develops and promotes tools for advancing sustainability, including the ecological footprint and biocapacity, which measure the amount of resources we use and how much we have. These tools aim at bringing ecological limits to the center of decision-making.
The Network brings together over 70 partner organizations, including WWF International, ICLEI, Bank Sarasin, The Pictet Group, the New Economics Foundation, Pronatura México, and the Environment Agency Abu Dhabi.
3. Single Convention on Narcotic Drugs 1961
Subject – Governance
Context – Aryan Khan drug case
Concept –
This Convention aims to combat drug abuse by coordinated international action.
There are two forms of intervention and control that work together.

First, it seeks to limit the possession, use, trade in, distribution, import, export, manufacture and production of drugs exclusively to medical and scientific purposes.
Second, it combats drug trafficking through international cooperation to deter and discourage drug traffickers.

India is a signatory to it.
To know more about Narcotic Drugs and Psychotropic Substances Act 1985, please refer to August month DPN.
4. Ministry of Social Justice & Empowerment
Subject – Governance
Context – Avoid jail for drug users, seizure of small amounts: Social justice ministry
Concept –
The mandate of the Ministry is empowerment of the socially, educationally and economically marginalised sections of the society including Scheduled Castes, other Backward Class, Senior Citizens, Victims of Alcoholism and Substance Abuse, Transgender Persons, Beggars, Denotified and Nomadic Tribes (DNTs), Economically Backward Classes (EBCs) and Economically Weaker Section (EWS).
Important Schemes –

National Survey on Extent and Pattern of substance (Drugs) Abuse in India – National Action Plan for Drug Demand Reduction (NAPDDR) for 2018-25 has also been prepared and implemented, which aims at reduction of adverse consequences of drug abuse through a multipronged strategy involving education, de-addiction and rehabilitation of affected individuals and their families.
Assistance for Prevention of Alcoholism and Substance (Drugs) Abuse – The central sector scheme is being implemented for identification, counseling, treatment and rehabilitation of addicts through voluntary and other eligible organizations.
Constitutional Provisions against drug addiction –
Article 47 of the Constitution provides that the State shall endeavor to bring about prohibition of the consumption except for medicinal purposes of intoxicating drinks and of drugs which are injurious to health.
International Conventions –
India is a signatory to three United Nations Conventions, namely:
Convention on Narcotic Drugs, 1961;
Convention on Psychotropic Substances, 1971; and
Convention against Illicit Traffic in Narcotic Drugs and Psychotropic Substances, 1988.
Subject – Geography
Context – Lamkhaga Pass: Five Out Of 17 Missing Trekkers Found Dead, 2 Rescued by IAF & NDRF
Concept –
The Lamkhaga Pass (5,282 m / 17,320 ft) is one of the toughest pass which connects Kinnaur district of Himachal Pradesh with Harshil in Uttrakhand.
The Lamkhaga Pass trek starts from Chitkul the last Village of sangla valley in Himachal, though it can be done from Harshil side also.
This trek is a fairly remote trek, which was first crossed by Greek-British author and mountaineer Marco Alexander Pallis in 1933.
This pass is located near Indo – Tibetan border and to cross the pass one needs to obtain inner line permit from the district administration of Kinnaur, Himachal Pradesh.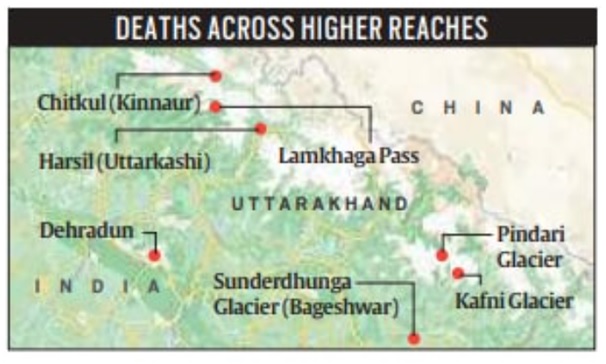 6. Crime in India report released by the National Crime Records Bureau
Subject – Governance
Context – Cases of environment offences rose in 2020, but there's a catch
Concept –
The Crime in India report released by the National Crime Records Bureau for 2020 indicates that the number of cases registered for environment-related offences has increased compared to the previous year. In 2020, 61,767 such cases were registered, compared to 34,676 in 2019 and 35,196 in 2018.
Till 2017, offences under Noise Pollution Acts and the Cigarettes and Other Tobacco Products Act were not included under environment-related offences. From 2017, when both categories began to be factored in as offences pertaining to the environment, maximum number of cases in the environment category were registered under these acts.
In 2017, maximum number of offences (29,659) was under the Cigarettes and Other Tobacco Products Act.

Sections under the Cigarettes and Other Tobacco Products Act, 2003, include prohibition of smoking in a public place, prohibition of advertisement of cigarettes and other tobacco products, and prohibition of sale of these products to persons below the age of 18.
It lays down the manner in which warnings are to be made and sets out punishments for smoking in certain places, and advertisements.

In 2020, 80.5% of environment-related cases were under Cigarettes and Other Tobacco Products Act (49,710).

This was followed by 7,318 cases (11.8%) under Noise Pollution Acts.
To know about Environment related offences under NCRB, please read September month DPN.
7. First Information Report (FIR)
Subject – Governance
Context – India's central and state governments have long misused a variety of laws to cow opponents and silence critics.
Concept –
First Information Report (FIR) is a written document prepared by the police when they receive information about the commission of a cognizable offence.
It is generally a complaint lodged with the police by the victim of a cognizable offence or by someone on his/her behalf. Anyone can report the commission of a cognizable offence either orally or in writing to the police. Even a telephonic message can be treated as an FIR.
Why is FIR important?
An FIR is a very important document as it sets the process of criminal justice in motion. It is only after the FIR is registered in the police station that the police takes up investigation of the case.
Who can lodge an FIR?
Anyone who knows about the commission of a cognizable offence can file an FIR.
It is not necessary that only the victim of the crime should file an FIR.
A police officer who comes to know about a cognizable offence can file an FIR himself/herself.
What is the procedure of filing an FIR?
The procedure of filing an FIR is prescribed in Section 154 of the Criminal Procedure Code, 1973.
When information about the commission of a cognizable offence is given orally, the police must write it down.
It is your right as a person giving information or making a complaint to demand that the information recorded by the police is read over to you.
Once the information has been recorded by the police, it must be signed by the person giving the information.
You should sign the report only after verifying that the information recorded by the police is as per the details given by you.
People who cannot read or write must put their left thumb impression on the document after being satisfied that it is a correct record.
Always ask for a copy of the FIR, if the police do not give it to you. It is your right to get it free of cost.
What should you mention in the FIR?
Your name and address;
Date, time and location of the incident you are reporting;
The true facts of the incident as they occurred;
Names and descriptions of the persons involved in the incident;
Witnesses, if any.
What can you do if your FIR is not registered?
You can meet the Superintendent of Police or other higher officers like Deputy Inspector General ofPolice & Inspector General of Police and bring your complaint to their notice.
You can send your complaint in writing and by post to the Superintendent of Police concerned. If the Superintendent of Police is satisfied with your complaint, he shall either investigate the case himself or order an investigation to be made.
You can file a private complaint before the court having jurisdiction.
You can also make a complaint to the State Human Rights Commission or the National Human Rights Commission if the police does nothing to enforce the law or does it in a biased and corrupt manner.
8. International Day of Climate Action
Subject – Environment
Context – International Day of Climate Action: All talk, no show on Paris Agreement targets
Concept –
The world economy is estimated to shrink by 6 per cent in 2020. This is happening when the world is witnessing some of its worst storms, heat waves, ice melting and wildfires, making the twin challenges of climate change and COVID-19 one of the worst periods in human history since the 1930s.
Many like Germany and France are also trying to integrate climate change mitigation into their post-pandemic economic recovery strategies.
International Energy Agency (IEA) has planned a three-year investment totalling $1 trillion to work towards a green post-pandemic recovery, according to its World Energy Outlook Special Report released in June 2020.

The IEA, will now invest in initiatives like energy efficiency, wind and solar power. That would cut down 4.5 billion tonnes of carbon dioxide emissions over the next three years and add 1.1 per cent to the global economic growth every year.

There is also a renewed stress on innovation and new technologies as evidenced by the European Clean Hydrogen Alliance launched by the European Union (EU) in July 2020.
On September 22, Chinese Premier Xi Jinping speaking at the virtual 75th meeting of the United Nations General Assembly announced that his country would become carbon neutral by 2060.

This was the first such long-term mitigation announcement to come from the largest greenhouse gas (GHG) emitter on the planet, which accounts for 28 per cent of total emissions.
China depends heavily on fossil fuels to meet its energy needs both for its massive manufacturing sector as well domestic consumption. Therefore, it would need a significant overhaul of its energy sector to be able to achieve its intended targets.

Intergovernmental Panel on Climate Change's (IPCC's) Global Warming of 1.5°C report had said in 2018 that the world would have to be carbon-neutral by 2050 to contain the planet's warming to less than 1.5°C over pre-Industrialisation levels.
EU is also ramping up its climate action, aiming for a more ambitious 2030 target, and climate neutrality by 2050.
China, the EU and the US account for 45 per cent of global GHG emissions.
Under the current scenario, according to IPCC, the Earth is on a path to be warmed by 1.5°C between 2030 and 2052.
Climate Change Performance Index (CCPI) 2020, released by non-profits Climate Action Network, German Watch and New Climate Institute, no country has done well enough to get into the very high rating in the index which is basically the top three ranks of the index.

The index takes into account GHG emissions of countries in a particular year giving it a 40 per cent weightage, along with renewable energy, energy use and climate policy, giving each of them 20 per cent weightage.
Both China and the EU, which have made major announcements, are under medium performers.
The US, on the other hand, was the worst performer on the index.
Some important facts –
Current global pledges will leave the world 2.4 degree C (1.9-3 degree C) warmer by 2100.
The current national policies are even less ambitious and will push the temperature by 2.9 degree C (2.1-3.9 degree C).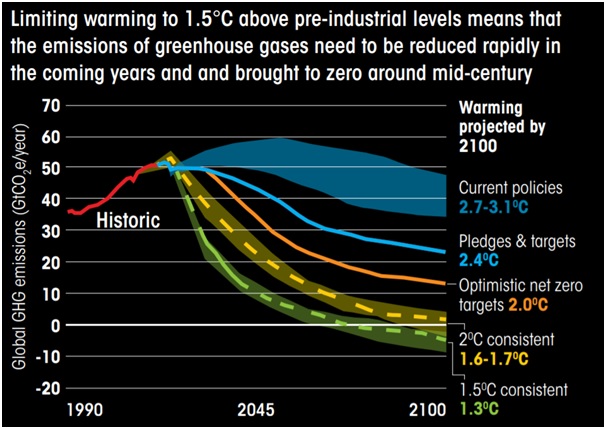 9. Therapeutic qualities of turmeric
Subject – Science and Tech
Context – Therapeutic qualities of turmeric are being probed for many ailments, most recent being cytokine storm caused by COVID-19
Concept –
Turmeric exert anti-inflammatory effects by regulating crucial molecular targets for inflammation.
They are cheap and relatively safe to consume and their anti-inflammatory property can be exploited to combat the cytokine storm in covid-19 patients.
The reason curcumin, and by association turmeric, has not been used as an allopathic drug is because the substance's poor bioavailability (duration of its presence in the blood).

Low curcumin bioavailability can be addressed by using higher concentrations of curcumin in nontoxic limits.
Moreover, curcumin, in combination with other compounds or as formulations, has shown enhanced bioavailability.
Nanotechnology can also be used to increase the bioavailability of curcumin.

Such nanocurcumin-based combinatorial therapy against tuberculosis, breast cancer and Plasmodium falciparum malaria have also been initiated in India under the Turmeric Mission launched in 2020.
To know more about Turmeric, please refer to August month DPN.
Subject – Science and Tech
Context – India-­made spray linked to rare illness in U.S.
Concept –
A made-in-India aromatherapy spray is being pulled off retail giant Walmart's shelves in the United States after a medical investigation linked it to melioidosis, a rare disease that has sickened at least four, and may have caused two deaths, in the country.
The spray was reported to contain a bacterium, Burkholderiapseudomallei, that causes a rare but deadly disease called melioidosis, the U.S. Centers for Disease Control and Prevention (CDC) said.
About Meliodosis
Melioidosis, also called Whitmore's disease, is an infectious disease that can infect humans or animals.
The disease is caused by the bacterium Burkholderiapseudomallei.
It is predominately a disease of tropical climates, especially in Southeast Asia and northern Australia where it is widespread.
The bacteria causing melioidosis are found in contaminated water and soil. It is spread to humans and animals through direct contact with the contaminated source.
Most people infected with B. pseudomallei experience no symptoms, but those who do experience symptoms have signs and symptoms that range from mild, such as fever, skin changes, pneumonia, and abscesses, to severe with inflammation of the brain, inflammation of the joints, and dangerously low blood pressure that causes death.
About 10% of people with melioidosis develop symptoms that last longer than two months, termed "chronic melioidosis".
Person-to-person or animal-to-human transmission is extremely rare.
No vaccine for melioidosis has been approved.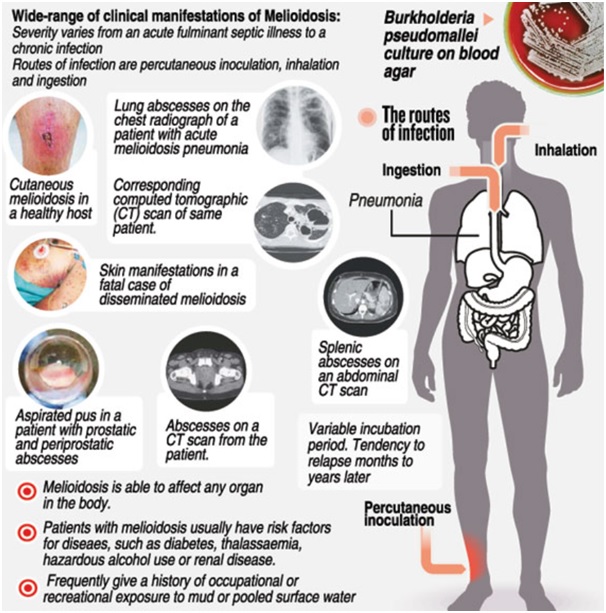 Subject – Geography
Context – Call to separate Barak Valley from Assam grows louder
Concept –
Barak Valley is comprised of three districts namely Cachar, Hailakandi and Karimganj and is majorly Bengali-dominated.
The Barak Valley is located in the southern region of the Indian state of Assam.
The main city of the valley is Silchar.
The region is named after the Barak river.
Barail is the only wildlife sanctuary of the Barak valley region.

The Asian elephant has already vanished from most of the valley.
There have been continuous demand in Bengali dominated Barak valley for separate statehood and for it being carved out from the Assamese-majority Brahmaputra valley post NRC.

Barak valley is the most neglected part of Assam in terms of its infrastructure development, tourism sector, educational institutions, hospitals, IT industries, etc which is still lagging behind in comparison to the Assam's mainland Brahmaputra valley which have access to all of those facilities mentioned above.
12. PrakritikKhetiKhushhalYojana (PK3Y)
Subject – Agriculture
Context – Himachal's women farmers expand their horizons, without hurting nature
Concept –
PrakritikKhetiKhushhalYojana (PK3Y) is promoting the climate resilient Subhash Palekar Natural Farming (SPNF), also called 'Zero Budget Natural Farming.
The scheme intends to provide subsidy with the financial assistance of Rs. 50,000 to encourage farmers for natural farming.
The scheme will cover the activities being implemented by the department for the promotion of organic farming, Rashtriya KrishiVikasYojana (PKVY), PramparagatKrishiVikasYojana (PKVY) or any other scheme were related to natural farming are being implemented.
The Department of Agriculture would act the nodal agency for implementing PrakritikKhetiKhushhalKissan Yojana under zero budget natural farming system.
The State Level Committee under the Directorate of Agriculture is responsible for planning, implementing and monitoring of the zero budget natural farming.
Zero Budget Natural Farming
Zero budget natural farming is a method of chemical-free agriculture drawing from traditional Indian practices.
It was originally promoted by agriculturist Subhash Palekar, who developed it in the mid-1990s as an alternative to the Green Revolution's methods that are driven by chemical fertilizers and pesticides and intensive irrigation.
It is a unique model that relies on Agro-ecology.
It aims to bring down the cost of production to nearly zero and return to a pre-green revolution style of farming.
It claims that there is no need for expensive inputs such as fertilisers, pesticides and intensive irrigation.
ZBNF is based on 4 pillars:

Jeevamrutha: It is a mixture of fresh cow dung and aged cow urine (both from India's indigenous cow breed), jaggery, pulse flour, water and soil; to be applied on farmland.
Bijamrita: It is a concoction of neem leaves & pulp, tobacco and green chilies prepared for insect and pest management, that can be used to treat seeds.
Acchadana (Mulching): It protects topsoil during cultivation and does not destroy it by tilling.
Whapasa: It is the condition where there are both air molecules and water molecules present in the soil. Thereby helping in reducing irrigation requirement.

It has been pioneered by Shri. Subhash Palekar.
The ZBNF farm model is based on polycropping.
The expenditure on the main crop is recovered from the income from the short duration inter crops, hence the net expenditure on the main crop is 'zero'.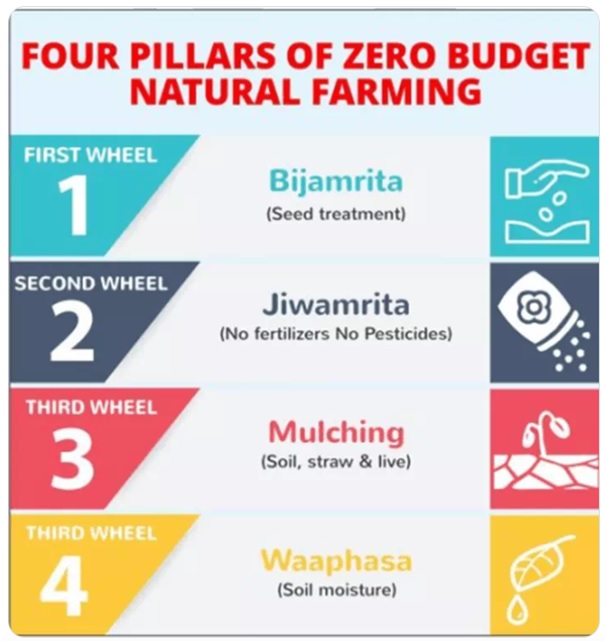 Subject – Geography
Context – Russia, China hold first joint patrol in western Pacific Ocean
Concept –
The Tsugaru Strait is a strait between Honshu and Hokkaido in northern Japan connecting the Sea of Japan with the Pacific Ocean.
Western maps in prior to the 20th century also referred to this waterway as the Strait of Sangar.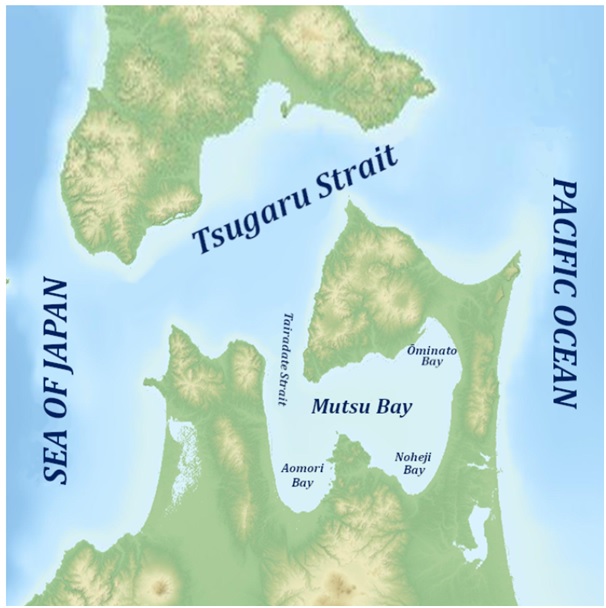 Subject – Science and Tech
Context – More studies show the superiority of hybrid immunity
Concept –
A study has shown that a combination of natural infection with a single dose of vaccine provides greater immunity than either natural infection without vaccination or full vaccination in infection-naïve individuals.
Hybrid immunity — natural immunity from an infection combined with the immunity provided by the vaccine — had a higher and more durable neutralising antibody response. The hybrid immunity offers stronger protection than just infection or full vaccination alone.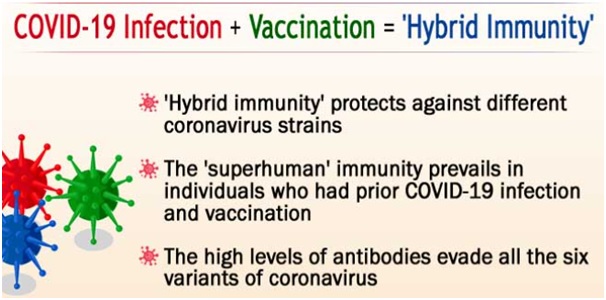 The immunological advantage from hybrid immunity arises mostly from memory B cells. While the bulk of antibodies after infection or vaccination decline after a short while, the memory B cells, which evolve in the lymph nodes, get triggered on subsequent infection or vaccination.
Differences between the memory B cells triggered by infection and those triggered by vaccination — as well as the antibodies they make — might also underlie the heightened responses of hybrid immunity. Infection and vaccination expose the spike protein to the immune system in vastly different ways.
After full vaccination, antibodies produced by natural infection continued to grow in potency and their breadth against variants for a year after infection. Unlike after vaccination, the memory B cells formed after natural infection are more likely to make antibodies that block immune-evading variants.
Memory B cells in the fully vaccinated people without prior infection are growing in number and gaining mutations up to 12 weeks after the second dose, which allows the B cells to recognise and neutralise variants.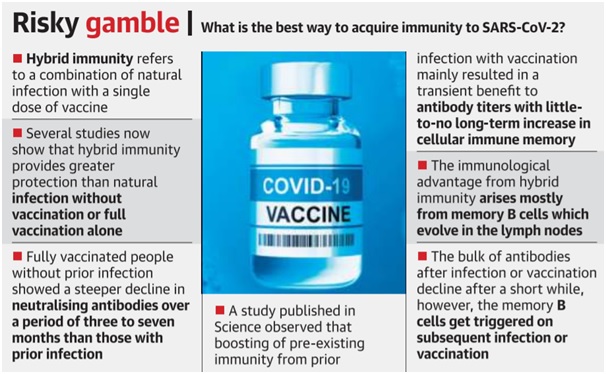 Subject – Science and Tech
Context – New light on how insulin signalling affects tissue health
Concept –
Insulin is a hormone secreted by the b cells of the pancreas.
It is commonly associated with an ability to regulate glucose metabolism.
However, later studies (from around 1949 until recently) have shown it plays a larger role and helps in growth and maintenance of tissues.
Despite years of study, fundamental details as to how differential amounts of insulin impact cells are unknown.
An important mechanism in the cell is insulin signalling, which is a series of biochemical reactions that convey information about availability of insulin and the necessity to regulate the glucose in the blood.
There are two main pathways for insulin signalling, named AKT and ERK, which together balance metabolism and growth.
These specifically control storage of glucose in the liver and also stimulate glucose transport in skeletal muscle and fat.
Abnormalities in insulin signalling thus impact health and survival itself of organisms.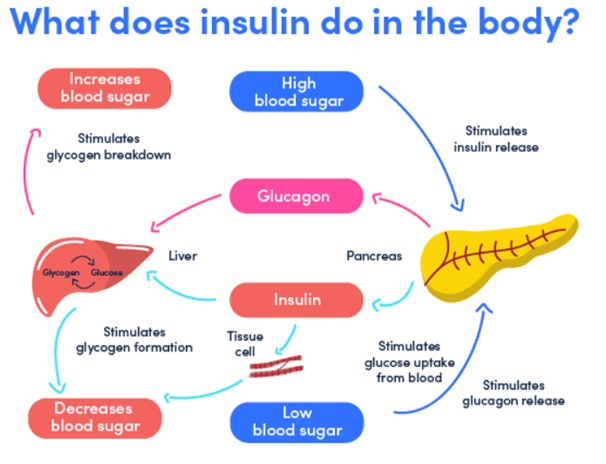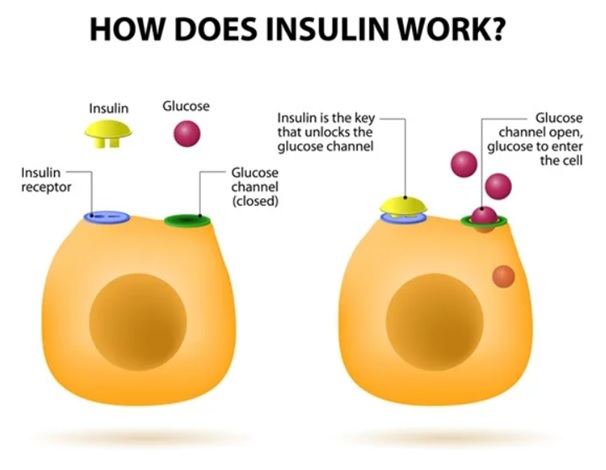 In News –
In a study that examined the effect of insulin on liver cells taken from mice, researchers have uncovered how insulin amounts shape the flow of information through the signalling network.
The study also provides insights into the degree to which major and minor components are important in keeping this signalling process intact. This knowledge can direct further studies to identify targets for therapy.
To know about Type 1 and Type 2 Diabetes, please refer to October month DPN.
16. Herd mentality in Jurassic dinosaur
Subject – Science and Tech
Context – Herd mentality in Jurassic dinosaur
Concept –
Fossils unearthed in Argentina's southern Patagonia region is the oldest-known evidence that some dinosaurs thrived in a complex, well-organised herd structure, with adults caring for the young and sharing a communal nesting ground.
The fossils include more than100 dinosaur eggs and the bones of about 80 juveniles and adults of a Jurassic Period plant-eating species called Mussauruspatagonicus.
The animals experienced a mass-death event, probably caused by a drought, and their bodies were subsequently buried by wind-blown dust.
The animals were found to have been grouped by age at the time of their deaths. This phenomenon, called "age segregation," signals a complex social structure.