Daily Prelims Notes 30 June 2022
June 30, 2022

Posted by:

OptimizeIAS Team

Category:

DPN

Daily Prelims Notes
30 June 2022
Table Of Contents
1. Payments for ecosystem services (PES)
Subject : Environment
Section: Biodiversity
Concept:
Ecosystems support plant and animal life by maintaining the overall balance in nature. When functioning well, ecosystems also bring multiple benefits to people. These benefits range from provision of basic commodities, such as food and fuel, to spiritual benefits – for example, the aesthetically pleasing landscapes that we all enjoy.
The benefits that people get from nature are known as ecosystem services.
Ecosystem services can be roughly divided into:

Supporting services – those services creating conditions necessary for the provision of all other ecosystem services, for example photosynthesis or soil formation
Provisioning services – all products coming from ecosystems, for example food, fiber, fuel, herbs and medicinal plants, genetic resources, drinking water
Regulating services – the capacity of ecosystems to regulate important natural processes, for example regulation of climate, quality and quantity of water, etc.
Cultural services – non-material benefits from ecosystems, for example the aesthetic and recreational value of landscapes
Payments for ecosystem services (PES) occur when the beneficiaries or users of an ecosystem service make payments to the providers of that service. In practice, this may take the form of a series of payments in return for receiving a flow of benefits or ecosystem services. The basic idea is that whoever provides a service should be paid for doing so
Arranging payments for the benefits provided by forests, fertile soils and other natural ecosystems is a way to recognize their value and ensure that these benefits continue well into the future.
Payments for Ecosystem Services encourage the maintenance of natural ecosystems through environmentally friendly practices that avoid damage for other users of the natural resources. In addition to preserving natural resources, this method improves rural areas and rural lifestyles.
Subject: Environment
Section: Climate Change
Context: According to UNEP 2022 report on wildfires, while human carelessness and lightning strikes may start wildfires, climate change, land-use change, and poor forest management are allowing these fires to burn longer and hotter than ever before.
Concept:
Forest fires, also called wildfires and bush or vegetation fires, are described as uncontrolled, often widespread burning of plants in forests, grasslands, brushland, and tundra.
Types of Forest Fires:
Surface fires– easiest fires to control and cause the least damage as they burn only surface plant litter.
Ground fires– also called 'underground' or 'subsurface fires', burn within humus, peat, and piles of vegetation that are dry enough to burn. Although such fires spread very slowly, they are often difficult to suppress or fully extinguish, which makes them dangerous.
Crown fires– most intense and dangerous forest fires as they burn whole trees and can spread rapidly by spreading across tree tops due to winds.
The UNEP report provides a new classification for forest fires – landscape fires and
Landscape fires are defined as being seasonal, of moderate intensity (with few instances of high intensity), easily controlled, and having a low environmental impact (for some species it may even have a positive impact).
Wildfires are defined as extreme events, of high intensity, that are difficult to control, and have severe social, economic, and environmental impacts.
Causes of Forest Fires:
Under natural circumstances, extreme heat and dryness, friction created by rubbing of branches with each other also have been known to initiate fire.
In India, forest fires are most commonly reported during March and April, when the ground has large quantities of dry wood, logs, dead leaves, stumps, dry grass and weeds.
The fires of longer duration, increasing intensity, higher frequency and highly inflammable nature are all being linked to climate change.
Some major fires are triggered mainly by human activities.
How prone to fire are India's forests?
As of 2019, about 67% (7,12,249 sq km) of the country's geographical area is identified as forest, according to the India State of Forest Report 2019 (ISFR) released by the Forest Survey of India (FSI), Dehradun. Tree cover makes up another 2.89% (95, 027 sq. km).
Based on previous fire incidents and recorded events, forests of the Northeast and central India regions are the most vulnerable areas to forest fires, the FSI has said. Forests in Assam, Mizoram and Tripura have been identified as 'extremely prone' to forest fire.
Uttarakhand and Himachal Pradesh are the two states that witness the most frequent forest fires annually.
Impacts of Forest Fires:
Positive
Negative

Land Management- selective firing stimulated grass growth and curtailed tree growth and ensured better visibility and safer movement for collecting non-timber forest products.
Reduce diseases-

ground fires lit by the Soligas and Kurubas communities kept down hemiparasite populations and reduced incidence of tick-borne diseases. E.g., Invasive Lantana.

Support local wild herbivores

– by serving as fodder.

Impact the economic stability– communities that depend on non-timber forest products as a source of income.
Increase atmospheric carbon dioxide levels-

that were locking into forests, grasslands, soils, and other areas.

Impacts biodiversity

 – Evergreen Forest and Himalayan slopes that are home to rare flora and fauna.
Efforts to protect forests from fire:
In 2004, the FSI developed the Forest Fire Alert System to monitor forest fires in real time.
In its advanced version launched in January 2019, the system now uses satellite information gathered from NASA and ISRO.
The real-time fire information from identified fire hotspots is gathered using MODIS sensors (1km by 1km grid) and electronically transmitted to FSI.
Subject : Science and Technology
Section: Awareness of IT
Context
The Securities and Exchange Board of India (Sebi) has slapped heavy penalties in a 2015 'dark fibre' case that saw certain brokers exploiting the National Stock Exchange's (NSE's) internet infrastructure to get faster connectivity to its colocation (colo) facilities.
Details:
GKN established direct peer-to-peer (P2P) connectivity with the help of dark fibre or near-dark fibre which assured more speed and low latency, thereby ensuring faster access to market data.
This deprived other brokers using the colo facility who did not take dark fibre services from any unauthorised vendors.
Concept:
Dark fibre:
It is an unused optical fibre that has been laid but is not currently being used in fibre-optic communications. Since fibre-optic cable transmits information in the form of light pulses, a "dark" cable refers to one through which light pulses are not being transmitted.
Companies lay extra optical fibres in order to avoid cost repetition when more bandwidth is needed.
It is also known as unlit fibre.
These unused fibre optic cables later created a new market for unique private services that could not be accommodated on lit fibre cables (i.e cables used in traditional long-distance communication).
Unused strands of Fiber are leased to customers to create their own privately-operated optical fibre network. This is different from the leasing of bandwidth. In other words, It is in contrast to purchasing bandwidth or a leased line on an existing network. The Dark Fiber network is under total control of the client rather than the network provider.
The benefits which can be reaped from it are –

High performance
Secured network flow and separation from other traffic
Superfast speeds
Low and Fixed cost
Reliable medium
Full control of the fibre-optic network.

Applications include:

Fibre to the Antenna (FTTA)-Mobile network providers can use dark fibre to provide mobile backhaul, 5G backhaul and core network connections.
Data Centre Interconnect (DCI)-Dark fibre can be used to provide a high capacity, direct point to point connection between two data centres.
National Research and Educational Networks (NRENs)-Most National Research and Educational Networks (NRENs) that link together Universities and research establishments use dark fibre.

There are numerous licenses under which a vendor can lease dark fibre in India.
Co-location is a data centre within the exchange premises hosting a broker's server that is connected by fibre network. Co-lo space is rented by exchanges to brokers for speed trading.
Some brokers are selectively allowed to install dark fibre without a clear policy. The NSE has no clearly-defined public policy as to when and how it permitted competing carriers into co-lo, which ensured advantages to a select few.
4. Foreign Portfolio Investors and commodity market
Subject :Economy
Section: External Sector
Context:
Markets regulator SEBI has allowed foreign portfolio investors (FPIs) to play in commodity derivatives markets.
Details:
SEBI has allowed foreign entities to participate in the Indian Exchange Traded Commodity Derivative market, through the FPI route.
FPIs can trade in all non-agricultural commodity derivatives and a few select broad agricultural commodity derivatives.
Initially FPIs will be allowed only in cash-settled contracts.
The position limits for FPIs (other than individuals, family offices and corporate bodies) will be at par with those presently applicable for mutual fund schemes.
FPIs belonging to categories such as individuals, family offices and corporates will be allowed a position limit of 20 percent of the client-level position limit
SEBI also approved the creation of Limited Purpose Clearing Corporation (LPCC) for clearing and settlement of corporate bond repo transactions.
Foreign Portfolio Investors:
FPI is an investment by non-residents in Indian securities including shares, government bonds, corporate bonds, convertible securities, units of business trusts, etc. The class of investors who make an investment in these securities is known as Foreign Portfolio Investors.
An applicant can obtain FPI license under SEBI regulations, in one of the two categories mentioned below:
"Category I FPI" which mainly include: Government and Government-related investors such as central banks, Governmental agencies, sovereign wealth funds and international or multilateral organisations or agencies.
"Category II FPI" which include:

appropriately regulated broad based funds such as mutual funds, investment trusts,insurance/reinsurance companies;
appropriately regulated persons such as banks, asset management companies, investment managers/advisors, portfolio managers;
broad based funds that are not appropriately regulated but whose investment manager is appropriately regulated.
university funds and pension funds; and
university-related endowments already registered with SEBI as FIIs or sub-accounts

"Category III FPI" which include: All others not eligible under Category I and II FPIs such as endowments, charitable societies, charitable trusts, foundations, corporate bodies, trusts, individuals and family offices.
Rather than going through SEBI, FPIs now have to come through DDP (Designated Depository Participant). Application to the DDP has to be made by Foreign investor for any one of the above categories.
What investments are permissible for a FPI?
FPIs are permitted to invest in shares, debentures (compulsorily convertible to equity) and warrants of companies,listed or to be listed on a recognized stock exchange in India, through primary and secondary markets.
FPIs are also permitted to invest in security receipts issued by asset reconstruction companies, securitised debt instruments, units of schemes floated by domestic mutual funds (whether listed on a recognised stock exchange or not), collective investment scheme, listed and unlisted non-convertible debentures/bonds issued by an Indian company in the infrastructure sector, unlisted non-convertible debentures/ bonds issued by an Indian company subject to the guidelines. It should be noted that FPIs are permitted to invest in unlisted non-convertible debentures/ bonds subject to end-use restrictions on investment in real estate business,capital market and purchase of land.
The FPI route is considered attractive for debt investments given debt investments by FPIs are not classified as external commercial borrowings,which is far more regulated.
SEBI has also permitted FPIs to invest in units of real estate investment trusts ("REITs"), infrastructure investment trusts ("InvITs") and category III alternative investment funds.
Commodity trading:
Commodity markets involve trading i.e., buying and selling of various commodities and their derivative products.A commodity is any raw material or primary agricultural product that can be bought or sold, such as wheat, gold, or crude oil.
Commodities are classified into two types: hard and soft.

Hard commodity refers to those that must be extracted from the earth.Metals and minerals such as gold, silver, copper, and others fall into this category. Crude oil is also classified as a hard commodity.
Soft commodity refers to food grains, edible oil, meat, and livestock.
Commodity Exchanges:
A commodity exchange is a regulated market where commodities are traded.Traders may elect to trade in Futures contracts rather than take physical delivery of commodities.
A futures contract is an agreement to buy or sell a predefined quantity of a commodity at a predetermined price and within a specified time frame.
Forward trading in commodities is currently conducted by six national exchanges:
Multi Commodity Exchange (MCX), Mumbai
National Commodity and Derivatives Exchange (NCDEX), Mumbai
National Multi Commodity Exchange (NMCE), Ahmedabad
Indian Commodity Exchange (ICEX), Mumbai
ACE Derivatives and Commodity Exchange, Mumbai
Universal Commodity Exchange (UCX), Navi Mumbai
Derivatives are the instruments which include security derived from a debt instrument share, loan, risk instrument or contract for differences of any other form of security and a contract that derives its value from the price/index of prices of underlying securities.

In the finance field, a derivative is a contract that derives its value from the performance of an underlying entity. This underlying entity can be an asset, index, or interest rate, and is often called the "underlying".

Types:
Forwards and futures: These are financial contracts that obligate the contracts' buyers to purchase an asset at a pre-agreed price on a specified future date. Both forwards and futures are essentially the same in their nature.
Options:

Options provide the buyer of the contracts the right, but not the obligation, to purchase or sell the underlying asset at a predetermined price.
Based on the option type, the buyer can exercise the option on the maturity date or on any date before the maturity.

Swaps:

Swaps are derivative contracts that allow the exchange of cash flows between two parties.
The swaps usually involve the exchange of a fixed cash flow for a floating cash flow.
The most popular types of swaps are interest rate swaps, commodity swaps, and currency swaps.
Subject :Economy
Section: External Sector
Context:
The Union Cabinet on Wednesday allowed firms like ONGC and Vedanta to sell locally produced crude oil to any Indian refinery for turning it into fuel.
Impact:
The companies can sell their crude oil to any private company in the domestic market along with government companies.
Boost production of domestic crude oil given India's domestic crude production has been on a consistent decline.
Concept:
Despite being the third-largest consumer of oil, the nation depends on imports to meet 85% of its needs.
While contracts for oilfields awarded since 1999 gave producers the freedom to sell oil, the government fixed buyers for crude produced from older fields, such as Mumbai High of ONGC and Ravva of Vedanta.
The condition in the production sharing contracts (PSCs) to sell crude oil to the government or its nominee or government companies will accordingly be waived off.
Production Sharing Contract (PSC)
It is a term used in the Hydrocarbon industry and refers to an agreement between Contractor and Government whereby Contractor bears all exploration risks, production and development costs in return for its stipulated share of (profit from) production resulting from this effort. The costs incurred by the contractor are recoverable in case of commercial discovery. Thus, PSC is a fiscal regime existing in the exploration and production of hydrocarbons.  
Production Sharing Contracts became widely adopted as part of the New Exploration and Licensing Policy (NELP) launched by the Government in 1997 for enhanced exploration of oil and gas resources in the country.
The Production Sharing Contracts (PSCs) under NELP are based on the principle of "profit sharing".  When a contractor discovers oil or gas, he is expected to share with the Government the profit from his venture, as per the percentage given in his bid.  Until a profit is made, no share is given to the Government, other than royalties and cesses.
Thus, in production sharing contract (PSC), Government's take depends on biddable share of profit petroleum/ gas after allowing for cost recovery. In other words, PSC allows the contractor to recover his cost, before giving the Government its share in the contractor's revenues, in case there is commercial discovery leading to production (Not all drilling leads to discovery of oil/gas). Thus, a certain proportion of the balance revenues of the contractor are shared with the Government.
The PSC regime was changed with a revenue sharing contract model in 2016 through a Cabinet decision of the Government dated 10.03.2016.Government adopted a variant of the revenue sharing contract model on 10.03.2016 under the new fiscal regime for hydrocarbon exploration and production called, HELP or Hydrocarbon Exploration and Licensing Policy
Under the new regime, the Government will not be concerned with the cost incurred and will receive a share of the gross revenue from the sale of oil, gas etc. Bidders will be required to quote revenue share in their bids and this will be a key parameter for selecting the winning bid.
Subject: Economy
Section: Fiscal Policy
Context:
In what will benefit small online sellers, the Goods and Services Tax (GST) Council has cleared the proposal to waive mandatory registration of such online vendors if their turnover is lower than Rs 40 lakh and Rs 20 lakh for goods and services, respectively.
Details:
The Parliamentary Committee had observed that the mandatory registration requirement has placed additional burden on small sellers, increasing the compliance and operation cost.
These small online vendors will now have to declare their Permanent Account Number (PAN), and principal place of business. Further, unregistered entities will also be restricted to declare their principal place of business only in one state, and will not be permitted to make interstate taxable supplies.
The GST Council also permitted composition dealers to make intrastate supplies through e-commerce companies.
Composition Scheme:
The composition scheme is an alternative method of tax levy under GST designed to simplify compliance and reduce compliance costs for small taxpayers.
The main feature of this scheme is that the business or person who has opted to pay tax under this scheme can pay tax at a flat percentage of turnovers every quarter, instead of paying tax at a normal rate every month.
Taxpayers under the composition scheme of the GST have more relaxed rules with an increased turnover limit for the applicability, inclusion of service providers and reduced tax rates.
This scheme is also applicable to the real estate sector with respect to under-construction, ready and affordable homes.
Eligibility
The composition scheme is applicable to manufacturers or traders whose taxable business turnover is up to ₹1.5 crore (₹75 lakh in case of North-Eastern States).
A service provider can opt for the scheme if his taxable turnover is up to ₹50 lakh.
The following people cannot opt for the scheme-
Manufacturer of ice cream, pan masala, or tobacco
A person making inter-state supplies
A casual taxable person or a non-resident taxable person
Businesses which supply goods through an e-commerce operator (changed by present decision)
What are the advantages of a Composition Scheme?
The following are the advantages of registering under composition scheme:
Lesser compliance (returns, maintaining books of record, issuance of invoices)
Limited tax liability
High liquidity as taxes are at a lower rate
What are the disadvantages of a Composition Scheme?
A limited territory of business. The dealer is barred from carrying out inter-state transactions
No Input Tax Credit available to composition dealers
The taxpayer will not be eligible to supply non-taxable goods under GST such as alcohol and goods through an e-commerce portal.
7. PM Modi's gifts to G7 leaders, who gets what
Subject :History
Section: Art and Culture
Black Pottery pieces for Japanese PM
The Black Pottery of Nizamabad in Uttar Pradesh uses a special technique to bring out black colours.
This involves ensuring that there is no scope for oxygen to enter the oven as pottery pieces are kept inside and the heat level remains high.
The presence of oxygen can turn the pottery red.
The glaze on the pottery comes from the high zinc content of the soil and the layer of mustard oil applied before firing the pottery.
It comes with and without inlay.
Dokra art to presidents of Argentina and South Africa
Dokra art is non-ferrous metal casting art that uses the lost-wax casting technique.
This technique has been in use for over 4,000 years in India, and is still practiced by artisans in central and eastern India.
It is in great demand in domestic and foreign markets because of its primitive simplicity, folk motifs and forceful form.
Hand painted tea set to UK PM
A tea set from Bulandshahr district was presented to the British PM, with its base form hand painted and fired at 1,200 degrees Celsius.
In this craft form, the embossed outlines are laid on manually with a mehendi cone and require an extremely confident hand.
Each shape is then separately filled with colour and the entire cup is fired again.
The crockery was outlined with platinum metal paint in honor of the Queen's platinum jubilee being celebrated this year.
Moonj baskets, cotton durries for Senegal's president
In Senegal, the tradition of hand weaving is passed down from mother to daughter, adding to its importance as a vehicle for cultural expression and family livelihood – driven by strong women.
The same is done in Prayagraj, Sultanpur and Amethi districts of the state of Uttar Pradesh, where Moonj or Saccharum Bengalense plant is now acting as a sustainable source of income for rural women.
Like Senegalese baskets, Moonj craft also utilises bright, jewel tone colours.
The cotton durries are handwoven in Sitapur.
Lacquerware Ram Darbar to Indonesian president
The GI-tagged lacquerware art-form has its roots in the temple town of Varanasi.
The process is a tedious one, requiring assembly of a base wooden form with separate limbs, which is covered layered by layer with distemper or lac-based paint.
True to their city of origin, lacquerware items always come in bright, jewel tones.
This particular piece is made of Gular wood.
The principal characters in the artwork are Lord Ram, Sita, Hanuman and Jatayu.
It is believed that the Indonesian version of Ramayana was written during the Medang Kingdom (8th to 11th century) in Central Java.
The story of Ramayana was narrated to the people through shadow puppetry (wayangkulit and wayangpurwa).
8. Maharashtra government renamed Aurangabad city as Shambhaji Nagar
Subject :History
Section: Art and Culture
Context:
The government also renamed Osmanabad city — which is named after the last ruler of Hyderabad, Mir Osman Ali Khan — as Dharashiv.
Concept:
Auranagabad
Aurangabad was founded in 1610 by Malik Ambar, the Siddi general of the Nizamshahi dynasty of Ahmednagar.
The city was named Khirki or Khadki at the time, and its name was changed to Fatehpur by Malik Ambar's son Fateh Khan following Malik Ambar's death in 1626.
In 1653, the Mughal Emperor Aurangzeb invaded the Deccan and set up his capital in the city, which he renamed Aurangabad.
The city has borne the association of its name with Aurangzeb ever since.
ChhattrapatiSambhaji Maharaj, the son and successor of Chhattrapati Shivaji Maharaj, was tortured and killed in brutal fashion on Aurangzeb's orders in 1689.
Dharashiv Caves
There are two groups of rock-cut caves in Osmanabad city, the first is Chamar rock-cut caves and the other is the Dharashiv Rock-cut caves
Chamar Caves are two km away from the city. There are two caves dedicated to Hinduism. According to Burgess, these are dated to the 6th century CE.
Dharashiv Caves are 6 in number, out of the four are ofJainas and two of Vaishnava caves. According to scholars these caves dated to the 6th to 8th century CE.
9. Twitter will lose its intermediary status if it does not comply with the new IT rules
Subject :Science and Tech
Section : Awareness in the field of IT
This is due to "repeated failures to act on the content take-down notices sent under Section 69 A of the IT Act".
All intermediaries that operate in India have to follow the IT Rules in letter and spirit.
What is an intermediary?
The amended IT Rules have granted social media platforms the tag of intermediaries.
These companies must appoint a compliance officer responsible for ensuring compliance with the IT Rules.
In addition, the intermediaries must take down posts for which a notice has been received within 24 hours.
If the company loses its intermediary status, it will be equally responsible for unlawful content posted on its platform as the person who has posted it.
10. CAPSTONE- NASA's new satellite
Subject :Science and Tech
Section :Space
Context:
NASA launched CAPSTONE, a microwave oven-sized CubeSat weighing just 55 pounds (25 kg).
What is CAPSTONE?
CAPSTONE, short for Cislunar Autonomous Positioning System Technology Operations and Navigation Experiment, is designed to test a unique, elliptical lunar orbit.
The satellite, launched on Rocket Lab's Electron rocket from the Rocket Lab Launch Complex 1, is heading toward an orbit intended in the future for Gateway, a Moon-orbiting outpost that is part of NASA's Artemis program.
As a pathfinder for Gateway, CAPSTONE aims to help reduce risk for future spacecraft by validating innovative navigation technologies, and by verifying the dynamics of the halo-shaped orbit.
The orbit is known as a near-rectilinear halo orbit (NRHO). It is significantly elongated, and is located at a precise balance point in the gravities of Earth and the Moon. This offers stability for long-term missions like Gateway, NASA said on its website.
At the Moon, CAPSTONE will enter NRHO, where it will fly within 1,600 km of the Moon's North Pole on its near pass and 70,000 km from the South Pole at its farthest. The spacecraft will repeat the cycle every six-and-a-half days and maintain this orbit for at least six months to study dynamics.
CAPSTONE will gain experience with small dedicated launches of CubeSats beyond low-Earth orbit, to the Moon, and beyond.
The spacecraft is currently in low-Earth orbit. It is attached to Rocket Lab's Lunar Photon.
11. Dutch farmers protesting over emissions
Subject :Environment
Section :climate Change
Context:
Farmers protested around the Netherlands as lawmakers voted Tuesday on proposals to slash emissions of damaging pollutants, a plan that will likely force farmers to cut their livestock herds or stop work altogether.
Why are Dutch farmers protesting over emissions?
Farmers argue that they are being unfairly targeted as polluters while other industries, such as aviation, construction and transport, also are contributing to emissions and face less far-reaching rules.
They say the government is not giving them a clear picture of their futures amid the proposed reforms.
What are the nature areas that are threatened?
The government has published a map with reduction targets across the country based on proximity to areas designated as part of the EU's Natura 2000 network of vulnerable and endangered plant and animal habitats.
There are Natura 2000 sites across the 27 member states, covering 18% of the bloc's land area and 8% of its marine territory.
The European Commission says conservation and sustainable use of Natura 200 areas is "largely centered on people working with nature rather than against it. 
Member States must ensure that the sites are managed in a sustainable manner, both ecologically and economically."
12. Bandhwari Landfill Harming Aravalli Forest
Subject :Environment
Section :Pollution
Context:
Bandhwari Landfill Harming Aravali Forest, Poisoning Groundwater in NCR.
Bandhwari Landfill and Aravalli forests
The Aravalli forests and the hills surrounding India's National Capital Region are home to many leopards, nilgais, jackals, civet cats, reptiles, birds, and other wildlife.
They are also the biggest source of recharge for Delhi-NCR's groundwater and have the potential to push 2 million litres of water per hectare into the ground every year.
For the water-starved areas of Gurugram, Faridabad, Delhi, and the rest of NCR where groundwater levels are falling dangerously low, the Aravallis are a lifeline.
But unfortunately, the existence of the Bandhwari landfill in the middle of the eco-sensitive Aravallis is poisoning this lifeline, affecting the water security of millions of people living in the NCR.
Bandhwari Landfill:
Bandhwari is one of the biggest landfills in north India.
Hundreds of trees have been cut down to accommodate the noxious 2,000 tonnes of unsegregated waste that comes in daily from the two most populous cities of Haryana – Gurugram and Faridabad.
Not only is this causing a massive amount of pollution, it is also affecting the ecologically sensitive Aravalli range.
Of the 30 acres of Aravalli land being used as a landfill, 14.86 acres is under the Aravalli Plantation Project, which as per earlier Supreme Court orders, gives the land legal "forest status" with protection under the Forest Conservation Act, 1980.
The landfill was also established on an abandoned 250 feet deep mining pit which is very close to the ground water aquifer. The site is also close the last remaining patch of native Aravalli forest, a sacred grove for locals.
Underground water and water sources around the area have also been contaminated due to the toxic leachates releasing from the landfill.
The Bandhwari landfill is estimated to have about 35 lakh tonnes of untreated, mixed waste that has accumulated over 12 years. It is affecting wildlife, soil, water and humans all around it.
13. The legend and significance of the Amarnath Yatra
Subject: Geography
Section :Mapping
Context:
After a hiatus of two long years due to the COVID-19 pandemic, the Amarnath Yatra in South Kashmir will begin from 30 June.
What is the legend behind Amarnath yatra?
The annual yatra to the shrine of Lord Shiva in the Himalayas is among the most revered Hindu pilgrimages as hundreds of devotees take up the arduous journey each year.
According to legend, the Amarnath cave was chosen by Lord Shiva when he decided to tell his consort Parvati the secret of his immortality (Amar Katha).
Located at the altitude of 3,888 metres above the sea level, the cave is only accessible by foot or on a pony through a steep path in Sonmarg in Kashmir.
To reach the shrine, pilgrims have to travel 46 km from Pahalgam or 16 km from Baltal.
As per the lore, a Muslim shepherd named Buta Malik had accidently discovered the cave in 1850. It is said that Malik was herding his animals high up in the mountains, when a Sufi saint gave him a bagful of coal.
Back home, when Malik opened the bag he found it to be full of gold. The ecstatic shepherd returned to the spot to thank the saint, but he could not find anyone. He instead found the ice lingam in the cave.
The ice lingam represents Lord Shiva and is formed by a trickle of water from a cleft in the roof of the cave.
The Shivling reaches its full shape in May every year, before beginning to melt again. By August, it is only a few feet in height.
Two smaller ice shapes near the Shivling represent Parvati and Lord Ganesh.
Security threats and natural calamities
The geographic location of the Amarnath cave shrine in South Kashmir makes it vulnerable to terror attacks.
Apart from terror attacks, natural tragedies have also claimed the lives of pilgrims.
Subject :Science and Technology
Section :Biotechnology
Context:
The country's first home-grown mRNA Covid-19 vaccine — GEMCOVAC-19 — developed at Pune's Gennova Biopharmaceuticals has got a 'restricted emergency use' nod for the 18-and-above age group.
mRNA working:
As the Covid-19 pandemic spread, an mRNA vaccine candidate was the first to enter human trials globally. The first two vaccines that were made available for use in the US were based on mRNA technology.
Unlike vaccines that put a weakened or inactivated virus in our body to activate an immune response, these two Covid-19 vaccines (Pfizer-BioNTech and Moderna) used messenger RNA or mRNA to deliver a message to our immune system.
Basically, the technology uses genetically engineered mRNA to instruct cells to make the S-protein found on the surface of the Covid-19 virus.
According to reports from US-based Mayo Clinic, after vaccination, the muscle cells begin making S-protein pieces and displaying them on cell surfaces. This causes the body to create antibodies.
But these vaccines have to be stored at sub-zero temperatures as mRNA is fragile and breaks down easily.
Thermostable vaccine
"Unlike in the West, where the vaccine has to be stored at sub-zero temperatures, the challenge in India was to be able to store the vaccine between 2-8 degree Celsius.
Gennova had to innovate to suit Indian local needs as to what is affordable and deployable. GEMCOVAC-19 can now be stored at the temperature of a standard medical refrigerator.
However, just removing water by Lyophilisation of the mRNA vaccine does not work. So, the surrounding pressure has to be tweaked and then kept stable to ensure the characteristics of the vaccine are the same as before Lyophilisation.
For this to be achieved, the key was to add an external agent which at a certain critical concentration keeps it stable under lyophilized conditions. The Lyophilisation technology is not new, but a lyophilized mRNA vaccine is unique.
15. Global attention on moratorium on deep-sea mining
Subject : Geography
Section: Economic Geography
Context: As the UN Ocean Conference gets underway and the global attention turns towards the ocean, political resistance to the emerging deep-sea mining industry gains traction
What is Dee sea mining?
It is the extraction of valuable metals and minerals by stripping away wide swaths of the deep ocean floor using robotic cutting machines.
What will be mined?
Nickel, copper, cobalt, manganese, zinc, gold and other rare-earth metals and minerals, much of which are used in electronics
Natural hydrothermal geysers on the deep ocean floor regularly vent rich concentrations of metals and minerals from the earth's core, forming valuable seams on the ocean floor that can yield up to 10 times the precious metals as in comparable land-based mining
Polymetallic nodules
Polymetallic nodules (also known as manganese nodules) are potato-shaped, largely porous nodules found in abundance carpeting the sea floor of world oceans in deep sea.
Composition: Besides manganese and iron, they contain nickel, copper, cobalt, lead, molybdenum, cadmium, vanadium, titanium, of which nickel, cobalt and copper are considered to be of economic and strategic importance.
Main environmental impact of Deep sea Mining:
Destruction of natural land forms and the wildlife they host, compaction of the sea floor
Creation of sediment plumes that disrupt aquatic life
Nearby impacts include noise, electromagnetic effects, disruption of the larval supply, contamination and fluid flow changes
Deep-water mining will alter the geochemical underpinnings of ocean life, cause the loss of important genetic resources,
The difficult of deep-sea mining operations also make accidents, pollution and contamination likely
United Nations Convention on the Law of the Sea (UNCLOS), 1982:
It also called the Law of the Sea Convention or the Law of the Sea Treaty
It is an international agreement that establishes the legal framework for marine and maritime activities
It divides marine areas into five main zones namely- Internal Waters, Territorial Sea, Contiguous Zone, Exclusive Economic Zone (EEZ) and the High Seas
UNCLOS does not deal with matters of territorial disputes or to resolve issues of sovereignty, as that field is governed by rules of customary international law on the acquisition and loss of territory
The United Nations Sustainable Development Goal 14 has a target regarding conservative and sustainable use of oceans and their resources in line with UNCLOS legal framework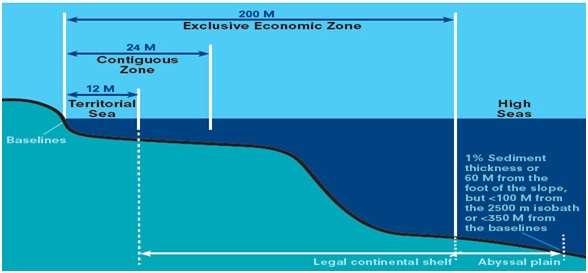 International Seabed Authority:
It is an autonomous international organization established under the 1982 United Nations Convention on the Law of the Sea (UNCLOS)
ISA  is the organization through which States Parties to UNCLOS organize and control all mineral-resources-related activities in the Area for the benefit of mankind as a whole
ISA which has its headquarters in Kingston, Jamaica, came into existence on 16 November 1994, upon the entry into force of UNCLOS
All States Parties to UNCLOS are ipso factomembers of ISA. As of 2020, ISA has 168 members, including 167 member States and the European Union
India is a member to the ISA
16. Uddhav resigns after SC denies stay on floor test
Subject : Polity
Section:Executive
Context: Embattled Maharashtra Chief Minister announced his resignation from the post on Wednesday, moments after the Supreme Court refused to stay Governor Bhagat Singh Koshyari's direction to the Maha Vikas Aghadi (MVA) government to take a floor test in the Assembly.
What is a floor test?
Floor test or a "No Confidence Motion" is always conducted on the floor of the House to check if the government of the day, i.e. the Executive, shares the confidence of at least 51% of the members present in the House, i.e the Legislature
While the constitution does not mandate a political party to have an absolute majority for forming the government, the ministers forming the executive must enjoy the confidence of the legislature, which represents the will of the public
In cases where this majority is questioned, the leader of the House needs to prove the majority by undergoing a trust vote.
If the leader fails to do so, he/she is bound to resign from the position, thereby leading to the dissolution of the entire House.
The trust vote or the floor test can be initiated both, at the Central, as well as state levels.
Under Article 164 of the Indian constitution, "the council of ministers shall be collectively responsible to the Legislative Assembly of the State."
A no-confidence motion can be passed in the Lower Houses only — Lok Sabha and VidhanSabhas
How is a 'no-confidence motion' moved?
The process is explained under rule 198 of the Lok Sabha. Though there is no mention of the term 'No confidence motion' or 'floor test' in the Constitution
Articles 75 and 164 do mention that the executive — both at the Centre and state — is collectively responsible to their respective legislatures.
Any member from the Opposition can move the no-confidence motion against the ruling government
The motion has to receive the backing of at least 50 members before it is accepted and subsequently, a date for the discussion of the motion is announced by the Speaker, which has to be within 10 days from the date of acceptance.
17. No clarity on GST compensation to States as Council meet ends
Subject : Economy
Section: Fiscal Policy
Context: GST council meet
Concept:
As per Section 18 of the Constitution (101st) Act, 2016, Parliament shall, by law, on the recommendation of the GST Council, provide for compensation to States for loss of revenue arising on account of implementation of the GST for five years from the date of its implementation. During the transition period, the States' revenue is protected at 14 per cent per annum over the base year revenue of 2015-16.
Non-BJP ruled states such as Chhattisgarh want the compensation regime to be extended or the share of states in the GST revenues be increased to 70-80 per cent from the current 50 per cent.
Subject : Economy
Section: Fiscal Policy
Context:
FM told the press that the Council took up reports by the four Groups of Ministers. The recommendations on doing away exemptions and the inverted duty structure (a higher rate on inputs and a lower levy on finished products) by the GoMon rate rationalisation, e-way bill requirement for intra-State movement of gold and other precious metals by the second GoM, and IT reforms by the third GoM were accepted.
The GoM on online gaming, casinos and horse racing has been given 15 days to come out with further clarity. The Council decided to set up a GoM on the constitution of a GST Appellate Tribunal. The next meeting of the GST Council is scheduled for the first week of August at Madurai and will take up the two GoM reports, one on online gaming, casinos and horse racing, and the other on tribunal
GST to be levied on pre-packed, pre-labelled curd, lassi and butter milk, paneer, natural honey, fish & meat (except frozen), certain kinds of vegetables, barley, oats, maize, millets, corn flour, jaggery, puffed rice, parched paddy
With inverted duty structure corrected, GST rate to go up
E-waste: 18% from 5%
Printing, writing ink: 18% from 12%
Knives, spoons, forks: 18% from 12%
LED lamps, lights, fixtures: 18% from 12%
Solar water heater: 12% from 5%
Finished leather: 12% from 5%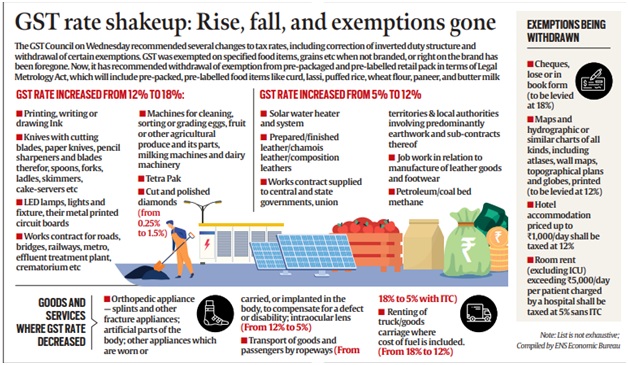 Subject :Economy
Section :External Sector
Context:
The rupee plunged to a new low past 79 against the dollar on persistent demand for the U.S. currency, from oil refiners needing to settle their rising crude import bills, and foreign portfolio investors who continue to withdraw capital from Indian equity and debt
Content:
Causes for fall of rupee:
FPI pull out
Strengthening of dollar
Rising crude prices
Deteriorating trade balance
20. 'Heal in India' & 'Heal by India' initiatives
Subject: Governance
Section: Scheme
Context:
GOI is committed to make  India a Global Medical Value Hub by further strengthening our traditional medicine industry and boosting 'Heal in India' & 'Heal by India' initiatives
Heal in India and Heal by India.
Heal in India: to promote India's medical facilities and infrastructure packages for foreign nationals.
Heal by India: India medical professionals can be used to serve not just our country but at the global level.
Subject: Geography
Section: Mapping
Context: NATO Secretary-General announced the signing of a memorandum of understanding (MoU) between Turkey, Finland and Sweden in a trilateral meeting held in Madrid, Spain.
Concept:
Russia shares a 1,340-kilometre-long border with Finland.
Sweden, though it does not share a land border, shares the Baltic Sea with Russia.
The land/sea borders with Russia place both countries under direct threat from the Kremlin.
To know about NATO Membership, refer: https://optimizeias.com/nato-new-membership/ and https://optimizeias.com/finland-is-on-the-cusp-of-joining-nato-while-sweden-is-on-the-verge-of-following-suit/
22. Attorney General (AG) tenure extended
Subject :Polity
Section :Legislature
Context:
The Union government has extended the tenure of senior advocate KK Venugopal as the Attorney General (AG) for three more months.
Concept :
Article 76 of the Constitution of India provides for the office of the Attorney General for India.
He is the highest law officer in the country.
Appointment and Term of Attorney General of India
He is appointed by the president.
He must be a person who is qualified to be appointed a judge of the Supreme Court.
It implies that he must be a citizen of India and he must have been a judge of some high court for five years or an advocate of some high court for ten years or an eminent jurist.
The term of office of the AG is not fixed by the Constitution.
The Constitution does not contain the procedure and grounds for his removal.
He holds office during the pleasure of the president which means that he may be removed by the president at any time.
He resigns when the government (council of ministers) resigns or is replaced, as he is appointed on its advice.
Duties and Functions of Attorney General of India
To give advice to the Government of India upon such legal matters, which are referred to him by the president;
To perform such other duties of a legal character which are assigned to him by the president; and
To discharge the functions conferred on him by the Constitution or any other law
The president has assigned the following duties to the AG:
To appear on behalf of the Government of India in all cases in the Supreme Court in which the Government of India is concerned.
To represent the Government of India in any reference made by the president to the Supreme Court under Article 143 of the Constitution.