Daily Prelims Notes 7 November 2022
November 7, 2022

Posted by:

OptimizeIAS Team

Category:

DPN

Daily Prelims Notes
7 November 2022
Table Of Contents
Subject: Economy
Context:
The Reserve Bank of India (RBI) withdrew $66.73 billion from overseas during the six-month period ended September 2022 according to the RBI's half-yearly report on 'Management of foreign exchange reserves'.
Details of the Report:
As of September 2022, out of the total foreign currency assets of $472.81 billion:

$361.84 billion was invested in securities,
$81.64 billion was deposited with other central banks and the BIS
$29.33 billion comprised deposits with commercial banks overseas.

The RBI pulled out $58.9 billion from its deposits in other central banks and Bank of International Settlements.
India's deposits in other overseas commercial banks also declined by $7.83 billion to $29.32 billion.
The share of gold in the total foreign exchange reserves increased marginally from about 7.01 per cent as at end-March 2022 to about 7.06 per cent as at end-September 2022.
Foreign exchange reserves cover of imports declined to 10.4 months in June 2022.
The ratio of short-term debt (original maturity) to reserves increased to 22.0 per cent at end-June 2022.
The ratio of volatile capital flows to reserves increased to 67.6 percent at end-June 2022.
Why withdraw overseas deposits?
To appreciate the rupee which has been under pressure due to the appreciation of the dollar.

It will increase domestic supply of dollars relative to the rupee thus appreciate the rupee.
Concept
Forex management:
The Reserve Bank of India, is the custodian of the country's foreign exchange reserves and is vested with the responsibility of managing their investment.

The legal provisions governing management of foreign exchange reserves are laid down in the Reserve Bank of India Act, 1934.

The Reserve Bank of India Act permits the Reserve Bank to invest the reserves in the following types of instruments:

Deposits with Bank for International Settlements and other central banks
Deposits with foreign commercial banks
Debt instruments representing sovereign or sovereign-guaranteed liability of not more than 10 years of residual maturity
Other instruments and institutions as approved by the Central Board of the Reserve Bank in accordance with the provisions of the Act

The central bank has the mandate to invest up to $5 billion in the bonds issued by the India Infrastructure Finance Company (UK) Limited.

Certain types of derivatives
The foreign currency assets
It comprises multi-currency assets that are held in multi-asset portfolios as per the existing norms, which conform to the best international practices followed in this regard.
According to the RBI, except fixed deposits with the BIS, commercial banks overseas, central banks and securities issued by supranationals, almost all other types of investments are highly liquid instruments which could be converted into cash at short notice.
The Reserve Bank closely monitors the portion of the reserves, which could be converted into cash at a very short notice, to meet any unforeseen/ emergency needs
2. US Fed Monetary Policy and Recession
Subject: Economy
Context:
Why is the US central bank forcing its economy into recession?
Details:
The US has been facing historically high inflation rates even though its unemployment rate is at historic lows. What complicates the matter is that the actions of the US central bank — the Federal Reserve (or Fed) — threaten to push the world's largest economy into a recession.

The Fed has been aggressively raising interest rates since the start of 2022.
Concept
Recession:
Technically, a recession involves the overall output in the economy contracting in two successive quarters but broadly speaking it refers to a prolonged period of economic contraction coupled with job losses, falling incomes and reduced expenditures.
What is the Federal Funds Rate (FFR) and how does the US Fed tweak it?
The FFR is the interest rate at which commercial banks in the US borrow from each other overnight.
The Fed Reserve tries to "target" the FFR by controlling the money supply, unlike in India, where the RBI decides what the repo rate.
If the Fed wants to raise the prevailing interest rates in the US economy, it reduces the money supply. This forces every bank in the economy to charge higher interest rates.

The process starts with commercial banks charging higher interest rates to lend to each other for overnight loans.
If banks borrow at higher rates from each other, they will also lend the money to consumers at a higher rate.
How will increasing the interest rate cause recession?
To control rising inflation the Fed is raising interest rates sharply- it makes people postpone their purchases and instead incentivises them to keep their money in banks to earn better returns.

The reduced demand results in fewer jobs, a fall in incomes and reduced overall output

Restoring price stability is essential to set the stage for achieving maximum employment and stable prices in the longer run.
Unless inflation falls rapidly, the Fed will likely continue to hike the FFR for the next few months– exacerbating the chances of the economy going into recession.
How does raising the interest rate tackle inflation?
Reduce Aggregate Demand-US is growing rapidly post pandemic-a genuine "V-shaped" recovery. Higher interest rates tend to tamp down such excessive demand by increasing cost of borrowing.
Keep longer-term inflation expectations anchored- ie people don't lose faith that prices will remain stable.
 If people stop believing that inflation will, at least in the medium term, come back to the 2% target, then they will ask for higher wages and employers (firm owners) raising prices to pay higher wages causing the wage-price spiral.
Subject: Economy
Context
A new word, 'polycrisis', has entered the academic and policy lexicon to describe the multiple anxieties that have enveloped the world over the past 30 months.
Concept:
Polycrisis:
It was first used by former European Commission president Jean-Claude Junker to describe Europe's combustible situation in 2016 which combined indebtedness with Brexit, climate change and a refugee crisis.
Economic historian and Columbia University professor Adam Tooze has been popularizing the term 'polycrisis' according to whom–

"Polycrisis is not just a situation where you face multiple crises. It is a situation where the whole is even more dangerous than the sum of the parts."
A global polycrisis occurs when crises in multiple global systems become causally entangled in ways that significantly degrade humanity's prospects. These interacting crises produce harms greater than the sum of those the crises would produce in isolation, were their host systems not so deeply interconnected.

The interesting thing about polycrisis is perhaps its dualistic structure: a set of common crises which afflicts the world today with an additional layer unique to each country or region.

For example-EU–everything else remaining the same, the region faces an urgent energy crisis. government.
India–Apart from the global factors that have adversely affected inflation, interest rates and currency values, India will have to address a unique set of challenges in the domestic economy–growing joblessness, a relatively stagnant economy and heightened sectarian tensions.

Interconnected Stressors-Multiple anxieties that have enveloped the world over the past 30 months:

Climate change to aggravating all the above problems
Global lockdowns breaking down well-established supply chains
Raised protectionist walls higher, putting global trade and globalization in jeopardy
Russia-Ukraine crisis causing deep geopolitical crisis including re-ignition of nuclear threats, indebtedness of poor nations for energy and foodgrains
Slow burn USA-China cold war
Inflationary trends causing central banks increasing interest rates
Further dampening business sentiments and economic growth prospects
Subject: Environment
Context:  Increasing smog in Delhi
The word smog is derived from smoke and fog. This is the most common example of air pollution that occurs in many cities throughout the world. There are two types of smog:
(a) Classical smog occurs in cool humid climate. It is a mixture of smoke, fog and sulphur dioxide. Chemically it is a reducing mixture and so it is also called as reducing smog.
(b) Photochemical smog occurs in warm, dry and sunny climate. The main components of the photochemical smog result from the action of sunlight on unsaturated hydrocarbons and nitrogen oxides produced by automobiles and factories. Photochemical smog has high concentration of oxidising agents and is, therefore, called as oxidising smog.
Formation of photochemical smog
When fossil fuels are burnt, a variety of pollutants are emitted into the earth's troposphere. Two of the pollutants that are emitted are hydrocarbons (unburnt fuels) and nitric oxide (NO). When these pollutants build up to sufficiently high levels, a chain reaction occurs from their interaction with sunlight in which NO is converted into nitrogen dioxide (NO2). This NO2 in turn absorbs energy from sunlight and breaks up into nitric oxide and free oxygen atom.

Oxygen atoms are very reactive and combine with the O2 in air to produce ozone.
The ozone formed in the above reaction (ii) reacts rapidly with the NO(g) formed in the reaction (i) to regenerate NO2. NO2 is a brown gas and at sufficiently high levels can contribute to haze.
Ozone is a toxic gas and both NO2 and O3 are strong oxidising agents and can react with the unburnt hydrocarbons in the polluted air to produce chemicals such as formaldehyde, acrolein and peroxyacetyl nitrate (PAN).
Effects of photochemical smog
The common components of photochemical smog are ozone, nitric oxide, acrolein, formaldehyde and peroxyacetyl nitrate (PAN). Photochemical smog causes serious health problems. Both ozone and PAN act as powerful eye irritants. Ozone and nitric oxide irritate the nose and throat and their high concentration causes headache, chest pain, dryness of the throat, cough and difficulty in breathing. Photochemical smog leads to cracking of rubber and extensive damage to plant life. It also causes corrosion of metals, stones, building materials, rubber and painted surfaces.
How can photochemical smog be controlled?
Many techniques are used to control or reduce the formation of photochemical smog. If we control the primary precursors of photochemical smog, such as NO2 and hydrocarbons, the secondary precursors such as ozone and PAN, the photochemical smog will automatically be reduced. Usually catalytic converters are used in the automobiles, which prevent the release of nitrogen oxide and hydrocarbons to the atmosphere. Certain plants e.g., Pinus, Juniparus, Quercus
Why more smog in winters?
Low temperature
Slow wind
Stubble Burning
Subject :Environment
Context: Smog tower in Delhi lowered PM 2.5 by 7-17%
The structure is 24 m high, about as much as an 8-storey building — an 18-metre concrete tower, topped by a 6-metre-high canopy. At its base are 40 fans, 10 on each side.
Each fan can discharge 25 cubic metres per second of air, adding up to 1,000 cubic metres per second for the tower as a whole. Inside the tower in two layers are 5,000 filters. The filters and fans have been imported from the United States.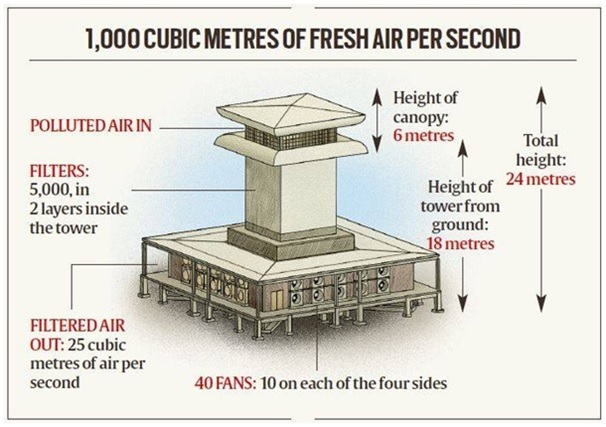 Smog tower: How it works
The tower uses a 'downdraft air cleaning system' developed by the University of Minnesota, said Anwar Ali Khan, senior environmental engineer, Delhi Pollution Control Committee, who was in charge of the project.
IIT-Bombay has collaborated with the American university to replicate the technology, which has been implemented by the commercial arm of Tata Projects Limited.
Polluted air is sucked in at a height of 24 m, and filtered air is released at the bottom of the tower, at a height of about 10 m from the ground. When the fans at the bottom of the tower operate, the negative pressure created sucks in air from the top. The 'macro' layer in the filter traps particles of 10 microns and larger, while the 'micro' layer filters smaller particles of around 0.3 microns.
The downdraft method is different from the system used in China, where a 60-metre smog tower in Xian city uses an 'updraft' system — air is sucked in from near the ground, and is propelled upwards by heating and convection. Filtered air is released at the top of the tower.
6. Graded Response Action Plan (GRAP)
Subject: Environment
Context:
Recently, with deteriorating Delhi's air quality to hazardous levels, measures under Stage 4 of the Graded Response Action Plan (GRAP) was invoked with immediate effect.
What is GRAP:
GRAP is a set of emergency measures that kick in to prevent further deterioration of air quality once it reaches a certain threshold in Delhi-NCR region.
It was approved by the Supreme Court in 2016 and was notified in 2017.
For the implementation of the plan, the Centre decided to set up the Commission for Air Quality Management (CAQM) in the National Capital Region and Adjoining Areas.
What are different stages of GRAP:
The GRAP are divided into four stages:
Stage 1– "poor"AQI of 201 and 300
Stage 2– "very poor"AQI of 301-400
Stage 3– "severe"AQI of 401-450
Stage 4– "severe plus"AQImore than 450.
What are restriction in different stages of GRAP:
Stage 1 of GRAP
Implementation of a ban on construction and demolition activities at specific sites.
Agencies should ensure that all solid waste is lifted from dedicated dump sites and that none is dumped on open land.
Imposition of severe fine on openly burning municipal solid trash and biomass.
Roads will occasionally be watered and mechanically cleaned.
The ban on firecrackers should be followed as per the directions of respective courts.
Thermal power plants must comply with emission norms.
Stage 2 of GRAP
Daily mechanized sweeping of roads.
Sprinkling water using dust suppressants will be done at least on alternate days.
Providing uninterrupted power supply to discontinue the use of generators.
Stage 3 of GRAP
Roads are cleaned more frequently.
Daily watering would take place before the peak hours.
To promote off-peak travel, authorities will impose varied fees on public transportation services.
All construction activities–aside from those already underway for projects involving railroads, metro systems, airports, and hospitals, will be strictly prohibited.
The State government would have the authority to imposelimits on light motor vehicles that use BS-III gasoline and BS-IV diesel.
Stage 4 of GRAP
All trucks, excluding those transporting necessities, will be prohibited from entering when the air quality reaches dangerous levels.
Diesel-powered four-wheel LMVs would also be prohibited, with the exception of those needed for vital or emergency services.
All construction and demolition activities would have to be
It may also be necessary to impose further emergency measures, such as closing schools, prohibiting non-emergency commercial activity, and driving on the odd-even schedule.
Who will implement and enforce the GRAP:
The Commission for Air Quality Management( CAQM) has constituted a sub-committee for the operationalization of the GRAP.
This body includes officials from the Commission for Air Quality Management (CAQM), member secretaries of pollution control boards of Uttar Pradesh, Delhi, Haryana, Rajasthan, the Central Pollution Control Board, a scientist from the IMD and one from the IITM and Health Advisor.
The sub-committee is required to meet frequently to issue orders to invoke the GRAP.
The orders and directions of the Commission for Air Quality Management (CAQM) will prevail in case of any conflict between directions issued by the State governments and the Commission for Air Quality Management (CAQM). 
How is GRAP different this year:
In the version of the GRAP that was notified in 2017, measures kicked in after pollution concentrations reached a certain level. This year, measures are pre-emptive and will kick in based on forecasts in an attempt to prevent the AQI from deteriorating further.
The older version of the GRAP was enforced based only on the concentration of PM2.5 and PM10. This year, GRAP is being enforced based on the AQI, which takes other pollutants also into account, such as ozone, sulphur dioxide and oxides of nitrogen.
For the first time, it specifies that State governments in the NCR may impose restrictions on BS-III petrol and BS-IV diesel four wheelersunder Stage-3, or when the AQI is likely to reach the 'severe' category.
In the 'severe +' category, GRAP imposes a ban on plying of four-wheelers in Delhi and NCR districts bordering Delhi, except for BS-VI vehicles and those plying for emergency or essential services.
Restrictions on some construction activities will also set in earlier in the revised GRAP.
A ban on construction activities except for those involving railways, projects of national security, hospitals, metro services, and linear public projects like highways, roads will be imposed under the 'severe' category.
In the previous plan, the construction ban was implemented only in the 'severe +' category.
7. China-Pakistan Economic Corridor (CPEC)
Subject :International Relations
Context:
External Affairs Minister S Jaishankar told the SCO Council of Heads of Government last week that connectivity projects should respect the sovereignty and territorial integrity of Member States and respect international law in reference to the so-called China-Pakistan Economic Corridor (CPEC)
What is CPEC:
CPEC is a 3,000-km long route of infrastructure projects connecting China's northwest Xinjiang Uygur Autonomous Region and the Gwadar Port in the western province of Balochistanin Pakistan.
It is a bilateral project between Pakistan and China, intended to promote connectivity across Pakistan with a network of highways, railways, and pipelines accompanied by energy, industrial, and other infrastructure development projects.
CPEC is a part of the Belt and Road Initiative.
The proposed projects in CPEC will be financed by heavily subsidised loans that will be disbursed to the Government of Pakistan by Chinese banks.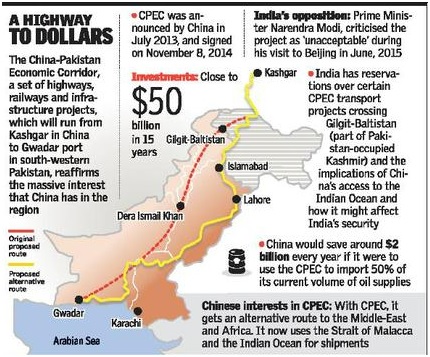 What is India's Stand on CPEC:
India has been severely critical of the CPEC, as it passes through Pakistan-occupied Kashmir, which is a disputed territory between India and Pakistan.
What is Border Road Initiative(BRI):
Belt & Road Initiative is an ambitious project that focuses on connectivity and cooperation among multiple countries spread across the continents of Asia, Africa, and Europe.
BRI was announced in the year 2013.
The project has a target completion date of 2049, which will coincide with the centennial anniversary of the People's Republic of China (PRC)'s founding.
The project involves building networks of roadways, railways, maritime ports, power grids, oil and gas pipelines, and associated infrastructure projects.
The project covers two parts.
Silk Road Economic Belt: It is land-based and is expected to connect China with Central Asia, Eastern Europe, and Western Europe.
21st Century Maritime Silk Road: It is sea-based and is expected to connect China's southern coast to the Mediterranean, Africa, South-East Asia, and Central Asia.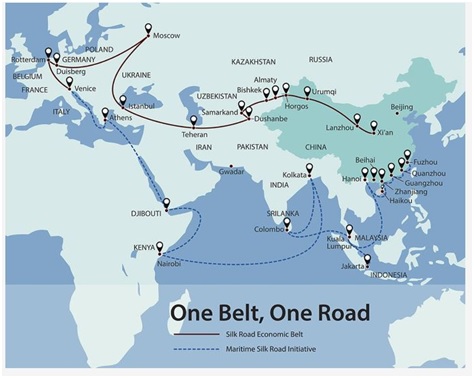 8. Election Commission proposal for reducing cash expenditure limit for candidates from ₹10,000 to ₹2,000
Subject : Polity
Context:
Recently the Election Commission has proposed reducing the amount a candidate contesting polls can pay in cash for campaign-related expenditure from the existing Rs 10,000 to Rs 2,000 to make their transactions more transparent.
What is the proposal of the Election Commission:
In the proposal submitted to the government recently, the poll panelrecommended that the Conduct of Election Rules should be amended to ensure that all cash payments in excess of ₹2,000 made to a person or entity for election-related expenses are made either through account payee cheques or online and digital means.
What was the method followed till now:
As of now, the candidates have to ensure that all payments in excess of ₹10,000 are made by cheque, draft or bank transfer through a bank account opened exclusively for the purpose of election expenditure.
Candidates have to open a separate bank account exclusively for election expenditure purposes, at least one day before filing of nomination.
Candidates also have to maintain day-to-day accounts, cash book and bank book from the date of filing of nomination to the date of declaration of results (both dates inclusive).
They have to include all expenses incurred on the date of filing of nomination as well.
A candidate has to submit the election expenditure account to the District Election Officer (DEO) within 30 days of the declaration of the poll results.
What is election expenditure limit and rules regarding it:
It is the amount an election candidate can legally spend for their election campaign and has to account for, which includes expenses on public meetings, rallies, advertisements, posters, banners, vehicles and advertisements.
The expenditure limit for candidates for Lok Sabha constituencies had been increased from Rs 54 lakh-Rs 70 lakh to Rs 70 lakh-Rs 95 lakh, the limit for Assembly constituencies was hiked from Rs 20 lakh-Rs 28 lakh to Rs 28 lakh- Rs 40 lakh.
Under Section 77 of the Representation of the People Act 1951, every candidate shall keep a separate and correct account of all expenditure incurred between the date on which they have been nominated and the date of declaration of the result and are required to submit their expenditure statement to the ECI within 30 days of the completion of the elections.
An incorrect account or expenditurebeyond the cap can lead to disqualification of the candidate by the ECI for up to three years, under Section 10A of RPA, 1951.
There is no cap on a political party's expenditure. However, all registered political parties have to submit a statement of their election expenditure to the ECI within 90 days of the completion of the elections.
9. Chinese rocket debris falls into the sea again — why does this happen?
Subject: Science and Technology
Context-
On Nov. 4, large fragments of China's Long March 5B rocket plunged uncontrolled into the south-central Pacific Ocean.
The fragments were stages of the rocket used to deliver the third and final module of the Tiangong space station.
How big the debris are:
One of the pieces was left over from the core stage of the rocket that was about 30 metres long and weighed between 17 and 23 tonnes.
How dangerous it can be-
Spain's air navigation authority shut down parts of its airspace for about 40 minutes in view of "the uncontrolled entry of remains from the Chinese space object CZ-5B in a descending orbit crossing our national territory".
The rocket stage did not by design have a system to ensure it fell in a designated place on Earth.
What is an Uncontrolled Re-entry?
Generally, the core or first stage of a rocket is made up of heavy pieces that usually don't reach orbit after liftoff, and fall back safely along a near-precise projected trajectory.
If they do enter an orbit, then a costly de-orbit manoeuvre is required for a steered, controlled return using engine burn.
Without a de-orbit manoeuvre, the orbital core stage makes an uncontrolled fall.
Earlier instances-
It was the fourth time something like this had happened with a Chinese rocket.
In May 2020, during the rocket's first deployment, fragments landed in Ivory Coast, causing some damage to buildings; debris from the second and third flights had plunged into the Indian Ocean and near the Philippines respectively.
A rocket of the same design is expected to be used again in 2023.
China's stand on this-
It says that the reentry of the last stage of a rocket is an international practice", and that the Long March 5B rockets are "designed with special technology; most of the components will burn up and be destroyed during the reentry process, and the probability of causing harm to aviation activities and on the ground is extremely low".
Are there laws regulating space junk?
Yes.
The Space Liability Convention of 1972.
It defines responsibility in case a space object causes harm.
The treaty says that a launching State shall be absolutely liable to pay compensation for damage caused by its space objects on the surface of the earth or to aircraft, and liable for damage due to its faults in space.
The Convention also provides for procedures for the settlement of claims for damages.
However, there is no law against space junk crashing back to earth.
In April this year, suspected debris from a Chinese rocket was found in two Maharashtra villages.
Cases of settlements
In 1979, the re-entry of NASA's 76-ton Skylab had scattered debris over uninhabited parts of Australia, and the space agency was fined $400 for littering by a local government.
The only settlement using the Liability Convention was between the erstwhile Soviet Union and Canada over the debris of Soviet Cosmos 954 falling in a barren region.
Canada was paid CAD 3 million in accordance with international law for cleaning up the mess.
Long March 5-
Long March 5 or Changzheng 5 (CZ-5), also by its nickname "Pang-Wu"( "Fat-Five"), is a Chinese heavy-lift launch vehicle developed by the China Academy of Launch Vehicle Technology (CALT).
It is the first Chinese launch vehicle designed to use exclusively non-hypergolic liquid propellants.
It is the fifth iteration of the Long March rocket family.
There are currently two CZ-5 variants:CZ-5 and CZ-5B (also called Long March 5B).
The maximum payload capacities are approximately 25,000 kg (55,000 lb) to low Earth orbit (for CZ-5B) and approximately 14,000 kg (31,000 lb) to geostationary transfer orbit (for CZ-5).
As of 2021, a 3-core human-rated variant, referred to as CZ-5G, designed for manned moon missions, is under development; this variant will be capable of launching a crewed spacecraft into lunar orbit.
China currently relies on the Long March 5B to carry its heaviest payloads to space.
The rocket has a big central booster and four smaller boosters on the side, which drop off sometime after lift-off.
The core booster stage, however, goes to orbit.
Tiangong Space Station-
The Tiangong space station is a Chinese space station being built in low Earth orbit between 340 and 450 kilometres above the earth.
It is part of China's Manned Space Program and is the country's first long-term space station.
China is going to operationalize its new Tiangong multi-module space station for at least ten years.
China launched an unmanned module named "Tianhe", or "Harmony of the Heavens" for its permanent space station in 2021.
Recently in Sept 2022, China launched another unmanned module names "Wentien", or "Heavenly Palace".
10. 2022 likely to be the fifth or sixth warmest year on record: World Meteorological Organization
Subject: Environment
Context-
Global mean temperatures for 2022 are currently estimated to be about 1.15 degree Celsius higher than pre-industrial times, a new assessment by the World Meteorological Organization (WMO) has said.
More on the news-
The widely acknowledged danger mark for temperature rise is considered to be 1.5 degrees Celsius from pre-industrial times, which is the average for the period 1850-1900.
The assessment is based on temperature data from January to September this year.
Data from the remaining three months might make the annual mean for 2022 slightly different from the 1.15 degree Celsius number, but the WMO said the year was still likely to end up being the fifth or sixth warmest year on record (since 1850).
Warmest year on record-
The warmest year on record so far has been 2016, when the global mean temperatures were measured to be about 1.28 degree Celsius higher than pre-industrial times.
This number for 2016 was earlier known to be 1.1 degree Celsius, but recently the WMO revised it upwards after taking into account the measurements of one more international dataset.
The estimate for 2022 is part of the provisional State of Global Climate Report that the WMOpublishes every year.
Prediction by the WM0-
In May this year, the WMO said there was a 50 per cent chance that the global temperatures would temporarily touch the 1.5 degree Celsius mark within the next five years (by 2026).
It also said it was almost certain (93 per cent likelihood) that one of these five years (till 2026) would end up being warmer than 2016, thus setting a new record.
The chance of temporarily exceeding 1.5 degrees Celsius has risen steadily since 2015 when it was close to zero.
For the years between 2017 and 2021, there was a 10 per cent chance of exceedance.
That probability has increased to nearly 50 per cent for the 2022-2026 period.
Dire consequences of rising temperatures-
The warming in 2022 so far has happened despite the presence of a prolonged La Nina (a cooling of sea-surface waters in the equatorial Pacific Ocean) which tends to temporarily cool down the earth a bit.
It also pointed out that the concentrations of three main greenhouse gases, carbon dioxide (CO2), methane (CH4) and Nitrous oxide (NO2), were all at record highs in 2021.
The emissions of methane, which is 25 times more potent than carbon dioxide in causing global warming have increased at the fastest pace ever.
Incidentally, just last year, at the climate change conference in Glasgow, countries had pledged to cut global methane emissions by at least 30 per cent by the year
The extent of the Arctic ice sheet had dropped to a record low in February this year, at nearly one million square km below the long-term mean.
Sea levels had risen about 10mm in just the last two years.
About the World Meteorological Organization (WMO)
The World Meteorological Organization (WMO) is an intergovernmental organization with a membership of 193 Member States and Territories. 
It originated from the International Meteorological Organization (IMO), the roots of which were planted at the 1873 Vienna International Meteorological Congress.
It is a specialized agency of the UN and is headquartered in Geneva.
It is responsible for promoting international cooperation in atmospheric science, climatology, hydrology and geophysics.
It facilitates the 'free and unrestricted exchange of data, information, and research between the respective meteorological and hydrological institutions of its members
The state of Global Climate Report is published by the WMO annually.
WMO in its State of Global Climate Report 2021, have said that the 4 key climate change indicators – greenhouse gas concentrations, sea level rise, ocean heat and ocean acidification – have set new records in 2021.
11. Study links PM 2.5 pollutants to anaemia prevalence
Subject : Science and Technology
Context-
Long-term exposure to fine airborne particulate matter — PM 2.5 pollutants — may increase the prevalence of anaemia among women of reproductive age through systemic inflammation, a study has found.
About the study-
The study was carried out by researchers from institutions and organisations in India, the US and China, including IIT-Delhi and IIT-Bombay.
Anaemia prevalence will fall from 53 per cent to 39.5 per cent if India meets its recent clean-air targets, taking 186 districts below the national target of 35 per cent.
India's anaemia prevalence among women of reproductive age (15-45 years) is among the highest in the world.
The findings state that for every ten microgram/cubic metre of air increase in ambient PM2.5 exposure, the average anaemia prevalence among such women increases by 7.23 per cent. The study suggests that the transition to clean energy would accelerate India's progress towards the 'anaemia-free' mission target.
Among PM 2.5 sources, sulphate and black carbon are more associated with anaemia than organics and dust.
Among sectoral contributors, the industry was the biggest followed by the unorganised sector, domestic sources, power sector, road dust, agricultural waste burning and transport sector.
About anaemia-
Anaemia, a major contributor to the global disease burden, is characterised by diminished blood haemoglobin concentration and is often accompanied by a decrease in red blood cells.
This results in a decrease in the oxygen-carrying capacity of the blood.
Women of reproductive age (WRA) may suffer from regular iron deficiency due to menstruation and therefore are particularly prone to develop anaemia (from mild to severe).
According to the World Health Organization (WHO), women in the reproductive age group and having haemoglobin levels lower than 12 grams per decilitre (g / dL), as well as children under five with haemoglobin levels lower than 11.0 g / dL are considered anaemic.
Causes of anaemia disease-
Dietary iron deficiency is another leading cause of anaemia.
Other contributing factors include genetic disorders, parasitic infections and inflammation from infections and chronic diseases.
Prevalence of anaemia in India-
Anaemia is highly prevalent in India.
The National Family and Health Survey 2015–2016 (NFHS-5) reported that 57% of WRA, 52.2% of the pregnant women and 67.1% of childrenunder five were anaemic.
The World Health Organization has set a global target to halve anaemia among women of reproductive age by 2053.
India's initiative-
India launched a programme under the POSHAN Abhiyaan aiming to make the country 'anaemia-free' and set a target of reducing anaemia in WRA to below 35% by 2022.
Because an iron-deficient diet is the primary cause of the large burden of anaemia, the Ministry of Health and Family Welfare is engaged in increasing the iron intake of the population.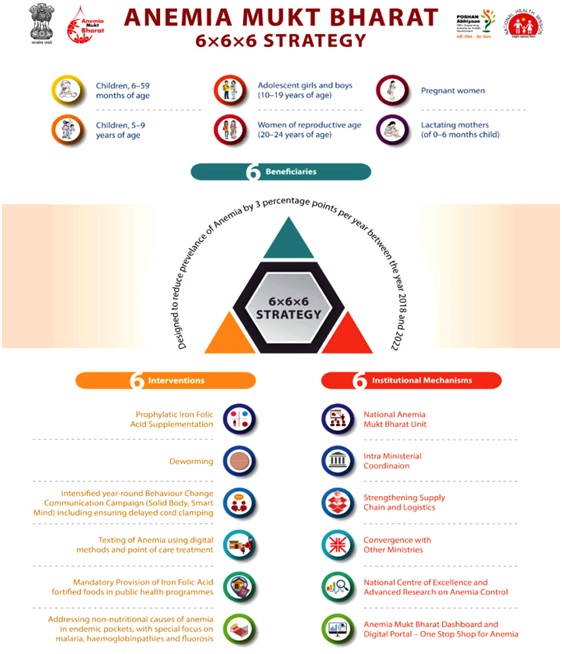 12. Verinag: A Spring in Kashmir
Subject: Geography
Verinag is the massive pond from where the great Jhelum River begins its long journey through the Valley, Pakistan and finally into the Arabian sea.
Location- Anantnag district of the UT of Jammu and Kashmir.
There is an octagonal stone basin at Verinag Spring and an arcade surrounding it which were built by Mughal emperor Jahangir in 1620 A.D.
Later, a beautiful garden next to this spring was laid out by his son Shah Jahan.
This spring is known to never dry up or overflow.
Verinag Spring is also the major source of river Jhelum.
Verinag Spring and Mughal Arcade surrounding it are officially recognized by the Archaeological Survey of India as a Monument of National Importance.
Jhelum river-
It originates at Verinag and flows through the Indian-administered territory of Jammu and Kashmir, to the Pakistani-administered territory of Kashmir, and then into the Pakistani province of Punjab.
It is the westernmost of the five rivers of the Punjab region, and flows through the Kashmir Valley.
It is a tributary of the Chenab River and has a total length of about 725 kilometres.
The river Jhelum is called Hydaspes by the ancient Greeks.
Monuments of National Importance–
Nodal Authority: Monuments of National Importance are designated by the Archaeological Survey of India (ASI).
What is a Ancient Monument?
'Ancient Monument' is defined under the Ancient Monument and Archaeological Sites and Remains Act,1958.
The Act defines Ancient Monument as any structure or monument or any cave, rock-sculpture, an inscription that is of historical, or archaeological interest. Further, Ancient Monument has to be in existence for not less than 100 years.
Maintained by: The Central Government is authorised to maintain, protect and promote Monuments of National Importance.
Sites: Currently, 3,691 monuments nationwide are protected by the Archaeological Survey of India(ASI).
The highest number of them were in Uttar Pradesh (745) followed by Karnataka (506) and Tamil Nadu (413).
13. COP27: 1st time, compensating poor nations for climate disasters on the table
Subject: Environment
Context-
In a big positive on the opening day of the climate change conference COP27 at Sharm El-sheikh, Egypt, negotiators agreed to discuss the creation of an international mechanism for compensating poor countries that suffer large-scale damage due to climate disasters.
What is loss and damage?
The Intergovernmental Panel for Climate Change (IPCC) has two definitions for 'loss and damage'.
The term 'losses and damages' refer to the economic and non-economic impacts of climate change, including extreme and slow onset events, in developing countries that are particularly vulnerable to the adverse effects of climate change.
It's destructive, irreversible, and cannot be addressed by mitigation and adaptation measures.
Loss and Damage (upper case), or L&D, is a "political debate under the United Nations Framework Convention on Climate Change (UNFCCC) following the establishment of the Warsaw Mechanism on L&D in 2013" to discuss losses and damages.
Loss and damage occur when the frequency and intensity of existing climate impacts increase to such an extent that countries and communities are not equipped to handle them.
Their capacity to prepare, cope, recover, recoup or rebuild is no longer there.
Where does the term 'L&D' come from?
L&D was brought up as a demand in 1991 by the island country of Vanuatu, which was representing the Alliance of Small Island States (AOSIS).
Thirty-one years and 26 COPs later, this demand has not been realised.
Since then, about 189 million people have suffered the effects of extreme weather-related events in developing countries, every year, according to The Cost of Delay, a report published in October 2022 by the climate advocacy group L&D Collaboration (L&DC).
Evolution of the Loss and Damage finance-
The demand for loss and damage finance is quite old, but it has faced strong resistance from the rich and developed countries.
The climate conference had, in 2013, set up the Warsaw International Mechanism (WIM)on Loss and Damages as a separate track to continue the discussions on this front. But the progress has been painfully slow.
The discussions under WIM so far have focused mainly on enhancing knowledge and strengthening dialogue.
No funding mechanism, or even a promise to provide funds, has come about.
At the COP26 in Glasgow, the G7, a coalition of 134 developing countries, and Chinaproposed the Loss and Damage Finance Facility (LDFF), a dedicated stream of finance to specifically address losses and damages, and as a result, a three-year task force was set up to discuss a funding arrangement for loss and damage.
At COP27 in Sharm El-Sheikh, it is finally included in the formal main agenda of the climate conference for the first time ever.
Reason for its inclusion-
The decision to include loss and damage in the main agenda comes in the wake of a series of unprecedented climate disasters this year — Europe's worst drought in 500 years, Pakistan's worst-ever flooding, extensive heat waves in several parts of the world.
Developed countries are decently well-equipped to deal with the consequences. But developing countries need financing, technology and support from developed countries for mitigation, adaptation and addressing loss and damage.
Discussions at COP27-
The presidency of the 27th Conference of Parties (COP27) to the United Nations Framework Convention on Climate Change (UNFCCC) said this year's meeting must be remembered as the 'Implementation COP'.

In other words, the developing world's first COP since Marrakesh in 2016 must implement the 'Paris Rulebook'.
The Rulebook is the guidelines that countries will use to plan, implement and finance climate actions under the 2015 Paris Agreement.

The required climate finance has been woefully inadequate until now, with a shortage of around $17 billion, according to an Organisation for Economic Cooperation and Development OECD report.
Subjects: Geography
Context: Anthropological Survey of India builds tribal hut replicas to promote unique heritage
Jarawa tribe –
The Jarawas (Jarawa: Aong, pronounced are an indigenous people of the Andaman Islands in India. They live in parts of South Andaman and Middle Andaman Islands, and their present numbers are estimated at between 250–400 individuals. They have largely shunned interaction with outsiders, and many particulars of their society, culture and traditions are poorly understood. They remain vulnerable to outside diseases to which they have little or no immunity.
Particularly Vulnerable Tribal Groups (PVTGs)
During the Fourth Five Year Plan,  asub-category was created within Scheduled Tribes to identify the most vulnerable groups which were considered to be at the lowest levels of development. Consequently, on the basis of the Dhebar Commission report, a criterion for identifying Particularly Vulnerable Tribal Groups was established as:
Pre-agricultural level of technology,
Low level of literacy,
Economic backwardness,
A declining or stagnant population.
PVTGs were formerly known as primitive tribal groups.
How many particularly vulnerable tribal groups are there?
As per Census 2011, there are a total of 75 PVTGs out of 705 Scheduled Tribes, spread over 17 states and one Union Territory (UT).
The categorization is done by the Ministry of Home Affairs and not by the Ministry of Tribal affairs.
As per census 2001:
There are 12 PVTGs having a population above 50,000.
The remaining groups have a population of 1000 or less.
The PVTG of Sahariyas has the highest population of 4,50,217.
PVTGs of Sentinelese and Andamanese have a very small population of 39 and 43, respectively.
Odisha has the highest number of PVTGs in India while no PVTGs are found in the states of Punjab and Haryana.
PVTG  of Andaman and nicobar islands – Great Andamanese, Jarawas, Onges, Sentinelese, Shorn Pens/ Shompen
Tribal culture and traditions
the traditional Jarawa hut, is called a chadda,
The Shompen hut contains a store of a paste made using the pandamus fruit which members of the tribe eat when there is shortage of food.
Dorla tribal community
a Dorla tribal community's home at Jagdalpur in Chhattisgarh. – Dorla, also called Dora are a tribal people community found mainly in Bastar area of central India. They are mainly found in Dantewada and Bijapur districts of present-day Chhattisgarh state.
They usually undertake agricultural activities and live simply in forested areas and mostly illiterate and have a strong belief in supernatural powers and witchcraft. They also worship native gods or goddess like Mutta-lamma, Gangamma, Gaman, Kiror etc. and follow Hindu tradition. They speak Dorli or Dorla language, which is a Dravidian language and a dialect of Koya language.
Betta Kuruba tribal community –
The Betta Kuruba (Betta meaning 'Hill', Kuruba meaning 'shepherd') tribe lives in the hilly regions of Karnataka and is one of the few indigenous communities of the Nilgiris.
Kurumbas are the least civilized group in the district and they mostly live in the hill slopes and feverish places. ( Alu Kurumba, Jenu Kurumba, Betta Kurumba, Urali Kurumba and Mullu Kurumba).
They are the various groups are generally believed to be the descendants of the Pallavas whose rule was at its grandest in the 7th century A.D Losing power to the Kongus and the Chalukyas, the Pallavas were finally driven out and dispersed by the Chola king
They settled in scattered settlements in the Nilgiris and Wayanad, Coorg and Mysore.
It is the Kurumas of the Nilgiris whom we say the
In many ethnographic accounts on the tribe, the numbers vary from as few as three to as many as seven.
Khasi  –
The Khasi people are an ethnic group of Meghalaya in north-eastern India with a significant population in the bordering state of Assam, and in certain parts of Bangladesh. The Khasi people form the majority of the population of the eastern part of Meghalaya, that is Khasi Hills, constituting 78.3% of the region's population, and is the state's largest community, with around 48% of the population of Meghalaya. They are among the few Austroasiatic-speaking peoples in South Asia. A cultural tradition of the Khasi people is that they follow the matrilineal system
Mawbynna or Mawnam' –
A memorial-stone, or monolith, of the kind found in Nartiang, Jaintia Hills; believed to have been erected by Khasi forefathers in the past to mark significant events, of historical-mythic importance to the Khasi-Jaintias
Anthropological Survey of India (AnSI)
Anthropological Survey of India (AnSI) is the apex Indian government organisation involved in anthropological studies and field data research for human and cultural aspects, working primarily in the fields of physical anthropology and cultural anthropology.
Anthropological Research in India was founded1945 in Varanasi and shifted to the Indian Museum at Calcutta in 1948.
Subject :Science and Technology
Context: The Falcon Heavy launch: the most powerful operational rocket in the world
What are the specifications of the Falcon Heavy rocket?
SpaceX claims Falcon Heavy to be the most powerful rocket in the world today by a factor of two. With a lifting capacity of around 64 metric tonnes into orbit, Falcon Heavy can lift more than twice the payload of the next closest operational vehicle, the Delta IV Heavy.
When was the Falcon Heavy last launched?
SpaceX last launched its Falcon Heavy rocket in June 2019 from NASA's Kennedy Space Center. It carried 24 satellites as part of the Department of Defense's Space Test Program-2.
What about the other launches of Falcon Heavy ?
The Falcon Heavy debuted in 2018 when SpaceX CEO Elon Musk sent his personal red Tesla Roadster, an electric sports car with a dummy driver, into space as a test payload.
geosynchronous orbit
There's a sweet spot above the Earth where a satellite can match the same rotation of the Earth. This special position in high Earth orbit is known as a geosynchronous orbit.
If you are an observer on the ground, you would see the satellite as if it's in a fixed position without movement.
This makes geosynchronous satellites particularly useful for telecommunications and other remote sensing applications.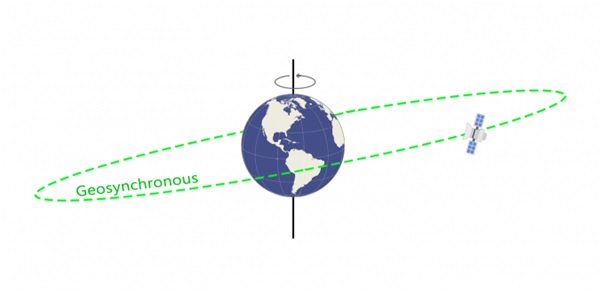 Geostationary Orbit
While geosynchronous satellites can have any inclination, the key difference from geostationary orbit is the fact that they lie on the same plane as the equator.
Geostationary orbits fall in the same category as geosynchronous orbits, but it's parked over the equator. This one special quality makes it unique from geosynchronous orbits.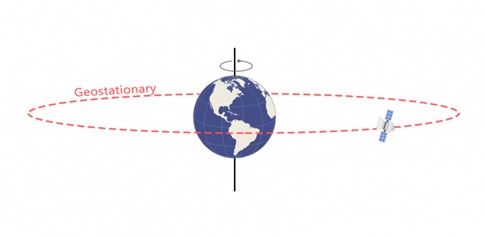 Weather monitoring satellites like GOES are in geostationary orbits because they have a constant view of the same area. In a high Earth orbit, it's also useful for search and rescue beacons.
Here's how both orbits compare: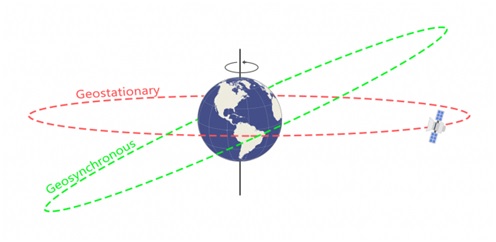 While the geostationary orbit lies on the same plane as the equator, the geosynchronous satellites have a different inclination. – This is the key difference between the two types of orbits.
Semi-Synchronous Orbit
Global Positioning System (GPS) satellites are in another sweet spot known as semi-synchronous orbits. While geosynchronous orbits match the rotation of Earth (24 hours), semi-synchronous orbits take 12 hours to complete an orbit.
Instead of 35,786 kilometers above the Earth's surface, semi-synchronous orbits are approximately 20,200 kilometers above the surface. This puts them in the medium Earth orbit range out of the three classes of orbits.
These orbits are close to zero in eccentricity, meaning they are near-circular. Eccentric orbits define how stretched orbits are. The closer eccentricity is to zero, the more the orbit closer to a circle. The closer to one, the orbit becomes longer and skinnier.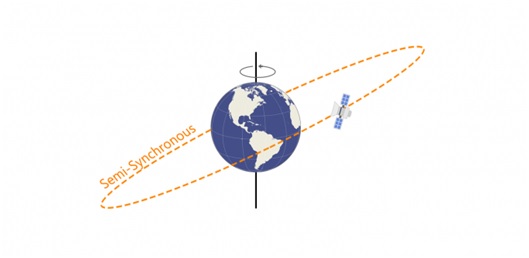 Subject :Science and Technology
Malaria is a disease caused by a parasite. The parasite is spread to humans through the bites of infected mosquitoes. People who have malaria usually feel very sick with a high fever and shaking chills.
While the disease is uncommon in temperate climates, malaria is still common in tropical and subtropical countries. Each year more than 400,000 people die of the disease.
Causes
Malaria is caused by a single-celled parasite of the genus plasmodium. The parasite is transmitted to humans most commonly through mosquito bites.
Mosquito transmission cycle
Uninfected mosquito. A mosquito becomes infected by feeding on a person who has malaria.
Transmission of parasite. If this mosquito bites you in the future, it can transmit malaria parasites to you.
In the liver. Once the parasites enter your body, they travel to your liver — where some types can lie dormant for as long as a year.
Into the bloodstream. When the parasites mature, they leave the liver and infect your red blood cells. This is when people typically develop malaria symptoms.
On to the next person. If an uninfected mosquito bites you at this point in the cycle, it will become infected with your malaria parasites and can spread them to the other people it bites.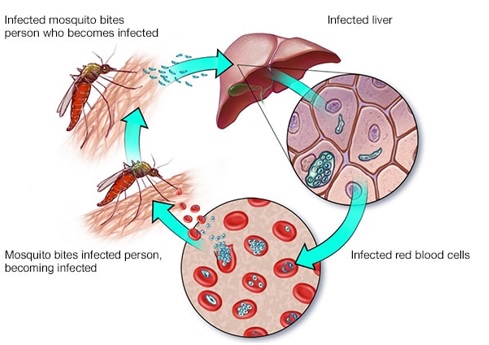 Malaria transmission cycle -crux
Malaria spreads when a mosquito becomes infected with the disease after biting an infected person, and the infected mosquito then bites a noninfected person. The malaria parasites enter that person's bloodstream and travel to the liver. When the parasites mature, they leave the liver and infect red blood cells.
17. The Snow Leopard Population Assessment of India (SPAI)
Subject: Environment
Context:
The first-ever recording of the snow leopard from the Baltal-Zojila region has renewed hopes for the elusive predator in the higher altitudes of Jammu and Kashmir and Ladakh. Camera trapping exercises by researchers from Nature Conservation Foundation by researchers from Nature Conservation Foundation(India), partnering with J&K's Department of Wildlife Protection, also raised hopes for other important and rare species such as the Asiatic ibex, brown bear and Kashmir musk deer in the upper reaches of the northern most part of India.
The Snow Leopard Population Assessment of India (SPAI) has been concluded so far in Himachal Pradesh and Uttarakhand. The estimated population of the great cat is 50 and100, respectively, in these two States,
Concept:
The Snow Leopard (also known as Ghost of the mountains) acts as an indicator of the health of the mountain ecosystem in which they live, due to their position as the top predator in the food web.
The Snow Leopard lives at high altitudes in the steep mountains of Central and Southern Asia, and in an extremely cold climate.
They inhabit the higher Himalayan and trans-Himalayan landscape in the states/union territories of Jammu and Kashmir, Himachal Pradesh, Uttarakhand, Sikkim, and Arunachal Pradesh.
India is a unique country to have a good presence of 5 big cats, including Snow Leopard. The other 4 are, Lion, Tiger, Common Leopard, and Clouded Leopard.
Snow Leopard capital of the world: Hemis, Ladakh.
Hemis National Park is the biggest national park of India and also has a good presence of Snow Leopard.
Threat: Factors that have contributed to the decline in the snow leopard populations include, reduction in prey populations, illegal poaching and increased human population infiltration into the species habitat and illegal trade of wildlife parts and products among others.
Protection:
IUCN Red List- Vulnerable
Convention on International Trade in Endangered Species (CITES)- Appendix I
Convention on Migratory Species (CMS)- Appendix I
Appendix I includes species threatened with extinction.
Indian Wildlife (Protection) Act 1972- Schedule I
Schedule I provides absolute protection and offences under this have the highest penalties.
Conservation Efforts Launched by India:
Himal Sanrakshak: It is a community volunteer programme, to protect snow leopards, launched on 23rd October 2020.
In 2019, First National Protocol was also launched on Snow Leopard Population Assessment which has been very useful for monitoring populations.
SECURE Himalaya: Global Environment Facility (GEF)-United Nations Development Programme (UNDP) funded the project on conservation of high altitude biodiversity and reducing the dependency of local communities on the natural ecosystem.
This project is now operational in four snow leopard range states, namely, Jammu and Kashmir, Himachal Pradesh, Uttarakhand, and Sikkim.
Project Snow Leopard (PSL) : It was launched in 2009 to promote an inclusive and participatory approach to conserve snow leopards and their habitat.
Snow Leopard is in the list of 21 critically endangered species for the recovery programme of the Ministry of Environment Forest & Climate Change.
Snow Leopard conservation breeding programme is undertaken at Padmaja Naidu Himalayan Zoological Park, Darjeeling, West Bengal