Daily Prelims Notes 2 July 2020
July 2, 2020

Posted by:

admin1

Category:

DPN

Table Of Contents
1. Pradhan Mantri Garib Kalyan Anna Yojana (PMGKAY)
Subject: Scheme
Context:
Prime minister has announced extension of PM Garib Kalyan Anna Yojana (PMGKAY) till the end of November which will cost over Rs 90 thousand crore for centre.
Concept:
Pradhan Mantri Garib Kalyan Anna Yojana aims at ensuring sufficient food the poor and needy during the coronavirus crisis.
Scheme covers 80 crore individuals, i.e, roughly two-thirds of India's population.
The existing National Food Security Act provides 5kg of foodgrain per person monthly at a subsidised rate of Rs 2-3 per kg to the country's poor.
Each one of them would be provided double of their current entitlement over next three months. This additionality would be free of cost.
To ensure adequate availability of protein to all, 1 kg per family, would be provided pulses according to regional preferences. These pulses would be provided free of cost by the Government of India.
2. Urban Forest
Subject: Environment
Context:
Urban Forest inaugurated at the Office of the Comptroller and Auditor General of India in New Delhi
Concept:
Urban forests are the lungs of the cities and act as an oxygen bank and Carbon Sink.
Miyawaki method of forest creation is employed which could help in reducing the temperature by as much as 14 degree & increase the moisture by more than 40%.
The Urban forest has an ecosystem which has the capacity to restore habitat for birds, bees, butterflies and micro fauna. These are essential for pollination of crops and fruits and to help maintain a balanced ecosystem.
On the occasion of World Environment Day this year, the government announced implementation of the Nagar van scheme to develop 200 Urban Forests across the country in next five years with a renewed focus on people's participation and collaboration between Forest Department, Municipal bodies, NGOs, Corporates and local citizens.
Miyawaki method
Miyawaki method is a method of urban afforestation by turning backyards into mini-forests.
3. Udyam registration portal for MSME
Subject:Economy
Context:
Udyam Registration Portal developed by Ministry of Micro, Small and Medium Enterprises has become operational.
Concept:
Features:
MSME registration process is fully online, paperless and based on self-declaration. No documents or proof are required to be uploaded for registering an MSME
A Registration number will be given after registration
After completion of the process of registration, an Udyam Registration Certificate will be issued This certificate will have a dynamic QR Code from which the web page on our Portal and details about the enterprise can be accessed.
PAN & GST linked details on investment and turnover of enterprises will be taken automatically from the respective Government data bases.
Benefits:
This process will be extremely simple, seamless entrepreneur friendly.
It will set an example in Ease of Doing Business, not only in India but internationally.
It will reduce transaction time and costs. Entrepreneurs and Enterprises can focus on their real work and become globally competitive.
Subject: Science and tech
Context:
In UP, five people were killed and one injured after being struck by lightning in the state.
Concept:
Lightning is an electrostatic discharge that releases tremendous amount of energy, with the rapid movement of electrons converting air to super heated plasma.
There are three categories of lightning
intracloud (IC), which is flashes within a cloud
cloud to cloud (CC), where lightning jumps from one cloud to another
cloud to ground (CG), where lightning strikes from the ground.
Mechanism
A fast, upward movement of air during a thunderstorm, called an updraft, carries with it warm humid air.
As it moves upward in the cloud, the falling temperature causes it to condense. Heat is generated in the process, which pushes the molecules of water further up.
As they move to temperatures below zero degrees celsius, the water droplets change into small ice crystals. They continue to move up, gathering mass — until they are so heavy that they start to fall to Earth.
This leads to a system in which, simultaneously, smaller ice crystals are moving up and bigger crystals are coming down.
Collisions follow, and trigger the release of electrons , a process that is very similar to the generation of sparks of electricity. As the moving free electrons cause more collisions and more electrons, a chain reaction ensues.
This process results in a situation in which the top layer of the cloud gets positively charged, while the middle layer is negatively charged.
The electrical potential difference between the two layers is huge of the order of a billion to 10 billion volts. In very little time, a massive current, of the order of 100,000 to a million amperes, starts to flow between the layers.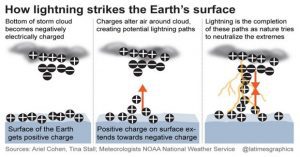 An enormous amount of heat is produced, and this leads to the heating of the air column between the two layers of the cloud. This heat gives the air column a reddish appearance during lightning. As the heated air column expands, it produces shock waves that result in thunder.
While the Earth is a good conductor of electricity, it is electrically neutral.
However, in comparison to the middle layer of the cloud, it becomes positively charged. As a result, about 15%-20% of the current gets directed towards the Earth as well. It is this flow of current that results in damage to life and property on Earth.
There is a greater probability of lightning striking tall objects such as trees, towers or buildings. Once it is about 80-100 m from the surface, lightning tends to change course towards these taller objects.
This happens because air is a poor conductor of electricity, and electrons that are travelling through air seek both a better conductor and the shortest route to the relatively positively charged Earth's surface.
The world's most electric place
The most lightning activity on Earth is seen on the shore of Lake Maracaibo in Venezuela
At the place where the Catatumbo river falls into Lake Maracaibo, an average 260 storm days occur every year, and October sees 28 lightning flashes every minute — a phenomenon referred to as the Beacon of Maracaibo or the Everlasting Storm.
Subject: Government bodies
Context:
The Environment Ministry has recently reconstituted the Central Zoo Authority.
Concept:
The CZA is a statutory body constituted under Wildlife protection act amended in 1992.
It is chaired by the Environment Minister
Apart from the chairman, it consists of 10 members and a member-secretary.
Almost all of them are officials in the Environment Ministry and non-government experts are those who are wildlife conservationists or retired forest officers.
Functions: 1) to specify the minimum standards 2) to evaluate and assess the functioning of the zoos 3) to recognise or derecognise zoos; 4) to identify endangered species 5) to coordinate the acquisition exchange 6) Identify priorities, themes and approval of Master Plan 7) Provide technical assistance to Zoos 8) to release financial assistance to Zoos 9) to ensure maintenance of studbooks 10) to coordinate training of zoo personnel 11) to coordinate research and education
Subject: Geography
Context:
Five municipal corporations of Mumbai's satellite cities Thane, Mira Bhayander, Kalyan Dombivali, Navi Mumbai and Panvel have announced a 10-day lockdown following a spike in Covid-19 in their areas.
Concept:
The satellite city is one of the popular concepts in the urban planning. It is the small metropolitan area is located near to the large metropolitan area.
The satellite town has the traditional downtown that surrounded by the neighborhoods of inner city.
The satellite city or satellite town manages the urban sprawl. The satellite town provides best solution to the urbanization problems.
Subject:Environment
Context:
Lepidopterists have discovered two new butterflies Striped Hairstreak and Elusive Prince in Arunachal Pradesh
Concept:
The Striped Hairstreak (Yamamotozephyruskwangtugenesis) was located in Vijaynagar bordering Myanmar while the Elusive Prince was found in Miao on the periphery of the Namdapha National Park.
Namdapha national park
Namdapha National Park is the largest protected area in the Eastern Himalaya biodiversity hotspot and is located in Arunachal Pradesh.
It is India's easternmost tiger reserve.  It is located in the Changlang district of Arunachal Pradesh near the international border with Myanmar.
Among the last great remote wilderness areas of Asia, Namdapha and its adjoining areas, is flanked by the Patkai hills to the south and south-east and by the Himalaya in the north. The area lies close to the Indo-Myanmar-China trijunction.
The entire area is mountainous and comprises the catchment of the Noa-Dihing River, a tributary of the great Brahmaputra river which flows westwards through the middle of Namdapha
It is only park in the World to have the four Feline species of big cat namely the Tiger, Leopard, Snow Leopard and Clouded Leopard and numbers of Lesser cats.
A number of primate species are seen in the park, such as Assamese macaque, pig-tailed macaque, stump-tailed macaque and number of the distinctive Hoolock Gibbons, highly endangered and only 'ape' species found in India dwells in this impenetrable virgin forest.
Of the many other important animals are the elephants, black bear, Indian Bison, several species of deers, reptiles and a variety of arboreal animals.
Among the bird species, most notable are the White winged Wood Ducks, a rare and endangered species, the great Indian hornbills, jungle fowls and pheasants flop their noisy way through the jungle, and which harbours other colourful bird and animal species.
Subject: Reports
Context:
UNCTAD has released world investment report last month.
Concept:
Findings:
In the "developing Asia" region, India was among the top five host economies for FDI.
The report said that global FDI flows are forecast to decrease by up to 40 per cent in 2020, from their 2019 value of USD 1.54 trillion.
Foreign direct investment (FDI) into India may decline sharply in 2020 because of the impact of the coronavirus pandemic and the consequent lockdown measures, supply chain disruptions and economic slowdown
India jumped from 12th position in 2018 to 9th position in 2019 among the world's largest FDI recipient.
India's most sought-after industries, which include professional services and the digital economy, could see a faster rebound as global venture capital firms and technology companies continue to show interest in India's market through acquisitions
9. Unlawful Activities Prevention Act (UAPA)
Subject: Polity
Context:
Government has declared nine individuals linked to separatist Khalistani organisations as designated terrorists under provisions of the Unlawful Activities (Prevention) Act (UAPA).
Concept:
UAPA was passed in 1967. It aims at effective prevention of unlawful activities associations in India.
Unlawful activity refers to any action taken by an individual or association intended to disrupt the territorial integrity and sovereignty of India.
The Act assigns absolute power to the central government, by way of which if the Centre deems an activity as unlawful then it may, by way of an Official Gazette, declare it so.
It has death penalty and life imprisonment as highest punishments.
Central government had amended the Unlawful Activities (Prevention) Act, 1967, in August 2019 to include the provision of designating an individual as a terrorist.
Prior to this amendment, only organisations could be designated as terrorist organisations.